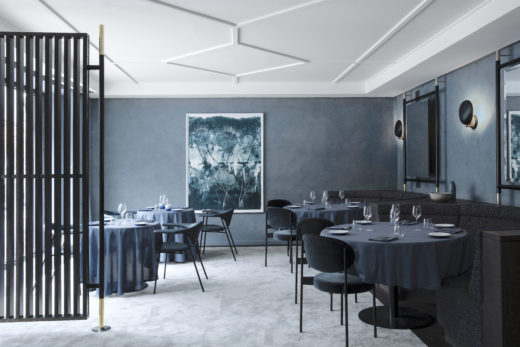 Ever since it opened in 1955, Copenhague in the Maison du Danemark, has been a showcase for Danish gastronomy and one of the lamentably rare good restaurants on the Champs-Elysées. Now this serene dining room on the first floor overlooking the famous avenue has been updated to reflect the remarkable evolution of Danish cuisine during the last fifteen years.
Young Danish chef Andreas Møller, who worked with Erwin Lauterbach, one of the founders of the New Nordic Cuisine (explained by this manifesto) and at Danish gastro czar Claus Meyer's The Standard, helms the kitchen at Copenhague, which is Paris's first New Nordic restaurant. With an emphasis on angelic aesthetics, a purity of flavors, short cooking times and seasonal produce, the menu here shakes up a stale local perception of Danish cooking as being all about Smørrebrød (open-faced sandwiches), herring and salmon. In fact for many years, the signature dish of Copenhague was saumon a la l'unilatéral, or salmon slow-cooked skin side down to give it a soft consistency just fractionally beyond raw. It was delicious, but it did little to refute an ingrained French idea that Scandinavian cooking is more about austere sustenance, a la the film "Babette's Feast," than 'real' gastronomy.
What many people who've never been to a cutting edge Copenhagen restaurant like Noma or Geranium will quickly notice is how much of an impact New Nordic cooking has had on Parisian bistronomie, or modern French bistro cooking, in terms of aesthetics and a deep commitment to locavore sourcing. This is explained by the fact that Copenhagen has become the de rigueur destination for young European chefs, with chef Rene Redzepi's MAD symposium also disseminating these Scandinavian ideas across Europe and the rest of the world.
Scrubbing the former a la carte menu here, along with the oil painting of Queen Margrethe II that dominated the dining room for years, Copenhague now proposes tasting menus, four courses and five course for 55 Euros and 70 Euros at lunch, five and eight courses at 85 Euros and 115 Euros at dinner, instead.
Settling into the sleek graphite colored dining room designed by Danish design team Stine Gam and Enrico Fratesi, the honky-tonk atmosphere of the avenue below immediately receded in a first visual encounter with a space that emitted a quiet chic and serenity, and the outstanding sommelier set us up with excellent Champagne while another waiter explained the menu.