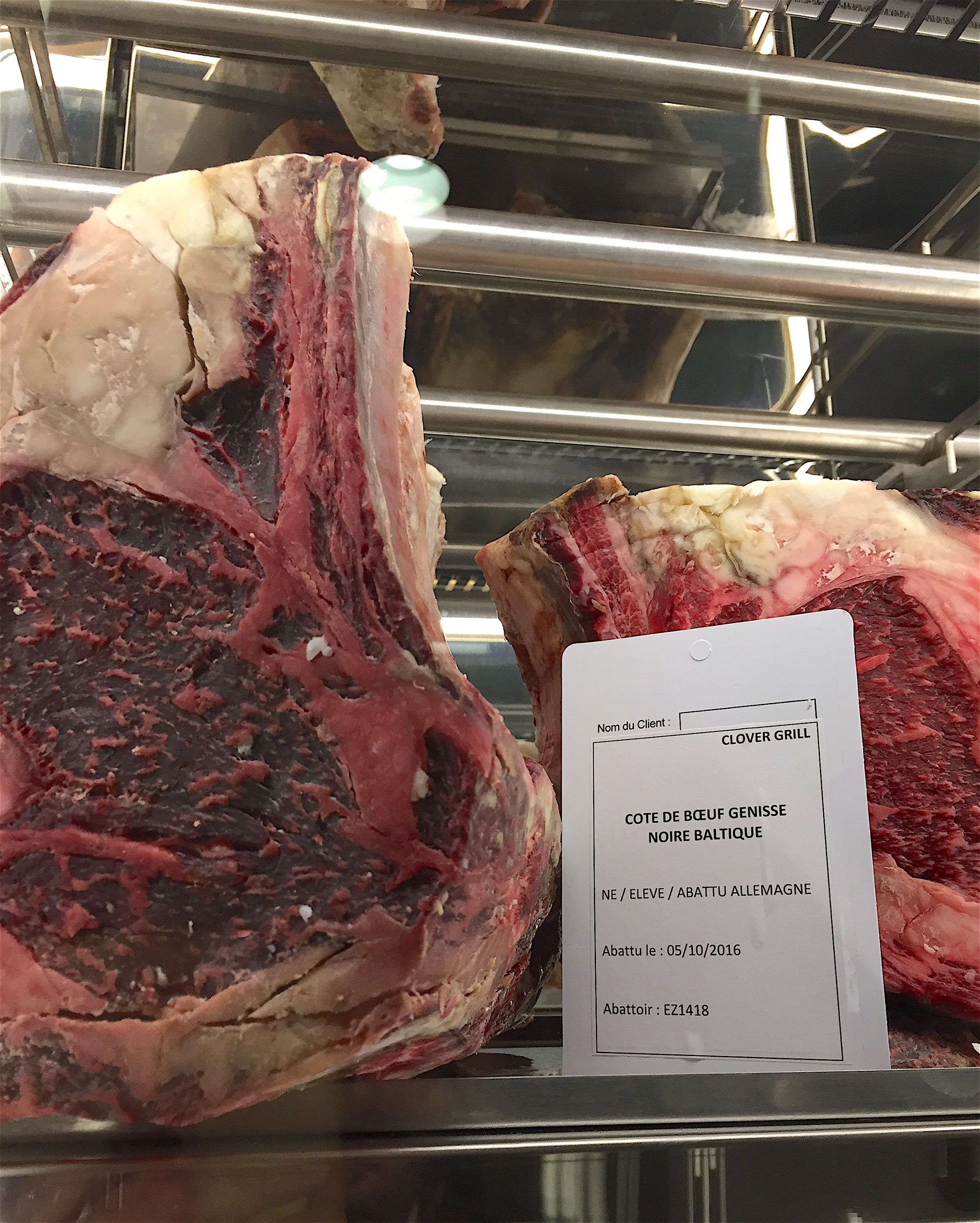 As Jean-Francois Piège has proven once again at the Clover Grill, his casually chic and wonderfully convivial new grill restaurant in an ancient side street in Les Halles, he's not only a superb chef but a brilliant restauranteur. If this convergence of talents might seem logical, even natural, the truth is that many gifted chefs are actually pretty hopeless when it comes to doing the social, aesthetic and financial engineering necessary to create a successful restaurant.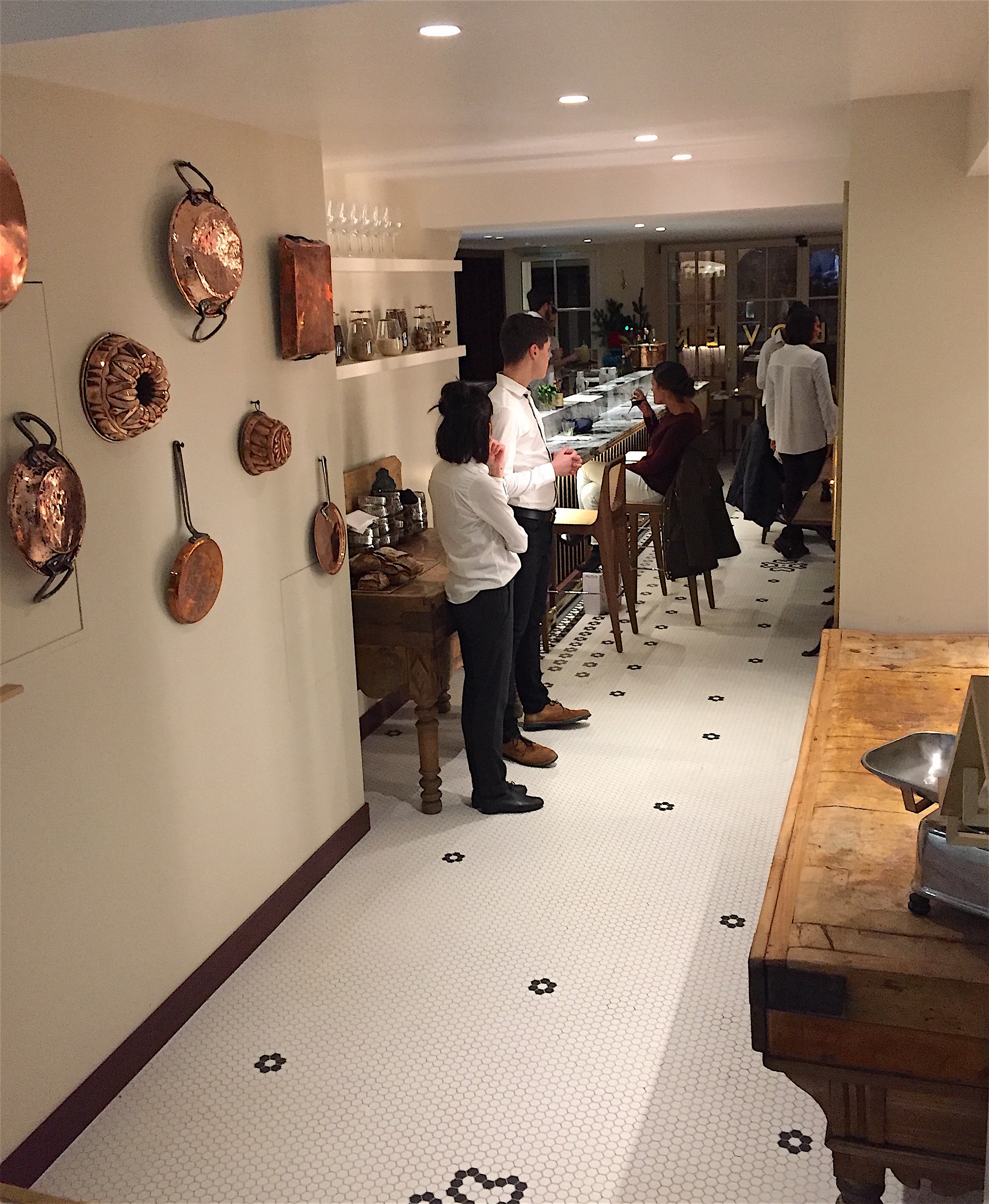 Piège created the Clover Grill, a handsome space with a jet-engine strength ventilation system, which means you're spared the curse of most Paris grill and meat restaurants–your coat smells like the meal you just ate for a week afterwards, with his wife Elodie, and the décor here is an expression of their assured and winningly witty good taste. The Pièges play with some tongue-in-check retro references to the decors once commonly found in French bistros and hotels with cabbage-rose wallpaper (Everyone old enough to have done a Eurail trip around Europe with a backpack or, in my case, ghastly tweed-sided American Tourister suitcase, will doubtless feel the twinge of a long dormant visual memory stirring when they spot this murky floral wall covering in the cozy second dining room here; for me, it's an instant ticket to a triangular shaped Lyon hotel room next to the train tracks with those hateful hard round pillows called a traversin rolled up in the top of the bottom sheet and a sink but no toilet in the corner), honeycomb tile floors, wainscoting, globe lamps and other Gallic memes, but have the gift of making it all seem fresh and modern, too. This comes from the excellent lighting, beautifully made modern chairs and tables, and puckish fun of including a once shunned object like a Napoleon III faience plant stand in a decidedly hip décor.
The look of the place is important, too, because it tells you why you're here, which is to have a good time. This is, in fact, the Piège's welcome new take on the type of fashionable night-on-the-town Paris restaurant that hasn't really been seriously updated since the Costes Brothers unleashed their formula of louche decors, snippy service and commissary style disco food on the French capital in the 1980s.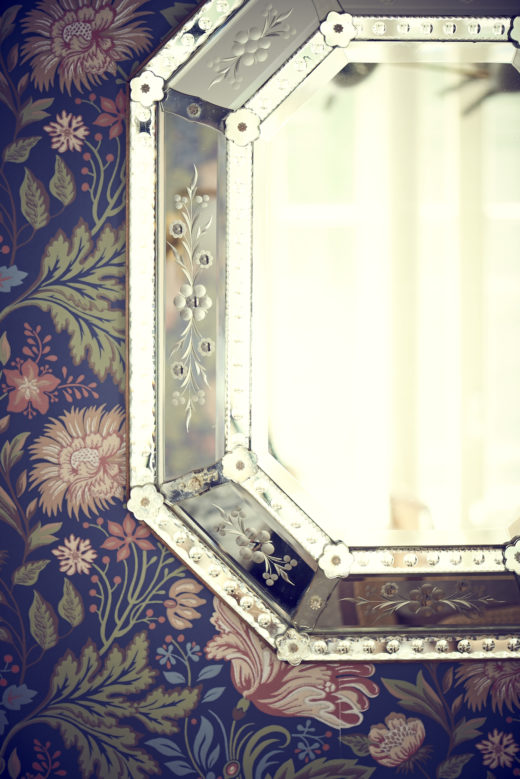 At the Clover Grill, however, not only do the room and the crowd look great, the service is charming and they serve the kind of good honest uncomplicated food you look for in a grill restaurant. That said, the bonus here is Piège's consistent and admirably restless culinary creativity, which shows up most legibly in the starters.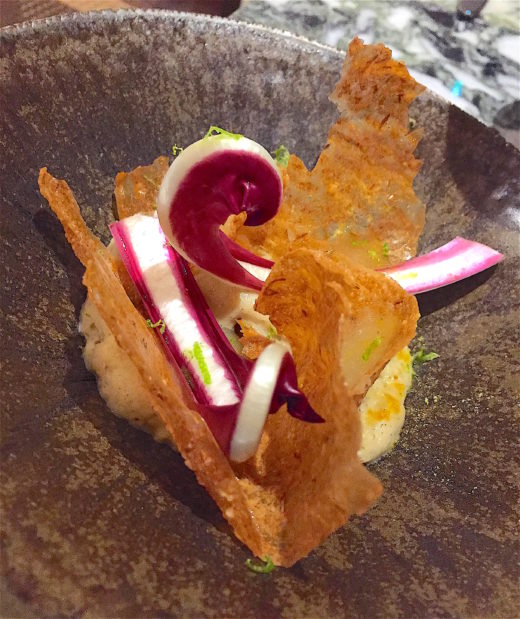 Arriving for dinner the other night, we were offered a choice between the two dining rooms—the low-lit one with a Sputnik style ceiling-mounted lighting fixture and that memory-stoking wallpaper, or the bar room. We chose the latter, since it offered good sight-lines of the long great looking marble bar where you can also sit for a meal and a bartender from the Experimental Cocktail Club group mixes up some seriously good drinks, including the pimenton sprinkled Pisco sour I had to take the edge off of a long day, and the open kitchen where meat and fish are grilled over charcoal or cooked on a rotisserie in the back of the room. The cocktail was served with a nice complimentary hors d'oeuvre of spelt wafers, radicchio fronds and citrus crème, which pleasant provoked the appetite without exhausting it.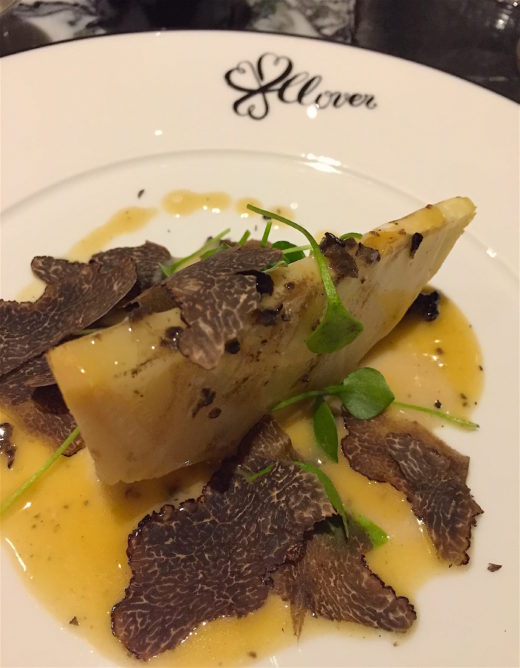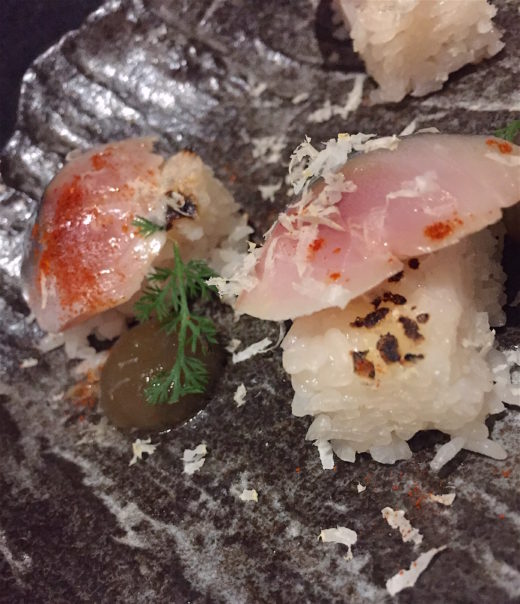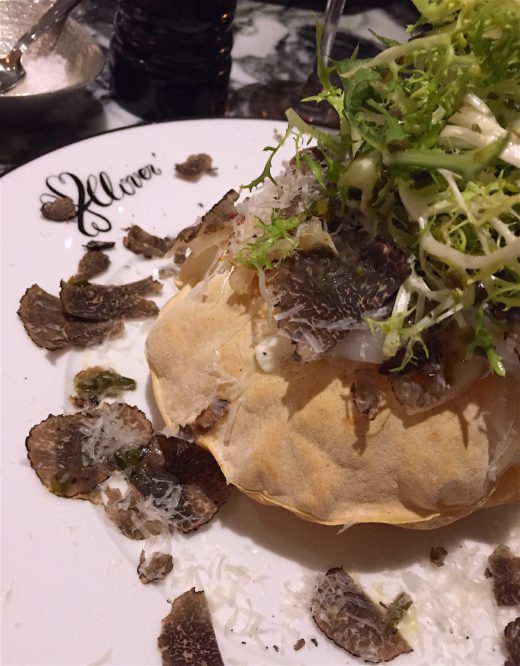 Hungry and unable to make up our minds, we settled on three starters, celeriac cooked like a baked potato in the cinders of the grill and then served with a black-truffle-and-Parmesan butter, mackerel marinated in white wine and served on canapés of grilled Koshihikari rice with horseradish, and "Comme une Pizza," a brittle sphere of pizza dough—an idea Piege perfected when he was chef at the Brasserie Thoumieux, with sliced scallops, onions, truffles and bacon.