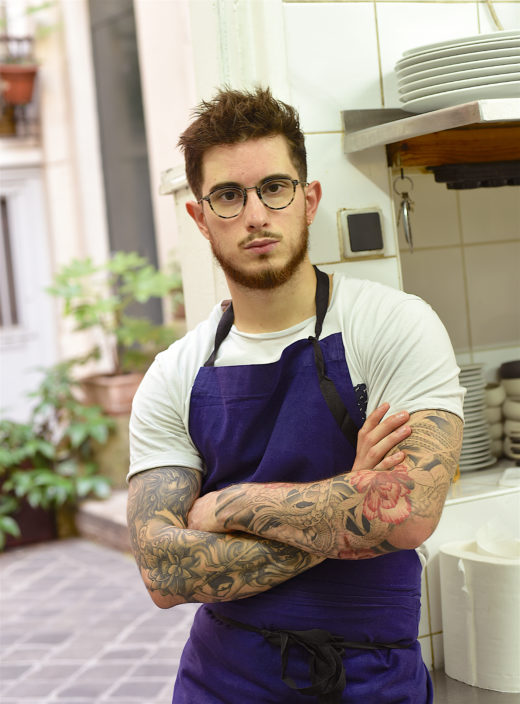 N.B. This restaurant is currently closed and under renovation.
At Restaurant Jean, just down the street from me in the beautiful but increasingly booshie 9th Arrondissement, a lavishly well-inked young chef has given an exciting new life to a table that had been lost for a little while. If fact, Jean-Frédéric Guidoni, this restaurant's amiable owner, is grooming a real star in Mickaël Poyault, 26, who came here after working at Fauchon, the Mandarin Oriental Paris, and, most recently, Garance.
Guidoni is an exceptionally experienced restauranteur, too, since he's been running this place ever since 2002 and worked at Taillevent for many years before that. He also has the trained palate to be a good judge of culinary talent, too, since this address first won a Michelin star in 2006 and then held it through several chef changes until this year.
And finally, he also the long sociological whiskers that a restauranteur needs to stay in business.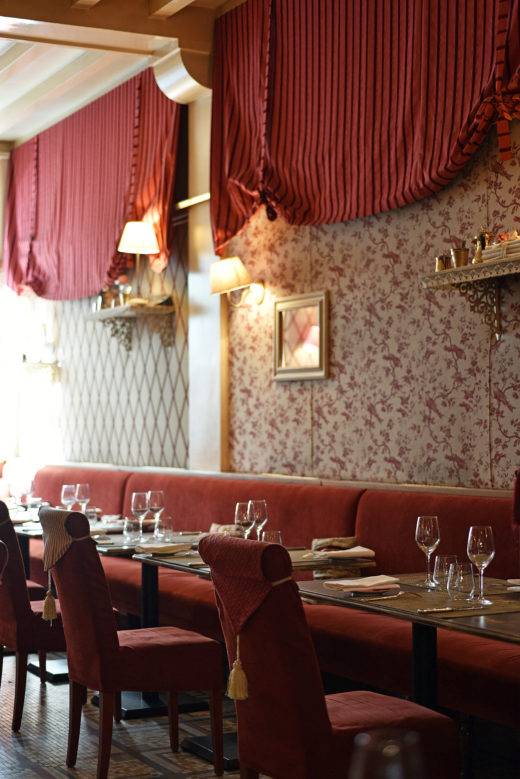 "The 9th Arrondissement has changed a lot in fourteen years," he observed during a chat before dinner here the other night. "It's younger and more gastronomic, but the Bobos don't want anything pretentious or stuffy. They like casual restaurants with interesting food made from great produce. In fact, they're obsessed with produce, and this is why I'm lucky enough to have my very own secret weapon at home in Normandy," he said with a twinkle in his eye. "You'll be tasting it several times tonight, too," he added, leaving us with the menus and a glass of good Champagne.
"What do you think he meant?" asked Bruno. "He doesn't look like a hunter."
"My guess is that it has something to do with some kind of a farm or garden," I replied.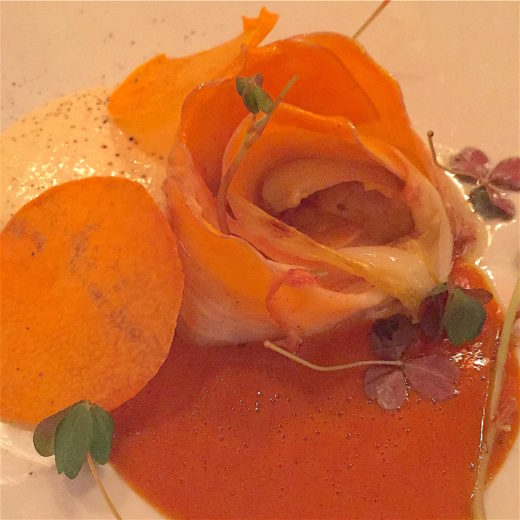 "Or maybe he's a fisherman?" said Bruno, who was nibbling the bait more eagerly than I was. But one way or another, the menu here had changed a lot since the last time I'd been here, which would have to be at least five years ago. For one, the prices were lower, and then it was pointedly modern, both in terms of the dishes offered and the way they were described in what I call menu haiku: 'Endives, courge (pumpkin), scarmoza,' the dish I chose as my starter.
Bruno's choice was the somewhat more baroque, 'Tourteau, bisque, champignons, marrons and clementines' (crab, bisque, mushrooms, chestnuts and clementines, or satsumas). And for our mains, 'pork, celery rave, pear and black-olive sauce' for me and 'chicken, cabbage and artichokes' for my mate. (Or I suppose that at the end of 2016, I should finally try and rewire my brain so that I henceforth reflexively say 'husband,' since we married in July, and as Bruno's lovely father said, "Of all my three children, Bruno's the one in the happiest and most enduring relationship." Still, something very ancient and innate leaves me tongue-tied here, because this is a reality I never dreamed I would be lucky enough to inhabit).
As reflected by the most successful restaurants in our part of the 9th around the Place Saint Georges and the rue des Martyrs—I'm thinking about Franck Beranger's excellent Le Pantruche (https://www.facebook.com/LePantruche/), his good Caillebotte (https://www.facebook.com/RestaurantCaillebotte/?fref=ts) and his new and unfortunately not very good Belle Maison seafood place, and the charming and very popular bistro Le Bon Georges (www.lebongeorges.com), this is how the 'hood likes to eat right now.
And it's an especially avidly restaurant-going quartier in an avidly restaurant-going city. This is party because Parisians are passionate about good food, but also because as nightlife has died out, two of the surviving social motors of urban life—sex and shopping, have increasingly moved online. So restaurants increasingly constitute all of the life that's left in many of the world's great urban neighborhoods, especially Paris, where the city's cafes continue their woeful withering.
And at Restaurant Jean, which had once been called Chez Jean, but likely had its name tweaked, because Chez Jean is a SEO disaster of a moniker for a restaurant, there were perceptible signs of life in the room for the first time in a longtime, or a younger crowd joining the business people and theatergoers who've long made it one of their canteens. And when our starters arrived, it was obvious why they were here.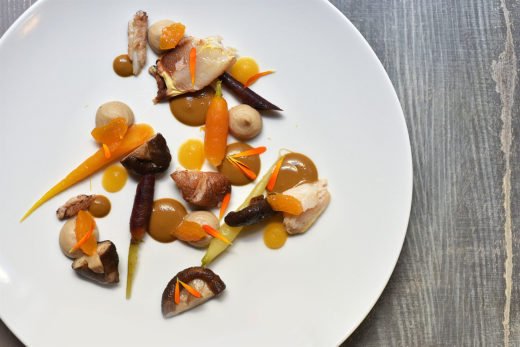 The melted smoky scamorza melded together the sweet tastes of the pumpkin and the gentle bitterness of the endive in my starter brilliantly, and Bruno loved the contrast between the gentle iodine bright taste of his shelled crab and the garnishes it came with. So it immediately became clear that Poyault is a seriously good and interesting chef.
When he came to clear our plates, Monsieur Guidoni finally ended Bruno's suspense when he told us that he'd planted a huge garden at his home in Normandy with the idea that in season it could supply the kitchen at the restaurant with almost all of its vegetables and herbs. Well, you couldn't find a better secret weapon than that in Paris these days, especially since a terrific new shop has just opened in the rue des Martyrs that sells only seasonal vegetables from the Ile de France, or countryside around Paris.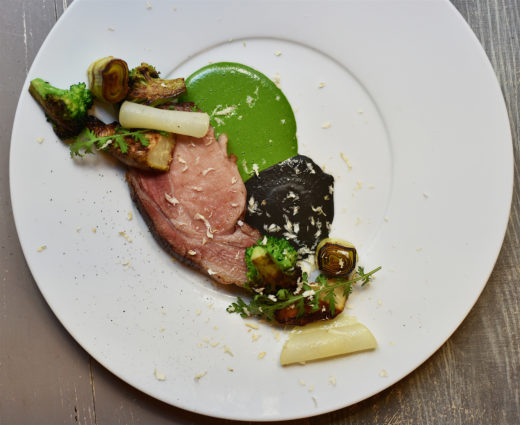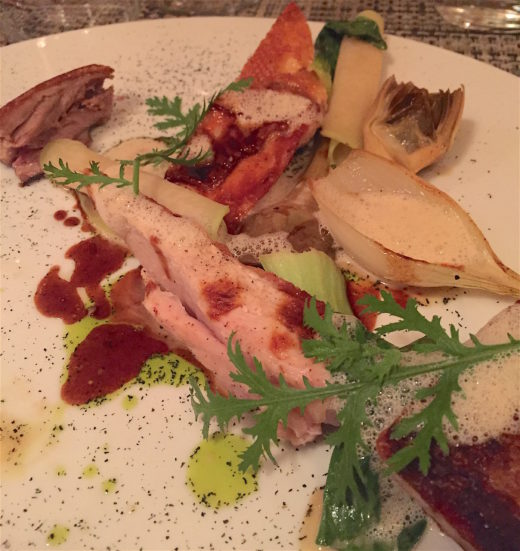 My Iberian pork with watercress puree and black-olive sauce was the high note of a perfect gastronomic symphony, too, with celery rave and pear playing the a pretty melody. Bruno's fowl was impeccably cooked, plated and garnished, too, with two sauces—a wonderfully ruddy jus de poule and parsley oil. And I applaud Polyault for his light refreshing desserts of fruit and vegetables, including "Comme une Sangria," a spiced-wine soup with citrus and chocolate ice cream, and a very original composition of pears, kiwis and chestnuts with oregano ice cream.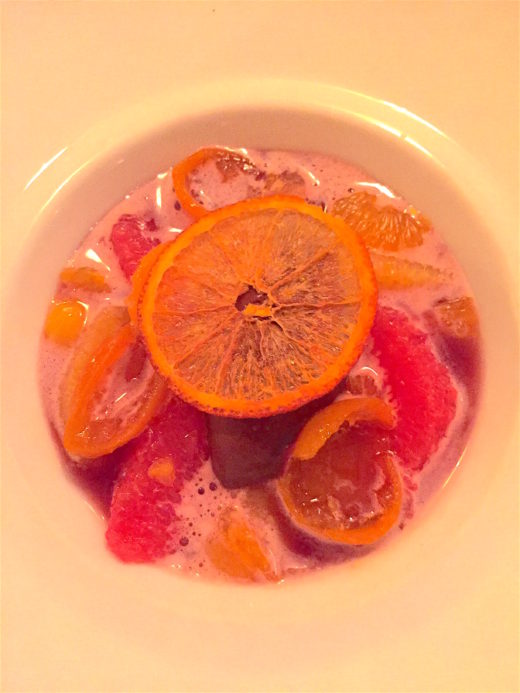 So the year concludes with a wonderful new edition of a long-running restaurant that's just a few blocks from where I live, and I count my blessings in more ways than one. Happy holidays to one and all!
And my mantra for 2017 is to be vocal and vigilant. I hope it will yours, too.
8 rue Saint Lazare, 9th Arrondissement, Paris, Tel. (33) 01-48-78-62-73, Metro: Trinite, Saint-Georges or Notre-Dame-de-Lorette. Open Monday-Friday for lunch and dinner. Saturday dinner only. Closed Sunday. www.restaurantjean.fr
Lunch menus 31 Euros, 38 Euros; Menu du Marche 45 Euros; Menu Decouverte 60 Euros