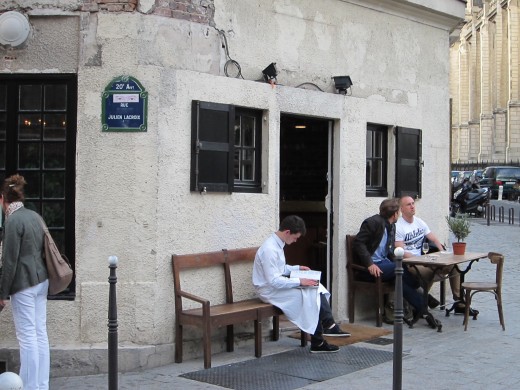 I love Belleville, which is where Paris cross-hatches with Greenpoint, or maybe Bed-Stuy, in Brooklyn. What I mean by this is that the neighborhood is a completely unselfconscious showcase of the profoundly tonic human diversity that had me craving life in a big city in preference to the smugly and knowingly exclusive sociology of the Connecticut suburb where I grew up. Though the real-estate clouds are thickening over this still relatively ungentrified part of Paris, the motley quality of the neighborhood's housing stock is likely, I hope, to keep it safe from that woeful process of urban upgrading that replaces artists and moderate-income people with gentry in search of frisky atmosphere. And for the time being, rents that are considerably lower than they are in central Paris mean that creative people can still work and settle here.
The latest delicious example of Belleville's appeal is Roseval, a new bistro which recently opened in an old neighborhood tavern worthy of a Toulouse Lautrec painting right across the street from the curiously moving–its architecture, church of Notre-Dame-de-la-Croix. Though this quartier has been chopped up a bit with new HLM (low-income) housing, it retains a feisty proleteriat feel that's profoundly Parisian and a palpable relief from the city's increasingly globalized center.
Though it's not cheap, Roseval has instantly won a following among young local epicureans, and since Paris is a small city, the gastro cyber tom-toms went off right away adding people from outside the neighborhood. Like me, for example. Arriving on a warm summer night, Richard was waiting for Bruno and me, and as soon as I walked in I liked this place. Why? It's simple (sic), and there was an immediate warm and spontaneous welcome, and not a single note of pretension or attitude to found fluttering anywhere in the room, pretension and attitude being afflictions that can quickly manifest themselves at ambitious young modern bistros in Paris.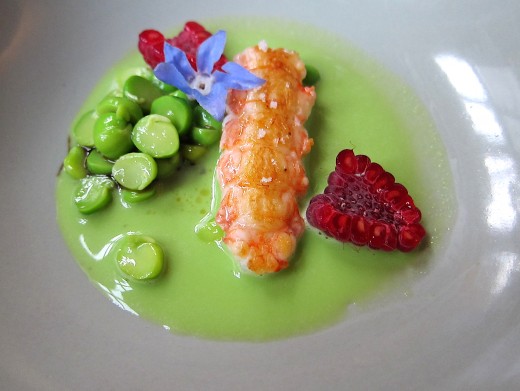 So once we'd sorted out our wines–a great Viognier and a superb Sangiovese from Emiglia-Romagna (how nice to see a foreign wine or two on the list of young Paris bistro) served by Erika, the Columbian born sommelier who previously worked at Le Chateaubriand, our meal kicked off with a very pretty Valentine of a dish–a single flash-grilled langoustine, with a thin veloute of baby peas and a halved raspberry. I didn't find the tastes of this dish fusing together in any particularly noticeable or interesting way, but the veloute was nicely made and our waiter, Clement, set the tone for the evening with his enthusiasm and eagerness for us to enjoy our meal–again, such a relief from the slightly snarky service that too often prevails at this sort of ambitious newborn table.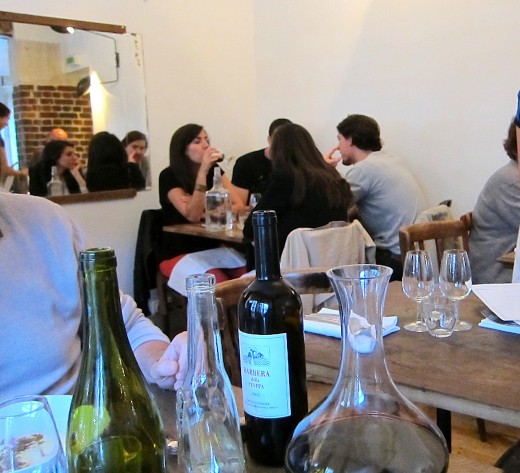 There was a great crowd in the dining room, too, including a young Belgian fashion designer out on a date with a T shirt wearing body-builder, a famous furniture designer who'd nicely taken his bemused old mother out for a nice meal, and a lot of art bods chattering about gallery shows and their summer holidays. Oh, and us? Summer holidays and the T shirt wearing body builder.
Then thunder struck with a dish made from the restaurant's namesake spud–a sublime puree of smoked potatoes with sauteed onions, baby clams and a garnish of buttered bread crumbs. This one was so good that conversation died completely until the three of us had mopped up every drop of the puree from our plates, and while eating, I found myself thinking that even though the duo of chefs in the kitchen–American-born Oxford (UK) raised Michael Greenwold and Italian Simone Tondo have worked at an impressive constellation of some of the best and hippest restaurants in Paris, including Le Chateaubriand, Rino and Caffe dei Cioppi, the gentle suaveness of this dish brought to mind Bertrand Grebault at Septime more than any other chef working in Paris today.
Our main course–sliced sirloin with anchovy cream, riced and pureed cauliflower and a few tarragon leaves, continued in this same vein of sincerity, a real reverence for the natural tastes of the excellent produce the kitchen works with, a certain earnestly naive aesthetic plating, and a quiet confidence expressed by impeccable technical skills.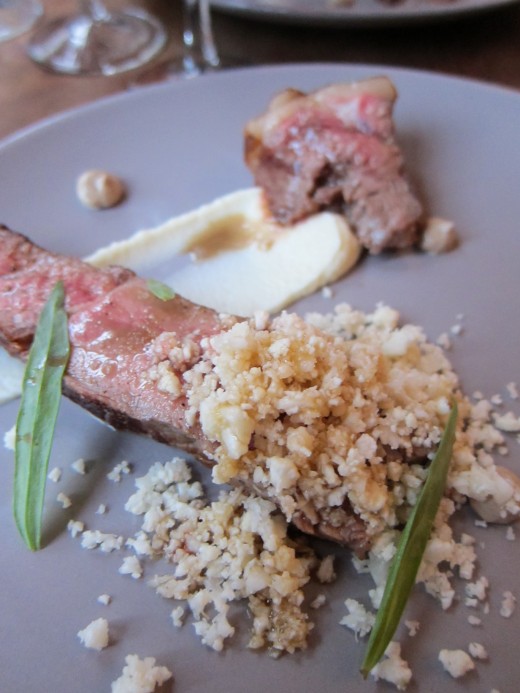 An excellent cheese course followed (with more excellent bread from Christophe Vasseur), and then a strawberry-chocolate-praline dessert that I found too complicated. But this muddled finale didn't even remotely diminish the pleasure of the meal that had proceeded it, and I am eagerly looking forward to going back to Roseval as soon as I return from a huge amount of private and professional summer travel–Greenwold and Tondo are very talented young chefs, and this is a delightful restaurant.
1 rue d'Eupatoria, 20th, Tel. 09-53-56-24-14. Metro: Gambetta, Ménilmontant or Couronnes. Closed Saturday and Sunday. Dinner only: prix-fixe menu 35 Euros, with cheese course 42 Euros, with wine pairings 60 Euros or 67 Euros.