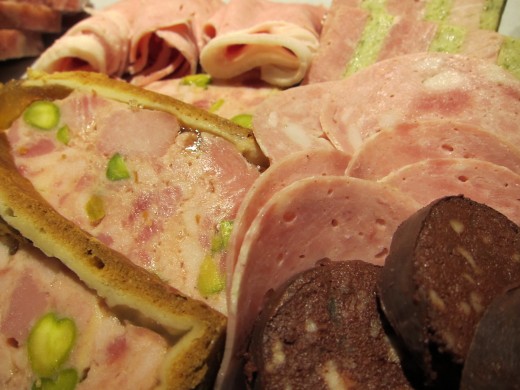 Superb charcuterie by Gilles Verot
About three years ago, a surprising conversation with Yannick Alleno, the three-star honcho of Le Meurice, made me aware that Paris is a sadly deprived city for having been shorn of its immediate agricultural hinterland. To wit, before World War II much of the produce that Parisians ate was grown on small farms in the surrounding Ile de France countryside, and this is why some of the great dishes of the French kitchen take their names from villages like Crécy, which once grew the carrots and onions used in a classic sauce Crécy. If galloping urbanization after the war induced a precipitous decline in local farming, the rise of supermarkets, which will happily buy carrots from Poland or Paraguay if they're .001 centimes cheaper, and the catastrophic transfer of Paris's main market to Rungis in 1969 further sounded the death knell of local farming (For a fascinating account of how intensely Paris used to be to connected to the rural countryside that fed it, Emile Zola's novel "The Belly of Paris," recently restranslated by Mark Kurlansky, is highly recommended; see more about this brilliant book if you're interested in my Amazon store).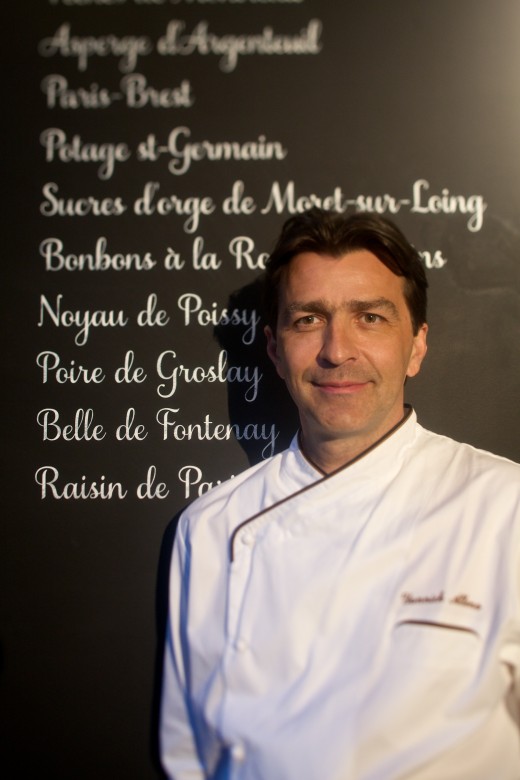 photo @ jean-francois mallet Anyway, Alleno, a native of the Ile de France, got the idea to revive classical Parisian cooking with local produce and introduced a Terroir Parisien menu at the Hotel Meurice that was terrific. Subsequently, he produced a book on the subject Terroir Parisien, and now he's gone a step further and opened Terroir Parisien, a beautiful new bistro in the Maison de la Mutualite in the Latin Quarter, to showcase traditional Parisian and Ile de France recipes made with local produce whenever possible. It's a brilliant initiative, and I think it could give a really welcome push to the accelerating locavore movement in the city.
Alleno eventually plans to have his own farm, but in the meantime he's assiduously sought out a variety of small producers for pears, carrots, potatoes, herbs and other produce, and also intends to revive production of la poule de Houdan, in the Yvelines town of the same name.
"La poule de Houdan was more famous in Europe than the poulet de Bresse," Alleno explained to me several years ago. "What changed everything was the Great Depression, when the government encouraged Paris chefs to use produce from all over the country as a way of helping struggling regions, and then the suburbanization of the Ile de France."
The handsome dining room of Terroir Parisien, which will be open seven days a week, was designed by Jean-Michel Wilmotte, and includes appetizing displays of the local produce currently available to the kitchen, including cabbages, carrots, leeks and potatoes.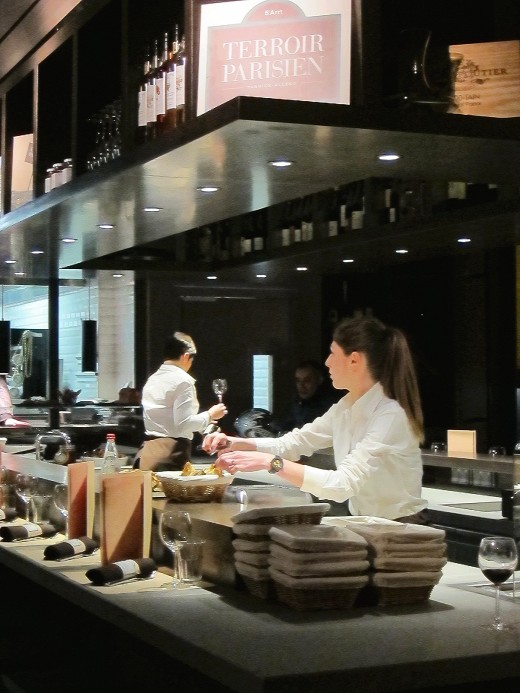 On a cool Spring night, it was terrific to see such a great choice of soups on the menu, including potato-and-leek with smoked eel; onion; Saint-Germain; and a Billy-By made with saffron from the Gatinais, but we happily tucked into an excellent salad of frisee and watercress with a soft-boiled egg and lardons and a succulent pate Patin (veal and pork pate en croute) served with a salad of hearts of baby lettuce in a mustardy vinaigrette. Both dishes were homey, generously served, and delicious.
Though very tempted by the matelote (fresh water fish and eel stew) "Bougival," a direct reference to the place locally caught fresh-water fish once occupied in the Parisian diet, since Bougival is a riverside Parisian suburb, I couldn't resist the "Navarin printanier d'agneau de chez Morisseau," which the waitress explained was made with lamb from a race native to the Ile de France raised by the Morisseau family in Aufferville. It was superb, with vividly fresh al dente baby vegetables garnishing the lush but light brown sauce that napped the tender, flavorful meat.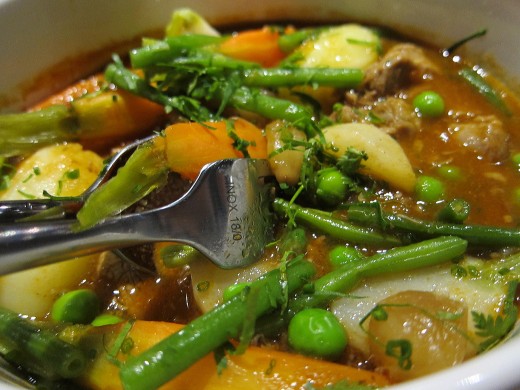 Bruno loved his piece de boeuf in a sauce Bercy (white wine, shallots, bouillon, parsley), a reference to the days that the Bercy district was the center of the wine trade in Paris, and neither of us could keep away from the rich potato puree made with Belle de Fontenay potatoes or the spinach from Montfermeil that we ordered as side dishes.
I finished up with a slice of perfectly ripened Brie de Meaux, while Bruno was very happy with a poached pear drizzled with wonderfully poetic Miel Béton (Cement Honey, a reference to the fact that the bee hives are located in the heavily built-up northern Paris suburb of Saint-Denis). All told, this is a fun and thought-provoking restaurant, since it set me to musing on how much Parisian cooking has been affected by the multi-facted spell the Mediterranean cast on France after World War II. Olive oil, aubergines, courgettes, etc., rarely got a look in from most serious Paris chefs in the past, and for a fascinating peep hole on to what Paris ate before the rise of the South, I highly recommend Paris Dans Votre Assiette: Recettes Capitales (Editions Chene), a superb new cookbook by Anne Martinetti.
Terroir Parisien, 20 rue Saint Victor, 5th, Tel. 01-44-31-54-54. Metro: Maubert-Mutualité. Open daily. Average 35 Euros.