39V, Slick, Sleek, and Soothing, B+; ALAIN DUCASSE AU PLAZA ATHENEE, Modern Elegance and the Triumph of the New Purity, A-
October 30, 2010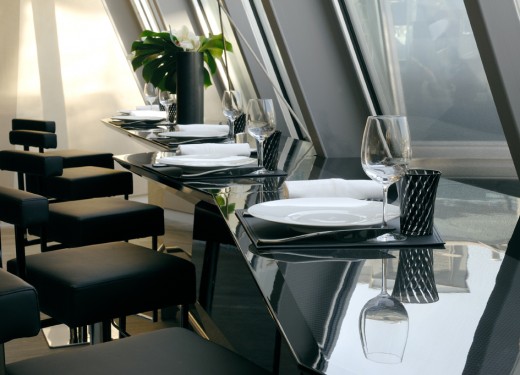 Dining Bar at 39V This was a very interesting week of dining out in Paris, because even though I'm wary of announcing emerging trends in local culinary culture before they've gained obvious momentum, the most memorable element of a pair of very good meals were the exquisite sauces that emerged from these respective kitchens. These sauces were so luxurious and elegantly classical that my mantra all week long has been a trio of favorite quotes from Curnonsky, the brilliant 20th century French food critic. To wit:
1) "Sauces comprise the honor and the glory of French cooking."
2) "Good cooking is when things taste of what they are."
3) "And above all else, keep it simple!"
But as Frederic Vardon, the talented chef at the new 39V restaurant makes so deliciously apparent, simplicity isn't always simple. For example, the gently citric sauce that accompanied by griddled langoustines as a first course was so delicate that it might have been overlooked, but this was its genius since these tender tones of acidity perfectly accented the sweetness and delicate taste of the sea of these impeccably fresh clouds of flesh. Similarly, my friend David's foie gras was cooked to absolute perfection–a careful application of heat had caused it to seize up just beyond being raw, and the autumnal garnish of quince, hazelnuts and sour cherries was coarse enough to provide a good foil to the sheerness of the liver without overwhelming it.
If this finesse wasn't really a surprise from a chef with resume like Vardon's–he trained at Alain Chapel, then cooked with Alain Dutournier and at various Alain Ducasse establishment, notably many of Ducasse's Spoon restaurants around the world, what was unexpected was that he so daringly embraced a very classical cannon of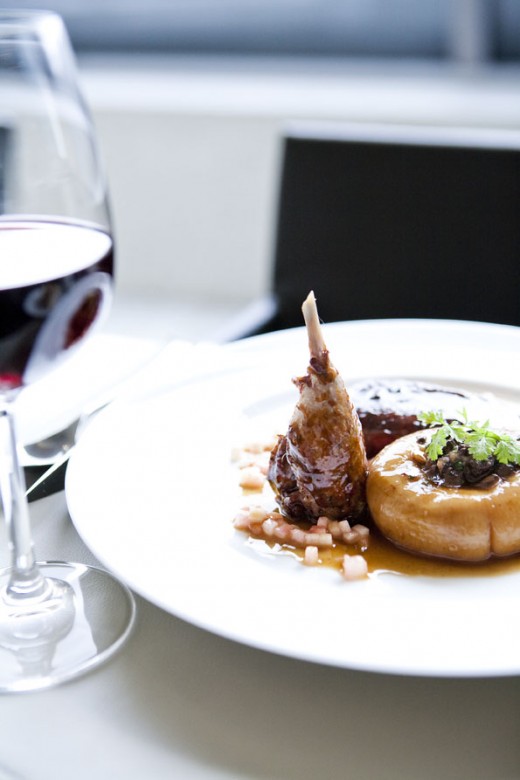 Duckling cooked two waysbourgeois French cooking, while updating it to make it his own, a fine example being the superb duckling prepared two ways and served with a grilled flat peach and a sublimely fine sauce of cooking juices, butter–how nice that it's back again!, and spices. The roasted breast of this "half-wild" bird (not sure how they manage that, but assume it's from breeding a wild duck with a domesticated one) was succulent and full of flavor, while the thigh had been cooked 'confit' in its own drippings, a duette that represented a stunning amount of serious work.
My poulette breast with an almost invisible cream sauce and a little casserole of Camargue rice with the same sauce was likewise coquettishly deceptive in its simplicity, since the white sauce was made with a fine de-fatted chicken broth that allowed the succulent alabaster meat to shine.
Between courses, we were both fascinated, and puzzled, by this dining room. Reached by a private lift, it's a circular space on the top floor of an office building that fronts on the Avenue George V, and arriving there's a bar area with a smart counter for solo dining, an open kitchen, a private dining area seating a good quorum of people and an outside terrace for those still in thrall to the evil New World weed known as tobacco. The ceiling of the room is an array of biscuit-colored petals, there's a central atrium with some sort of an electronic ornament that receives LED signals from a mapping satellite (sorry, this is the best I can do at explaining this intriguing but much too complicated for me bit of 21st century machinery), and a crowd unlike any I've ever seen in Paris, affluent and dead-pan chic, probably many of them working in luxury marketing, but who knows. Others were doubtless from the luxury hotels in this swanky part of the 8th arrondissement, a part of the city that rarely hears my foot steps.
Service throughout the meal was excellent, and the amiable young sommeliere surprised us with an excellent glass of white wine from the Greek Island of Tinos to drink with our starters, and also mentioned that she wants to kick out the walls on her otherwise French list with some Austrian wines in the near future, a good idea.
Since 39V is expensive, it's not the kind of place you go off the cuff. Rather, it's ideal for a business meal or for a calm tete a tete in an unusual and quietly glamorous setting when you a really good meal without all of the pomp and circumstances of anything Michelin, although I wouldn't be surprised if this place snags a star in the 2011 Michelin guide to Paris.
Le 39V, rue Quentin-Bauchard, 8th, Tel. 01-56-62-30-05. Metro: George V. Closed Saturday and Sunday. Prix-fixe menus 39.50 Euros, 49.50 Euros (lunch), 85 Euros; a la carte 70 Euros.
———————-
In terms of Parisian culinary parlance, a chef change Restaurant Alain Ducasse is almost as momentous as a decision to replace one of the faces of Mount Rushmore in the United States (for anyone unfamiliar with this monument in a faraway corner of South Dakota, it's comprised of five exemplary presidents from the first 150 years of U.S. history–George Washington, Thomas Jefferson, Theodore Roosevelt and Abraham Lincoln sculpted into live rock on the face of a steep hill). Very talented chef Christophe Moret was Ducasse's gastronomic aumanuensis for many years, but has now moved on to Lasserre and been replaced by chef Christophe Saintagne, who previously ran Ducasse's Paris bistros and restaurants in Japan.
Feeling that it's very important to verify the ongoing gastronomic magic of a restaurant that's so expensive it forces one into a casuist's (casuistry is the science of difficult moral issues) quandry, I went for dinner the other night, and while I can't and won't comment on whether or not it's 'right' to spend so much money on a single meal, I will say that it was a spectacular evening, that the food was exquisite, and that I still believe that haute cuisine has a rightfully crucial role at the top of the French food chain.
Interestingly, few other people seem to agree with me these days. In fact in this week's Le Figaro Sunday magazine, critic Maurice Baudoin wrote: "'Gastronomic' cooking is completely old-fashioned, out of date and even ridiculous," and review after review in the French press dismisses haute cuisine as irrelevant, but a meal at a place like this is for most people a precious once-in-a-lifetime experience that's not only gastronomically sublime, but also a consummate experience of centuries of French culinary culture, which includes the arts of table setting, service, decorating a dining room, and layer upon layer of other vitally important details.
Everytime I step through the doors at Ducasse's restaurant at the Hotel Plaza Athenee, the outside world really does fall away and for several glorious hours all is luxe, calme et volupte. Needless to say, I don't come here very often, and so a crucial element in defining this experience is its very rarity.
Arriving at the table here, it takes some time to settle in, or to accept that the next suite of hours will be unapologetically devoted to nothing but providing you with as much pleasure possible, and to accomplish this, Restaurant Alain Ducasse is lucky to have the best maitre d'hotel in Paris, the charming Denis Courtiade, who does a swift diagnosis of each newly seated table, and then tunes the service meted out accordingly. For Bruno and I, this meant a gentle minuette of a meal that began with tasting portions of the caviar-topped langoustines that both of us permanently crave from one visit to this restaurant to the next, and followed with a sublime tartare of langoustines. Next, cepes cooked in a 'cookpot,' a Ducassian invention and a shallow porcelain casserole with a small hole in its lid, for me and lobster and potatoes for Bruno, both excellent.
Between courses, we chatted, however, about how simple the cooking seemed, something that had won praise from critic Maurice Beaudoin–in the same review in which he dismisses haute cuisine, he makes an exception for Ducasse and Robuchon. I generally agree with him, too, but when I go to a three-star restaurant, I expect to be dumbstruck by the genius of the cooking, mute with pleasure. And this is what happened during the next two courses, perfectly cooked turbot with a magnificent sauce (fish fumet, butter, some citrus, I'd guess) loaded with tiny crustaceans on a bed of Swiss chard and then ris de veau (veal sweetbreads) in another heart-stopping sauce of its cooking juices with carrots. The sauce on the sweetbreads was so refined that I almost wouldn't have known that it was there if I hadn't watched it being spooned over this perfectly browned lobe of earthy, custard-textured flesh. It was a true hommage to Escoffier and exactly what I yearn for from any haute cuisine meal–an evanescent flush of pleasure that shows that cooking really is an art.
It takes courage and real talent to make so much culinary art seem so apparently simple, and if Saintagne is doing this well just a few weeks after taking over this kitchen, I think he not only has both in spades but a future as one of the great chefs of France. Proof of the pudding on a chilly Sunday afternoon three days after this meal–I'm still dreaming about those almost invisible but absolutely magnificent sauces.
Alain Ducasse au Plaza Athénée, Hôtel Plaza Athénée, 25 avenue Montaigne, 8th, Tel. 01-53-67-65-00Métro : Alma Marceau. Open for Lunch: Thursday and Friday; Open for Dinner: Monday-Friday. Autumn Menu: 360 Euros. A la carte: 300 Euros.