BLUE VALENTINE–A Love Letter of a Bistro in the 11th Arrondissement, B+
February 26, 2014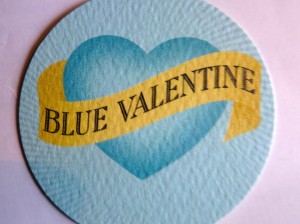 One of the happier nascent trends in Paris is the growing number of new restaurants that are open on Sunday night, which is good  news not only because they offer deliverance from the usual Sunday night options of the city's ethnic restaurants and woefully overpriced and mediocre brasseries, but because it's a good night to go out in Paris. Bruno and I have recently developed the habit of going out of a Sunday night, too, since it means a night off from the kitchen and a calm moment to enjoy each other's company before the usual busy week ahead. Since we're not at home, we ditch domesticity–talking about getting a plumber in to fix the kitchen faucet or where we'll go for summer vacation or our work, or, our least favorite subject, the bills–and just enjoy each other's company instead. And since I'd been away in Barcelona working for a week, I suggested we go out the other night and hopefully have a good meal at Blue Valentine, a new bistro near the Place de la Republique and not far from the Canal Saint Martin that friends had been telling me about.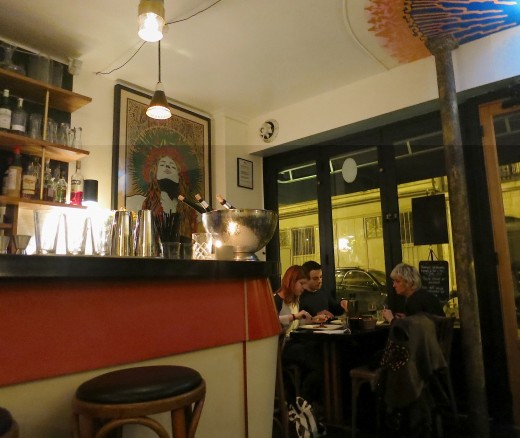 I liked this place from the moment I stepped in the door, too, since the welcome was friendly, and the dining room had a funky easygoing charm created by a sixties retro bar, flea-market furniture and some curious psychedelic posters on the walls. We sat next to a couple who were obviously on a date–they were both conspicuously well-dressed for a Sunday night and had that flush of awkwardness that radiates from a tentatively minted couple, and even though it's not generally a good idea when we're going to order a bottle of wine, we threw caution to the winds and decided to have a cocktail from the list that was provided as soon as we were seated. As Bruno noted, the bartender seemed really serious with his shaker, and was also carefully bruising fresh herbs and carving curls of citrus, so we expected the drinks would be good, and they were. He ordered a Margarita, which made me smile, because it seemed such an unlikely prelude to dinner on a winter night, but an affectionate bemusement at one another's gastronomic habits is something to be expected between two people who've been at the table together so often over the course of many years. I said nothing about the Magarita–it was his choice, but when I ordered a tasty little number that was Bourbon based, he said, "I think Bourbon is in your D.N.A.," and I took it affectionately, especially because it's true. Both of my very different grandmothers were enthusiastic Bourbon drinkers, and if my usually abstemious mother goes for a drink in a restaurant, it's always a Bourbon on the rocks.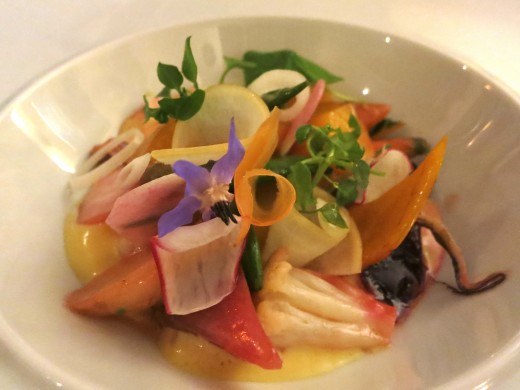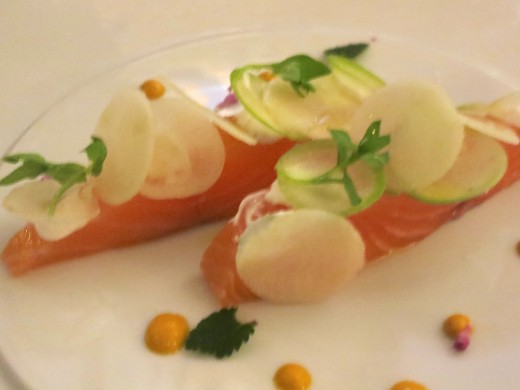 The short menu was appealing, too, and the waiter made a point of telling us that Saïto Terumitsu, the young Japanese chef here, had mostly cooked at the Mandarin Oriental and that their vegetables come from Terroir d'Avenirs, meat from the Coq Saint-Honoré, bread from the ovens of Thierry Breton at Chez Michel and coffee from et La Brûlerie de Belleville, an auspicious bouquet of pedigrees. Bruno ordered the sautéed vegetables with a sublime Maltaise sauce (Hollandaise spiked with citrus), and I decided on the marinated salmon, which came with garnishes of creme fraiche, violet mustard and vegetable 'coins,' and was impeccably fresh and generously served in two thick slices. Pretty to look at, the vegetables, including radishes, cauliflower, beets, and leeks, had been individually cooked to differing degrees of doneness to create a pleasant variety of textures, and they also packed a lot of taste.
Both dishes were so artfully presented that I found myself returning to a recent how-many-angels-are-there-on-the-head-of-a-pin set of musings on what a Michelin star means these days.  To wit, Terumitu's cooking was so precise and unassumingly original that it would probably have seemed even more impressive in a fancier setting, and given the quality of the cooking in many modern Paris bistros today, it's surprising that more of them don't have Michelin stars. That said, Bibendum, the guide's pneumatic mascot, does seem to have made a feint in this direction with the 2014 France Michelin Guide, since Septime won a much deserved Michelin star this year.
Two things consistently abetted the pleasure of this meal, too–the attentive friendly service and the fact that as far as I could tell, the date at the table next to ours seemed to be working out pretty well, or at the very least this pair seemed to have discovered one another's senses of humor by the time they got to dessert, because the sweet end of their meal was punctuated by regular laughter. There was a fair amount of laughter at our table, too, which made it easier to tell Bruno about how incredibly well I'd eaten during my week in Barcelona without making him too envious either. Matt Goulding, of the superb travel blog website roadsandkingdoms.com, made a superb Asian meal one night, the charming Tara Stevens introduced me to the wonderful Bar Mut on another night, and suave Barcelona based Danish gastronaut Kristian Brask Thomsen took me on a spectacular tapas tour that ended at 4am and left me with a permanent life-long craving for mountains more of the tiny deep-fried rabbit ribs served with aioli at Lolita Taperia.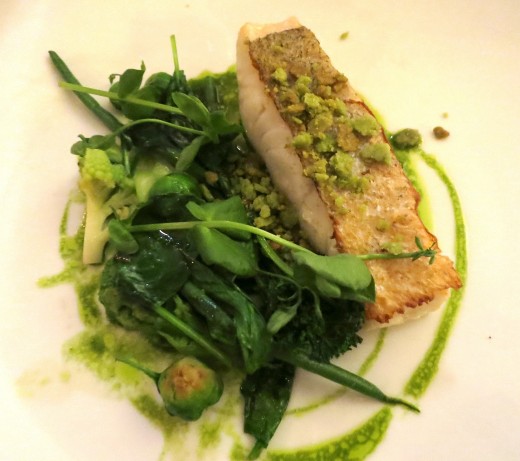 Okay, maybe Bruno was feeling a little envious by the time I recounted the spectacular tapas I'd eaten at Tickets, but with the arrival of our main course, we tacked back to Parisan shores with some really excellent food. My lieu jaune (yellow pollack) had a golden crust and came with a healthy but succulent thatch of green vegetables, including brussels sprouts, pea shoots, beans, spinach and snow peas that was glossed with a chlorophyll rich green drizzle that melded the dish together and a sprinkling of crushed toasted pistachios that add both texture and richness to a dish which proved that good nutrition and gastronomy need not be incompatible. Cooked rare and accompanied by an exquisitely light sauce of roasting juices, Bruno's duckling was excellent, too.
Aside from the immediate pleasure of good food, these dishes were gratifying for confirming the truth of what I'd been telling everyone about the food in Paris these days all week in Barcelona. Because it's true that the best food in Paris right now isn't found at at the cluster of addresses with multiple Michelin stars that loom over the city like some sort of Gallic Mount Rushmore but in the spectacular constellation of excellent contemporary bistros that are found all over the city and which increase in number with week that goes by, Blue Valentine being a perfect example.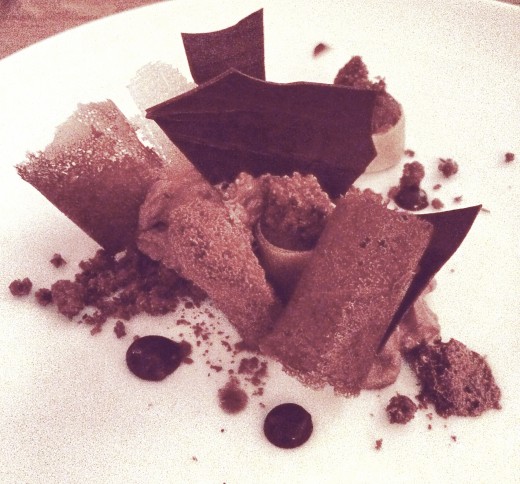 We shared an all chocolate dessert to conclude this very good meal, which ended on a rather ill-advisedly bibulous note when we accepted the owner's generous suggestion that we sample his Italian fruit brandies from the Veneto. "I hope we get to go back there, that was a really good meal," said Bruno in the car on the way home, a reference to the fact that I'm often so busy trying new tables that we rarely get back to those we liked, but in this instance, I promised him would, and I'm looking forward to it.
13 rue de la Pierre Levée, 11th Arrondissement, Tel. 01-43-38-34-72. Metro: Parmentier or Republique. Lunch menu 19 €, dinner menus 29-36 €-54 €  Closed Monday and Tuesday www.bluevalentine-restaurant.com