CAFE CONSTANT–An Honest Tourist Restaurant, B-/C+
July 27, 2013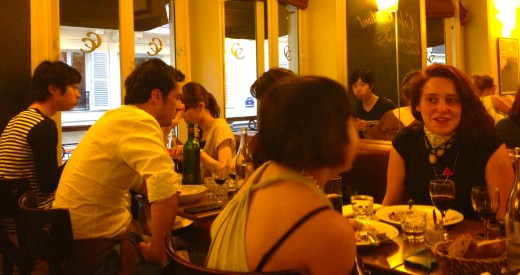 Since he left the Hotel de Crillon in 1996, chef Christian Constant has slowly been colonizing the rue Saint Dominique in the 7th arrondissement, a propitious location for a restaurateur because it's an affluent neighborhood favored by young professionals and also a part of Paris that gets a lot of tourist traffic. After a brilliant career at the Crillon, where Constant was the mentor of a whole generation of talented young chefs who relaunched the Paris bistro, among them Yves Camdeborde, Thierry Breton and Christian Etchebest , and also trained such talents as Eric Frechon (L'Epicure, Hotel Le Bristol) and Emmanuel Renaut (Les Flocons du Sel, Megeve) both of whom have three Michelin stars today, he opened his one star restaurant Le Violin d'Ingres. This dressy table was followed by the very popular Cafe Constant and Les Cocottes, both in the rue Saint Dominique.
The no-reservations Café Constant was an immediate success for offering good-value bistro cooking in an expensive neighborhood, and I used to go often when it first opened. Their no-reservations policy eventually caused it to fall off of my go-to list, though, but after Bruno and I left a birthday cocktail party in the neighborhood the other night and knew we had an empty fridge at home, I suggested we go for dinner. Not only did I wonder what it might have become after a long absence, but it's a useful address for travelers, because it's open daily and all summer long.
Arriving, a crowd was already filling the sidewalk out front, including a group of young Japanese women who were admiring the metal Eiffel Towers they'd just bought, a large number of Americans with Rick Steves' guidebooks in hand, a pair of very chic young Italian women, a band of Australian ladies, and a child of Gaul or two. Bruno went inside to see how long it might be, and I was surprised when he returned and said twenty minutes. So we sipped rather anonymous glasses of Languedoc Chardonnay and watched the world go by until our turn came. We were standing off to one side, when I heard overheard a middle-aged French lady remark to her similar friend, "I only go there during the winter now, and not so often. It's not really cheap anymore and during the summer it's a canteen a touristes." I hate the assumption that tourists don't know good food–these days most of them have done a huge amount of research before coming to Paris, and I also dislike condescension towards them. I mean, who hasn't been lucky enough to be a tourist themselves?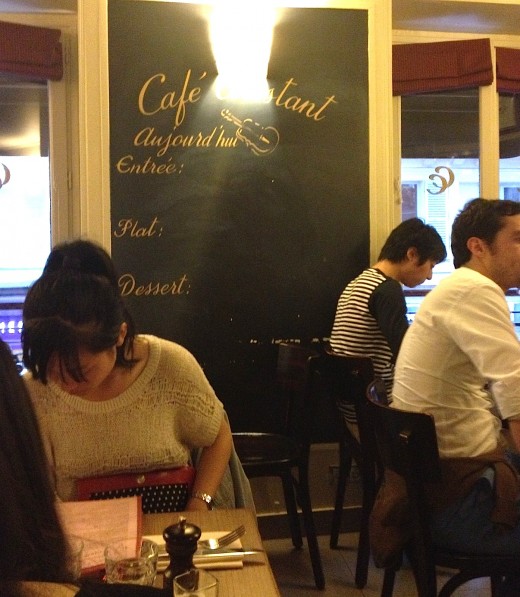 After almost exactly twenty minutes, we were sent upstairs to the very busy first-floor dining room and shown to a small table elbow-to-elbow with two other small tables. Happily, the couple at an isolated deuce was standing up to leave, so I asked if we could sit there instead, and the amiable young waiter–the service is excellent here, said sure, but please wait until I reset it. Seated, we looked at the menu, and all starter were 11 Euros, all mains 16 Euros, and all desserts 7 Euros (with the exception of a special or two). So a three-course meal here would run 34 Euros a head before wine, which struck me as moderately priced rather than cheap, especially since the wines were ambitiously marked up.
Still, it was a nice looking menu with lots of appealing choices, so it was easy to order, which we did. "It doesn't feel like we're in Paris anymore," said Bruno, glancing around the room at tables where people were avidly studying maps of the city and ready to tackle incomprehension with translation dictionaries, which were unnecessary, since the staff all speak good English. Then our nearest neighbor, part of good-looking young couple from Atlanta, leaned over and asked if we could help with the wine list. "They don't have any of the wines we like at home, like Sauvignon Blanc or Chardonnay," said the Southerner and Bruno, who finds American wine behavior mystifying, explained that these were grape varieties not actual wines themselves, which came as a revelation to the Georgians. Since Bruno doesn't have a mean bone in his body, there was nothing intimidating in what he'd taught these two, and I later told him that what he'd done was actually very nice, because the reason most people travel is because they're curious and want to learn new things.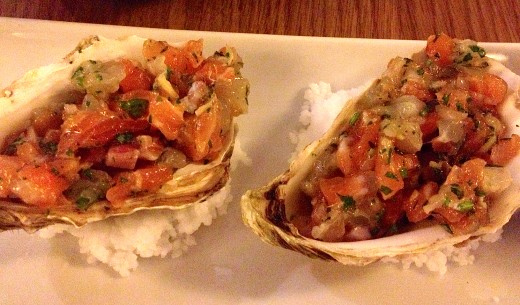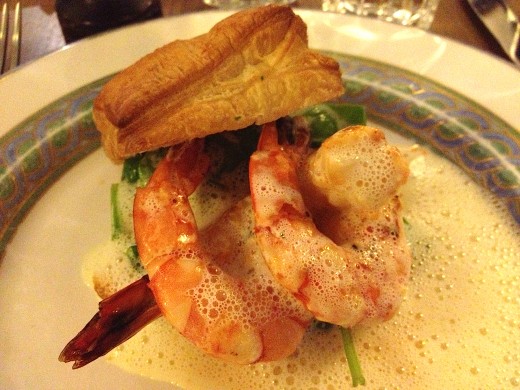 The moment I laid eyes on our starters, I was a bit letdown. Bruno ordered salmon, sea bass and oyster tartare seasoned with ginger, while I liked the idea of the "tarte fine aux gambas grillee" with a small salad of baby spinach leaves and lemongrass sauce (alarmingly translated as 'citronella' for English-speakers). The problem was that this food looked like it had been catered rather than cooked. The oyster shell containers for Bruno's tartare were clever portion control, while my 'tart' translated to two pieces of puff pastry, which is definitely not a tart in my book. And the same portion-control was evident in this dish as well, since I got three shrimps. Both dishes tasted good, although Bruno's tartare tasted more generically marine than distinctly of the individual components, but they lacked any culinary signature and brought up-market wedding-lunch cooking in my native Connecticut to mind.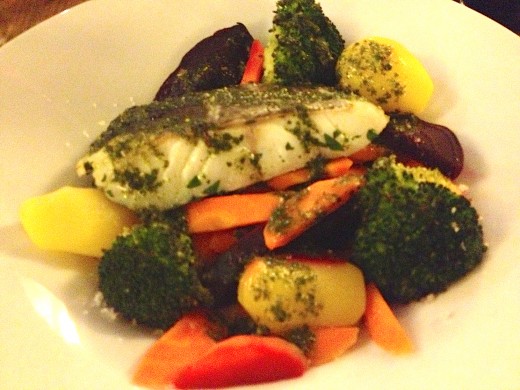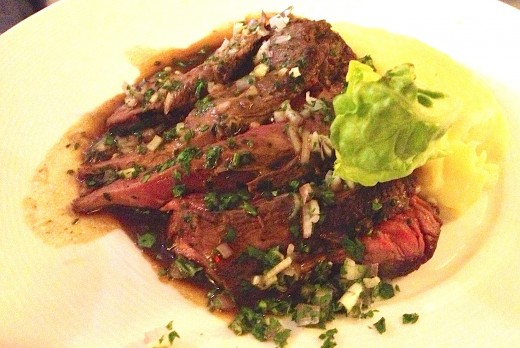 Happily, our mains were generously served and displayed more gastronomic muscle in the kitchen. I liked my cod with potatoes, broccoli and carrots and a side of nicely made aioli, an old-fashioned provencale dish (minus the broccoli) that I love, while Bruno was happy with his sliced steak with a shallot and herb vinaigrette and a side of silky potato puree. The kitchen was clearly working with respectable produce, too, and this food was light years from the tourist-trap hellholes of the Latin Quarter and the Champs Elysees. On the other hand, for almost exactly the same money, I'd much rather have been at Pierre Sang Boyer or La Regalade Saint Honore, since both of our mains came off as the sort of formatted high-volume cooking the French might refer to as "correcte," or honest, while exhibiting no perceptible creative flair. Ditto the creme caramel we shared, right down to its squirt bottle blazes of caramel sauce. And perhaps even more gravely, despite the well-meaning and conscientious service, this restaurant had little charm.
Oh, to be sure, you can do much worse in this part of the city, and it's a useful address when so many other Paris restaurants are closed for the summer holidays. I might be tempted, too, on a Sunday night, another time slot that can be challenging, if I found myself in the neighborhood again, but I wouldn't describe it as a destination restaurant. Instead it's an honest tourist restaurant that's been very carefully calibrated to appeal to a transient international crowd who are mindful of what they're spending and relieved not to run into alarming French grub like kidneys or tripe. Note, too, that they have a couple of sidewalk tables if you want to dine al fresco on a hot night.
Café Constant, 139 rue Saint-Dominique, 7th, Tel. 01-47-53-73-34. Metro: La Tour-Maubourg, Pont de l'Alma or Ecole Militaire, www.maisonconstant.com Open daily for lunch and dinner, Average 34 Euros.