Champeaux, Paris | A Fine Feint at Gastronomic Democracy in Les Halles, B-
May 29, 2016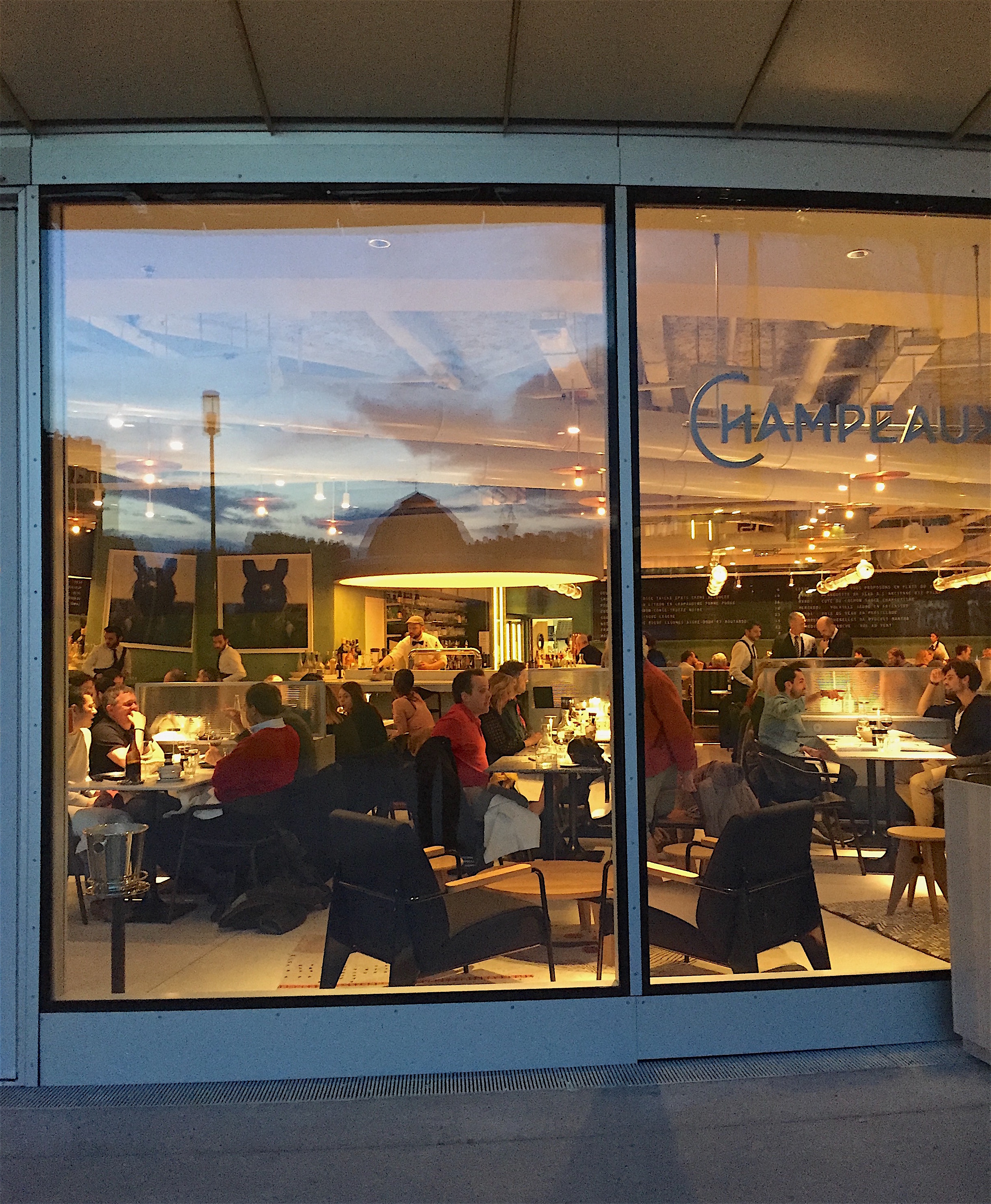 Champeaux is gastronaut Alain Ducasse's new brasserie in the revamped Forum des Halles in Paris. I've been several times, and I rather like it. It is, of course, still a work in progress, but it's also an attempt to make good food available to all comers again–even if the prices are a little too high, witness all of the kids sitting on  the stone stairs that lead into the exorbitantly renovated shopping center and transit hub (they spent $1 billion here but it sure doesn't show) eating fast food from grease-strained white paper bags. Observing how people will adapt any venue to their own needs and uses despite the head-strong high-faluting intentions of the architect, the fledgling renovation of Les Halles is also an invitation to muse on how gentrified good eating has become in most major Western cities. And in the heart of the neighborhood that was the site of the main food market in Paris eight centuries before it was so brutally relocated to suburban Rungis in 1969, this takes on a particular poignancy.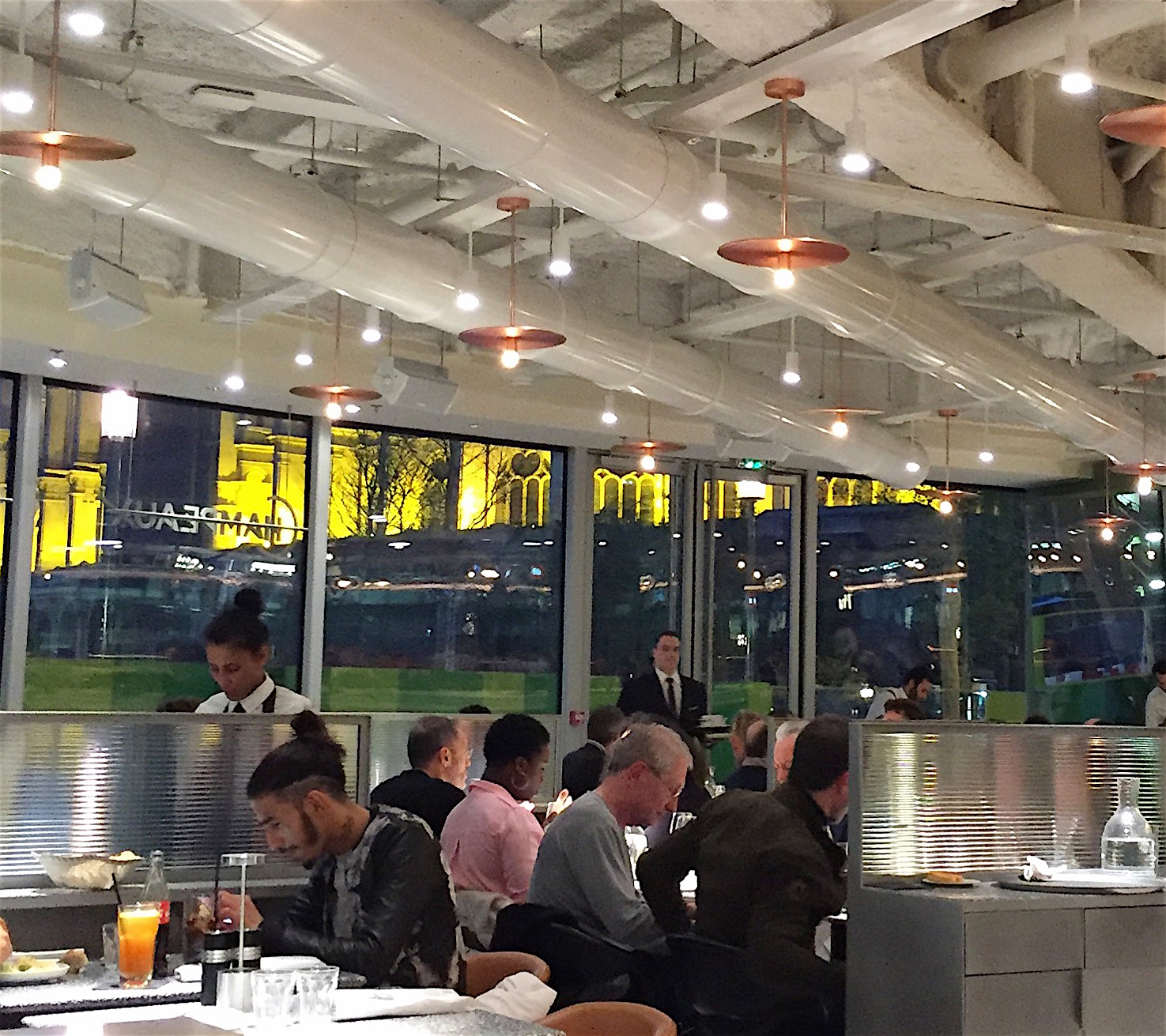 To wit, when I first moved to New York City and took a punitively underpaid job in book publishing, there were dozens of places I could find a good meal within my paltry means both in midtown where I worked and on the Upper West Side where I lived. For a couple of dollars, I could get a slice of smoked fish on a bagel, a big combo plate of Cuban-Chinese food, a couple of slices of good pizza, a big juicy burger, and, if I was willing to hoof a dozen blocks further north, a big spicy plate of goulash with fried potatoes. The incredibly delicious variety of food available to me on my modest means was one of the major reasons I fell in love with New York City, and after I spent almost ten years sating, sort of, an insatiably compulsive and intertwined hunger for new night clubs and sex with strangers I hoped I'd never see again, this gift of food was the passion that survived as the pithe of my love for NYC after I moved first to London and then to Paris.
So even though I could have fathered most of the kids sitting on those steps leading down into the transit center bowels of the Forum des Halles that connect it to distant suburbs most Parisians alternately don't know or fear, I still couldn't help but being moved by their palpable glow of excitement, or the adrenalin-boosted elation tinged with fear that any kid feels when he or she steps off the train in the heart of the big city. I mean, hey, when I was an adolescent with a shoulder-length parted-in-the-middle Prince Lancelot haircut who lived in suburban Connecticut, there was nothing I liked more than a Saturday of hanging out in the Child's or Howard Johnson's restaurants in Times Square smoking cigarettes (Newports), drinking too much coffee and hoping against hope that I might be accosted in this funky, rough, sex-riddled neighborhood (Never happened, alas, probably because it's no fun to shoot pigeons sitting on a phone wire, or to come on to a kid who is so patently  eager to be disabused of his hopeless naivete when it's badge of privilege visible to everyone but the wearer).
So when we went to Champeaux the first time, I liked the fact that there were some interesting looking kids from the burbs in the room who'd decided to dare Ducasse. I mean, these kids probably knew about him from various shows about the reboot of Les Halles on television rather than anything particularly gastronomic, and most of them probably hadn't had the experience of any restaurant that would end up in the egregiously elitist Michelin guide. They also likely wouldn't know a bistronomie restaurant if they stepped on one. Why?
Though it's been blessedly gentler than what's gone on in New York or London during the last couple of decades, the sociological parsing out of central Paris means that these kids and their families have since been threshed out of the mix, which is why, shock horror, the Paris press was so befuddled by the huge success of the first Burger King to return to France after a long absence when it opened in the Gare Saint Lazare, another major venue for suburbanites arriving in the city. The socialists may run City Hall, but what's left of the middle class in Paris is hanging on by a thread, to say nothing of working class Paris, which is basically gone, along with the frequently smoke-filled cafes where they could get lunch for 30-40 francs. Rising rents also explain the explosion of franchise places, often of American origin, along the city's main avenues, here a Subway, there a Pizza Hut and across the street a KFC.
New York City, God love it, keeps the cheap hot meal within reach of almost everyone with its astonishing culture of food carts. Nothing similar exists in Paris, and to my knowledge, very little thought has been given to the way that gentrification has completely changed the city's restaurant landscape. With the redesign of the Forum des Halles, however, there was no way of ignoring the fact that the busy rail station deep below spills thousands of suburbanites of modest to middling means into the heart of the city everyday. Champeaux at least makes a fluttering attempt to be accessible to these people, since you can get a cheese soufflé for 14 Euros and the plat du jour is 22 Euros.
The diversity in the dining room the other night was refreshingly different from most Paris restaurants, too. The room itself is huge and has been criticised for feeling like its in an airport or train station, but first of all, it is is part of a train station, and second of all, I like its post industrial look and vaguely tongue-in-cheek references to recently gone 'retro' 1970s French design in public spaces. The lighting in a difficult space is good, too, and the terrazzo table tops are both practical and good looking. The single shoulder strap on the aprons the waiters wear is the only design detail I'd hasten to correct, because it's dippy looking and impractical.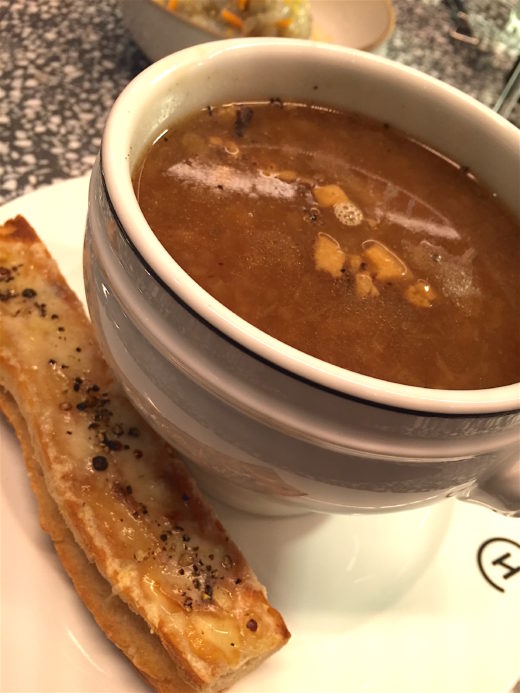 The menu is modern and modish, with only the plat du jours and a peculiar post-modern riff on the onion soup that was one of the neighbourhood's great dishes for centuries playing the card of tradition. I prefer the version a few doors down at Au Pied de Cochon, where a crouton floats a cap of melted cheese.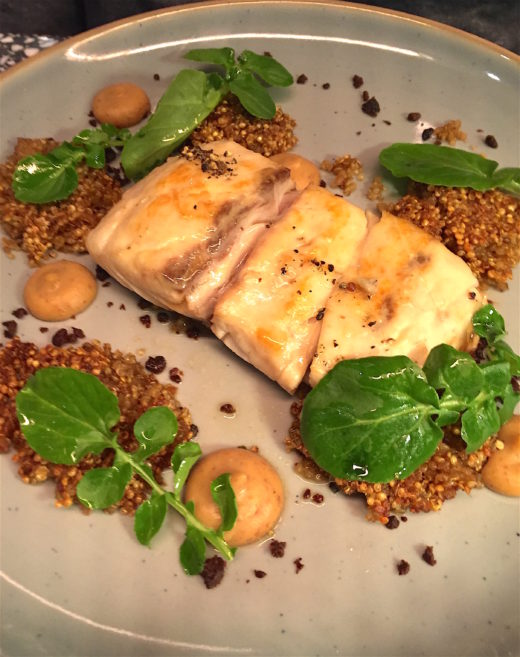 Otherwise, there's a sextet of beautifully made souffles–three savoury, three sweet, which are the signature dish here, and a couple of nods at healthy eating with dishes like a starter of cooked and raw vegetables with herb pesto and croaker with toasted quinoa and a lemon-olive condiment. If you go for the hand-chopped steak tartare, ask for it without the exasperating shower of Jerusalem artichoke chips that adds nothing to the taste of the good quality well-seasoned meat.
My best meal here so far was a slice of excellent pâté en croûte, followed by the quenelles de brochet, Friday's plat du jour, in a beautifully made sauce Nantua, and finally a pistachio souffle that hid a pool of salted caramel sauce and was accompanied by caramel ice cream. For these three dishes, I would definitely return, and all things be equal, it's heartening that the brasserie revival pioneered by chef Eric Frechon when he opened Le Mini-Palais and Lazare, is continuing to gain momentum, with chef Thierry Marx's new brasserie at the Gare du Nord in the wings for this year's rentrée. On these terms, Chapeaux is a useful new address for the same reason any brasserie is, to wit they remain walk-in restaurants where you can usually get a table at the last minute and have a decent feed while enjoying some good people watching.
And after all, the real measure of any really great food city is how well it feeds everyone who lives there.
La Canopée, Forum des Halles, 1st Arrondissement, Tel. (33) 01-53-45-84-50. Metro: Les Halles, Chatelet , Louvre-Rivoli, Etienne Marcel. Open daily. Average 30-35 Euros. www.restaurant-champeaux.com