Clover, Paris–JF Piège's Great New Bistro in St-Germain-des-Prés, A-/B+
December 29, 2014
Clover, Jean-François Piège's new table in  Saint-Germain-des-Prés, is the bistro this storied Left Bank neighborhood has been wanting for a longtime. Think of this intimate forty-square meter place as sort of a post-modern Brasserie Lipp, or a place that offers a deep experience of the moods and mores of this chic and still intellectually vibrant part of Paris. Happily, however, they part ways entirely when it comes to their menus, since Piège's witty, delicious and intriguingly wholesome contemporary French cooking couldn't possibly be more different from the generally tired and over-priced brasserie standards served at Lipp, a handsome but faded local institution that's stood still as such fashion-alert places like the Emporio Armani Caffé and Ralph's have succeeded in luring away its clientele of editors and style mavens. What they have in common, though, is the way they present a cameo version of the neighborhood–sepia-toned and contemporary, respectively, and distill its allure into a restaurant experience.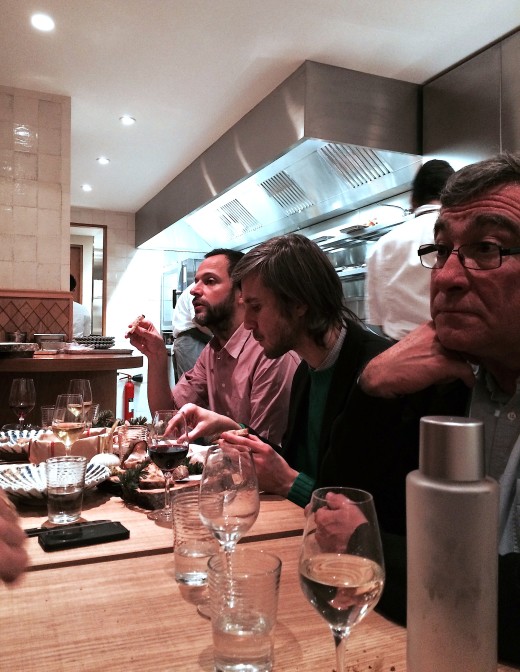 Piège's take on Saint-Germain-des-Prés is worldly, stylish, convivial and decidedly gourmand. It's also very personal. When he told me about the project last summer, he said he wanted to create a place that was "homey, warm and a little bit like a club, a place where people who love good food might make new friends." This was very much my experience when I went to dinner here with Bruno a few days after it opened the week before Christmas. Piège's delightful wife Elodie greeted us with a warm smile when we entered this very intimate place with an intriguing decor of walls covered half in white tile, half with diamond-shaped wooden marquetry. The produce the kitchen was using that evening was handsomely displayed as a set of still lives inside of two glass-fronted stainless steel cabinets, and beyond the long row of tables lining the wall, a crew of cooks was busily at work in the kitchen, which is completely open and takes up most of the back of this long narrow space.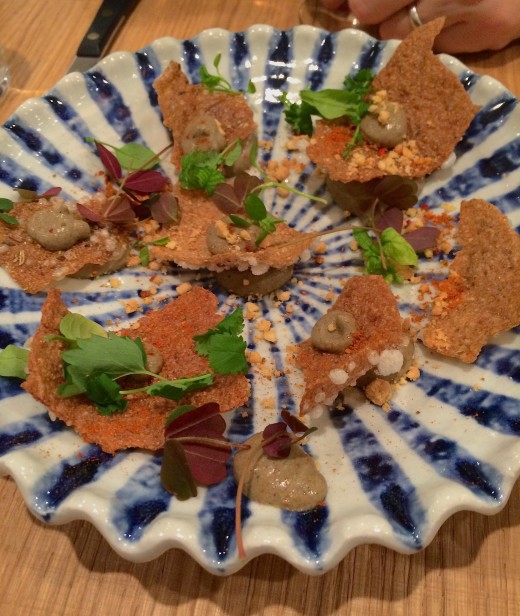 No sooner than we were seated, our neighbors to my left, a very friendly couple from Montpellier, struck up a conversation, explaining that they'd come to Paris specifically to eat at the restaurant, because it was Madame's birthday and Madame has always loved Piège's cooking. Anyone who knows Paris well knows that this is not a common occurrence in a Paris restaurant, and so I was even more surprised when the young couple on the other side of us engaged us in conversation just as the first course in a menu of seven arrived, puffed roasted quinoa wafers and black-sesame-and-eggplant puree, which were pleasant nibbling with a glass of Champagne. They'd read about the restaurant in Le Figaro, and also fans of Piège's, they'd booked right away as well.
When we finally resumed our own conversation with the arrival of a second course, a 'foie gras without the gras,' or a rich liver pate served on a wooden cutting board with fine slices of homemade cured pork belly, toast, and decorative sprigs of spruce, Bruno spoke to me in English: "Quite a friendly place, isn't it?" I knew he feared we might be over engaged by our neighbors throughout the meal, but the two couples had astute psychic antennas enough to leave us in piece when we began eating this interesting composition of tastes and textures.
A little silence also allowed me to muse even this early in the meal that Piège had devised an entirely different cooking style for this restaurant from those at his two other tables, Thoumieux, a stylish modern brasserie, and the superb Restaurant Jean-Francois Piège, both in the 7th Arrondissement on the rue Saint Dominique. Demonstrating a keen understanding of the gastronomic preoccupations that make Germano-Pratins (as residents of Saint-Germain-des-Prés are known) tick, this bold modern kitchen is clearly seeking to reinvent the Rabelaisian pleasures of traditional French bistro food for a new era that's increasingly attuned to environmentalism and good health; this means, of course, a diet that includes much less meat, or perhaps banishes it altogether, and more organic vegetables, whole grains and seafood from sustainable fisheries.
This is not an easy thing to do, of course, since much of the consoling richness of great old-fashioned bistro cooking comes from the French genuis for rendering the juices, collagen and fat of meat into sauces. As I've experienced at other Paris restaurants where chefs are grappling with the same challenge, the most present danger in this new cuisine of admirably good intentions is that it can often look or taste austere. This is not the case at Clover, which may be the most successful restaurant in Paris today in terms of the doubly virtuous diet (it's good for you and for the earth). Piège's cooking is provocative, since it often ventures away from anything familiar, but deeply considered and as reverent of Gallic culinary tradition as it is attuned to the new realities that are changing, and which will continue to change, the way we eat now and in the future.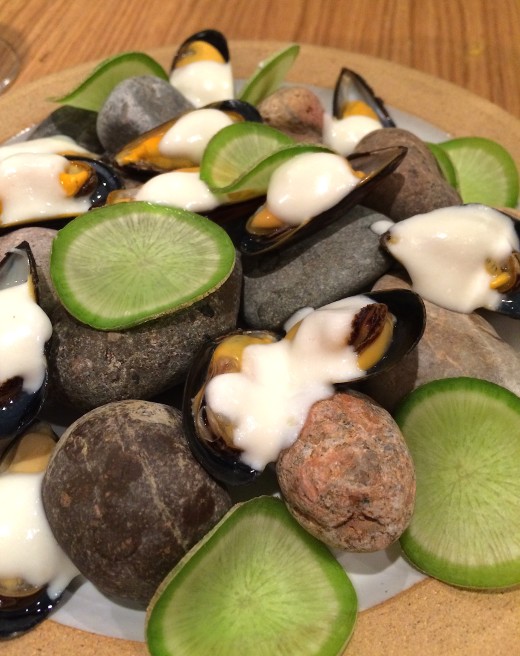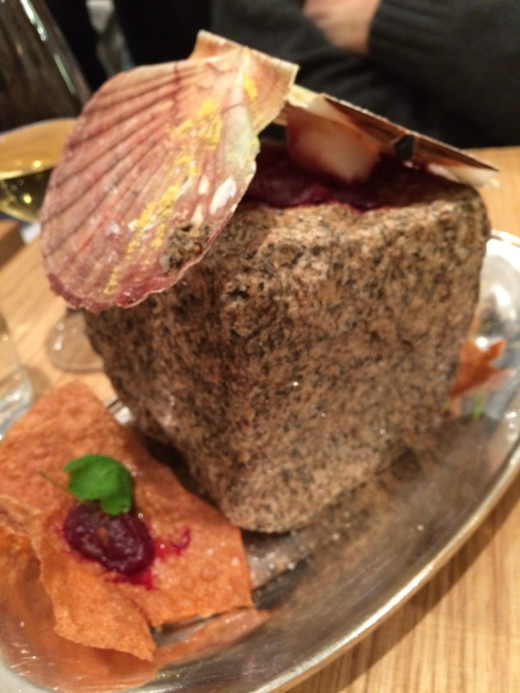 So with all of this in mind, I was surprised by how delicious the food became after a quiet and somewhat ascetic debut. Meaty little mussels anointed with horseradish cream–a brilliant idea, since it flattered their sweetness by providing it with a foil–came on a plate-sized shoreline decorated with slices of the big green globe radish that's at the top of vegetable style charts in Paris this winter, and then a French take on shabu-shabu cooking–a big hot block of pink granite on a stainless steel platter–arrived crowned by a pair of shucked scallops on a bed of red-beet jam. Next, a small steamed filet of maigre (croaker fish) garnished with shaved radishes in a vivid yellow chive-flecked pool of gently astringent nasturtium jus.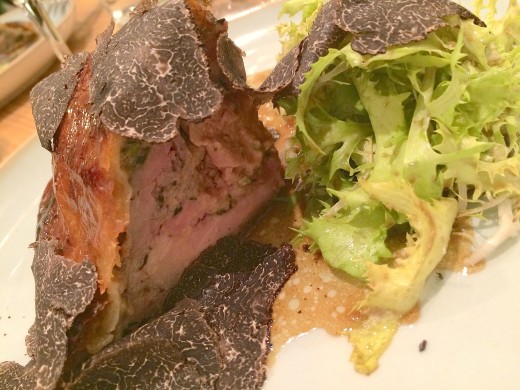 Up to this point, our meal had been more or less fat-free, so it was a small thrill to spend some of this gastronomic virtue on an exquisitely made wild duck tourte, which came to the table with a small salad of frisee and received a sexy shower of black truffle shaved table side before we tucked in. The buttery pastry dome elongated the pleasure of the duck meat, gizzard, and foie gras filling, which was gently earthy and perfectly textured.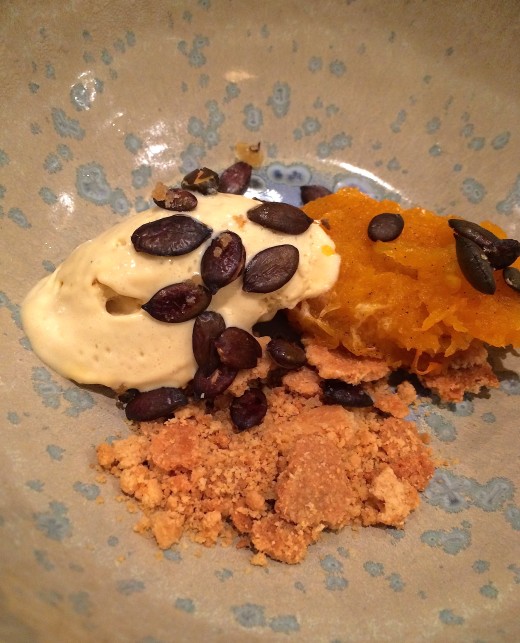 And the trope of gastronomy that's good for you made a triumphant but delicious closing statement with dessert, which was a baked jumbo sweet banana squash from Joël Thiébault that had been drizzled with rum and vanilla before being oven-roasted and which came to the table with freshly made custard ice cream and caramelized crumbs and toasted pumpkin seeds.
Piège says that he'll be constantly revising the menu at Clover, a name he chose because he's a collector of four-leaf clover objects, and that he finds it "challenging but exciting" to be inventing a new healthy and distinctly French style of bistro cooking. "I think it will be possible to retain and enhance all of the things Parisians have always loved about bistros and bistro cooking, but adapt them to a new century," says the chef, and we're the ones who'll be lucky enough to find out how he'll continue to do this as this excellent little restaurant grows.
Restaurant Clover, 5 rue Perronet, 7th Arrondissement, Tel. 01-75-50-00-05. Metro: Saint-Germain des Prés, Mabillon or Rue du Bac. Closed Sunday and Monday. Lunch menus 28€ and 42€; Dinner menus 58€ and 73€ www.jeanfrancoispiege.com