CORETTA, Paris–A Very Good Contemporary French Restaurant in an Up-and-Coming Part of Town, B+
March 20, 2014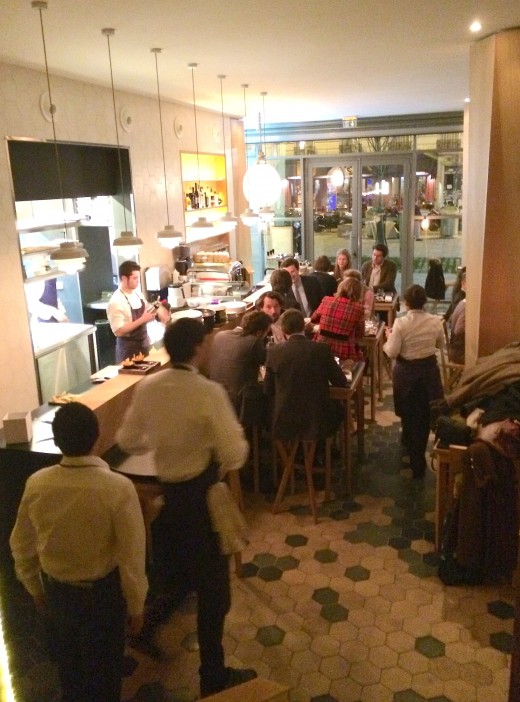 A handsome new park is emerging on the northern edge of Paris in the 17th arrondissement, and it's named for the American civil-rights leader Martin Luther King. Only a few acres of the new green space built on former rail yards are now open, but the park is beautifully landscaped and will be the centerpiece for a whole new quartier when it's completed in 2015. For the moment, just a few of the new buildings surrounding the park have been finished, but one particularly good-looking HLM (subsidized housing units) houses not only a bunch of Parisians who must be delighted by their new lodgings, but one of the best modern bistros to have opened in the city recently. It's called Coretta, after Martin Luther King's wife, and it's run by the very talented chef Mexican born chef Beatriz Gomez and her husband Matthieu Marcant, and since they're already very busy with their excellent restaurant Neva Cuisine in the 8th arrondissement behind the Gare Saint Lazare, they've hired chef Jean-François Pantaleon, formerly of L'Affable in the 7th arrondissement, to chef their new table.
Curiously, I first heard about this restaurant from my friend Pascale, an architect who lives in the neighborhood and who praised the design of the duplex space as one of the best she'd recently seen in Paris–most of the time friends recommend their latest discoveries to me because they loved the food. So I did some research, and when I realized that it was a new address from Gomez and Marcant, I booked immediately, since Neva Cuisine is one of my favorite modern bistros in Paris, not the least of the reasons being that it has one of the best young pastry chefs in Paris, Yannick Tranchant , with whom Gomez worked when both of them were in the kitchens of La Grande Cascade.
When Bruno and I showed up at this duplex space on a recent early Spring night, we immediately loved the decor, too. On the ground floor, they're a couple of tables and a bar and then upstairs, a striking dining room with spiralling oak-panelled beams and a grid of spot-lights over head. The glass walls offer nice views over the adjacent park, too, and this very successful study in eco-conscious modernism was more reminiscent of Santa Monica than Paris, which immediately led us to a conversation about how Paris should or could be modern. Bruno's looking forward to a show at Le Petit Palais called "Paris 1900," which opens on April 2 and will showcase Belle Époque Paris, the city that was a global beacon of modernity in all realms, and as much as he loves the carefully preserved beauty  of central Paris today, he worries that the city is becoming too museum-like and would love to see some bold smart urbanism in the French capital at the still newly hatched beginning of the 21st century. Myself, I'm a little more cautious, since I already suspect that the remodelling of Les Halles is going to be a serious disappointment–why, oh why didn't it occur to anyone to include a major new food market in this project?–and so much recent urbanism and architecture in the city is underwhelming, including, for example, the bleak Bibliotheque Nationale in the 13th arrondissement. And while we're at it, would the powers that be please tell Burger King to get the signs out of the windows of their restaurant at the Gare Saint Lazare, so that this elegant facade isn't punctuated by big entreaties to eat a Whopper.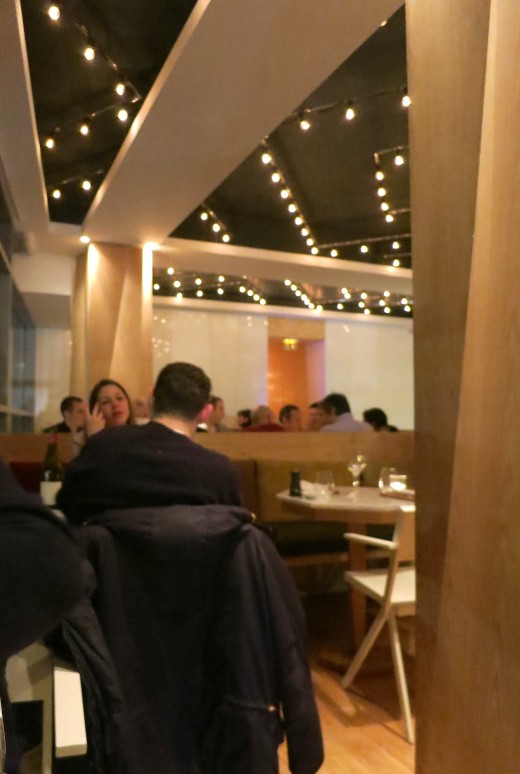 Since our meal that first night was good, but suffered from some imprecisions and wasn't up to the level of Neva Cuisine, I held off from writing about this place until I'd been back a few times, delicious research indeed. Now that the kitchen is really up-and-running, I can whole-heartedly recommend this place, and since they're planning to serve on the broad terrace out front when the weather gets better, I suspect that it's going to become even more popular.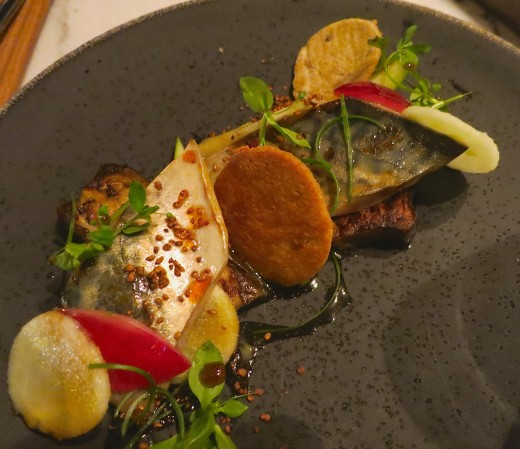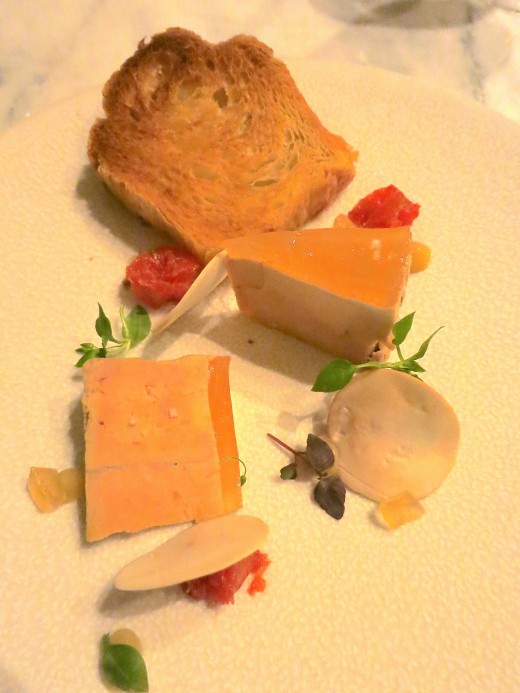 My favorite starter here is the superb composition of miso-glazed mackerel with Granny Smith apples and ginger, a beautiful cameo of clean and complimentary tastes that is one of those rare dishes that's as healthy as it is satisfying. I also like the smoked eel with veal and a creamy horseradish sauce spiked with Massala, and Pantaleon also does some of the best foie gras I've had in while, which comes to the table with pomelo relish and slices of toasted brioche.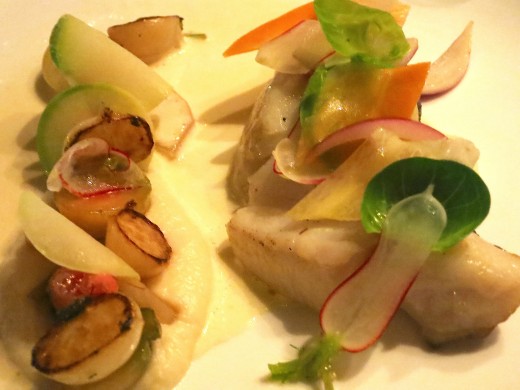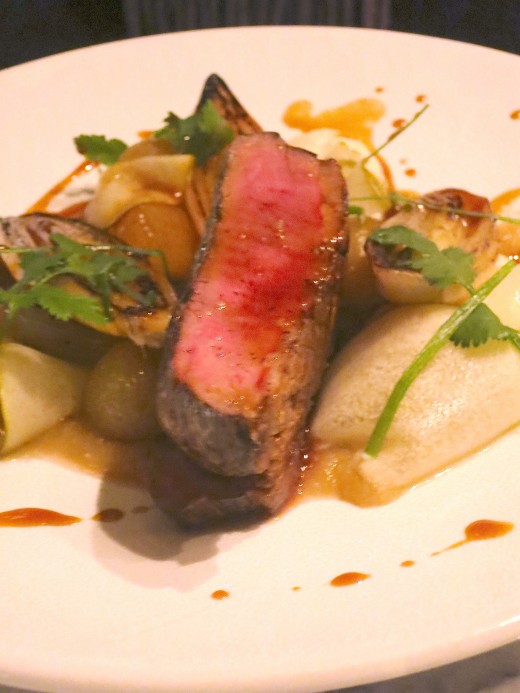 Main courses further reveal the edgy cosmopolitan personality of a menu written haiku style, or as slightly cryptic lists of ingredients, which is very modish in Paris right now. I like the signatures of Pantaleon's cooking, though, which run to an avowed love of vegetables and fruit, a percussion of different acidities, and a love of smoke and charring. Pairing cod demi-sel with vegetable pickles was an inspired idea, especially since the kohlrabi, carrots and radishes had only been pickled enough to brighten but not overwhelm the fish, and duck roasted duck with grilled shallots and pears and just a dribble of jus was suave and satisfying compilation of tastes and textures, too.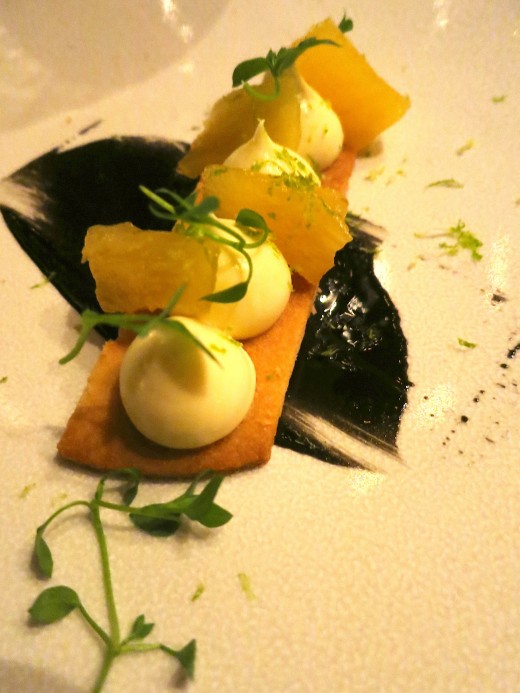 I certainly detected Yannick Tranchant's clever hand in my favorite dessert here, too–a sable biscuit topped with poached pineapple and lime cream, which was refreshing and healthy while still delivering on the 'treat factor,' or that child-like flash of pleasure that comes from eating something sweet and special, that distinguishes all good desserts.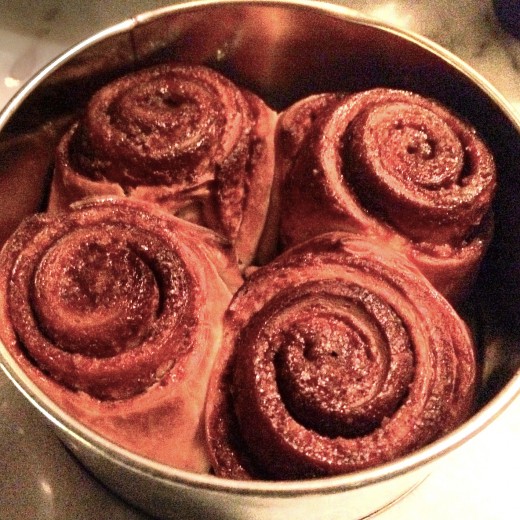 And since I love sticky buns of any stripe or kind, the "Cinnamon Box," a studious Gallic take on this pastry most often eaten for breakfast in North America, was fine by me even after dinner, and it was fun to pluck the hot, fluffy beautifully made caramel brioche out of the tin in which they were served and dredge them in the accompanying plate of freshly made vanilla ice cream.
Service here if prompt and friendly despite the complicated logistics due to a kitchen on the first floor, and the wine list is short but includes several great bottles, including François Chidaine's Montlouis les Choisilles and two good pours by the glass from Yves Cuilleron–his Les Candives red and Roussane VDF white. Les Batignolles has been short a signature table since chef Christophe Pele left La Bigarrade, so this place has received a warm welcome from the neighborhood, and I have a hunch it's going to become an institution in this pleasant and rapidly evolving corner of Paris.
Coretta, 151 rue Cardinet, 17th Arrondissement, Paris, Tel. 01-42-26-55-55. Metro: Brochant. Average 40 Euros. Closed Saturday lunch and Sunday. www.coretta.fr