Dilia, Paris | A Talented Modern Take on the Italian Kitchen, B-
October 22, 2015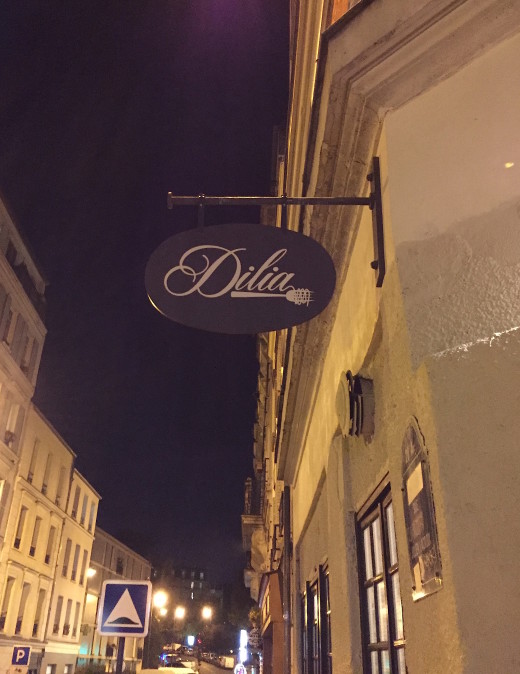 Up in Menilmontant, the over-night success of the oddly named Dilia, a new bistro serving stiffly priced prix-fixe menus of contemporary Italian cooking, offers proof that a strong whiff of La Vie Boheme remains irresistible to the world's style setters. Occupying the same simple little neighborhood tavern that formerly housed Michael Greenwold and Simone Tondo's Roseval, Dilia has become every bit as much of a modish address as its predecessor since it opened a few weeks ago.
The nervy contemporary Italian cooking of chef Michele Farnesi, who previously cooked at Pierre Jancou's restaurant Heimat, a place that's never really caught on, is very good, too. But during a recent dinner here with Bruno and another Parisian couple, it was apparent that most of the people in this small and rather cramped dining room with plank floors, bare white walls and zero décor beyond the light fixtures, weren't in the room because of the food, but because they'd heard or read somewhere that it was the place to be.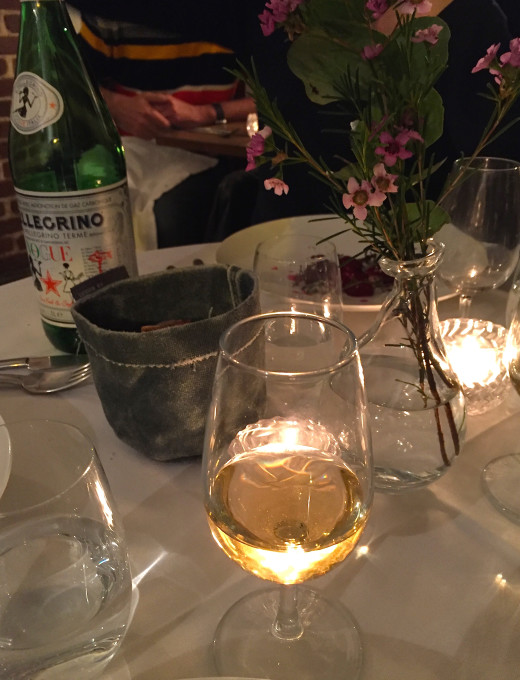 Such is the immediacy of the world's gastronomic media these days, in fact, that the gas has rarely been turned on more than once or twice at any half-decent new Paris restaurant before it becomes fodder for the insatiable maw of media, more multifaceted than ever in this world of blogs and user-driver or crowd-sourced restaurant sites than ever before. This rabid appetite for the new is wonderful in many ways, because it demonstrates just how deeply engaged by good food a huge swathe of the general public in every country in the world has become, but on the other hand, its king or queen-making powers are frequently deleterious to fragile, newly born restaurants.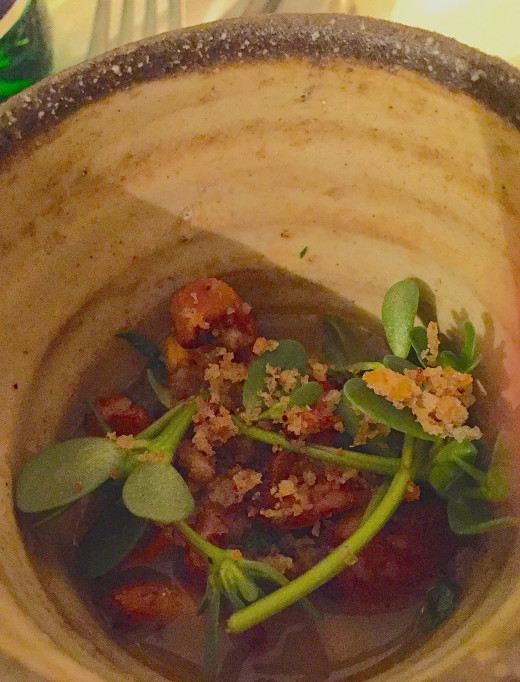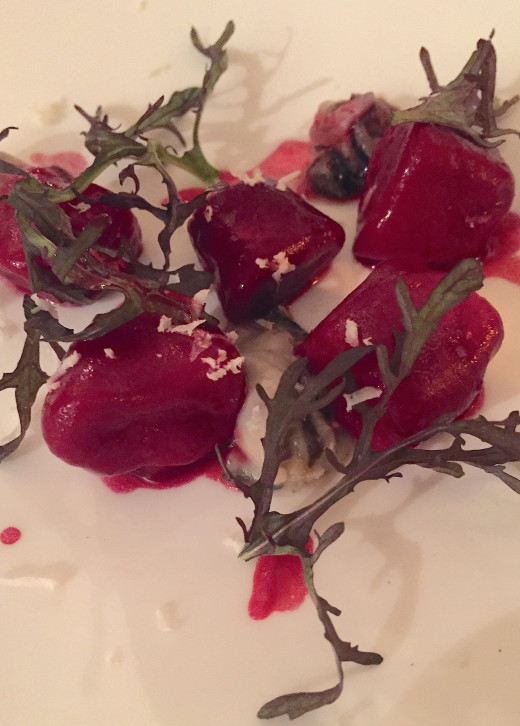 Consider our meal at Dilia, for example. We arrived pretty much on time, and because several of us had to get up early the following morning, we chose the four-course 44 Euro tasting menu and ordered an unexpectedly excellent bottle of biodynamic white wine from Emiglia-Romagna, a part of Italy I generally associate with Sangiovese. A sort of fiddly forgettable amuse bouche came to the table, and then a bottle of wine later, or forty-five minutes on a Friday night when we were all unwinding, the first course arrived at the table, fluffy beet-juice-tinted gnocci garnished with chopped oysters and horseradish. It was good product rendered into pleasant, well-made and puckishly creative food—the taste spectrum of this dish might best be described as sort of a Mediterranean riff on borscht, but it wasn't quite enough to completely dispel the gathering mists of exasperation that had installed themselves at our table, and this despite the fact that we very much enjoy each others company and hadn't seen each other for several months.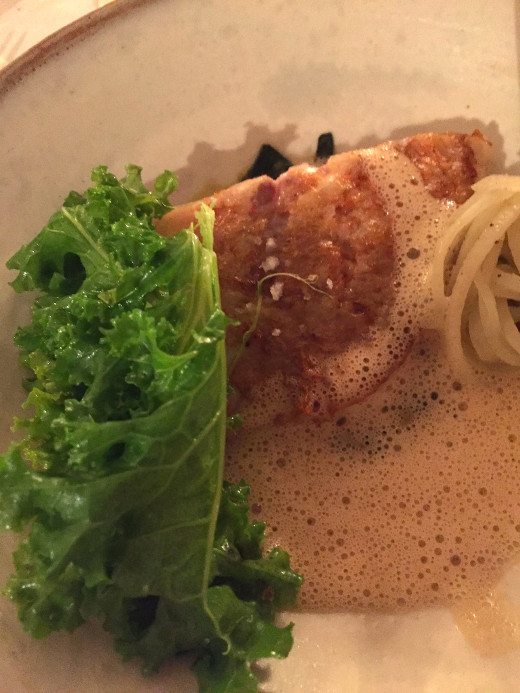 And so it went, successive overly long unacknowledged lapses of time passing between each course, which meant too much wine and more exasperation. Sensing the kitchen was clearly overwhelmed, but instinctively protective of any chef, because I know how grueling their work really is, I attempted to mollify the bridling nerves of the other three with only partial success. Mono-tonal in a rather Japanese sort of a way, our next course was seared rascasse (scorpion fish) with white bean puree and sautéed kale, bien sur. Again, nice cooking, but lacking the gastronomic wiring that a little dab of wasabi or green pepper would have provided if the same dish had been served by a Kyoto chef.
With the main course yet to arrive, it was clear this place just wasn't baking right as a restaurant experience, which was a shame, since Farnesi's food is so good and the service is amiable and well-intended but unhappily lacking in the prevailing professionalism needed to deliver the experience of a meal that's both pleasant and relaxed.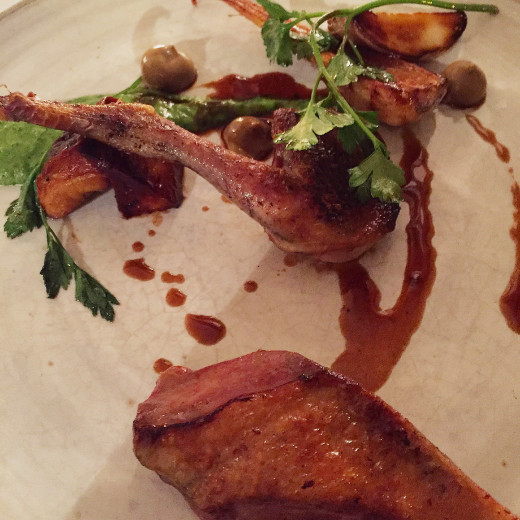 The best dish of the evening, a beautifully pan-roasted pigeon with ceps and a lushly herbaceous green coulis, was, however, more than enough to make me willing to return to Dilia for another meal in the future. And if Bruno might be up for second experience of this table, I don't expect that our friends would be, since a certain impatience had long since shaded into irreparable aggrievement by the time this succulent dish arrived. Dessert was a dully foamy thing, and we were finishing our wine and waiting for the bill when the chef came out, knelt down tableside and asked one of my friends, one of the world's best-known food bloggers, how it was that he'd happened to come here. I cringed for both Farnesi and my friend, but there was nothing I could do for either of them at this point.
In any event, he's a solidly talented cook with some great ideas, and his team is lovely, and once they find someone to make all the pieces fit together, Dilia just may become a restaurant that solidly lives up to all of the early hype. (Full disclosure: I included Dilia in a round-up of new restaurants in the New York Times that ran long after I had eaten here; so I can't really claim much authorship in terms of the manic buzz that surrounded this place the night I went to dinner).
Dilia. 1 rue d'Eupatoria, 20th Arrondissement, Paris, Tél. (33) 09-53-56-24-14. Open Tuesday to Saturday for lunch and dinner. Closed Sunday and Monday. Métro: Ménilmontant, Lunch menus 16 Euros, 19.50 Euros; dinner menus 44 Euros, 60 Euros. www.dilia.fr