L'Etoile du Nord, Paris | Honest Eats on the Run, B-
January 10, 2017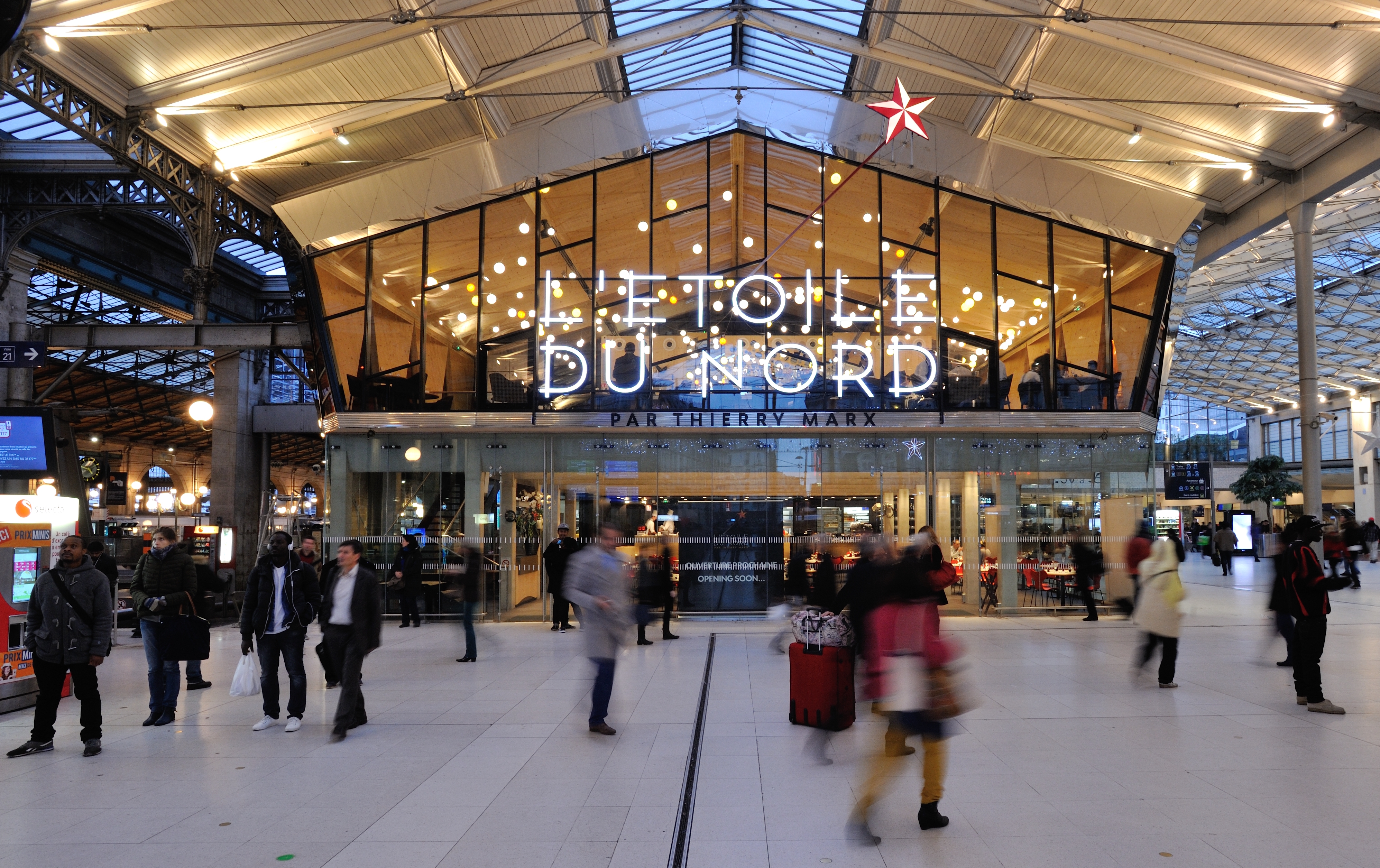 L'Etoile du Nord, the new brasserie at the Gare du Nord in Paris, one of the world's busiest train stations, represents an admirable attempt to respond to the perennial challenge of feeding large numbers of people good honest food in a hurry and for a reasonable price. Chef Thierry Marx, who has two Michelin stars at his restaurant Sur Mesure, is the restaurant's consulting chef, and given his background, he knows something about feeding the average man or woman in the street, to say nothing of the 700,000 people who pass through the Gare du Nord everyday.
This is because Marx grew up in Belleville, the northern Paris district that even in the face of galloping gentrification remains one of the world's most wonderfully diverse urban neighborhoods. It's so much of a global tapestry of different ethnicities, in fact, that Marx once told me he didn't really know much about real 'French' food–you know, boeuf bourguignon and blanquette de veau, until he did his military service. This is because in his family of Polish Jewish origins, "We ate to eat–lots of potatoes and in a hurry. We were working too hard and had too little money to spend time doing anything ambitious in the kitchen. So the only sort of gastronomic experiences I had before the army were the Asian and North African street food I ate with my friends."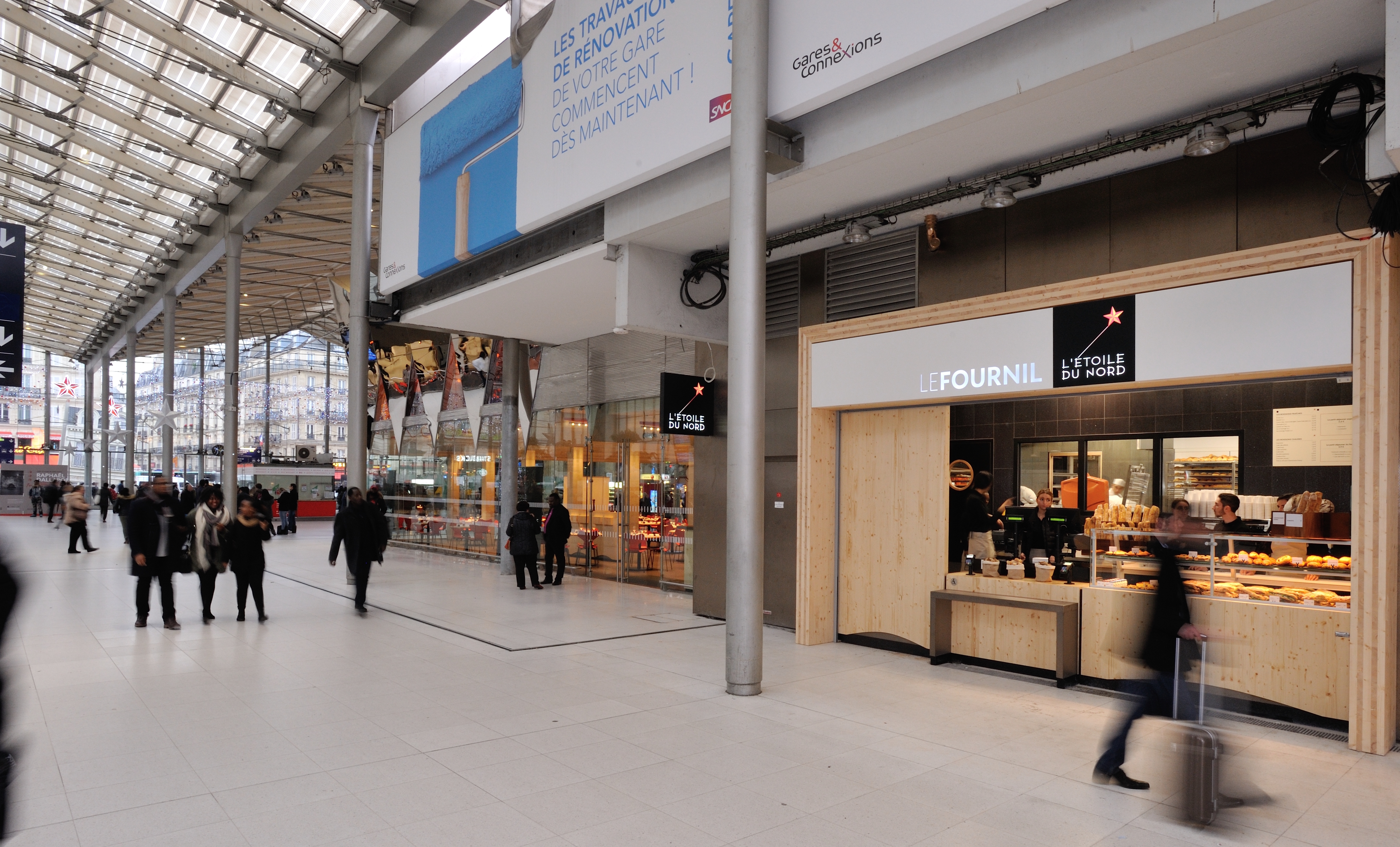 Perhaps in a poignant recognition of the fact a large number of the people passing through the Gare du Nord of a given day don't have 20 Euros, much less ten, to spend on a meal, Marx added a takeaway sandwich counter to the brasserie project, Le Fournil (The Oven), which bakes fresh bread all day long and uses it to prepare good sandwiches, including a very good one of smoked salmon, cream cheese and candied lemon for 6.80 Euros.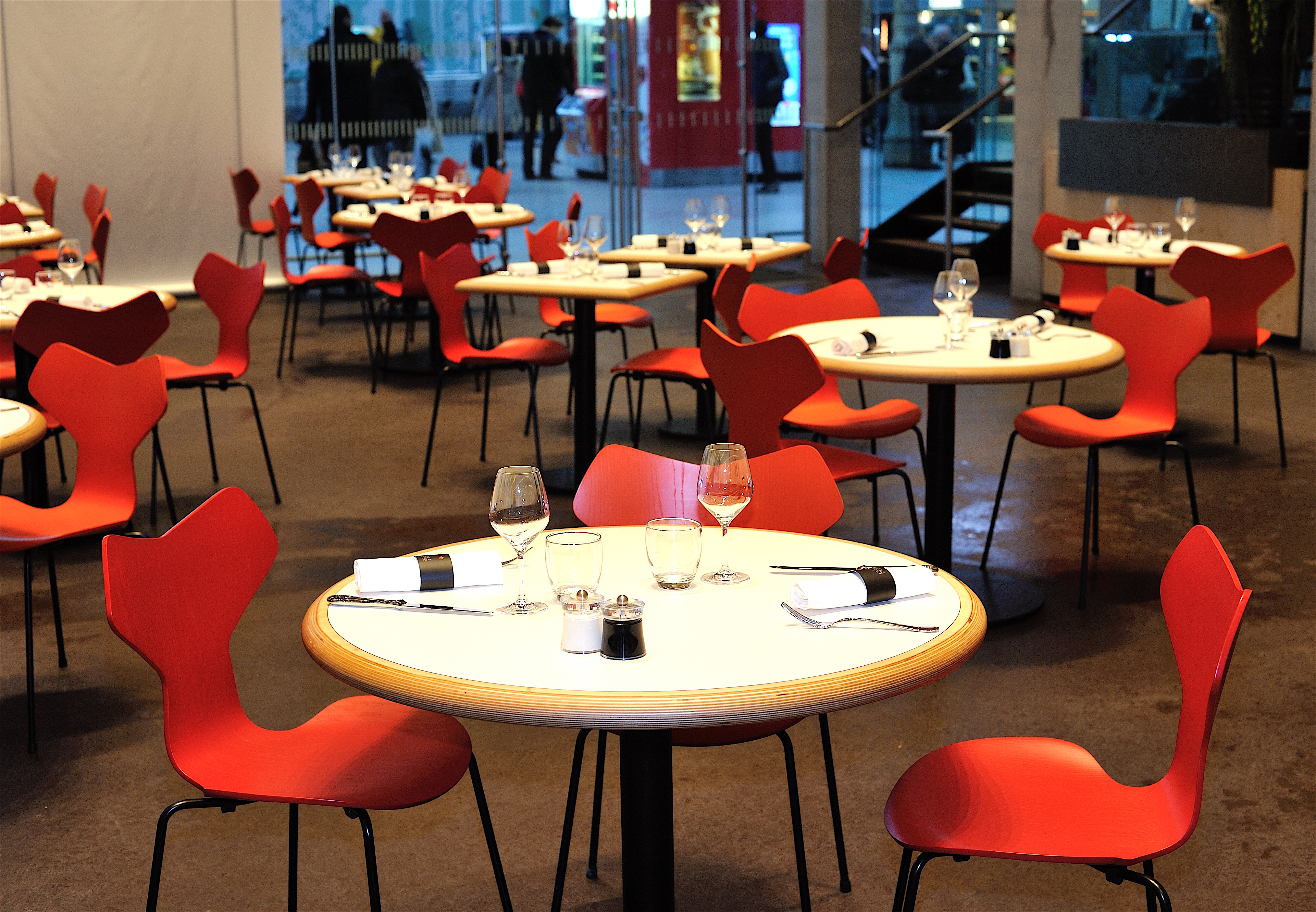 The main dining room is a simple, sort of Nordic feeling space with red butterfly chairs, oak-edged white tables, an open kitchen, and a friendly young staff, many of whom are trainees in Marx's commendable restaurant-work training program to help young unemployed Parisians develop job skills.
Returning from a trip to the north, or Bruno's hometown of Valenciennes on the Franco-Belgian border, on a Sunday night offered a perfect opportunity to try L'Etoile du Nord, too, since the only other place I ever go in this neighborhood anymore is the Paris branch of Saravana Bahvan, the southern Indian vegetarian chain, just out the door at 170 rue du Faubourg Saint Denis, because it's cheap, fast, filling and tasty enough.
I also knew we had an empty fridge at home, and I've also very sadly sworn off Terminus Nord, the brasserie across the street from the train station where I've enjoyed many good, simple, casual meals in the past. Unfortunately, the food seems to have become mediocre in inverse relation to its ever rising prices, which is the sorry fate of so many of the best-known brasseries in Paris. So we arrived at L'Etoile du Nord feeling hungry, curious and hopeful. Maybe, just maybe, the food would be good?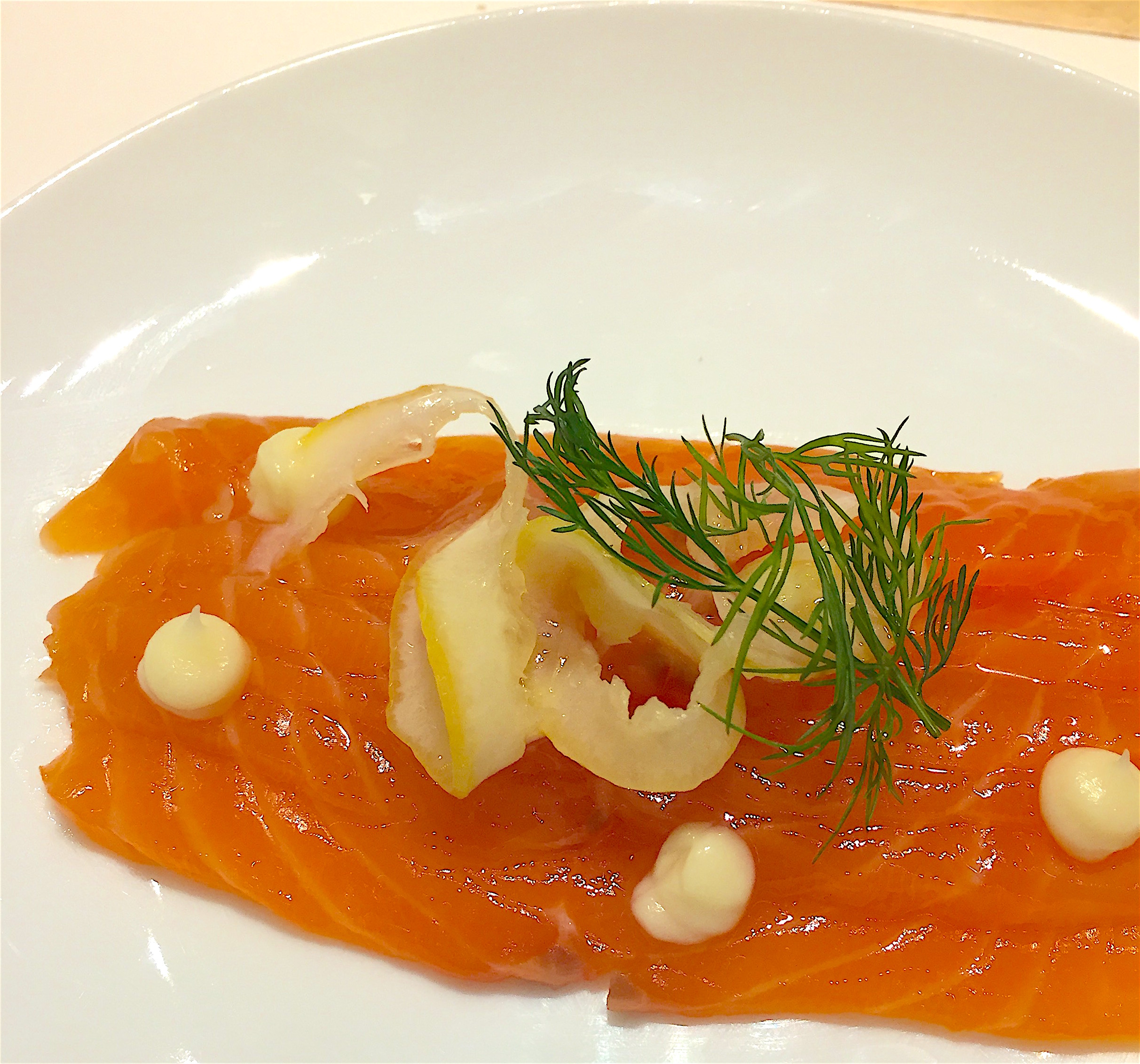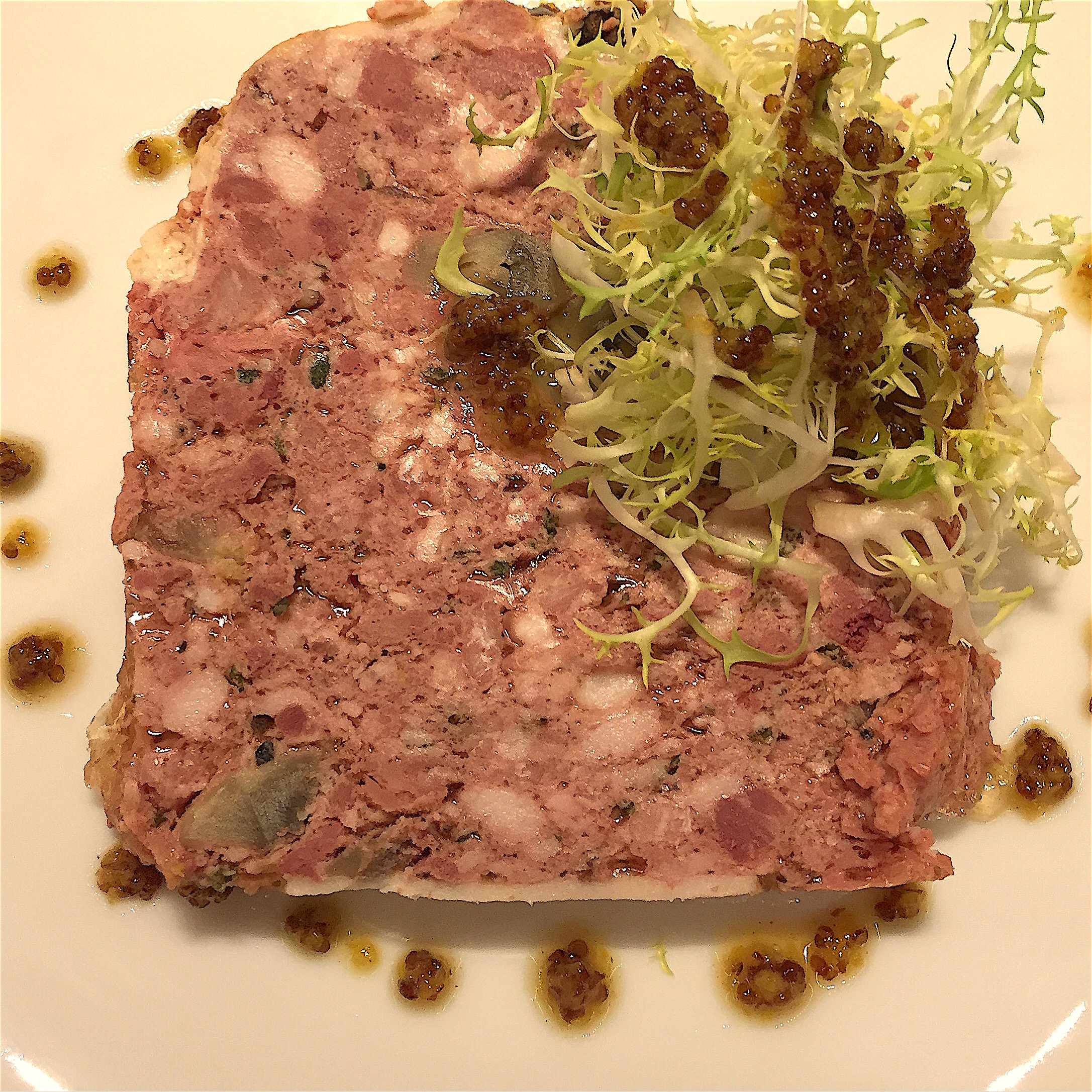 The starters were both appealing and reasonably priced, including the gravlax style salmon Bruno chose and a nice thick slab of excellent maitre charcutier Gilles Verot's terrine L'Etoile du Nord. Before the terrine came to the table, I told Bruno I was sure it would contain juniper berries, since they are a seasoning in so many Nordic countries, and happily this beautifully unctuous mixture of meats was indeed spiked with the small refreshing fruits used to flavor gin. Bruno's salmon had a gentle tang of citrus tempered by spice and sugar and the appealing consistency of soft wax.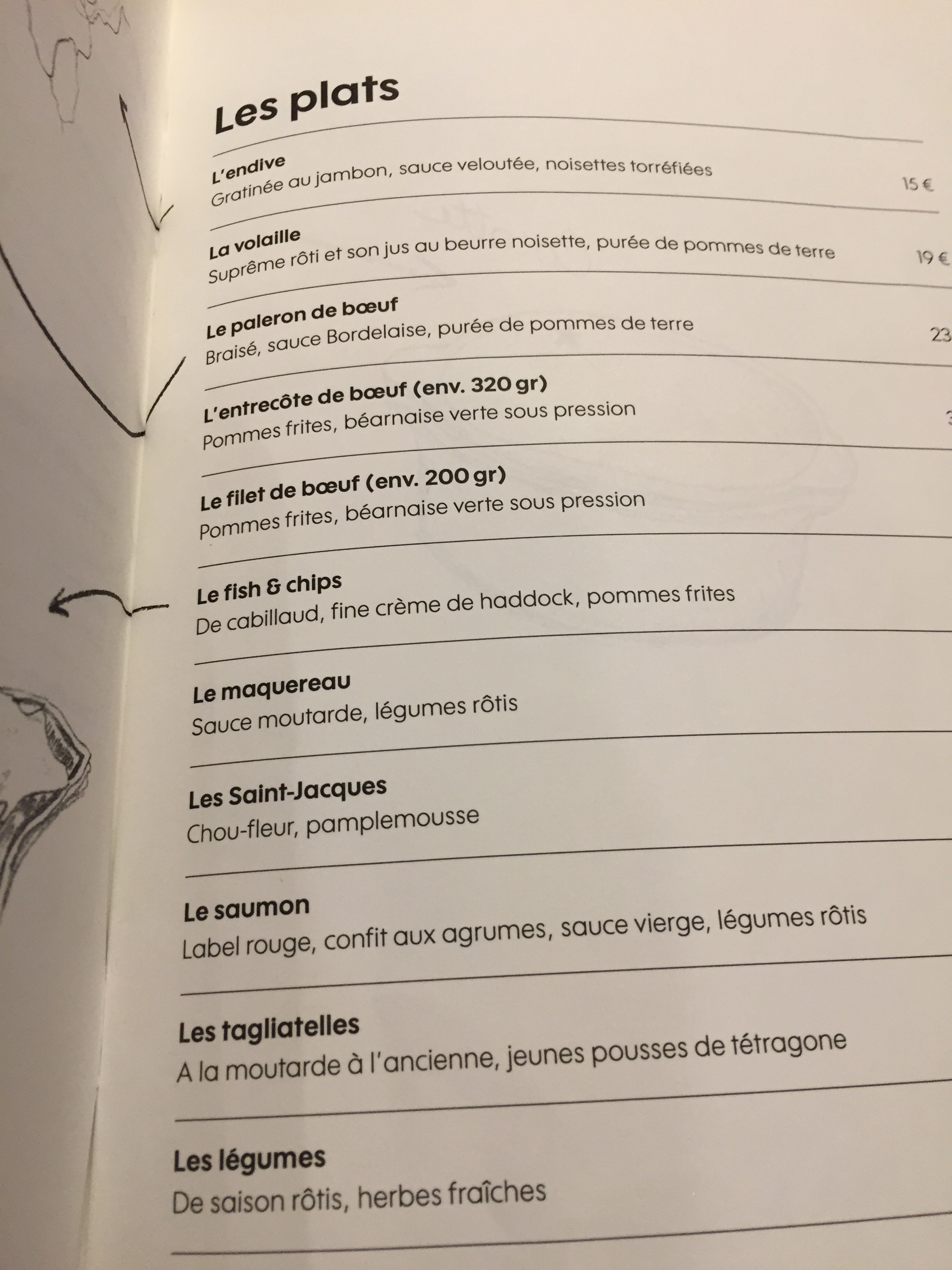 The northern theme of the menu was otherwise declined with a certain timidity. The northern destinations served by the station received a predictable nod in terms of fish and chips for Britain bound Eurostar travelers and the endives wrapped and ham and baked in béchamel sauce with a garnish of roasted hazelnuts (15 Euros), a comfort-food home-cooking classic beloved of natives of northern France and Belgium, which I knew Bruno would be unable to resist.
As this restaurant settles in, I hope they'll explore the gastronomic possibilities of the North a bit more adventurously. Some Dutch style creamed herring would make another appealing first course, and chicken or fish waterzooi, that comforting Flemish dish that includes leeks, potatoes, carrots and celery in an egg-yolk enriched cream sauce, would be welcome, too. It would also be great to see a vegetarian waterzooi, too, for that matter, instead of the two rather dull main courses aimed at them–roasted vegetables and tagliatelle with whole grain mustard and baby spinach.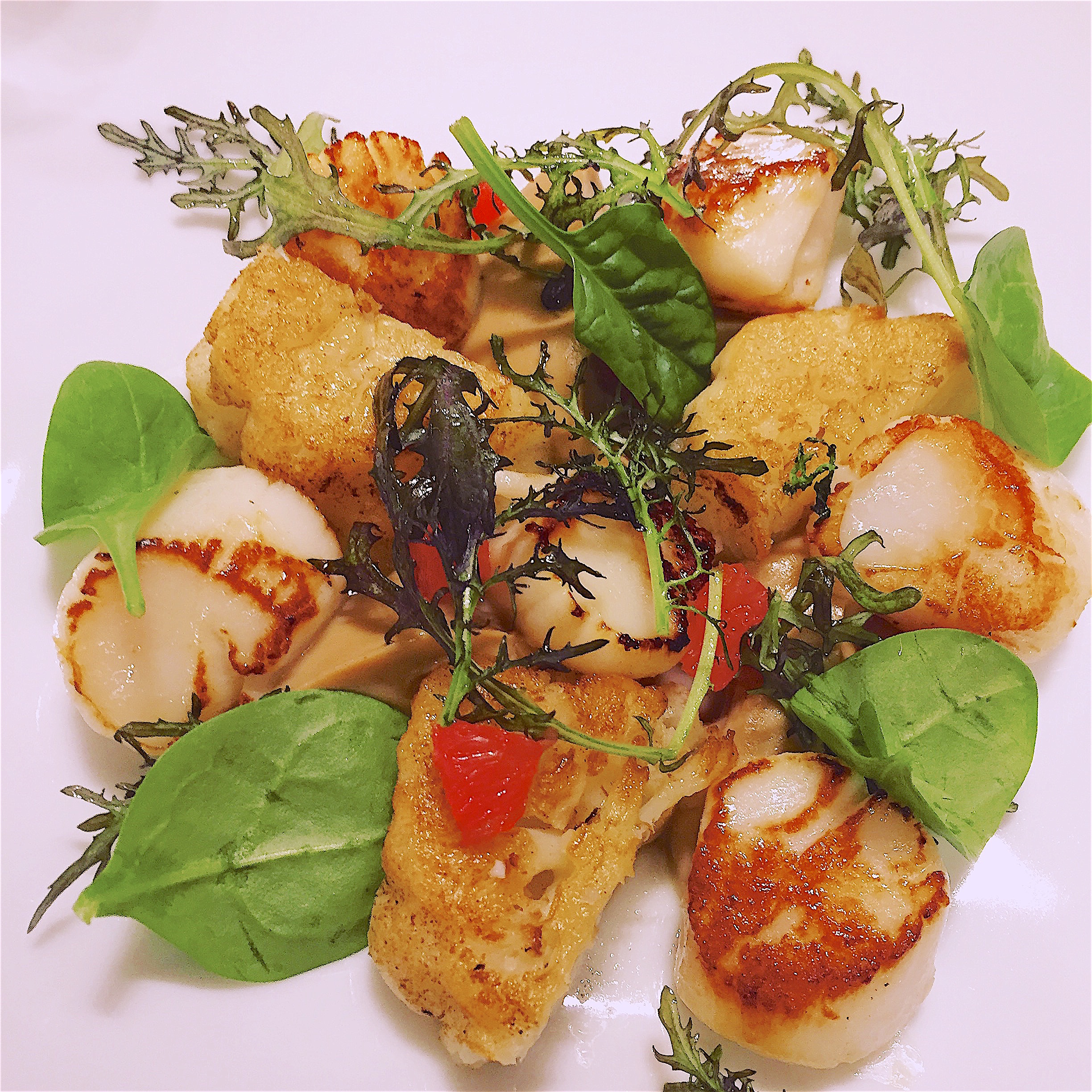 The griddled scallops and cauliflower I chose came with a few welcome fronds of mustard cress and a couple of cubes of pink grapefruit to liven up its otherwise pleasantly caramelized quietly sweet palate of tastes, and it was generously served and made from very good produce, too. Bruno gave his 'chicons,' as the northern French call endive, a thumbs up, too, although he'd have liked a little gratin of melted grated Emmenthal on top of the ham-wrapped vegetables the way his mother always served them. And lest you think Mom's cooking remains the eternal baseline for all things delectable in his life, his delightful mother also used to do a variation on this dish that involved wrapping bananas in slices of ham and baking them under a cap of cheese.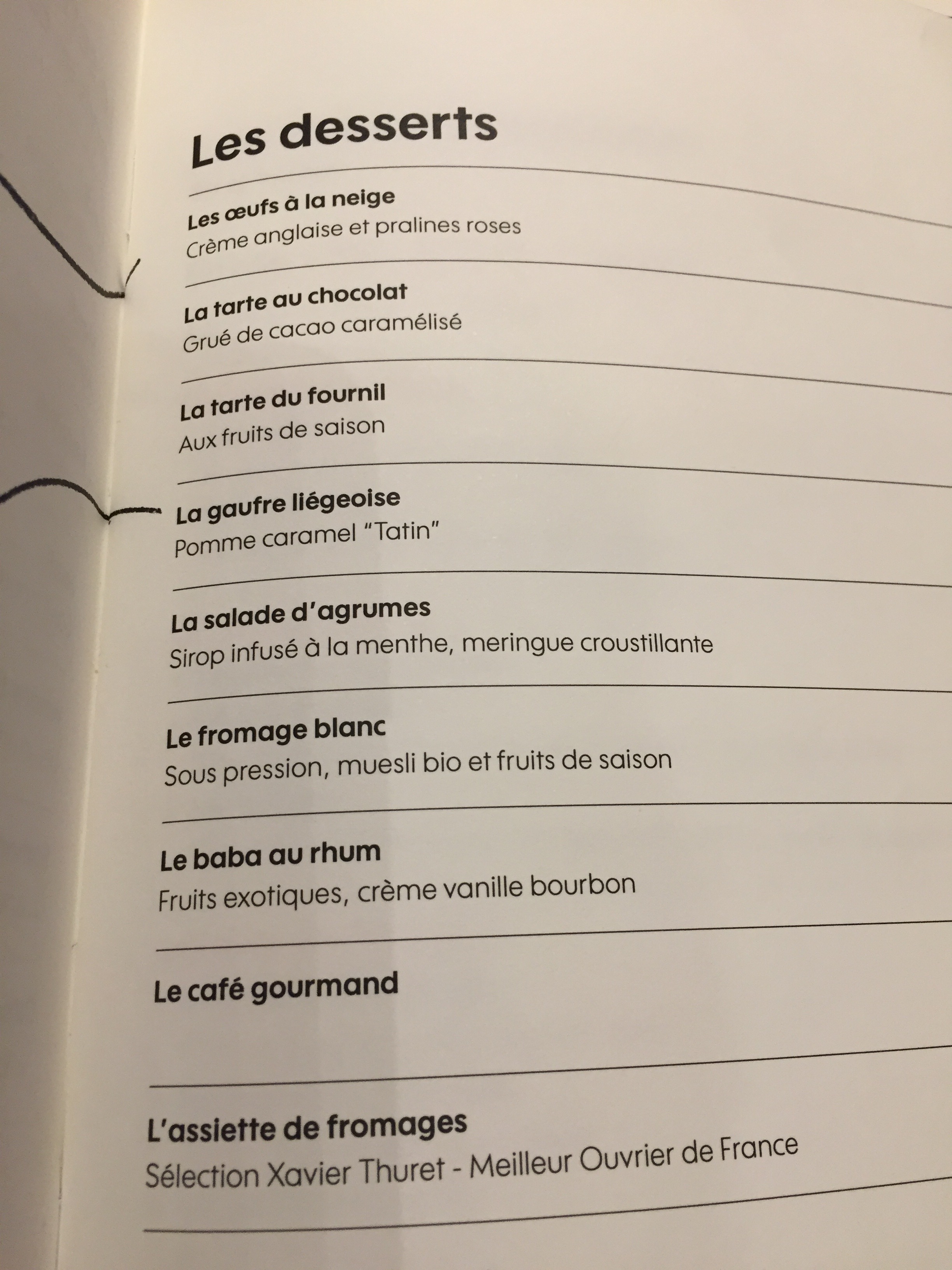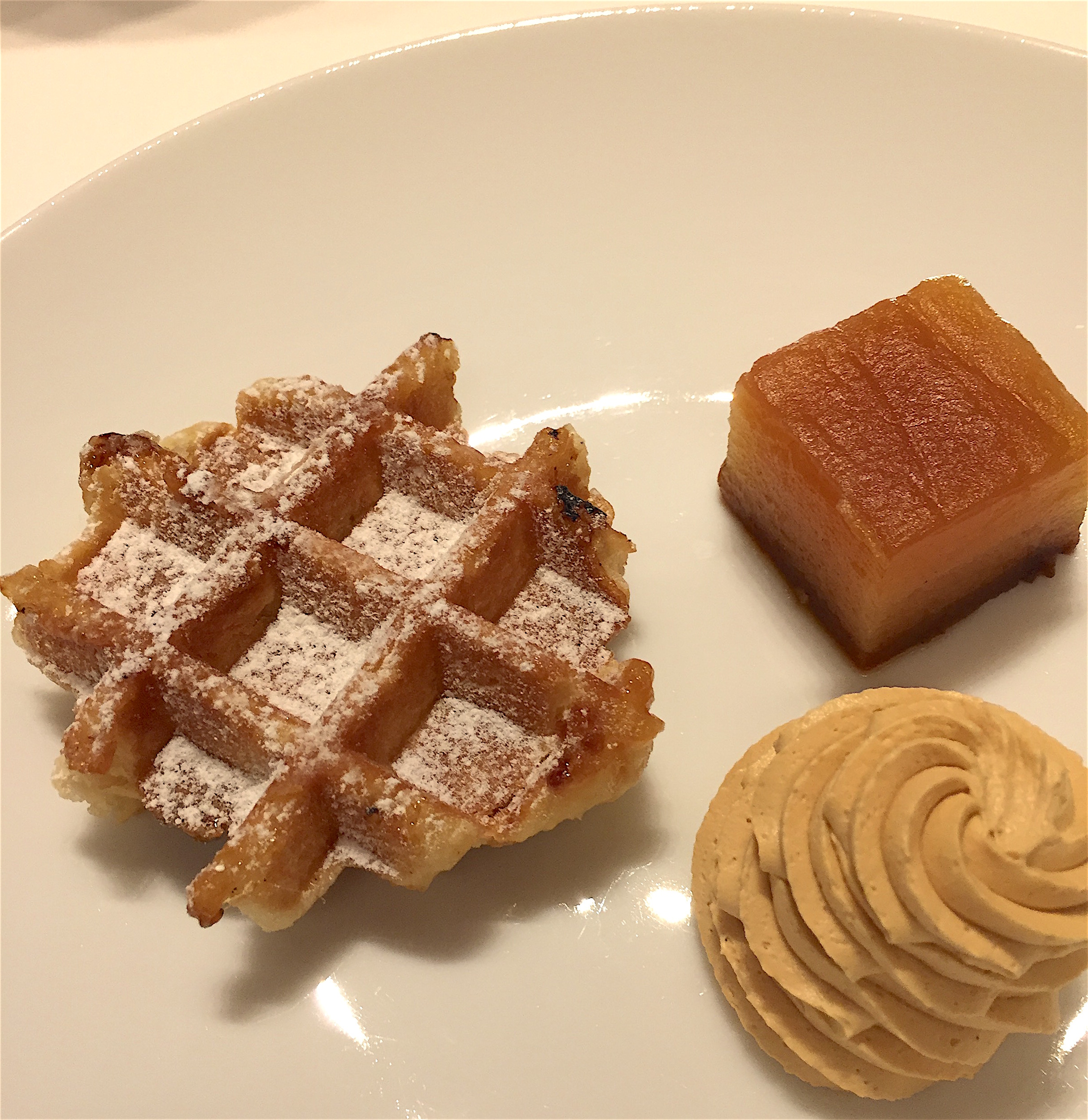 Since the portions here are generous, and we both wanted the same dessert, we shared the Liege style waffle, which was perfectly made–the batter had been raised with yeast, it had the requisite crunchiness and eggy interior, and it was sprinkled with confectioner's sugar. Its 'Tatin' garnish of baked apple was inspired, too, and the accompanying caramel ice cream was excellent.
Though it was encouraging to see a cheese course on the menu–alas, they become rarer and rarer in Paris, I was disappointed by the selection in the plate–camembert, chèvre, etc. This struck me as a real missed opportunity to showcase the great cheeses of northern France, including maroilles, vieux Lille, mimolette, boulette d'Avesnes, among others, and also Dutch cheeses. The man for the job here is obviously Philippe Olivier, the superb fromager in Boulogne-sur-Mer who has worked so tirelessly to save the lesser-known northern French cheeses from extinction.
All things considered, however, this was a pleasant and very respectable meal, and any effort to improve the surprisingly poor quality of the restaurant offer in French train stations and airports is very welcome indeed. L'Etoile du Nord also offers some first-rate people watching through its floor-to-ceiling plate-glass windows, and has the winsome charm that comes from service that's motivated by a sincere desire to please. It's also a vastly better bet to have meal here than it is on any train that departs this station, too.
L'Etoile du Nord, Gare du Nord (Inside of the station in the eastern wing of the waiting room), 18, rue de Dunquerque, 10th Arrondissement, Tel. (33) 01-40-36-54-36, Metro: Gare du Nord. Paris, Open daily 6am-12am. Average 35 Euros, lunch menu 24 Euros, daily special 19 Euros. www.letoiledunord.fr/labrasserie www.facebook.com/etoiledunordparis/