GARNIER–My Favorite Plateau de Fruits de Mer, A-; LE BISTRAL, B+, Very Good Cuisine du Marche; and UNESCO's Big Mistake
November 15, 2010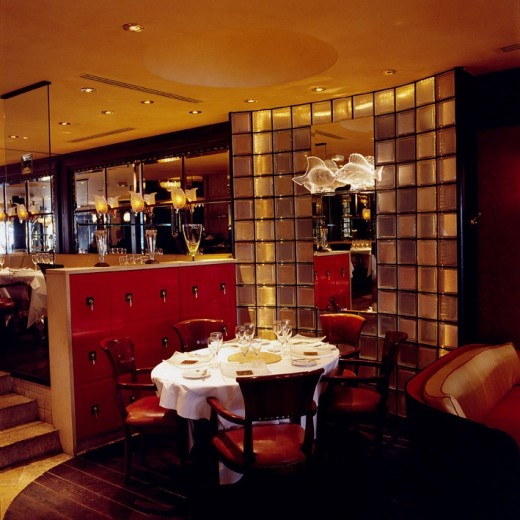 The neo-ocean-liner decor at Garnier
I usually eat my oysters from Garnier at home–Bruno or I grab the dented white styrofoam tray that lives in the coat closet behind the step ladder and hoof it down the street to snag some of the best bivalves in Paris and bring them home. Add some Eric Kayser rye bread, some smoked butter from Jean-Yves Bordier and a bottle of Philibert Menetou-Salon, and you've got the best flannel-pajama feast in the world (I'm sure it would work a charm in silk lingerie or pjs, too, but we're rather more at the flannel pajama stage of things these days). The other day, though, a long-lost–and indeed very lost he was, pal from Portland, Oregon turned up, and since it was a holiday, I suggested lunch here (Quite usefully, Garnier is open seven days a week, and I've never seen them close for a single holiday beyond a break in August).
It turned out to be an exceptionally fun and memorable meal, too, since he'd never eaten an oyster in his life. Originally from Nebraska, he took a very obviously dim view of the bivalves–a great mixture of Utah Beach, Gillardeau and Plein de Mer, when they arrived at the table, too, but then I'd done the ordering and had been instructed to order whatever was best here. "Are they alive?" he asked. "I hope so," I replied. "I don't know, Alec. I'm not sure this is going to be my kind of thing," he parried. "Just try one and you can spit it out into your napkin if you really don't like them," I instructed. So he did, with a wincing expression on his face, and I watched. "It's sort of like biting the inside of your cheek in terms of texture," he said. Perhaps, I said, and then the happy thought occurred to me that if he really didn't like them, they'd all be mine. When I looked up from from buttering a little piece of rye bread, though, I saw that he was on his second one. "What's the vinegar for?" he asked. Don't use it, I told him, it'll mask the taste. "Mmmmm….so creamy, and buttery, and such a delicious taste of the sea," he said, and I knew I'd just been witness to the permanent loss of his oyster virginity. Since he's going to be in town for a couple of days, I also pointed out the swell little oyster bar here just inside the front door, a round tiled counter run by a really nice lady where you can sit down for a quick oyster feed and a glass of muscadet, a little treat I offer myself everytime I go to my barber, the wonderful Philippe at Chez Ortega in the rue Pasquier.
The rest of the meal was excellent, too. My sole meuniere was impeccable–and well it should have been at an eye-popping price, but then we're just going to have to get used to the fact that fish is increasingly a luxury food, and my pal loved his grilled turbot with nicely made bearnaise sauce. The wine list here is a serious wallet-thumper, but the Menetou-Salon (white, and one of my favorite Loire Valley wines) is not only reasonable but perfect with almost everything on the menu.
Garnier, 111 rue Saint Lazare, 8th, Tel. 01-43-87-50-40. Metro: Saint Lazare. Open daily. Average 50 Euros.
—————–
Bruno and I went to Le Bistral in Les Batignolles, a very pretty little corner of the 17th arrondissement, a longtime ago when we were living in the quartier de l'Europe, which is wedged in between the Gare Saint Lazare and the Place de Clichy and where all of the streets are named for European cities, and though I remember that we had a good meal, we never went back. On our way to dinner there the other night–I'd heard that the had a new chef, a talented Japanese man named Yasuhiro Kanayama who previously cooked at L'Astrance and Le Bristol, I found myself wondering why.
A half hour later, seated in a narrow little hall-way leading to the toilet off the main dining room, I remembered. It's not a very attractive restaurant, and if you end up in this ratty back end bit, it's hard to have a good meal. But not impossible. We were wedged in between a very sour middle-aged couple who barely spoke as they ate and who seemed to be driven into an even worse mood by the fact that we were chattering away so happily over a very good bottle of Morgon vieille vignes. On the other side of us, a couple on a stilted date for whom I felt sorry, since it quickly became apparent that the attractive blonde woman was far more interested in our conversation than that of the awkward but nice-looking guy who'd invited her out. It takes a real effort of will sometimes in a restaurant to create and enforce a non-permeable shield around one's self in such close quarters, but somehow we managed.
We toyed with the idea of having the 29 Euro three-course prix-fixe or 58 Euro tasting menu, but none of it really appealed, so we decided to dive in and go a la carte instead, and our first courses we superb. In fact my carpaccio of scallops was a fascinating dish, since a fine puree of carrots elongated the sweetness of the shellfish, crushed roasted peanuts created a nice foil of texture, and a scattering of oxalis (wood sorrel) added perfect points of tart punctuation. Bruno's riff on vitello tonnato was superb, too–chopped veal with celery and peas and a delicious foamy herbal green tuna sauce. Next, a perfectly cooked rack of lamb with eggplant puree and three different types of braised carrot for me and sea bass in a light yuzu (Japanese lemon) sauce with baby vegetables for him. We split an excellent quartet of cheeses from Alleosse, the terrific fromager in the rue Poncelet, with the rest of our Morgon. So would I go back? Yes, very gladly, but next time I'll make a point of saying that I do not want to sit in that sad little corridor.
Le Bistral, 80 rue Lemercier, 17th, Tel. 01-42-63-59-61. Metro: La Fourche. Closed Sunday and Monday. Tuesday to Saturday open for lunch and dinner. Prix-fixe menus 29 Euros, 58 Euros, a la carte 45 Euros.
————–
Reading LE FIGARO over coffee this morning, I immediately noticed an article which crowed that France's pompous proposal to have French cooking listed as part of the heritage of humanity had succeeded, and my heart sank. Why? This same issue of the newspaper also contained a chummy little piece about how Brasserie Lipp in Saint-Germain-des-Pres has just had a cocktail party to celebrate (!) it's 130th birthday. And from my point of view, both of these pieces were wrong-footed in the extreme. First of all, because Brasserie Lipp is generally a bog of gastronomic mediocrity, and second of all, because the idea of trying to codify the superiority of a single country's cooking strikes me as absurd (it's also worth pointing out that the French press universally ignored the fact that Mexican cooking also got the thumbs up). The two pieces together, however, underline the fact that a certain high-backed chauvinistic navel-gazing on the part of the French culinary establishment–as opposed to the country's brilliant young chefs, is perpetuating a stale, expensive and increasingly irrelevant status quo.
Continuing my morning read, I came across a predictably brilliant essay by the Figaro's best gastronomic writer Francois Simon, in which he compares French gastronomy to an old woman walking down the street talking to herself. As is generally the case with Simon, this was a very trenchant and amusing piece, and he put his finger on the absurdity of trying to pin a ribbon on French cooking; the world of gastronomy has become "pluriel," or plural, Simon explains, noting that he's eaten extraordinary meals everywhere from New York and Osaka to Copenagen and Sydney, to say nothing of Istanbul, Aleppo, Sao Paolo, etc.
All of that being said, French cooking, at all levels of the food chain, is quite often sublime, but instead of enshrining it en tete in some bureaucratic mausoleum, I'd say that the real proof is in the pudding, or the kitchens of such supremely gifted young chefs as Alexandre Bourdas at Sa.Qua.Na in Honfleur, Pascal Barbot at L'Astrance in Paris, Adeline Grattard at Yam'Tcha, and many, many others. The wonderful fact of the matter is that you eat brilliantly in France these days, and in many other countries, too, and since it's impossible to adjucate dueling between different culinary traditions, the UNESCO listing is a needless distraction from this very happy reality.