GOUST–The Best New Table in Paris This Spring, A-; INVICTUS—More of a Redux Than a Victory, C+/B-
March 29, 2013

Enrico Bernardo
I've known and admired Italian born sommelier and restaurateur Enrico Bernardo for a longtime, or ever since I first met him when he was working at the Four Seasons George V Hotel, the setting from which he won the prestigious title of Meilleur Sommelier du Monde (world's best sommelier) in 2004 at the remarkably young age of twenty-seven, with this honor following on the heels of Best Sommelier in Europe, 2002; Best Sommelier in Italy, 1996-97; and Master of Port, Italy 1995.
Not only does the elegant and charming Mr. Bernardo have a truly extraordinary nose and palate when it comes to wines, he also has a deep hands-on knowledge of cooking that he acquired while working as an apprentice at Troisgros in Roanne and Stockholm's Grand Hotel, and it's the profoundly sophisticated and sensual complicity that he spins between these infinitely complementary realms that makes Goust, Bernardo's handsome new restaurant near the Place Vendome, the best new table to have opened in Paris for a longtime.
For starters, there's an ambience of worldly hospitality in the good-looking and stylishly decorated dining room on the first floor of a Napoleon III townhouse on a quiet street in the heart of Paris. The staff are polite and precise but also warm and relaxed, a service style that's an important prerequisite for enjoying the highly curated meals Bernardo serves here. To wit, Goust is all about wine and food pairings, so the best way of dining here is to opt for a tasting menu with a different pour being served with every course.
This is what I did with my friend Ammo, who kindly invited me to join him at dinner here the other night and who also was just about the perfect person with whom to have shared such an experience. Why? This tasting concept works best when you're with someone who's curious, alert and observant, and yet the pleasure of savoring and discussing each pairing would have been utterly ruined by someone who took it too seriously. Bernardo's joy is in constructing liasons that are so perfect and so passionate they seem metaphysically inevitable, which means that a meal here is an intense and intriguing experience. Fortunately, the dry senses of humor we share forestalled any drift to the lyrical. Instead we ate and drank extremely well, and appreciated every sip and every bite.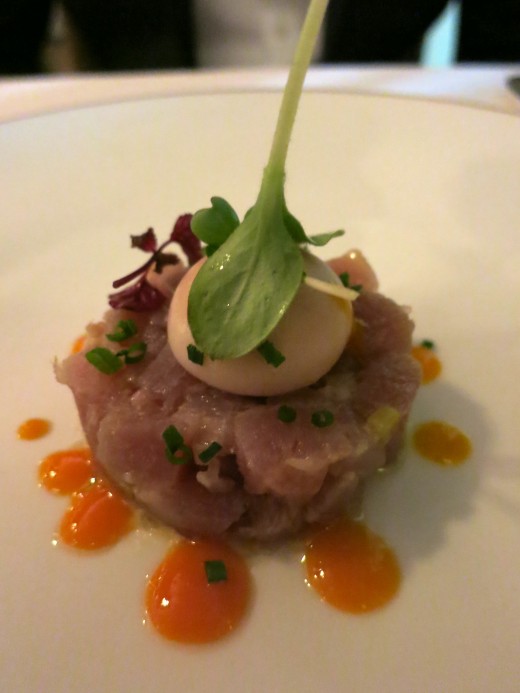 Settling in over a glass of Champagne, we put ourselves in the hands of Mr. Bernardo, who orchestrated a meal I knew would be superb from the moment I tasted the beautifully seasoned tuna tartare with an 'egg' filled with mango coulis. And if I didn't know that chef Jose Manuel Miguel was Spanish (he's from Valencia, worked at Martin Bersategui in the Spanish Basque Country and was most recently with Eric Frechon at Le Bristol), I'd have guessed it when he sent out a ruddy and deepy satisfying dish of riso alla Bomba, the short-grain rice from the fields around Valencia, with chopped razorshell clams, a good gust of pimenton and a citrus foam.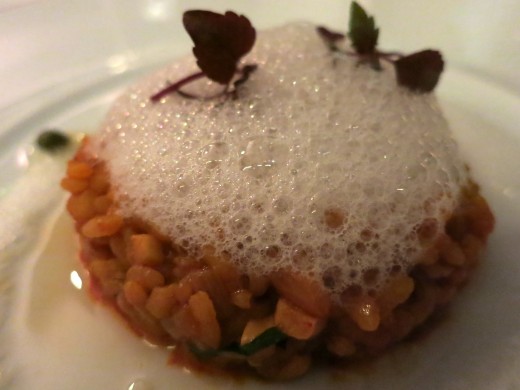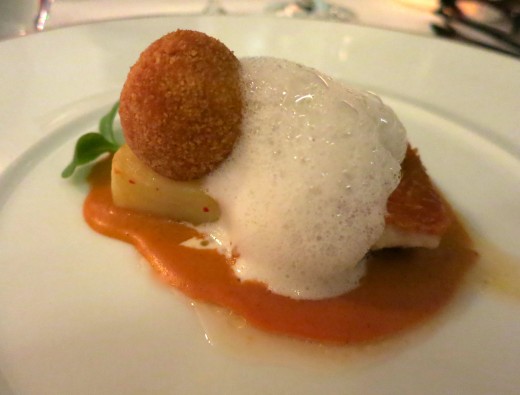 These days, I'm often exasperated by foam, which seems to be one of the preferred affectations of ambitious young chefs, but in this instance, the tart evanescent citric veil on the rice beautifully accentuated the gently iodine-rich flavor of the clams, which were a great foil to the al dente rice. The Manchego foam on the grilled rougets and potato with a sublime coulis of piquillo peppers was a bit timid and repetitive, however–this dish would have been just as effective in both visual and gustatory terms if it had been served nude.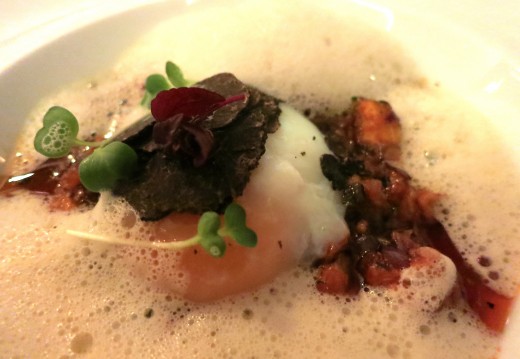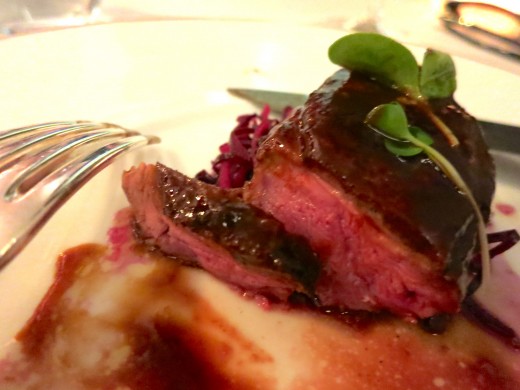 The meal shifted to a more decidedly Gallic register with a gorgeous dish of poached egg with a generous garnish of black truffle on a bed of long-stewed beef and then a beautifully cooked duckling breast–juicy and rare, with a light jus and an intriguing garnish of lightly mentholated shiso leaves. The 2011 J.M. Doillot Volnay that was served to accompany these dishes was delightful and made a fascinating segue from the spectacular 2010 Weinbach Pinot Gris that has proceeded it (the wine flight began with a nice 2011 Louis Michel Chablis, followed by a 2011 Ferriato Grillo from Sicily, and a Lurton Rueda, the later being the least interesting pour). And dessert…to tell you the truth, I was so smitten with the final pour, a Graham's Loans Tawny Port, a real invitation to musing and meditation, or as was the case with Ammo, another round of lively tale telling, that I finished this charming chocolate composition with my mind in a pleasant muddle and my camera lying idly on the table (Unless you do a blog yourself, you can't imagine how tiresome it can sometimes be to be obliged to snap away all through your dinner instead of just enjoying it).
As is true of any really great restaurant, Goust would be as good for a romantic night out as it is for a business meal. The lighting is good. The good bourgeois bones of the room with its handsome fireplace and parquet floor have been tweaked by the sort of 70s lighting fixture you'd expect to see in the old East German parliament building., which makes it witty looking. There's a nice buzz in the room, too, and it's a winningly adult, fairly priced and terrifically sincere restaurant that succeeds for being something completely unique in Paris. I can't wait to go back, although it's likely that my next meal will be in the new tapas bar that will soon open on the ground floor at this same address. N.B. Berardo has another card up his sleeve, too, which is a complete reboot of his first restaurant, Il Vino, in the 7th arrondissement. Suffice it to say that Italy will dominate the menu, and that the new place will be a lot of more relaxed than Il Vino, which I always liked but always found a bit too serious. Or a place I definitely wouldn't have enjoyed going with Ammo, one of my favorite partners in gastro crime.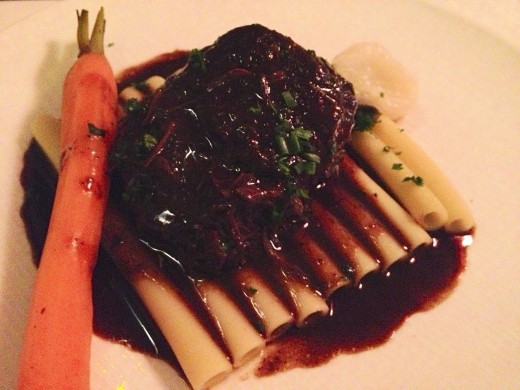 A bit too serious was the theme of dinner a few nights later at Invictus, the restaurant that chef Christophe Chabanel, whom I knew in the nineties when he was cooking at La Dinee in the 15th, has just opened in the former premises of the long-running but now defunct La Table de Fez in the 6th arrondissement. Since I'd last seen him, Chabanel, who was doing modern French bistro cooking before anyone had parsed it out from traditional French bistro cooking, spent some years in South Africa and was most recently in northern France before his return to Paris.
I was looking forward to this meal, but I was disappointed. Why? All good bistro cooking spins on the axis of generosity, and even allowing for the fact that the dining room was packed with people who were there due to a special discounted offer on the restaurant-reservation website La Fourchette, a clientele that probably swoops in the for the low hanging fruit and then moves on, this meal lacked charm and a culinary signature. The beef cheek that Bruno has as a main course served on a bed of pre-cooked tubular pasta with a spindly carrot, see above, tells the whole story here.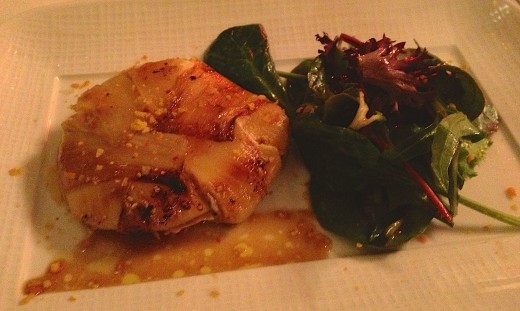 There seemed no point in photographing the wiltingly stingy pours of wine-by-the-glass, the uninteresting dining room, or anything else at Invictus but my first course, a Tatin of endives stuffed with goat cheese. Seeing it on the menu made me grin–it was sort of like time travel, because I used to order this all the time when I went often to chef Francois Pasteau's L'Epi Dupin in the rue Dupin near the apartment in the rue du Bac where I lived for many years. So does this dish belong to Chabanel or Pasteau? It's not an urgent question, but it was amusing to come across it again after such a longtime, and it also made me think a little bit about the whole idea of paternity in the kitchen. This is a subject often gets chefs a bit chuffed, but to me it seems the important thing occurs when a dish is good enough to be widely copied. So score one Chabanel, score one Pasteau, in no particular order, and insofar as Invictus is concerned, it's just fine if you happen to be staying in a hotel nearby on a rainy night, but I definitely wouldn't go out of my way for this one.
Restaurant Goust, 10 rue Volney, 2nd, Tel. 01-40-15-20-30, Metro: Opera or Tuileries, Closed Sunday and Monday. Lunch menuy 35 Euros, Prix-fixe menus 75 Euros, 130 Euros (with wine), average a la carte 85 Euros (wine included), www.enricobernardo.com
Invicitus, 5 Rue Sainte-Beuve, 6th, Tel. 01-45-48-07-22. Metro: Notre-Dame-des-Champs. Closed Saturday lunch, Sunday, and Monday lunch. Lunch menu 21 Euros, Dinner menu 32 Euros, average a la carte 35 Euros.