Grand Coeur | A Delightful New Brasserie in the Marais, B+
June 20, 2015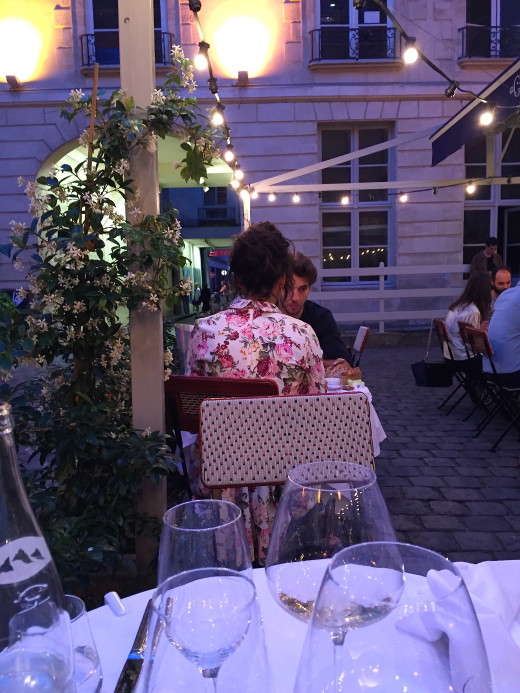 Tucked away in a courtyard in the Marais, and occupying the same space as The Studio, a long-running but not regretted Tex-Mex restaurant that claims a flickering wick of memory only by reminding me of how much I miss authentic Mexican cooking in Paris, Grand Coeur is a delightful new brasserie that serves a very good contemporary French menu. It also has one of the city's loveliest terraces for out door summer dining, which is a Parisian passion. Grand Coeur (The Big Heart) comes with a seriously impressive pedigree, too, since it's the creation of seasoned Marais restaurateur Julien Fouin (Jaja and Glou, neither of which I much like) and Argentine born chef Mauro Colagreco, whose restaurant Mirazur in Menton is one of my favorite tables in France and who is widely considered to be one the country's five or six best chefs. Talented acting chef, Brazilian born Rafael Gomes, has cooked everywhere from Eleven Madison in New York City to an Alaskan fishing trawler, and he brings a lot of nonchalantly cosmopolitan finesse and creativity to this restaurant, too.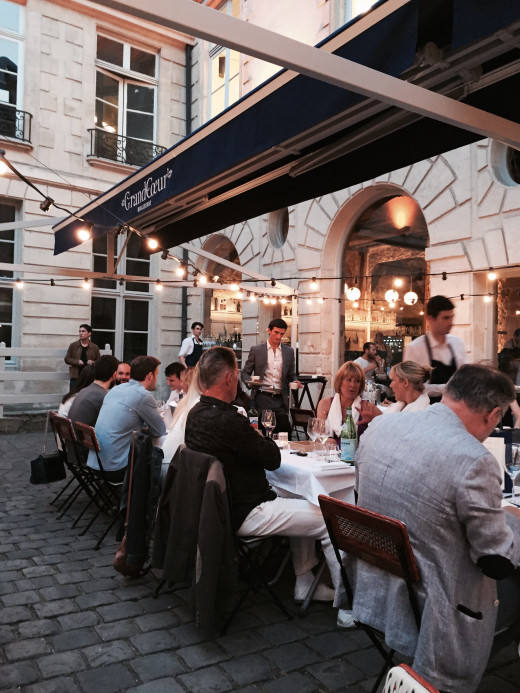 I hadn't been to this address in many years, so coming for dinner the other night unexpectedly brought-on a little avalanche of fuzzy flashbacks when I stepped into the courtyard. Rather surprisingly–given how much the Marais has gentrified, the dance studio at the head of the courtyard is still in business after all of these years, which explains the constant stream of impressively lean and lithe dancers trailing across the big flat cobblestones. I also couldn't help but being impressed by the architectural beauty of this 18th century setting, which once housed the Aigle d'Or (The Golden Eagle), a coaching inn that eventually became the premises of The Studio.
Though happily seated outside on a mild summer night, a twinge or two still reminded me The Studio was a place that had always made me restless and melancholy for the simple reason I've never considered myself to be an expatriate. Though I may have lived in Paris for several decades, electing to become an expat is a knowing social and psychological positioning relative to an individual's native and assumed cultures that's never attracted me. In the traditional version of this pose, the adopted country is viewed through a permanent veil of oddity and exoticism, while the original homeland morphs into a place of sentimentalized perfection like a Normal Rockwell painting.
I didn't move to Paris because I don't like the U.S., however. I moved to Paris out a profound fascination with and attraction to France, which makes me an American who has chosen to create a life in France, not an American who has scorned his birth country only to indulge in occasional bouts of wistfully missing it. More than anything having to do with Tex-Mex cooking, it was this public psycho-emotional positioning, at once self-satisfied and self-flagellating, that Le Studio catered to, although it also functioned as a low-key Anglophone singles bar and was an occasionally handy place to get completely trashed on mediocre Margaritas.
These days, though, I much prefer a good glass of Condrieu, which is what we sipped while studying the appealing menu and the crowd, an attractive and promisingly combustible mix of Parisians and foreigners. Grand Coeur describes itself as a brasserie, but it's an innovative modern one, since on the current seasonal menu, the only rock-of-ages brasserie standard was a steak tartare. So I think that the use of the word brasserie is as much about aspiring to the jaunty metropolitan attitude that words implies as it is a particular menu or cooking style.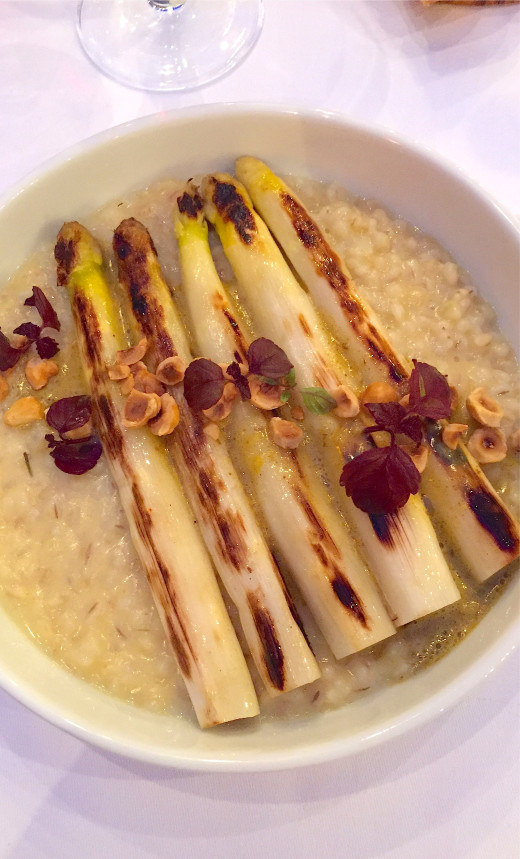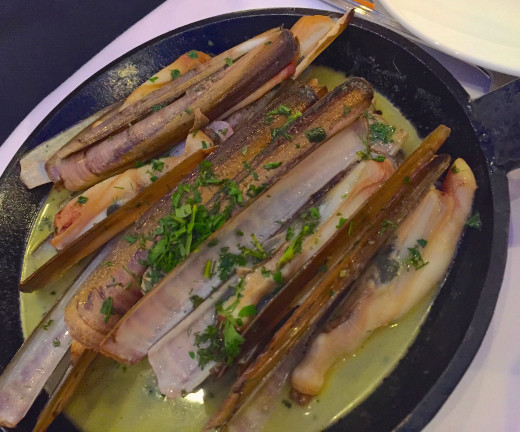 Knowing that the asparagus season is quickly sputtering out, I couldn't resist ordering a main course of grilled white asparagus on a bed of barley risotto as my starter, and it was a well-conceived and quietly satisfying dish which might only have been improved if the grain had been simmered in a more richly flavored stock. Otherwise, it also indicates the fact that vegetarians are finally being accorded a little serious respect in Paris (this is why I've just added a vegetarian-friendly tag to the index on this site), and the crushed grilled hazelnuts in a tiny trail across the enticingly scored ivory colored spears was a wonderful idea, because the toasted nuts emphasized the quiet sweetness of the vegetable. Meanwhile on the other side of the table, Bruno was enjoying a little low-tide feast as he scarfed down a generous serving of grilled razor-shell clams in a light herbal bouillon.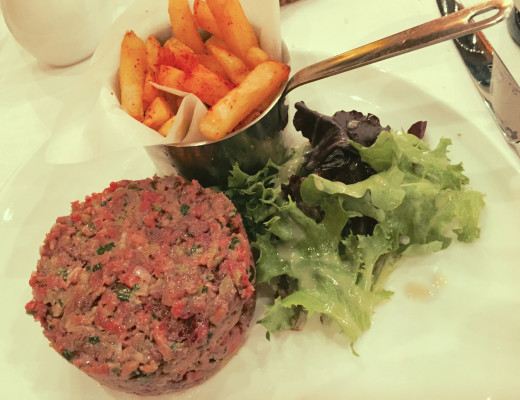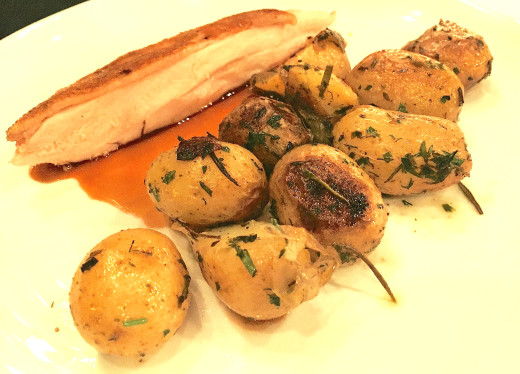 The gastronomic axis of Grand Coeur is well-sourced and precisely executed contemporary French comfort food, and this makes it an especially welcome restaurant in the Marais, the 4th Arrondissement, which has always suffered from an odd paucity of such amiable, good quality tables. I indulged my hankering for a steak tartare, and this one easily ranked up their among the best in Paris, since it came to the table as impeccably well-seasoned hand-chopped Aubrac beef accompanied with a small salad and some of the best frites I've ever eaten in Paris–here they're fried twice in baths of two different oils and then sprinkled with piment d'Esplette. Bruno's poularde was fine fowl, too, and came with a generous sauté of herb-strewn baby potatoes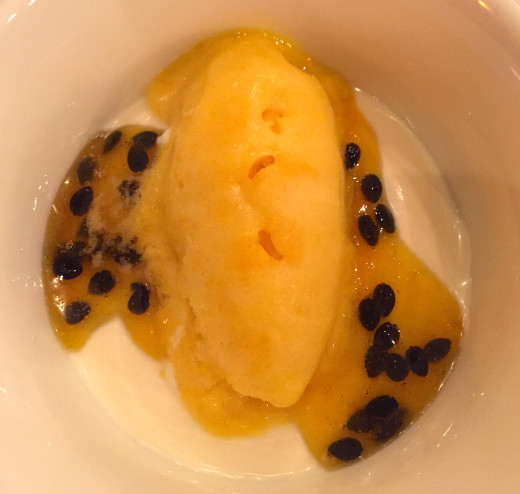 We concluded with a shared Pélardon, a goat's milk cheese from the Cévennes that's one of my favorites, and a shared order of the white chocolate, yogurt and passionfruit ice cream dessert, which was pleasantly refreshing. Since we'd been lucky enough to enjoy a meal on the planter-lined terrace, I wanted to take a quick look inside before we went off into the night. Here, the artfully lit interior by designers Julie Deglesne and Brune de La Guérande, who also did Coretta, sets up a quietly chic contrast between the rusticity of this space as created by beams and exposed stone walls and marble-topped tables, bentwood chairs and globe lamps.
It's a great looking space, so along with Gomes cooking and a menu that will follow the seasons, Grand Coeur had the potential to become the sort of restaurant Le Balzar in the Latin Quarter once was, or a reflexive go-to table with a non-chalant chic that always puts on a good show. For my part, I'm eager to come back and try the ragout of baby peas, clams, and Menton lemon zest, the fish soup, and the roasted lobster in lemon verbena bouillon.
Grand Cœur,  41 rue du Temple, 4th Arrondissement, Paris, Tel. (33) 01-58-28-18-90. Metro: Hôtel de Ville or Rambuteau, www.grandcoeur.paris, Open Tuesday to Saturday for lunch and dinner, light menu served during the afternoon. Prix-fixe menus €23-30 and €18 (kids), average a la carte carte €50. Afternoon menu: Dishes €8-16