LA COUPOLE, Paris–In Remembrance of Things Long Past, C
March 6, 2014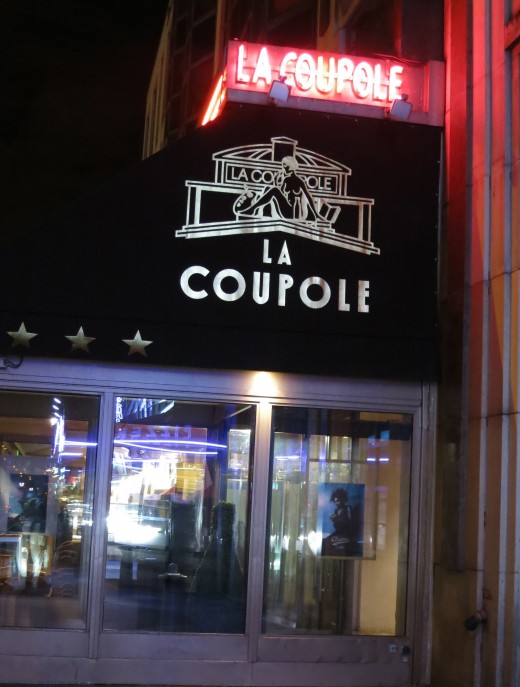 Some strange and generally wonderful things have happened to me because of Facebook. A few days ago, I had a message from a woman I'll call Amanda, a friend I hadn't seen since high-school graduation. She wrote from Tampa, Florida, where she is living as a recently divorced real-estate agent and said that she'd decided to treat herself to a trip to Paris, a city she hadn't visited since a college trip many years ago. "I made out with a boy who followed me for twenty minutes in the Tuileries gardens. It was the craziest thing I'd done up to that point in my life–many more since then!–and he was so incredibly handsome I still think of him sometimes. Who knows? Maybe I need a good dose of Paris, and it would be great to see you again if you're around."
I loved the idea that Amanda, who'd been so pretty and prim and smart, had done something as reckless as kissing a stranger in a public park, and her confession made me wonder how well I'd ever really known her. Oh, to be sure, we were friends, as, it would seem, two of the rare kids in the fast-track college program who were even a tiny bit wild, even in those days. What this meant was smoking joints and going to all-night diners in the down-at-the-heels industrial town next to our wiltingly pretty New England suburb in the orbit of New York City, harmless stuff really, but when she went on to study classics at a very respectable women's college near Boston, I assumed that those rare errant nights in the diner were behind her.
So I said 'Yes' to dinner, and she wrote back right away and told me to meet her for a drink first at Le Select, the cafe in Montparnasse, and then we'd go to dinner. "Oh I know you're a connoisseur, Alec, but let me chose where we go to dinner." How very sweet–if slightly strange–that our reunion was so natural. The person I found was a strong, handsome woman with a charmingly self-effacing self of humor, a quick wit, and an omnivorous interest in the world. She was physically very little changed, too–lean, tan, blonde as always, and well-seasoned by the many years gone by. So we drank white wine and laughed at ourselves and the past and started catching up. Still, me being me, I wondered where we were going to dinner, and when she saw me glance at my watch, she said, "Oh, you! We're just going across the street, and I don't want to hear a word about what you think of the place. I've never been, and I've always wanted to go."
So I went to dinner at La Coupole for the first time in many years, and in the interest of a happy night with an old friend, I didn't get my back up over her assumption that just because I write about food, I'm fussy or fancy or something. In any event, everyone assumes this, and everyone's wrong. And recently I'd also been thinking about something that's wrong with this blog, and most other food publications in any format, which is that we're all so preoccupied with the new that we never go back and see what the old places are like. The fact that Amanda wanted to eat at La Coupole on her first night in Paris more than thirty years sort of underlined this for me, too.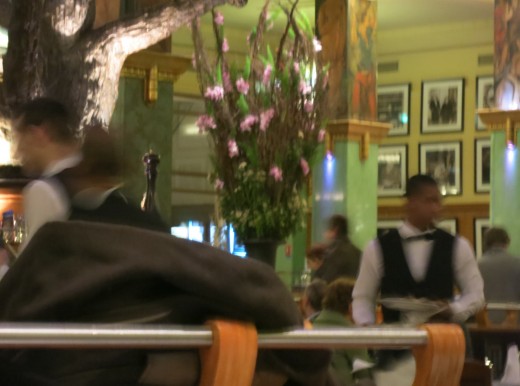 Amanda had thoughtfully booked dinner online and gave her name to the bored man at the reservations lectern when we came in. Wordlessly, he escorted us to a rather distant quadrant of this vast room, and I said nothing, because this was her evening, and I sensed anything I might have said wouldn't have mattered, since as far as he was concerned we were just another pair of American tourists, those lemmings he contends with by the dozens everyday. Happy though I was in the present, I couldn't help but hear the rustling of many shed skins as we sat and read the menu, since at another point in my Paris life of almost thirty years, I ate here rather often. To be sure, it was never for reasons gastronomic, but rather because La Coupole was once one of the anointed restaurants of the fashion tribe in the days when I was an editor for a glamorous fashion publishing company, an incarnation that today strikes me as a rather mystifying bit of bad casting and acting.
"I imagine you know this place quite well," said Amanda. Indeed I do, or did, I told her, yarning about my days on the style circuit and also reminiscing about the Sunday night dinners I used to have here with a bunch of single friends, none of whom live in Paris anymore. I explained that we once shared a collective brasserie reflex, since Sundays could be melancholic, and so we'd often round ourselves up for a dinner round robin style, which was also the unstated occasion to take a shower and get dressed after a day spent in pyjamas. Brasseries were lively and fun in those days, and so a perfect antidote to the morbid flutterings on the wall of a winter's evening.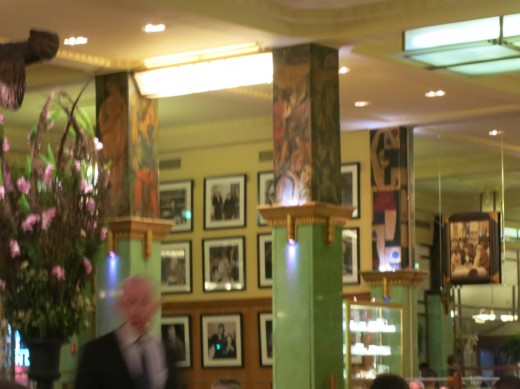 When Amanda flipped her hair back, I was surprised to see a tiny tattoo of a bird on the side of her neck, and she laughed when she saw me see it. "It was a birthday present from a Cuban guy I used to go out with, and when my Mom was still alive, I rather meanly loved to pin my hair up when I'd go to see her in Connecticut, because for her it was a pure horror. Remember, girls with pierced ears were fast, and all of that snotty garbage we were fed as kids. Well, I sort of like my tattoo these days, or most of the time anyway." We ordered, and I said nothing about the restaurant, but found it embarrassingly deflated, or devoid of any glamour whatsoever. It was almost like running into a friend who'd once been an ace athlete before she put on a lot of weight or realising that the handsome guy who'd been a star on the high school football team had had some "work" done. The passing of time makes some things vintage and others sad. Still, our older waiter was charming in a wry sort of way, and I was fascinated by the beautiful black woman in the back of the room.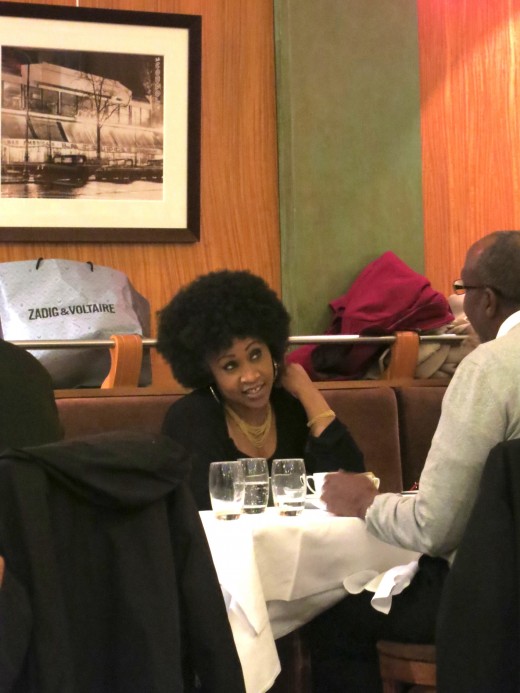 We ordered eighteen Utah Beach oysters, and they were plump, meaty, and wonderfully briny, so the fact that the rye bread they came with was stale didn't really matter, and if the finger bowls which once might have come with these crustaceans have long since gone missing, they were always a little fiddly anyway, and the plastic-wrapped towelette that replaced them was of no real use either. So we talked, and both of us occasionally ran aground on the sudden incomprehension of the unexpected shoals in our pasts. I mean, how did it happen that I once worked at Cosmopolitan magazine in New York City and regularly used to see Helen Gurley Brown in the hall in a bathrobe with a towel on her head? What prevented me from becoming sad, though, was Amanda's company, the good oysters, the fact that I like the life I have, and I had a huge admiration for the way our waiter was soldiering on despite the fact that there was an incipient going-out-of-business atmosphere in the room. The brasseries of Paris, you see, have become too expensive and too just shy of mediocre for them to trudge along much longer as they are right now.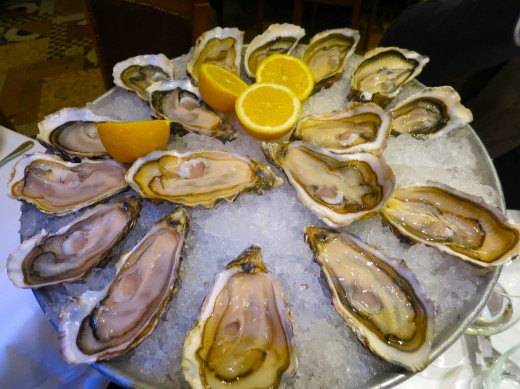 Amanda ate smoked salmon as a main course, and it was the only time during the evening that her brightness faltered. "This is pretty ordinary," she said, adding, "And I don't know Paris like you do, but this place is all about tourists and people from the provinces, isn't it?" Pretty much, I told her, wishing the tourists and the people from the provinces well. I ordered La Couple's 'famous'  lamb curry, an odd sounding choice, perhaps, for a brasserie, but I remembered having liked it, probably because it tasted like the curry my mother used to make back in the days when none of us knew a thing about Indian food.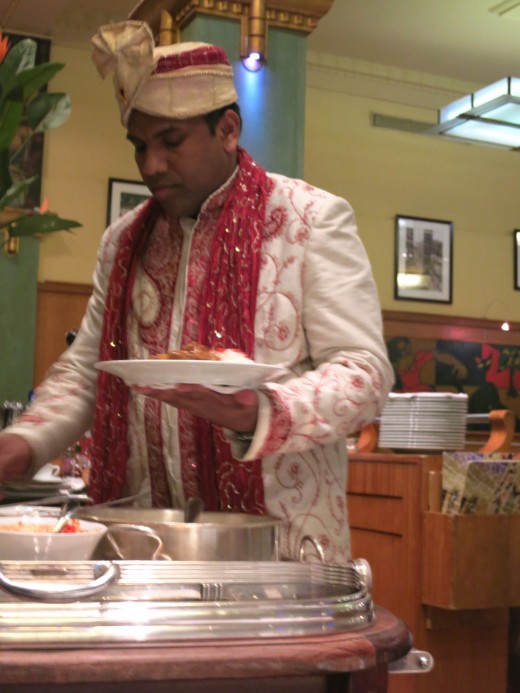 My heart went out to the friendly dignified man who showed up in a children's birthday party Maharajah's costume to serve the curry, and I couldn't help but asking him where he was from. "Sri Lanka, Sir," he replied with just a tinge of knowing bemusement. To my surprise, the lamb curry was good, or at least in the terms of what I once knew about curry when the little tin of Durkee curry powder in the spice cabinet was my own Joseph Cornell like world of the exotic.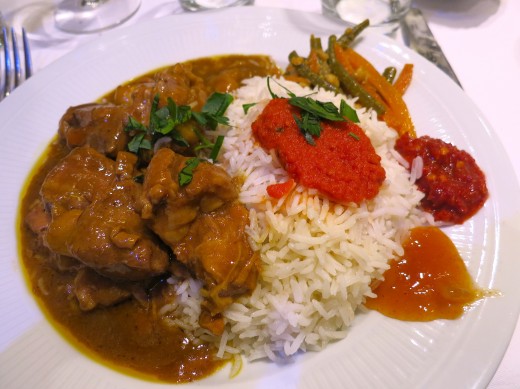 We didn't bother with dessert, because there wasn't any point in it, and we needed to digest both our meal and our meeting. Even though Amanda was tired, I had a hunch about what her next step would be. "I think I'm going to sit on a cafe terrace and have a Cognac and bum a cigarette off of someone now, Alec," she said, reading my mind. So we crossed the road and had a hug before I went into the Metro. "Isn't it nice that we still like each other after all of these years?!" Amanda said in parting, seizing my line again, and aside from recovering an old friendship, I also appreciated the evening for the unexpected archaeology of returning to La Coupole, a place I'd never have gone without her. The meal wasn't awful, but it certainly wasn't worth the money we spent, and since guidebook publishing is generally in such dire straits that few writers ever visit the restaurants they write about anymore and just mostly spade over existing listings, I'm glad to be able to tell you that you don't need to put this place on your Paris Go-To list anymore. Okay, maybe for some late night oysters on a Sunday, but otherwise you might want to take my word when I tell you that it used to be very glamorous.
La Coupole, 102 Boulevard du Montparnasse, 14th Arrondissement, Paris, Tel. 01-43-20-14-20. Metro: Montparnasse-Bienvenue. Open Daily. Average 50 Euros. www.lacoupole-paris.com/en/