LAZARE–The First Step of a Brasserie Renaissance in Paris? (I hope so) B+
February 1, 2014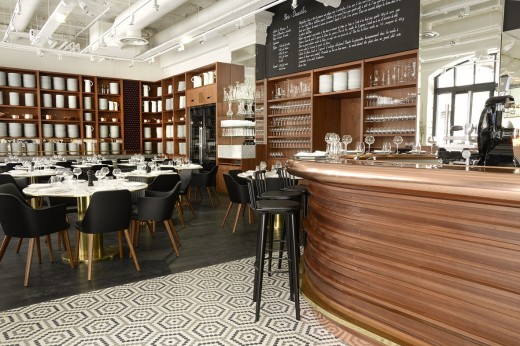 With the launch of Lazare, chef Eric Frechon's four-month old brasserie in the Gare Saint Lazare, it looks like one of the weakest links in the Parisian food chain may finally be pitched for a revival. I've been a half-dozen times since they turned on the gas, and if the food has always been solidly good, more recently, the service has had some necessary fine tuning (a few staff members wrong-footed things for a while with a Costes brothers establishment style attitude) and it's starting to develop some real atmosphere as the novelty wears off and it becomes an established part of a very busy neighborhood (the Gare Saint Lazare is one of the busiest train stations in Europe).
As a Parisian for almost thirty years, I've long had a soft spot for the city's brasseries, those lively, bustling restaurants where you can usually just wander in off the street and get a table without a reservation. The first one I ever really enjoyed was the Terminus Nord, just across the street from the Gare du Nord, when my brother and I were feeling a little the worse for wear after a first over-eager encounter with Armagnac the night before and wanted some lunch before I returned to stay at his flat in London and he went to the Gare de Lyon on his eventual way to Greece. We didn't give much thought to where we'd eat on that rainy Sunday afternoon. Instead it was more a question of finding someplace that was open near the station and where I might trundle my much loathed tweed-sided American Tourister suitcase–these were the days before the addition of wheels to luggage forever changed the lives of all travelers for the better–in the door without being shoed away by the waiters. Instinctively, we guessed that this busy-looking place just across from the station might work, and indeed, when we wandered in with my luggage monster around 2pm in the afternoon, a nice older waiter indicated that I could hide the beast off to one side behind a long heavy velvet curtain and then ushered us to a banquette table in the warm and very pretty art-deco dining room.
The menu appealed immediately, too, and we were fascinated by the older woman sitting next to us. She was wearing a huge and slightly moth-eaten Persian lamb toque, lots of rouge and had striking blue eyes that stood out even more for being surrounded by twin circles of sooty make-up. When she fed a shrimp from her plateau de fruits de mer to the apricot toy poodle in a large tapestry bag on the seat next to her, my brother started laughing, and she glanced at us. "Vous etes des freres?" Oui. "Et vous aves trop bu hier soir, ca se voit!" Oui. She smiled and shook her head. "Vous etes des mauvais garçons? I shrugged, and she laughed. Then her dog barked, and she said, "Tais toi, Abricot!" Apricot, her dog was named Apricot. Who knows exactly why we found it so funny, but we couldn't stop laughing, and she eventually started chortling with us, so that when the waiter brought our onion soup, he eye-balled the three of us as though we might be a public danger.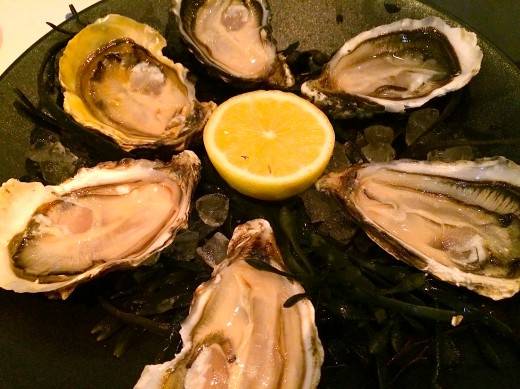 The soup was delicious (alas, the Terminus Nord is at best average these days), and so was the big tray of oysters on a bed of crushed ice that we shared with a daringly ill-advised bottle of Muscadet. Though I liked this place a lot, I didn't know that it was a brasserie until many years later when I moved to Paris. Then, hungry and lonesome on a snowy night, I ventured out of my new apartment on the first night I'd ever be spending there after having moved before two weeks of travel in Italy, and was relieved to find a pleasant looking little restaurant just down the road and around the corner. It looked mostly empty when I peered in through a screen of lace curtains, and that was a good thing, since I correctly guessed I'd get a table and had learned it's generally better to avoid busy restaurants when you're dining on your own. A pleasant salad of mache (lamb's lettuce) and chopped beet root followed by a rather good choucroute garni made everything right in the world, and when I crowed about my find the next day in the office, I became an instant figure of fun. "The Brasserie Balzar! Gee, did you hear that everyone, Alec discovered the Brasserie Balzar!"  Little did I know that it was one of the more fashionable brasseries in Paris in those days (it, too, is a shadow of its former self), but at least I learned what a brasserie was, sort of.
It actually took a little reading to flesh out the term–the word is the French word for 'brewery,' and the genus was brought to Paris by Alsatians fleeing the German occupation of Alsace-Lorraine after the Franco-Prussian war of 1870-71. In Alsace, many breweries had simple restaurants attached to their premises where they served hearty food like choucroute garni–sauerkraut draped with sausages, smoked bacon, and brined pork, and it was on this model that the first Paris brasseries were based when they started opening up to feed a rapidly growing city at the end of the 19th century.
As a newcomer to Paris working for a fashion-lifestyle publisher, I kept erratic hours and traveled a lot, which made me a natural customers for the city's brasseries. And if I don't ever remember having a head-thrown-back gastronomic experience in any of them, they served honest, satisfying reasonably priced food with amiable service in settings with a lot of atmosphere. Many of my friends in those early days in Paris were single like me, and so on Sunday afternoons, a brasserie-going Tom-Tom would often get started among us, as one friend called another to suggest dinner, and that friend called another, and so on, so we'd end up a large happy table in one of the our favorite brasseries–maybe Le Balzar, La Coupole, Brasserie Flo, Le Vaudeville, which also seemed like a failsafe way of seeing off a bout of the Sunday night blues.
Then in the early nineties, many of Paris's great brasseries were bought up by one of two chains, the Freres Blanc or the Brasserie Flo group, and they began a long sad skid into mediocrity that was inversely plotted against their rising prices. So aside from an occasional oyster and steak tartare foray, I gradually stopped going to them, as did many other Parisians, and I missed them.
And this is why Frechon's clever and very sincere new place is so welcome. The three-star chef at Epicure, the gastronomic restaurant of the hotel Le Bristol, likes brasseries as much as I do, and when I ran into him the first time I went to Lazare, he told me that his ideas was to "resurrect and revive a great Parisian institution for a new century." What this translates to is a menu that's a hybrid of homey well-prepared bistro and brasserie dishes, which have been shrewdly modernized by Frechon and acting chef Thierry Colas, like an excellent lighter riff on a classic choucroute garni of grilled pork on a bed of pickled turnips.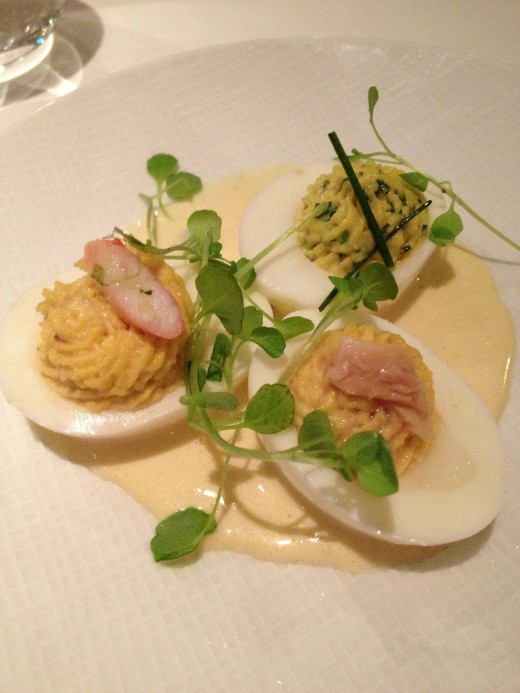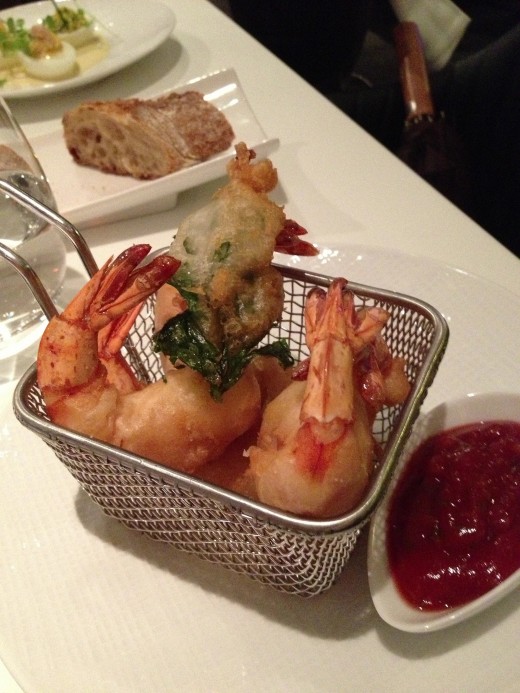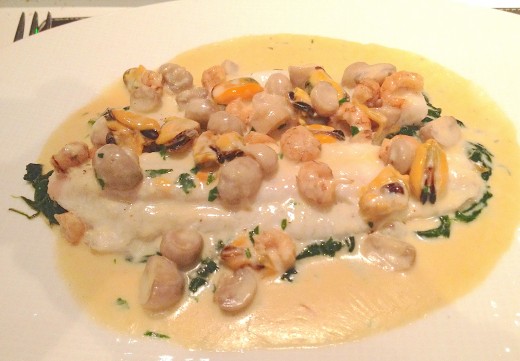 Among other dishes I've liked from the regularly evolving menu are the shrimp beignets served in a wire basket with a side of homemade tomato chutney, a puckish first-class feint at fast food you might actually want to eat, and deviled eggs with crabmeat.
The best main course I've ever had here was an impeccably prepared sole Dieppoise–sole in a sauce of fish fumet with tiny tender mussels and button mushrooms, but the daily specials, including pot au feu (Wednesday), brandade de more (Friday) and saucisse de Toulouse (Saturday) are very good, too. Based on a recipe of Frechon's grandmother, the Paris-Deauville, a baked soufflé with a light caramel sauce, is one of those desserts that I can't eat often enough, too–it's rich but light and induces the same happy feelings as an affectionate pat on the head, and the chocolate tart is excellent, too.
If Lazare is a perfect choice when you want good solid French feed instead of a creative performance from a young chef, it's especially pleasant on Sunday nights, when it's become a go-to address for Parisians returning from weekends in Normandy or their country houses, the only caveat being that it's necessary to book at least a week ahead of time to land a table at this deservedly popular restaurant.
In a Word: Three-star chef Eric Frechon relaunches the Paris brasserie for the 21st century with a solidly good menu of brasserie classics (steak tartare) and updated bistro-style comfort food.
Lazare, Parvis de la Gare Saint-Lazare, rue Intérieure, 8th, Tel. 01-44-90-80-80. Metro: Gare Saint Lazare. Open daily from 7:30am to midnight. Average 60 Euros. www.lazare-paris.fr