Le Bistrot de la Galette, Paris | Montmartre Gets a Delightful New Restaurant, B+
September 20, 2016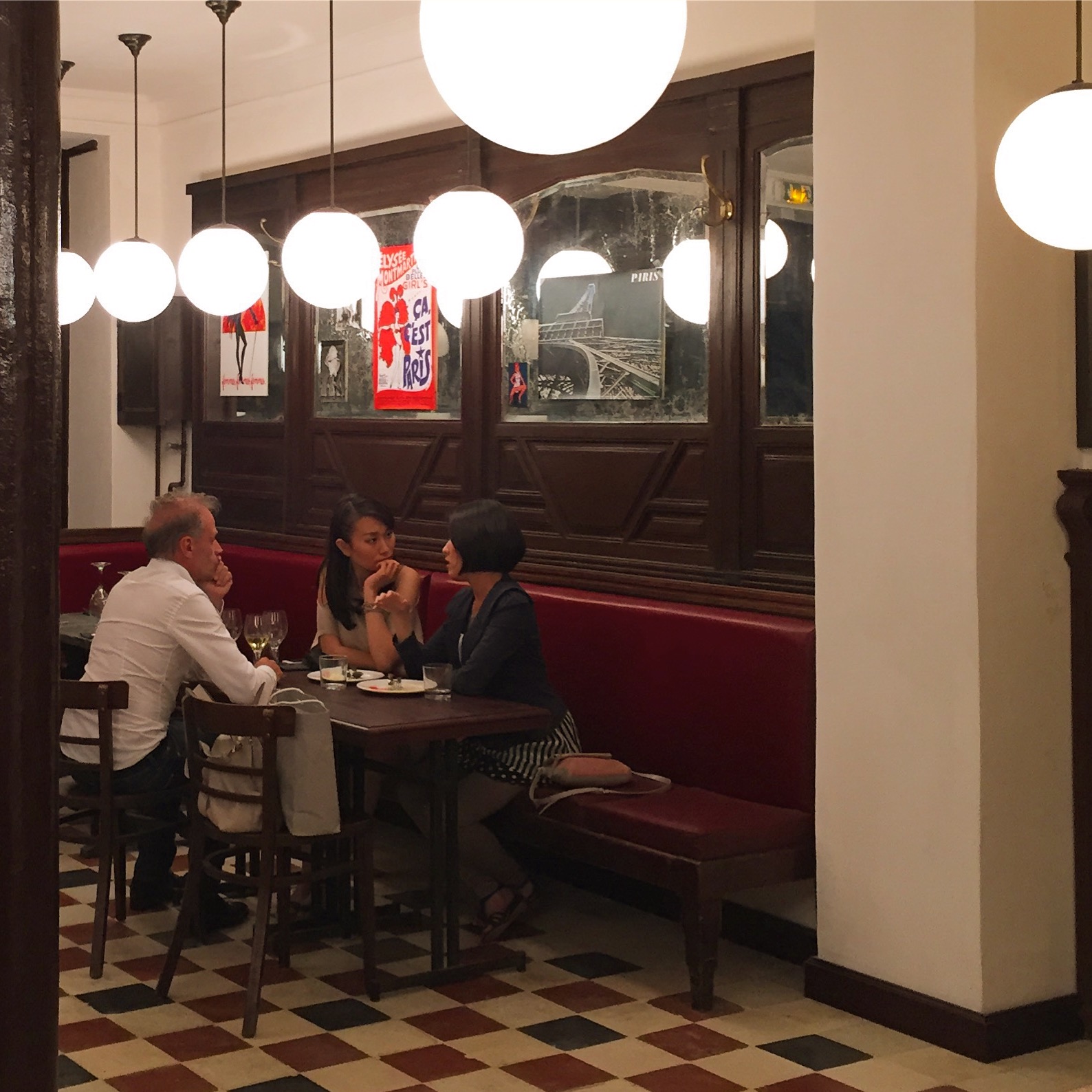 It's some of the best news of la rentrée (the Fall/Autumn season) in Paris this year: With the opening of Le Bistrot de la Galette, there's finally a charming restaurant in Montmartre that actually serves good reasonably priced French food. This beautiful bistro looks like it's been there forever, but it's actually the very recent creation of the very talented pastry chef Gilles Marchal, who has worked at the Hotel de Crillon, the Hotel Bristol and many other places, and who has also just opened biscuiterie (cookie shop) not far from his excellent patisserie in the nearby rue Ravignan, both in Montmartre.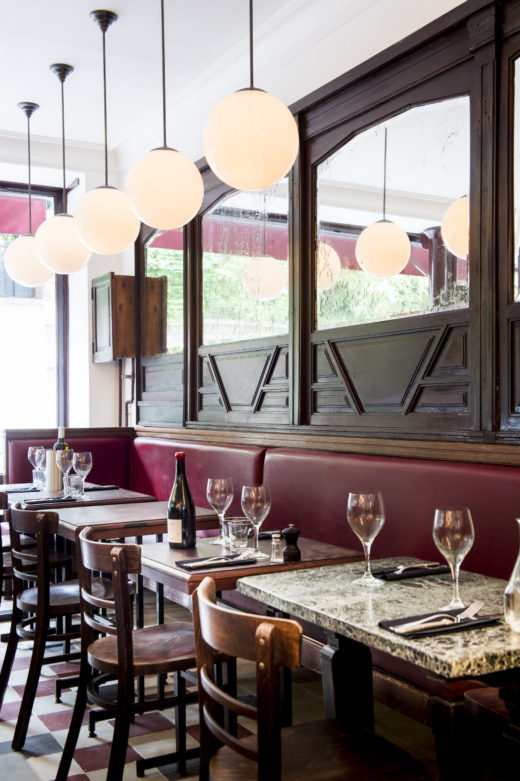 So just steps from the sorry tourist-trap tables of the Place du Terte, where wide-eyed people come from round the world to track down the long vanished traces of the bohemian community that made Montmartre one of the world's greatest artist colonies between 1880 and 1914, at long last there's a pleasant, uncomplicated, fairly priced and profoundly French place to have a meal.
Walking up the rue Lepic to meet Bruno here for dinner on an Indian summer night, I arrived feeling gently melancholic and a little wistful, since I once had a very close friend who lived on the rue Lepic, and I still don't understand how that friendship just sort of went missing after a very large distance separated us. Though I'm now happily married (who'd have ever believed that I could pen that sentence! Not me, but what huge happiness it's brought to a loving couple that's nearly twenty years old), friendship will always be for me the ballast of a life well-lived and an honestly sacred troth. In fact I think of my friendships like gardens, or rich fertile places that need to be loved, respected and regularly cared for to thrive. This doesn't mean, of course, that one has to hover over a friendship, or be too exigent about what defines it, since one of my very dearest friends in the world is a man who lives in Sydney and whom I see only a couple of times a decade, if we're lucky, as we were this past summer, when we met up by the seaside in Spain.
But I couldn't help but sort of idly musing on what social media has done to my admittedly very old-fashioned idea of friendship as a miraculously created web of intimacy spun on a frame of respect and nourished by humour, honesty and a joyous conscientiousness. The little blue 'like' button on Facebook has become a sort of unfathomable shorthand for some form of intimacy born of affinity, which can of course be wonderful, but on the other hand, I have hundreds of 'friends' I've never met, and whom I'm usually connected to out of possibly reciprocally self-interested need or desire to show the world that we're 'friends.' Ultimately, however, real friends are those people who will forgive your occasional bouts of madness or seriously bad behavior, because they know and love you and so understand from whence this ugliness issues and also that it will pass. Such people are very rare and very precious.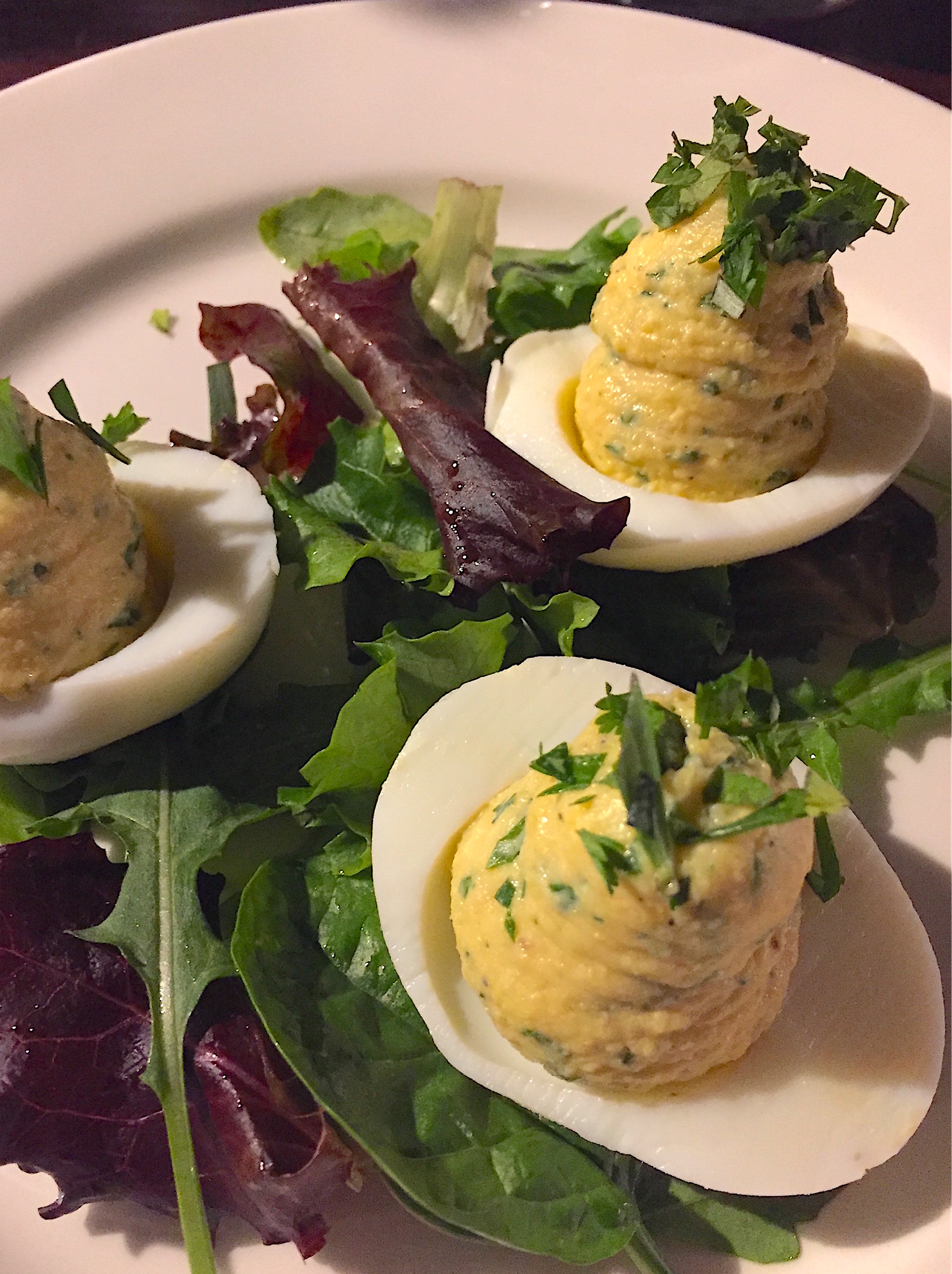 Oh well, maybe the friendship gone oddly asunder lacked the rudder I always believed it had, but one way or another, this particular sweep of Parisian cobblestones will always have tender resonances, and between doing this very personal psychological fine-stitching  and the steep slope I climbed, I reached the table honestly hungry for something as delicious as the oeufs Mimosa (a superior French version of deviled eggs) pictured above.
Bruno was waiting for me, and while we sipping a nice glass of Chablis, the charming woman who runs the restaurant arrived table side to explain it to us a little better. She began with a pleasant dose of history, reminding us that that the original hilltop village of Montmartre had once been the site of many windmills where farmers brought their grain to be milled into flour. At the end of the nineteenth century, a woman from one of the well-established millers' families, a certain Madame Debray, had the idea of opening an estaminet, or a little cafe, where she served the farmers freshly made galettes and glass of milk. Appreciated for the quality of its simple cooking and excellent baking, Madame Debray's place thrived, but then when windmills were made obsolete by the arrival of electricity, Madame Debray transformed her cafe into a dance hall that became popular with painters, writers and bon vivants.
"Pour faire une bonne galette, il faut la plus belle des farines," (To make a good galette (savory crepe), you need the very best flour), Madame Debray once said, and en homage to her, Gilles Marchal decided to base his menu on  pâte feuilletée, or flakey pastry.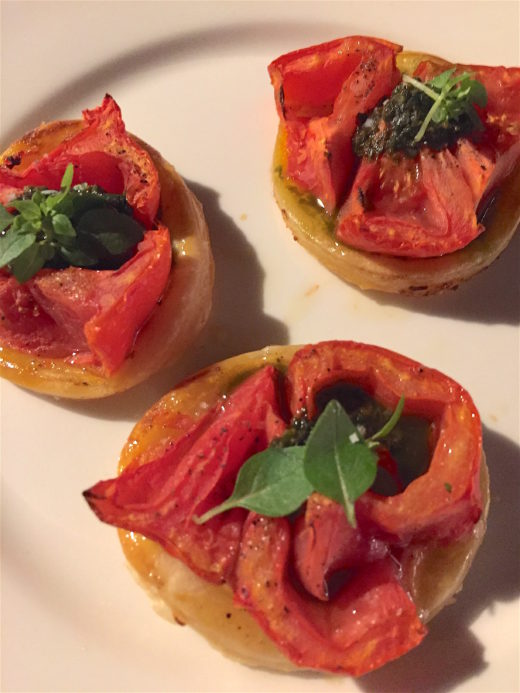 What this means is that most of the dishes on the menu use pâte feuilletée as a base or a garnish. To be honest, this news made me fear the cooking here would be a one-trick pony, but the roasted tomato tarts drizzled with pesto that began our meal were excellent for being so light but full of flavor, because Marchal works with organic flour by miller Gilles Matignon and excellent quality milk and butter. The oeufs mimosa were a treat, too, since most adults crave stuffed eggs with the same unexamined avidity that children do candy.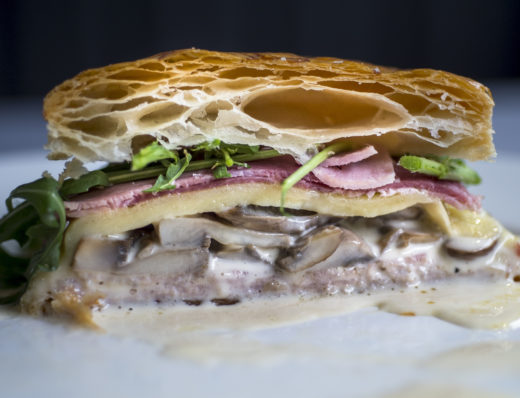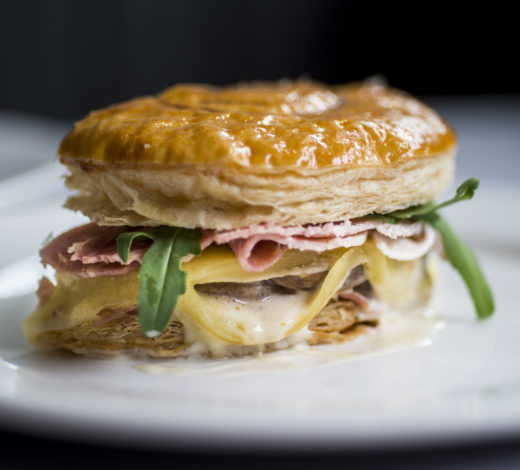 For our main courses, I had the galette Parisienne–with roast pork, sautéed pink mushrooms, raw fresh cream and Comte cheese, and Bruno chose one that was filled with shredded roast lamb and baked Provencal vegetables. Both of them were delicious, but since mine was prettier, it gets the two beauty shots above. There were also several regular bistro dishes–sea bream with a sauce Dugléré (fish fumet, butter, tomatoes, shallots, white wine) and a financière of creamed veal sweetbreads, plus omelettes and scrambled eggs with smoked salmon or bacon, potatoes and fresh herbs. This was the September opening menu, and more hearty traditional bistro dishes will be featured in the months to come.
Every time the attractive good-humored hostess stopped by to pour some more of our always luscious Cote du Py Morgon, we learned more about Marchal's career and his new restaurant. For example, the handsome bar in the main dining room–we were sitting outside on an Indian summer night, came from an old tavern in Charleroi, Belgium and almost everything else in the dining room had been lovingly purchased at flea markets and antique dealers. "More than anything else, Gilles really wanted to create a neighborhood restaurant, a place where people who live in the area will come often and feel welcome. And of course places with a local clientele often have the type of warm, authentic that visitors appreciate as well," she added. What she couldn't say, and I will, is that such restaurants also always need someone in charge with the charm, experience, intelligence and reflexive hospitality skills she so unselfconsciously wields.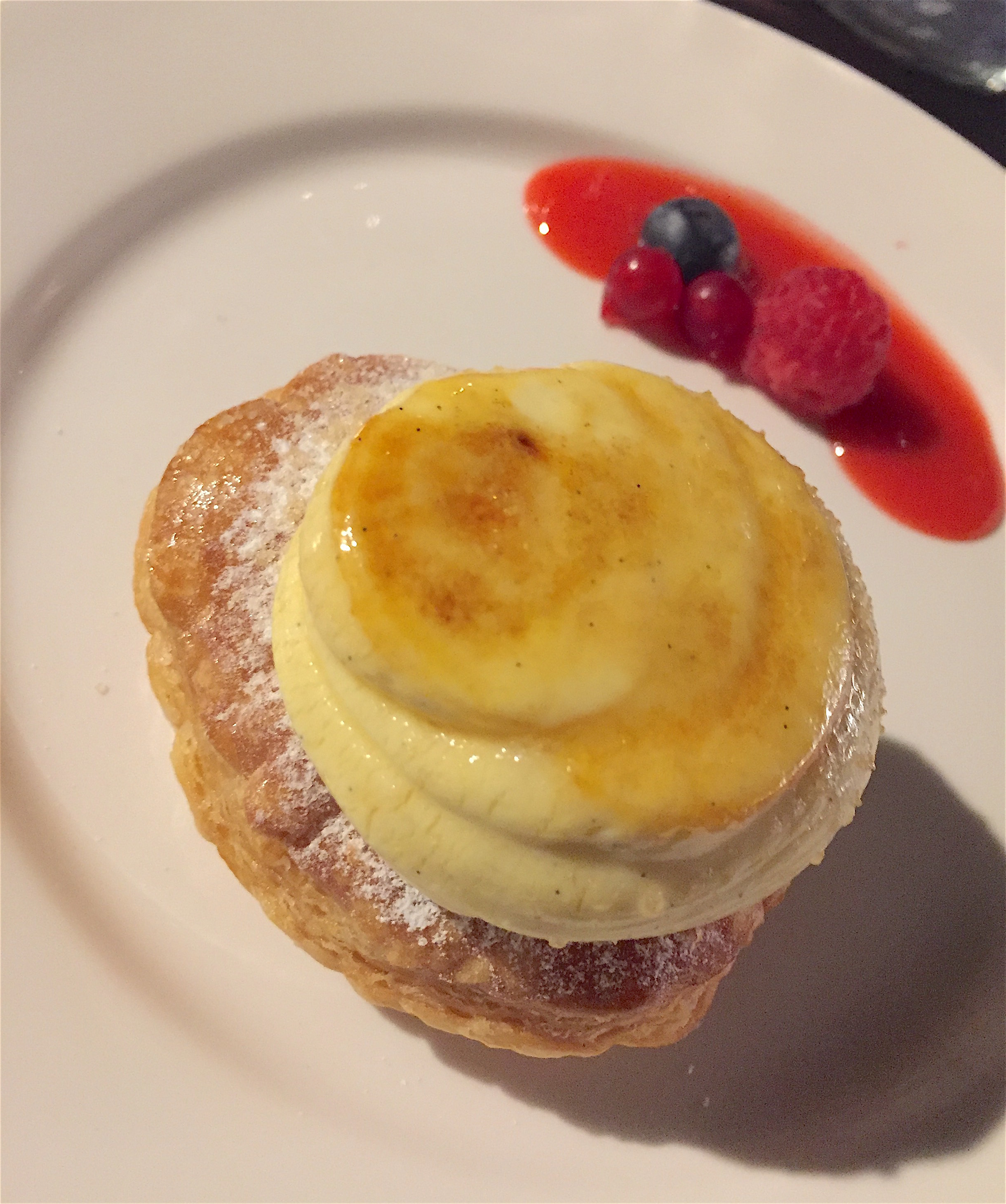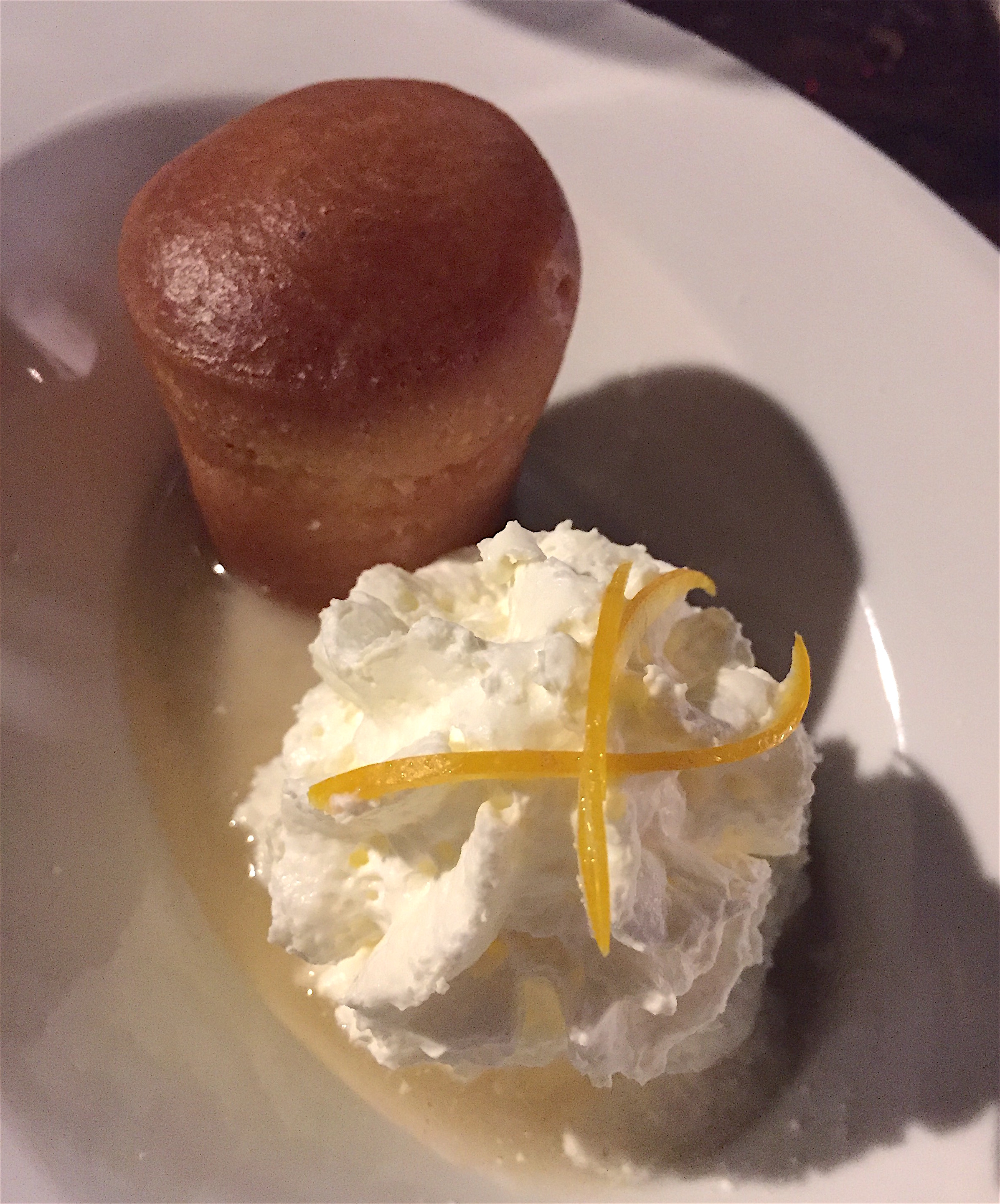 Given Marchal's pedigree as one of the greatest patissiers in Paris, we were both keenly looking forward to dessert. And just as I quietly guessed he would, Bruno chose the puits d'amour, a puff pastry topped with a silken vanilla-flavored pastry cream beneath an amber crackle of caramel, and me, well, my hands usually have to be tied behind my back to keep me away from a good baba au rhum, the sponge biscuit served with a little simple syrup, a splash of good plantation rum from Martinique and a generous tuft of whipped cream with two cults of candied lemon peel. Both desserts exhibited an haute-cuisine excellence, which made eating them at a wobbly table and chairs outside even more of a pleasure.
"That was really good, and isn't it nice to leave the table feeling well-fed but not heavy," said Bruno as we walked down the hill. He paused, as I knew he would, to look up at the windows of the friend who moved away so many years ago, and looked momentarily puzzled as he briefly wondered about why this once very special friendship had gone missing out of some kind of non-reciprocated benign neglect. "She'd have really liked Le Bistrot de la Galette, too," he said, "And I look forward to coming back and trying the cold weather menu, because their cooking is so good and the service is so charming." All of that, and it's also very good value for the money.
102 ter rue Lepic, 18th Arrondissement, Paris, Tel. (33) 01-46-06-19-65. Metro: Lamarck-Caulaincourt or Abbesses. Open Tuesday to Sunday for lunch and dinner. Closed Monday. Average 35 Euros. www.bistrotdelagalette.fr