Le Servan, Paris–The Importance of Being Earnest, or a Great New Neighborhood Bistro, B
May 25, 2014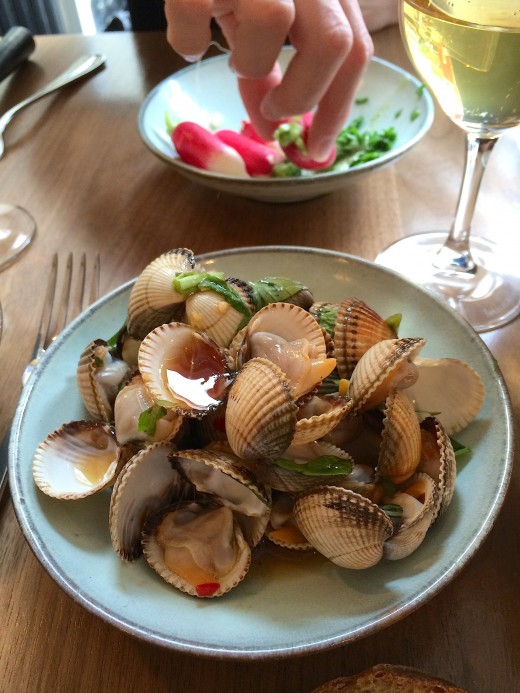 For some time now, many French food writers have been exasperated by the metronome of criticism that's been coming from their American peers ever since journalist Arthur Lubow startled everyone by claiming the best gastronomy in Europe had migrated south of the Pyrenees in a profile of Ferran Adria for the New York Times in 2003. The idea that French food is not as good as it used to be but even often rather mediocre had been bandied about in food circles for a while before the Lubow lightning bolt struck, but by the time New York based journalist Michael Steinberger's book "Au Revoir to All: Food, Wine and the End of France" was published in 2009, kicking French food in the shins as a has-been cuisine had become a veritable cottage industry. Smashing idols is sort of thrilling, of course, but in this instance, not particularly accurate, as I concluded in a piece I wrote on Steinberger's book for the late and still lamented Gourmet in 2009. And yet the beat goes on, with Steinberger recently doubling back to revisit his thesis in a story for the New York Times.
The prevailing cardinal point expectation of so much English language food writing and criticism since the English speaking world became seriously interested in food a generation ago is never called into question, however, and that is a shrill insistence on the new. Restaurants must be new, cooking styles must be new, and creativity is demanded at torrential strength at all times. The most damning thing that can be said of any city or country in terms of its food is, "There's nothing new happening there." And this is one of the reasons that France was set up for a fall after the excesses of "La Nouvelle Cuisine," which began so auspiciously and then veered off in a Mannerist direction that made it easy to spoof and even easier to avoid. This last great Gallic feint at the new, however, completely changed the way that France eats today. It just took a good twenty five years to come into focus, which is what happened when the basic precepts of La Nouvelle Cuisine–jus and bouillons instead of heavy sauces, fresh herbs, shorter cooking times, etc. were adopted wholesale by the generation that saved the French bistro by reinventing it, chefs like Yves Camdeborde, Thierry Breton, Eric Frechon (now at Epicure at the Hotel Le Bristol), and others. Now a second generation of chefs are practicing this reinvented bistro cooking and pushing it further in terms of making it more cosmopolitan, healthy and produce-centric.
Walking down the rue Saint Maur to what turned out to be an excellent dinner at Le Servan, a recently opened bistro, on a pretty early summer night, I found myself musing on the Gallic sense of aggrievement as expressed this week by the very good writer François-Régis Gaudry, critic for L'Express Styles, in his column (one thing we both agree on is that Takao Takano in Lyon is a superb chef, since I named him as one of my best meals of 2013) and also by Alexandre Cammas, who runs Le Fooding, the self-styled voice of 'young' gastronomy in France, in a recent rant. If they're things about the local food scene that rankle–this summer, Paris looks set to be subjected to a 'gourmet' popcorn trend, or deeply alarm–the demise of a proper cheese course in most of the capital's restaurants, the fact of the matter is the food in Paris today is better and more interesting today than it's been at anytime since I moved here in 1986. To be sure, I regret the continuing disappearance of traditional bistros, since I love this food with a passion, but on the other hand, Paris is teaming with new talent right now, and young chef Tatiana Levha, the chef at Le Servan is a perfect example. So the French are justified in feeling ruffled. Unfortunately, however, it'll take some time to get the word out, and editors to call off the dogs.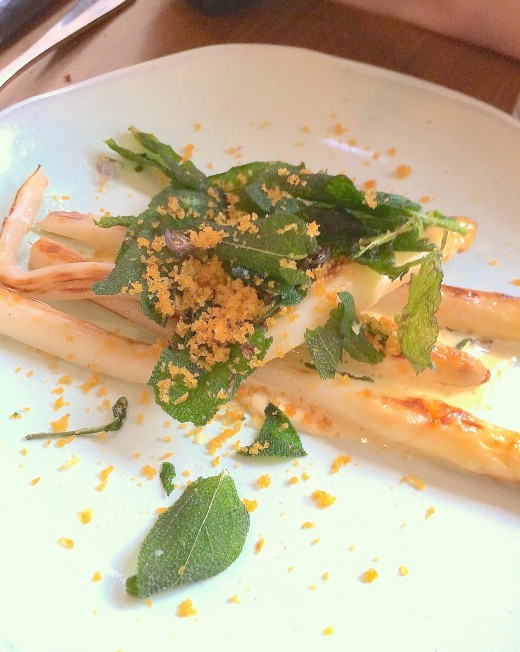 In the meantime, though, there's something sort of delicious in the relative confidentiality of knowing that the food in Paris is so brilliant right now. Consider Le Servan, where Tatiana Levha jolts the idiom of contemporary French cooking with regular references to her Philippine background. Levha trained at Arpège and L'Astrance before opening her own restaurant, and the lucid way she composes her dishes is based on a clear love of the produce she cooks with and the impressive battery of technical skills that inform her cooking, which becomes personal and original when she sautés cockles in pungent fish sauce and garnishes them with fiery bird peppers and basil. This dish was one of the 'zakouskis,' or hors d'oeuvres–the word is Russian or Polish, a reference to another part of Levha's heritage, that begin the concise menu here, and it amply accomplished what an hors d'oeuvre is supposed to do, which is introduce the chef and prime your appetite for the meal to follow. I also liked the other one we ordered, radishes with a soft herbal green herring butter, a franker reference to central Europe.
Tatiana's sister Katia runs the dining room, a light airy space with beautifully Belle Epoque moldings, big picture windows and hand-painted ceiling medallions that express the winsomeness that's at the core of this restaurant's personality. Tables are closely spaced, but the atmosphere is relaxed, and the service is exactly what one hopes it will be in any restaurant–warm, alert, and serious but good humored. Dining with another English speaker, I actually couldn't help but thinking it was a relief to be spared the shirty attitude too often meted out to foreigners in hip restaurants. Instead, Katia, who runs the excellent mostly all organic and/or natural  wine list and who previously worked at Le Baratin, is a gracious and attentive hostess, and the rest of the staff take their cues from her, too.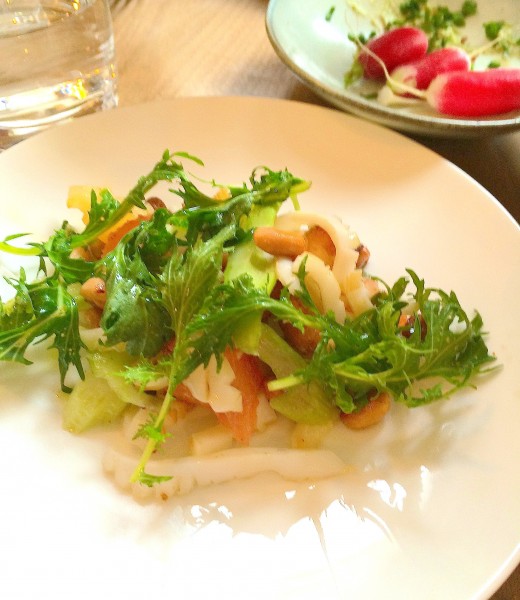 After the first nibbles, we had roasted white asparagus with a nicely made beurre blanc, poutarge, and oven-dried sage leaves that added little to an otherwise appealing dish and a pleasant Asian inspired salad of cuttlefish, celery, pomelo, and roasted peanuts. The latter dish lacked the depth of balanced umami flavor I've come to expect from similar Asian style salads in Thailand, Laos or Vietnam, but perhaps this seasoning had been dialed down in deference to the French palate.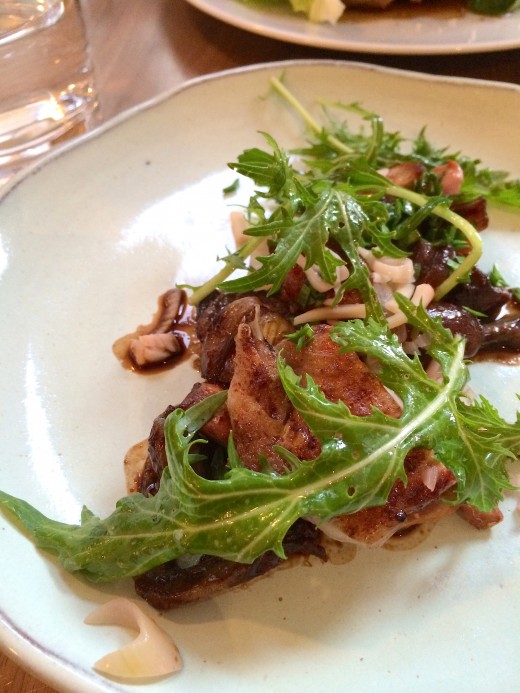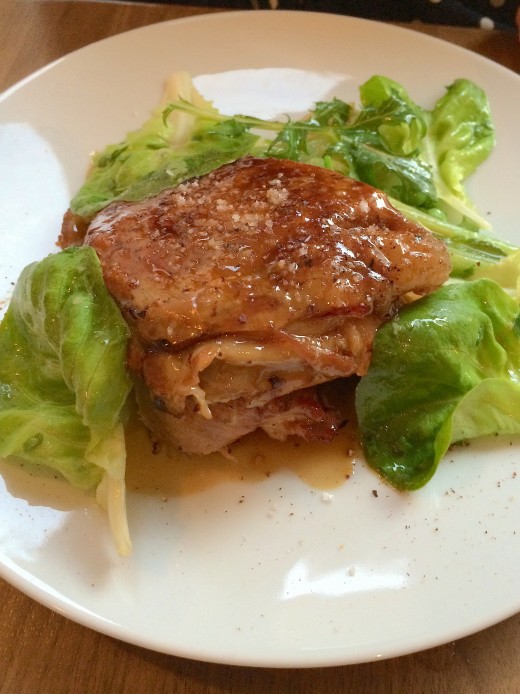 Our third suite of courses was superb. Roasted quail in an adobo marinade, adobo being the Philippine sauce made with soy sauce, vinegar, garlic, black peppercorn, and bay leaves, was tender and richly flavored, and roast lamb shoulder came with a beautifully made sauce and a welcome garnish of Bibb lettuce salad. A single cheese was offered that night–a Loire Valley chèvre, and desserts were the least interesting part the meal–there was a praline tart on offer and my friend had strawberries with pistachios while I ate cheese, but I was impressed by Tatiana Levha's cooking and am convinced of her talent. I look forward to going back to this table and recommend it to anyone who's sincerely curious about how Paris is eating right now.
32 rue Saint Maur, 11th Arrondissement, Paris, Tel. 01-55-28-51-82. Metro: Rue Saint Maur (3), Père Lachaise (2,3), or Voltaire (9). Closed Sunday and Monday, Average 35 Euros.