Les Déserteurs, Paris–A Charmer of a Bistro near the Bastille, B+
May 11, 2014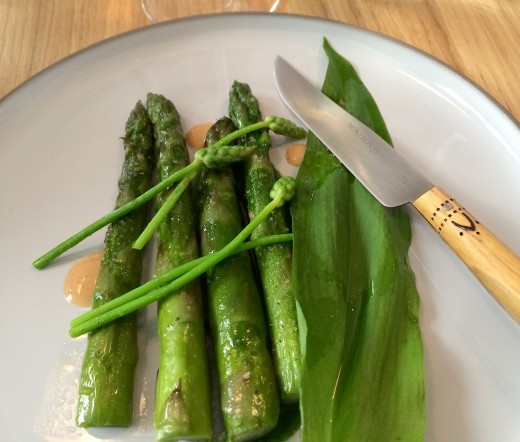 Just ten minutes from La Bastille, Les Déserteurs is a perfect example of the new generation of neighborhood bistros that have been renewing Paris's gastronomic credentials during the last ten years.  Though this culinary renaissance has been happening in broad daylight for a while, the rest of the world has yet to catch on. This is probably all for the best insofar as we Parisians are concerned, however, since a sudden spotlight on one of these newcomers can instantly make it impossible to get reservation within the normal timeframe of being able to predict your appetite for a given type of meal. Then, too, the necessity of booking months ahead of time for a meal in a recently lionized local bistro invariably encourages such heightened expectations that one's easily set up for a fall. To wit, under these circumstances, being very good just isn't enough. Instead, a meal is expected to deliver an almost transcendental experience, which is a pretty heavy burden for almost any young chef. And for a diner, too, since sometimes it's just a nice to go out for a good meal. Period.
Even before I arrived at this new table, the former premises of chef Giovanni Passerini's restaurant Rino, on a sunny May day, I expected to like it solely on the basis of its puckish name. Before they opened here, you see, Daniel Baratier and Alexandre Céret were second chef and sommelier, respectively at Le Sergent Recruteur, a wiltingly pretentious place on the Ile Saint Louis that assiduously follows the pointless pleasure-slaying old-school drill of what the French refer to as a repas gastronomique (gastronomic meal). These are rather wearisome experiences happily reserved for infrequent 'special occasions,' since the point of such a severely orchestrated meal is that you must bow down to the meal meted out by the chef and servers and be politely grateful for it the whole time, too. So even before I'd seen what these guys had gotten up to, I liked them a lot for being deserters. The simple fact of the matter these days is that almost no one likes a long, fussy, formal meal with too much to eat anymore.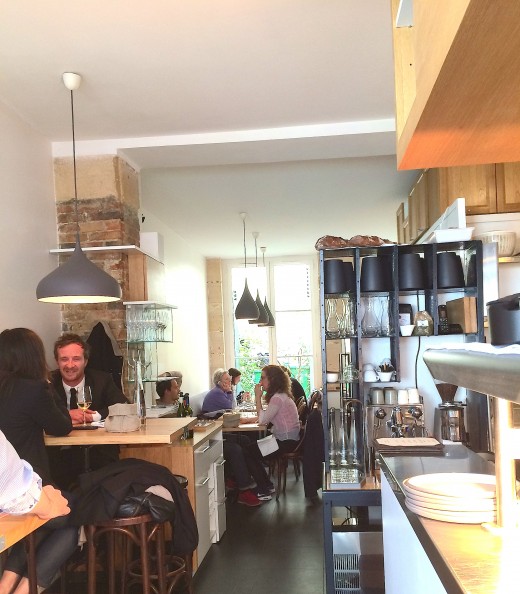 Arriving, Passerini's Rino had been redecorated out of existence, and in its place was a handsome earth-tone bistro with oak tables and beautiful carefully sourced tableware, including gorgeous Nontron knives (see photo of asparagus), which are made in the Perigord, and stunning Belgian faience. I was meeting a friend for lunch, a rare treat, since lunch always plays a winning joker in the poker of my usual self-discipline during the day, and glancing at the 28 Euro lunch menu, it looked liked we'd eat well. For a restaurant that hasn't even been open for a month, this place felt pleasantly settled, and it was full and playing to an interesting looking crowd who clearly knew that the owners have a good reputation.
Then Alexandra showed up, and after chatting for a few minutes, I found myself charmed by her intelligence and wry but blowsy humor the way I am every time we get together, which isn't often, because we're both so busy. We were talking about summer vacations and the pleasure of just getting in the car in the France and just driving out into the countryside without too much of a plan, when our first course–four perfectly cooked green asparagus with a garnish of wild asparagus, a ramp leaf and a few dots of a delicious sauce made from Japanese salted plums–arrived. It was beautiful, generous, and charming for displaying such shy culinary creativity–the sauce. So we ate the vernal spears and went back to our chat, with me urging her to read James Salter's A Sport and a Pastime for a gluttonously beautiful and moistly inspiring description of one way and one reason for doing off-the-cuff travel in France.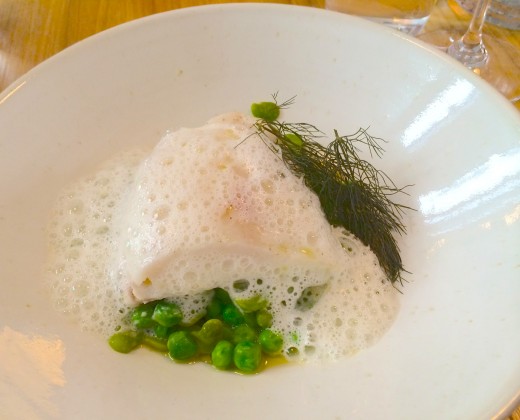 Our main course–merou (grouper) on bed of fresh peas and baby fava beans–in a gently tangy yuzu foam–was excellent, too. At some point while I was eating this fish, a great sense of well-being over-came me, because I was being well-fed, something that doesn't happen often enough in new Paris bistros. I'm not referring to the cooking in this instance, but rather the fact that chef Daniel Baratier had eschewed the unfortunate practice of creating arcane compositions of off-beat ingredients artfully arranged on the plate–here a shaved bamboo shoot, there a few borage flowers, with a sprinkling of pursalane, flying fish eggs and a poached quail's egg–in favor of generously served, well-cooked easily understood dishes that were deeply satisfying.
These two dishes were so good, in fact, that I momentarily suspended my recent aversion to single-choice tasting menus–choice is part of the fun of going to a restaurant, after all–and foamy sauces, because I admired his good intentions and gastronomic logic. Since we were having such a nice time–a good bottle of Montlouis, oblige–we added a cheese course to the menu–brocciu, or Corsican ewe's milk cheese with a soft ricotta like texture, which came with a dribble of olive oil and a delicious powder of black olives, salt and sugar.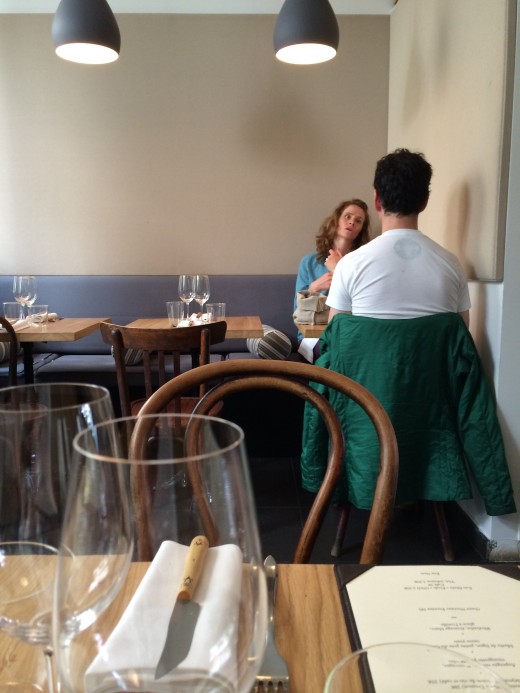 Dessert was excellent, too–poached rhubarb with rusk crumble and vivid sorrel ice cream, and because I was enjoying myself so much, I ate it without taking a picture. So you'll just have to trust me when I tell you it was good. By now it was 15h45–we like to eat, and we like to talk–and I'd have been too embarrassed to order coffee if we we'd been the only ones left, but fortunately we weren't. The couple sitting along the wall behind Alexandra appeared to be enjoying themselves as much as were were, too.
When Alexandre Céret brought us our coffee, we chatted a bit, and I told him that it was a great idea for the two of them to have gone AWOL. He frowned briefly. "Well, we went away to do better, that's why," he said seriously. And so they have.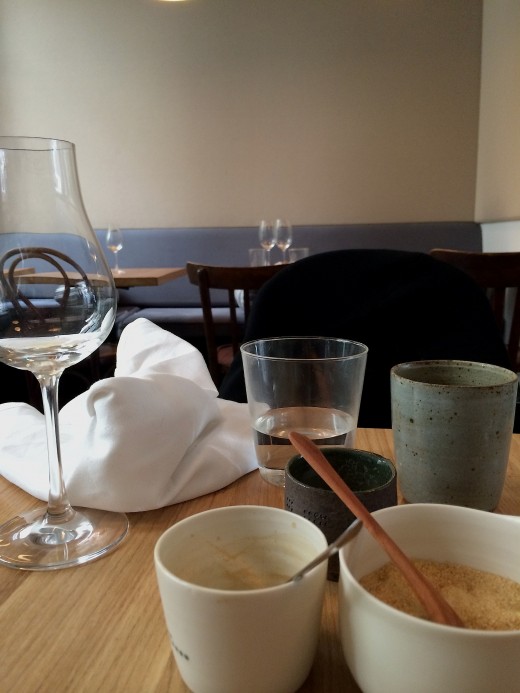 Les Déserteurs, 46 rue Trousseau, 11th Arrondissement, Paris; Tel. (33) 01-48-06-95-85
Metro: Ledru Rollin, Faidherbe – Chaligny, or Charonne. https://www.facebook.com/pages/Les-Déserteurs/690121837711787 Closed Sunday and Monday. Prix-fixe lunch menu 28 Euros, average dinner 50 Euros.