MIRAZUR, Menton-The Riviera's Best Restaurant, A-
July 31, 2014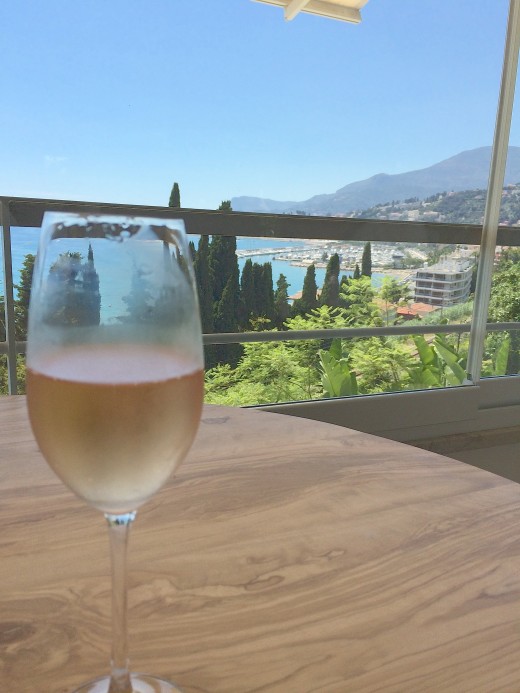 The best restaurant on the Cote d'Azur, the storied Mediterranean stalking ground of the world's rich and famous that's known as the Riviera in English, is Mirazur. It makes me happy to be this blunt, too, since the Riviera–I'll opt for the English parlance, is encrusted with fussy over-priced restaurants where eager gastronomic novices flock every summer only to be fleeced and disappointed. Oh, to be sure, they're many wonderful restaurants along the coast, but they're usually the simple ones not the fancy places with waiters in tuxedos and food that's served under silver-plated domes. I'm talking about great little bistros like L'Armoise in Antibes or Agua and L'Ecole de Nice in Nice. So the definitive superlative I'm awarding here is in the context of what the French call haute cuisine, or the very best cooking, and at this most ambitious and most expensive end of the food chain, very few of the restaurants exalted by famous guidebooks warrant the wound to your wallet.  Mirazur does.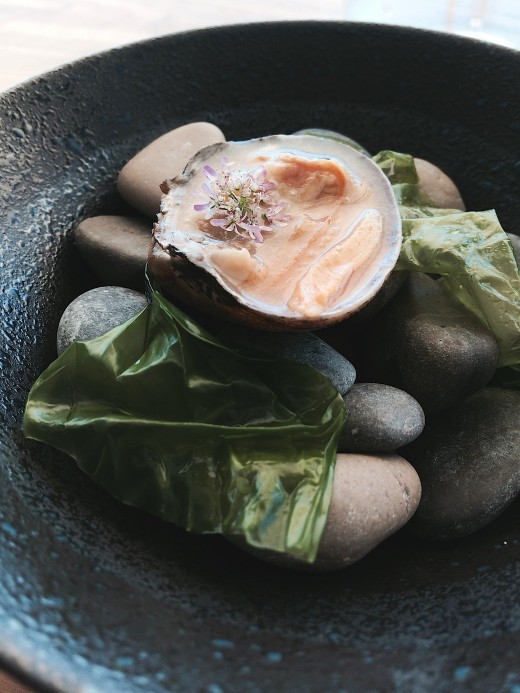 I hadn't been here since I came for lunch two years ago when I was researching HUNGRY FOR FRANCE, and as much as I enjoyed that meal, I wasn't able to really lose myself in the beauty of chef Mauro Colagreco's cooking, because I was with a photographer who was shooting every dish we'd ordered for the book. So this time was different. For one thing, I was alone, which was fine, since sometimes it's a pleasure to embark on a long leisurely meal by yourself and especially with a stunningly beautiful view of the Mediterranean as company. So I sipped a flute of rose Champagne and looked forward to the tasting menu that was shortly to unfold. It began with a trio of delicate hors d'oeuvres, including a sampling of fresh tomatoes from the garden that Colagreco has on the hillside just across the street from his restaurant, a beignet of smoked eel, and a seaweed strewn clam on the half-shell with an intriguing garnish of leche de tigre, the Peruvian sauce that's used to make ceviche and which is a liquefied mixture of fish, lemon, onion and ají.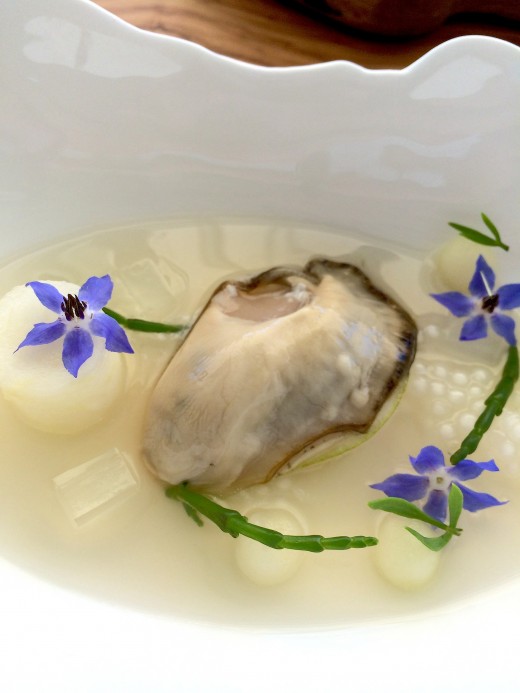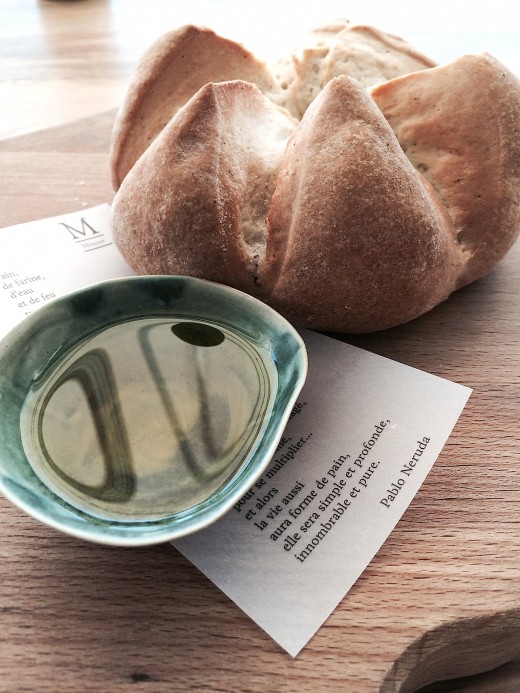 The clam brought on a rush of pleasure with its simplicity and also because it awoke my memories of why I've always loved Colagreco's cooking. The Argentine born chef, who trained with a variety of great French chefs, including the late Bernard Loiseau, Alain Passard, Alain Ducasse and Guy Martin, has a lyrical gastronomic signature all his own–his food is stunningly fresh and exudes a tenderness both in its execution and its aesthetics. This makes it a surprise to meet Colagreco, by the way, since he'd make a good rugby player, but then again, looks are often, or even usually, deceiving. And as if to confirm my musings, the first course of my meal arrived, a plump Gillardeau oyster with shallot cream, tapioca pearls, and a riff on the pear that include balls of the fruit and its juice. It would never have occurred to me that pears could make an oyster more eloquent, but the sweetness of the fruit teased the lactic flavors of the bivalve, with tiny sprigs of salicorne, or crunchy seaweed, serving as punctuation. This dish was a quiet elegant edible surprise, which is what the best haute cuisine is always about.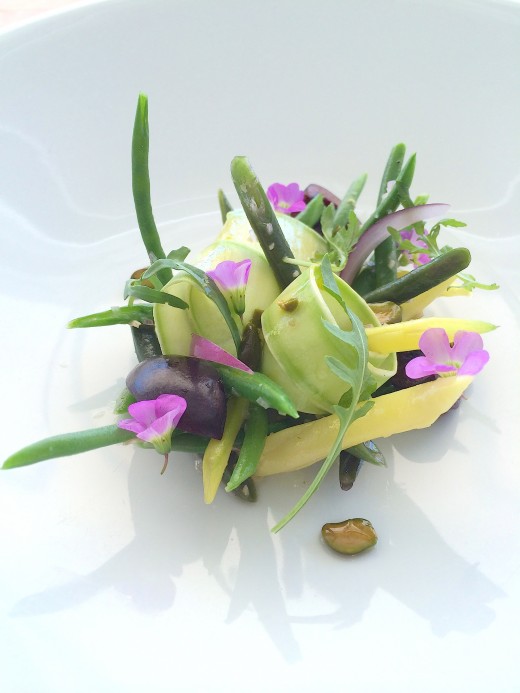 The salad of beans with fleshy almost black Napoleon cherries, pistachios and razored slices of zucchini was similarly delicate, completely unexpected and deeply refreshing. Eating it with some of the hot bread that was served at the same time with a little pool of olive oil and a brilliant poem about bread by Pablo Neruda, I resolved to attempt some version of it at home, but I rather doubt I'll be able to find cherries as good as Colagreco's in Paris. Freshness and a mastery of cooking times so precise they seem calibrated to the quarter second are the fundaments of Colagreco's cooking.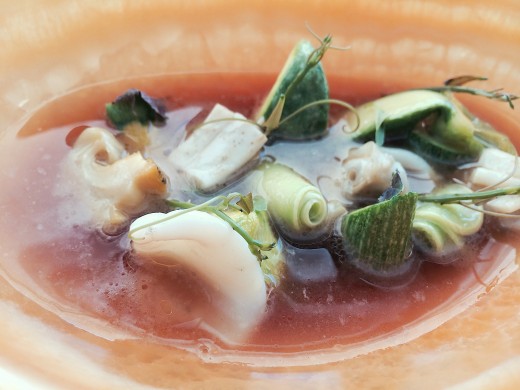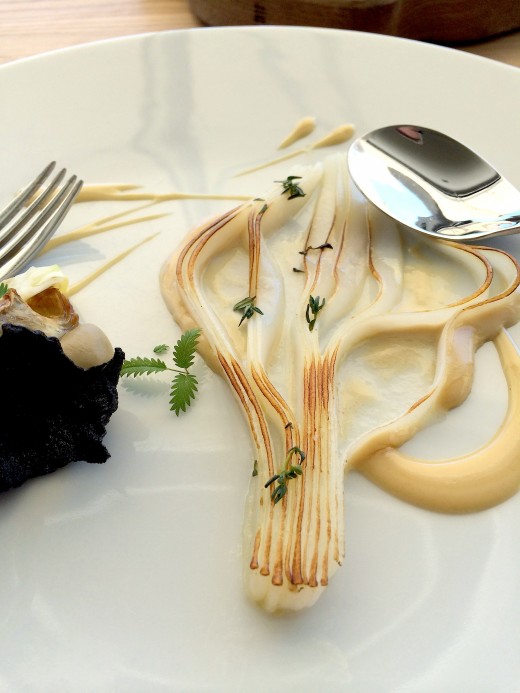 His palate is restrained and very subtle, too–he wants you to taste his beautiful produce and would almost never do anything that would obscure its natural flavors. Sometimes he sublimates them, though, by matting them against a contrasting flavor, as was true of my next course,  sea snails, squid and zucchini in a gently tamarind seasoned broth, and the brilliant dish that followed, seared squid finely sliced into ribbons with a bagna caudal, the Piemontese sauce made with garlic, anchovies, olive oil and butter.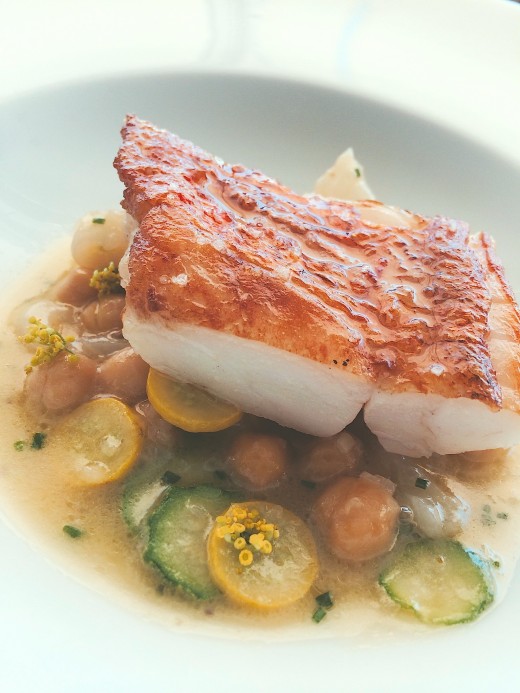 This meal may be starting to sound like a lot of food, but it wasn't, because portions hit that sweet spot between fiddly tasting plates and a full serving, and the pacing of the meal was impeccable. It helped, too, that the general atmosphere in this restaurant is palpably happy and relaxed, or light years from what one might usually expect at a Michelin two star table. The dish that followed was my favorite, a filet of Chapon on a ragout of chickpeas, tiny zucchini, and cod tripe with fennel flowers. The various textures of the ragout flattered the fish and the gently contrasting tastes constituted one of the most magnificently subtle Mediterranean muddles I've ever tasted.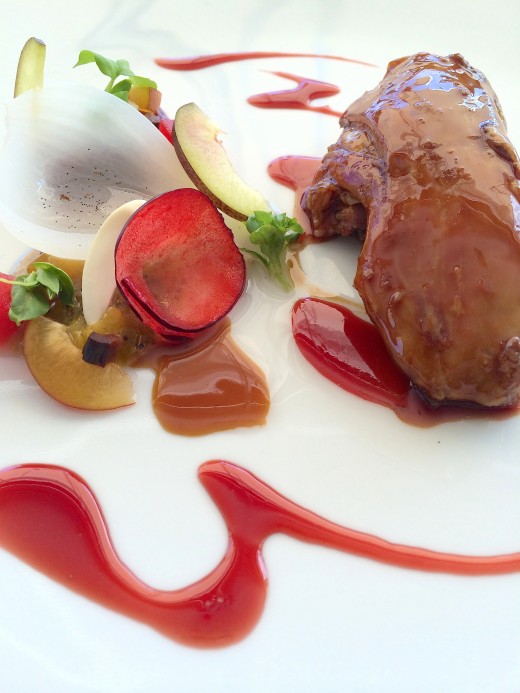 Roasted shoulder of lamb pirouetted away from the primal tastes of the Chapon with a vivid sauce of fresh plums and vanilla that served as an elegant prelude to dessert. On this warm afternoon, with dessert looming, I found myself hoping that they'd be small and refreshing.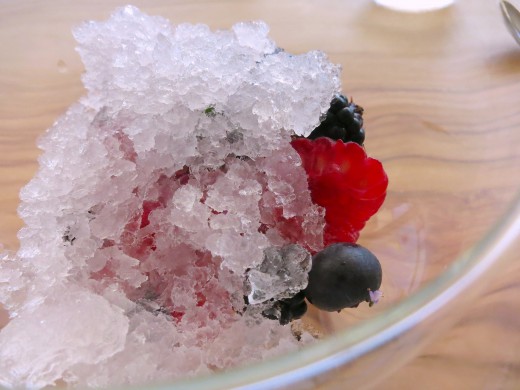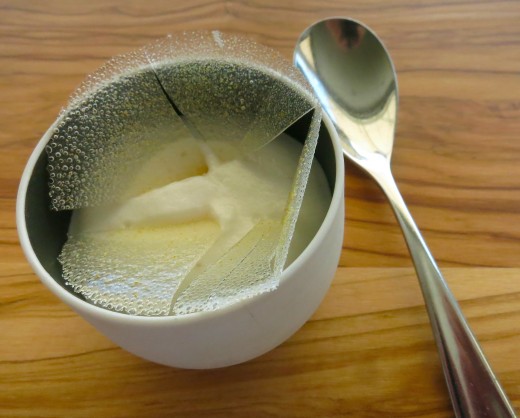 So I was delighted when a rosewater granite with raspberries and blueberries came to the table. For me, this superb meal could have ended here, but Colagreco had a final surprise in store. Once I'd shattered the transparent pane of sugar on top of the bowl it came in, the saffron-flavored cream with a foam of new almonds and orange sorbet was just about the most perfect summer dessert I could imagine, since the saffron had the effect of gently tucking the palate in for a nap after the delicious ardors of a spectacular meal. Colagreco is a brilliant chef.
Mirazur, 30 avenue Aristide Briand, Menton, Tel. (33) 04-92-41-86-86. Email : reservation@mirazur.fr  www.mirazur.fr  Summer hours (mid July to the end of August): Open Thursday to Sunday for lunch, open daily for dinner; Winter hours (mid-February to early November): Open Wednesday to Sunday for lunch and dinner. Prix-fixe menus 47 Euros (not served on weekends), 70 Euros, 100 Euros, 140 Euros.