MY FAVORITE MEALS OF 2013 – Paris, Lyon, Venice, Barcelona and New York
December 20, 2013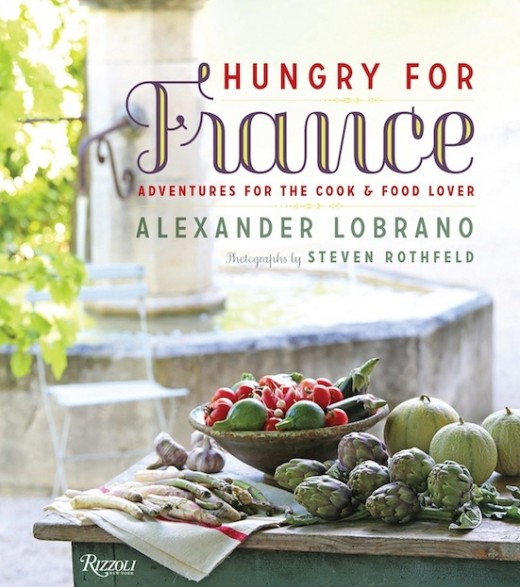 My New Book, now available for pre-order in my Amazon store and holiday gift-giving
During a recent trip to Vietnam, I found myself musing about the best meals I've eaten during 2013, and if I've had many really spectacular meals–eating in Paris, my much loved adopted hometown, is more interesting today than it's been in many years, certain feasts really stood out. Some of them were lavish meals in grand settings, while others were simple feeds with friends in pretty, quiet places. What all of them had in common is a superb level of sincere cooking using excellent produce; warm friendly professional service; and pleasant settings. So here, then, is a round-up of the places I most enjoyed in 2013.
PARIS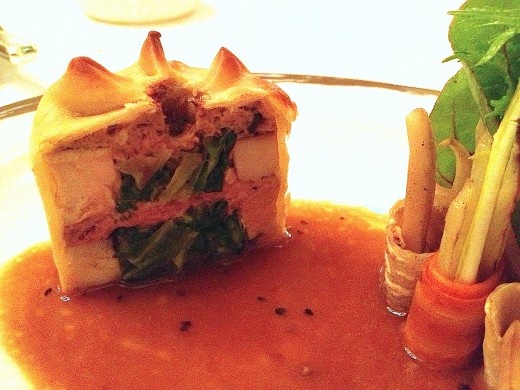 Pate Chaud de Pintade au Chou
Following the departure of chef Yannick Alleno last January, the magnificent dining room at the Hotel Le Meurice became part of Alain Ducasse's stable of restaurants in September. Ducasse placed chef Christophe Saintagne in the kitchens here, and even though I've always liked Saintagne's cooking, I went to the restaurant with guarded expectations early this Fall. Why? I admire Alleno and have always enjoyed his cooking, and I wondered whether even someone as wily as Ducasse could pull off the complicated re-boot of a grand three-star restaurant in such a short space of time.
Suffice it to say that we had a remarkably good meal, and I say this as someone who's never been less interested in haute cuisine for the simple reason that the most interesting cooking in Paris isn't generally being done at this exalted and shudderingly expensive level these days. The Pate Chaud de Pintade au Chou, a delicate cylinder of magnificent pastry filled with chunks of guinea hen, Savoy cabbage and a mousse made of the bird's liver and gizzards was just plain magnificent, and I also loved my John Dory with fresh figs and turnips, veal sweetbreads with tomatoes and spectacular chocolate dessert.
Sommelier Estelle Touzet chose some brilliant wines to accompany our meal, and the planed down aesthetics of the dining room, which had gone for Baroque when Philippe Starck had previously gotten ahold of it, were a real relief and an important caption for Saintagne's cooking. To wit, Ducasse and his team profoundly understand that the idiom of luxury is evolving rapidly at the beginning of this still new century, and that a sententious simplicity is much more exciting and satisfying than the long-running old-school drill of expensive produce and opulence. Less really is more now, and Le Meurice offers a thrilling lesson in the new trope of French haute cuisine dining.
Restaurant Le Meurice – Alain Ducasse, Hotel Le Meurice, 228 rue de Rivoli, 1st, Tel. 01-44-58-10-55,
Metro: Concorde or Tuileries. Open Monday to Friday for lunch and dinner. Closed Saturday and Sunday.
Average a la carte 235 Euros, Five-course tasting menu 380 Euros. www.lemeurice.com/le-meurice-restaurant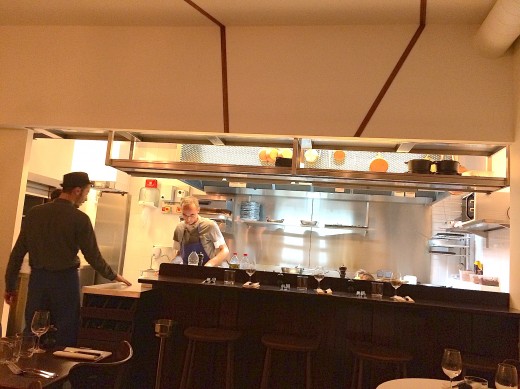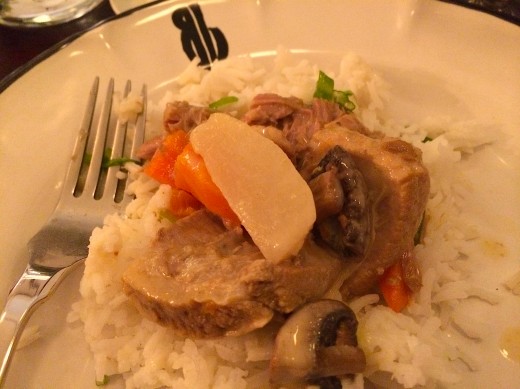 Bistro Bellet – B+
If I'll always have a soft spot for rock-of-ages Paris bistros with checked table cloths and lace curtains, this new bistro in the 10th arrondissement stands out from the crowd for offering brilliant traditional bistro cooking in a smart sophisticated setting, the message being that tradition doesn't necessarily have to be anchored by sepia-toned nostalgia. On one of the first winter nights of the year, I met friends here for dinner and had a brilliant meal of terrine de campagne–one of the best I've ever eaten, blanquette de veau and creme caramel. I really respect chef François Chenel, who cooked this meal, for his commitment to producing seriously good and deeply satisfying dishes from the classical cannon of Paris bistro cooking without feeling the need to be 'creative.' This excellent restaurant is a place you come to eat, and eat very well indeed, rather than go out on the tight rope of anyone's 'creativity."
Bistro Bellet, 84 rue du Faubourg-Saint-Denis, 10th, Tel. 01-45-23-42-06. Metro: Château d'Eau, Gare de l'Est or Jacques Bonsergent. Open Tuesday to Saturday for dinner only. Prix-fixe menu 32 Euros, average 40 Euros.
LYON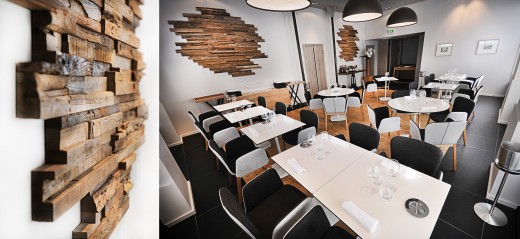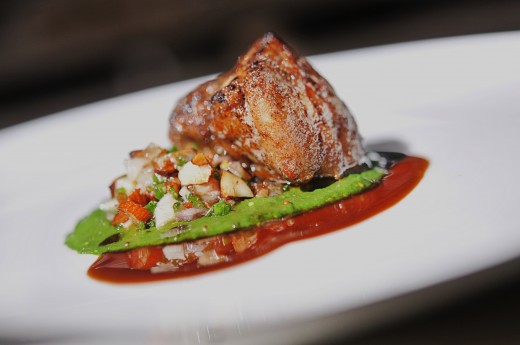 After working as sous-chef to Lyon's former boy wonder Nicolas LeBec for many years (LeBec has gone off to Shanghai following the high-profile failure of his huge gastronomic complex in the developing Confluence neighborhood of the city), Japanese born Takao Takano finally spread his own wings this past spring with a refereshingly spare but meticulously well-decorated restaurant in a quiet residential neighborhood not far from Gare de Lyon-Part-Dieu, the city's main train station. I went on my own for lunch just a week after Takano had opened and had a stunningly good meal.
I loved the simple Ryokan inspired decor of the dining room as soon as I stepped in the door and was immediately impressed by the professionalism of the young staff, too. The meal began with an amuse bouche of smoked eel with shavings of dried red beet–a vividly flavorful hors d'oeuvres, and continued with a pan-fried lobe of duck foie gras with a refreshingly tart and pleasantly perfumed coulis of fresh raspberries. Next up, an impeccably made Canaroli rice risotto garnished with green asparagus, Lardo di colonnata (salt-cured Italian fatback) and two-year old Parmesan, and then a exquisite composition of steamed cod steak garnished with new peas and baby clams in a foam of smoked milk. Veal sweetbreads (above) with pea-and-lettuce puree followed, and the sweet ending to this superb meal was a lush dark chocolate tart with a shortbread crust.
Takano is one of the most technically accomplished chefs I've encountered in a long time–the precision of this meal was breath-taking, and also has a flawless culinary imagination, a perfect example being the pairing of foie gras with raspberry coulis, since the fruit both flattered and tempered the liver with its gentle acidity and sweetness. I am eagerly looking forward to my next meal at this restaurant, since I think Takano is very likely to become Lyon's next great chef.
33 rue Malesherbes , Lyon, Tel. 04-82-31-43-39. Closed Sunday and Monday. Prix-fixe menus: 28 Euros (lunch), 45 Euros, 75 Euros. www.takaotakano.com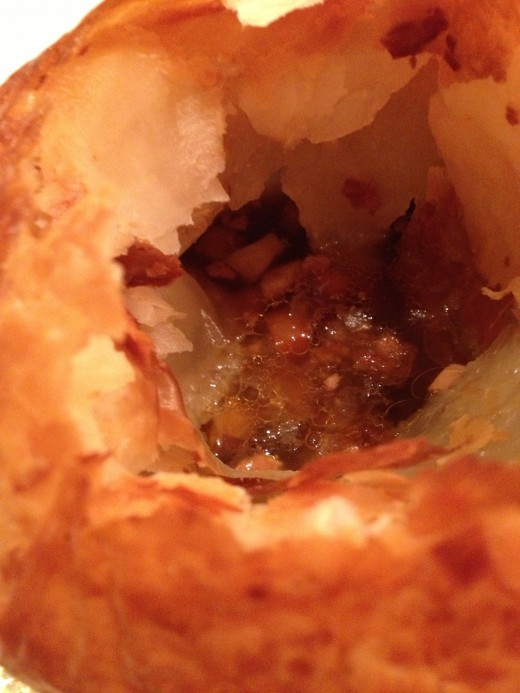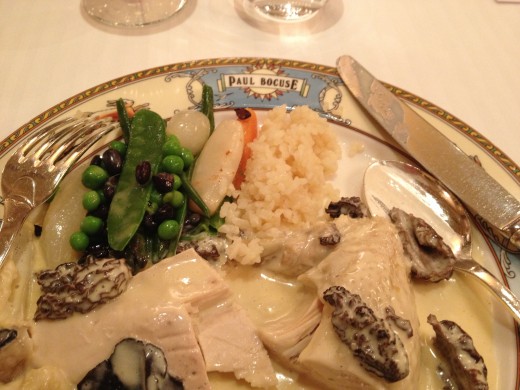 Auberge du Pont de Collonges (Paul Bocuse)
I've had a professional crush on Paul Bocuse ever since I first had the pleasure of following him around the main market in Lyon one spring morning many years ago. On that memorable day, I arrived late, because of a local Metro strike, and he waved away my effusive apologies and treated me to a plate of freshly shucked oysters and a glass of white wine as a way of steadying my nerves. Watching him inspect the stalls in the market was fascinating, too, since his knowledge of the best Gallic produce is as soulful as it is encyclopedic. As it happens, he's also a warm, gentle, thoughtful man, too.
So I was delighted when I was sent to Lyon on assignment and told to dine at Bocuse. I hadn't been there in several years, and in a taxi on the way to dinner, I guardedly wondered if it could possibly still be as good as it was the last time I went. After I was seated in the restaurant at a corner table by myself, I was surprised when Monsieur Bocuse came out to greet me. I certainly didn't expect that the 87 year old chef would remember me, and so I was astonished when he mentioned how much he'd enjoyed watching me eat a whole Saint Marcellin cheese during a stop at a cheese monger's while we toured the market together many years ago.
The meal that followed really moved me, too, because it still offers a ticket to the tastes of France as they existed before the country was sweep by modernity after World War II. It was also just plain damned good. Piercing the pastry dome on the tureen of the black truffle soup Bocuse had created for former French president Valery Giscard d'Estaing released a potent gust of steam that was redolent of beef, truffles, butter and marrow, and it created the same momentary excstasy I experienced the first time I ate it. Similarly, the fricasse of Bresse chicken with morels was a beautifully made dish, and even the accompanying Camargue rice it was served with had great bite and flavor.
Ultimately, this was an excellent meal, and I'd strongly advise anyone who hasn't been to Bocuse to make the pilgrimage while this great man is still around to insure that things are done his way, the old-fashioned way.
Auberge du Pont de Collonges, 40 Quai de la Plage, Collonges au Mont d'Or, Tél. 04-72-42-90-90. Open daily. www.bocuse.fr Menu Classique 150 Euros, Menu Bourgeois 198 Euros, Menu Tradition 240 Euros, Average a la carte 300 Euros.
VENICE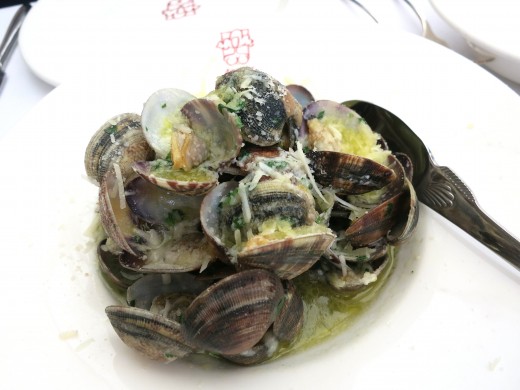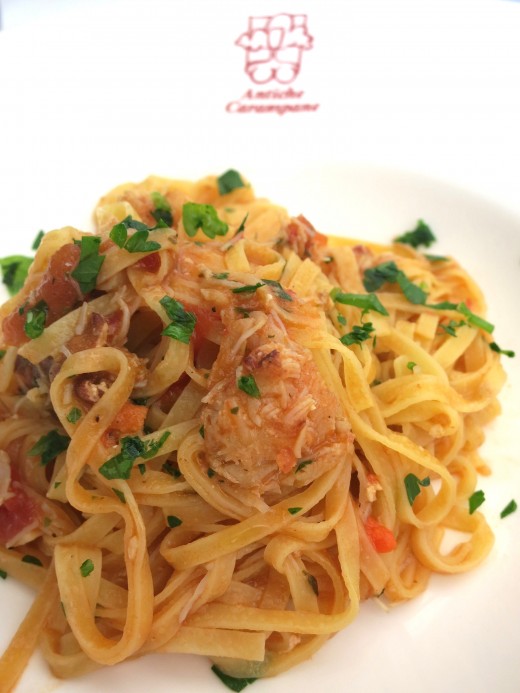 Antiche Carampane – A-
On a beautiful Indian summer day, Bruno and I somehow or another found this excellent trattoria, which is located down a cluster of side streets and alleys, and had perhaps the best meal I've ever eaten in Venice. Settling in at a sidewalk table on the quiet street, we were warmly amd promptly welcomed and panic set in immediately when I started reading the menu. How on earth was I ever going to make up mind when there were so many dishes I wanted?
In Venice, what I want to eat more than anything else is locally caught seafood, and the offer that day was brilliant. We started with baby clams sauteed with garlic and flat parsley, and then sprinkled with coarsely grated Parmesan just before to the table. The unexpected marriage between the cheese and the briny bivalves was magnificent, too, since the rich grainy cheese met the lactic tones of the clams beautifully. Next, fresh tagliolini with crabmeat in a light tomato sauce was one of the best pasta dishes I've ever eaten, and Bruno's cuttlefish stewed in their own ink was a luscious glossy black stew served over white polenta. A day doesn't go by when I don't find myself craving this meal all over again.
Trattoria Antiche Carampane, San Polo, 1911, Venice, Tel. 39-041-5240165. Closed Sunday and Monday.www.antichecarampane.com Average 50 Euros.
BARCELONA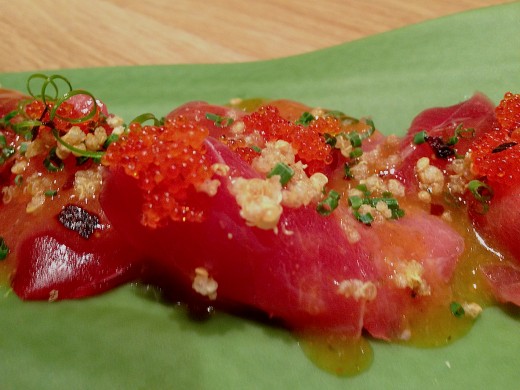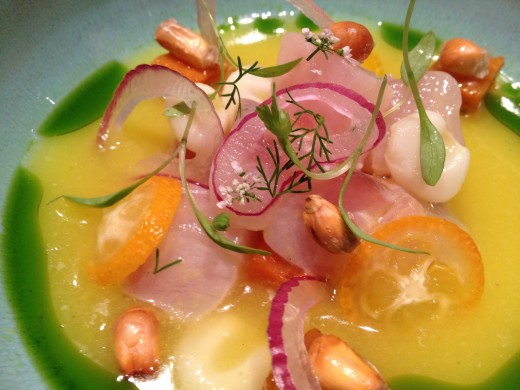 Pakta – A
In the Quechua language of Peru, Pakta means "union," and the one that's referred to by the name of Albert Adria superb new restaurant in Barcelona is created by the mingling of the Japanese and Peruvian kitchens. This hybrid cuisine is known as Nikkei, and Barcelona has gone mad for it, with Nikkei restaurants opening all over the city.
Adria's is the best by far, and the Fujiyama menu I enjoyed in May was a spectacular succession of tasting plates, including the tuna te-maki with puffed quinoa and shichimi and sea bass ceviche with hominy, tigre de leche, kumquats and red onions shown above. It's not easy to get a reservation here, since they only have room for 32 and booking is by internet only, but the necessary perserverence is richly rewarded.
Carrer de Lleida 6, No phone–they can be contacted only through their website, Open for dinner only Tuesday to Friday, Saturday lunch and dinner. Closed Sunday and Monday. http://en.pakta.es/ Reservations by internet only. Fujiyama Menu 90 Euros, Machu-Picchu Menu (20 dishes and 5 desserts) 120 Euros.
NEW YORK
Estela, New York, NY – A-/B+
Despite the fact that our meal was nearly ruined by a braying group of young Wall Street yahoos, I had a brilliant dinner with my adored friend Tom at this newly opened small-plates bistro on the Lower East side when I was back in New York in October. Uruguayan born chef Ignacio Mattos is a nervy earthy cook with one of the most original culinary imaginations I've run into for a long time, and we were tantalized by his beef tartare with sunchokes, calamari a la plancha with charred onions and romesco, spiced lamb rib with cilantro and honey, ricotta dumplings with Pecorino and mushrooms, and cod with chanterelles, turnips and barley. There's a terrific wine list, too, and service is impressively alert, friendly and well-informed. I can't wait to go again with Bruno.
47 East Houston St., New York, NY 10012 Tel. 1-212-219-7693. Closed on Sunday. www.estelanyc.com Average dinner for two $150.
Warmest best wishes for the holidays to one and all, and a nice surprise for readers of this blog very early in 2014! All best, Alec