NEW PLACE SETTINGS IN PARIS–LE MARY CELESTE, B; CRAVE PARIS Supper Club, B; JEANNE B, B+
March 18, 2013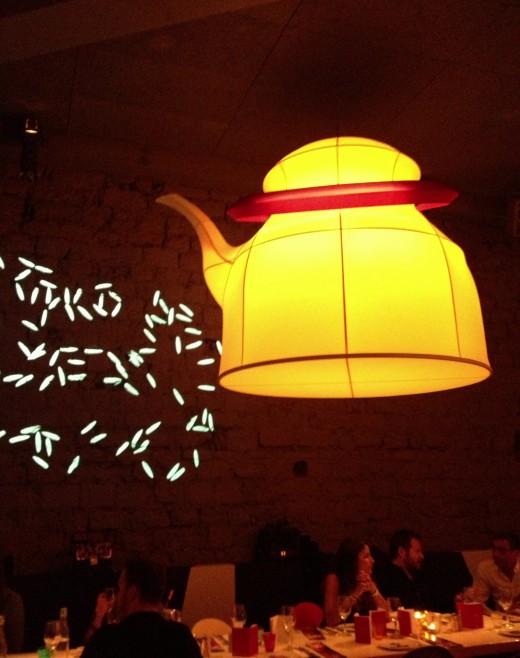 Though Paris continues to be subjected to a surfeit of B & Bs–burgers and beets, and I've also noticed a growing number of dishes on young-chefs' bistro menus that feature the tastes of fermentation and smoke, the most interesting trend I've observed locally this year is that the forever-amber format of a restaurant meal in the French capital–you call and book a table, you arrive and sit at this table and are fed, then you pay the bill and leave this table without having spoken to anyone but the people you came with and those who served you–is in the midst of a very welcome melt-down. For a dramatic example of how a trendy new Paris restaurant is re-slinging Paris dining, take a peak at Miss Ko, the Philippe Starck designed Franco-Asian restaurant that recently opened on the Avenue George V in the 8th arrondissement.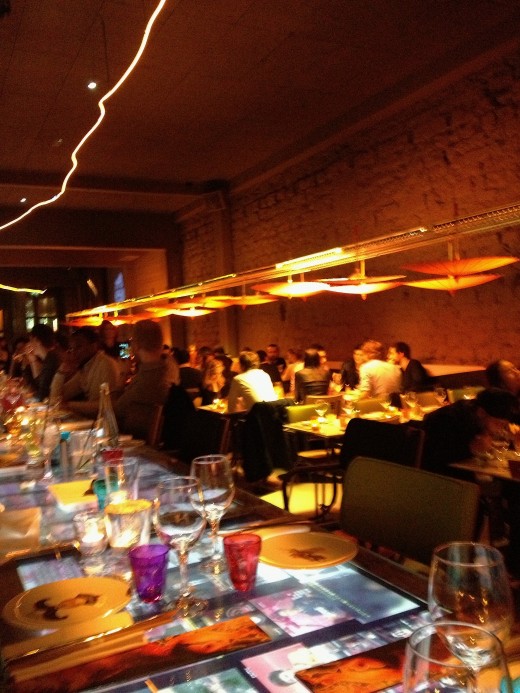 Table d'Hotes at Miss Ko
Here, a table d'hotes with a glass top protecting video screens that show non-stop excerpts from various Asian news shows (a rather wearying design element, since its on a constant noisy loop) runs almost the entire length of the restaurant, and you sit on high stools to dine. Or if you come as a group, you can book one of the tables for four, six, etc. that are arranged perpendicular to the long table d'hotes, but it's the table d'hotes that gives this restaurant its personality. It's also clever marketing in a neighborhood that's a prime up-market destination for the type of unattached Parisians who would unblushingly describe themselves as 'single,' since the constant sensory input and prompt service mean that most people come for a quick stylish and gastronomically non-committal bite to eat and then are on their way.
As seems to be generally true in Paris these days, however, the best declension of the new-format trend is found in the quieter neighborhoods usually lesser to little known to tourists. One of the best recent meals I had in a longtime was a totally off-the-cuff meal with someone I almost literally bumped into in the street, a friend who'd been an editorial assistant at the same New York publisher I worked for before she was somewhat improbably romanced by a wealthy doctor old enough to be her father while visiting her grandmother in Florida. The last I'd heard of her, in fact, was that she was training to become a yoga instructor in Boca Raton. "Well, in some freaky way, I really did love him, the doctor, but there was just way that could have been forever," she explained after we'd settled down over cocktails at the rather fabulous Le Mary Celeste in the northern Marais.
To make a long (but juicy) story short, Marsha has long since bolted out of that marriage, first living with a lady plumbing contractor in Austin, Texas for a while, and now with the Dutch environmental landscape architect from Rotterdam she'd met when she took her kids from Florida on safari in South Africa two years ago. Since it was a surprise shading to a shock to run into her, I wasn't really thinking a lot about where we'd go to sit down, but it just so happened that Le Mary Celeste, a place I'd been wanting to try, was right across the street. So early evening, we had no trouble finding seats at the bar, and it was nice to run into Carlos, the terrific bartender who'd previously been the talented drink meister at L'Hotel on the Left Bank.
Though I was thoroughly preoccupied by the chance rediscovery of my old pal–and it really did feel like we'd last seen each other yesterday afternoon, especially when she insisted on paying for our drinks, because she actually remembered owing me $5 from 25 years ago, Jeesh, I also couldn't help but noticing that we couldn't possibly have found a better setting for our reunion. The nice looking room, kind of a charming hybrid between Marblehead, Mass. oyster house, Dublin pub and Marais tavern, had a great atmosphere and a wonderful looking crowd. Our "Raindogs"–Bourbon and citrus cocktails, slipped down a treat, and rightly suspecting that we'd be drinking a wee bit, I suggested we shift to wine–a nice bottle of de Moor Chablis, and that we have some oysters–the wild English ones from Maldon were gorgeous miniature maritime mines of briny flavor, and order a few of chef chef Haan Palcu-Chang's (ex- Le Verre Volé) small-plates, including sublime kimchi and small puffy Chinese crepes with pork knuckle and celery.
So we miscellaneously ate and drank for three hours until Marsha had to dash off to get her train at the Gare du Nord, and after she'd left it occurred to me that I'd enjoyed this untethered free-form feast more than anything else I'd eaten in Paris in a very longtime. If Marsha's company was the real treat, and the Raindogs left us both happily muddled, what made this interlude so much fun was that it wasn't following any map except our spontaneous desire to celebrate a carpe diem moment and let ourselves off the leash in doing so.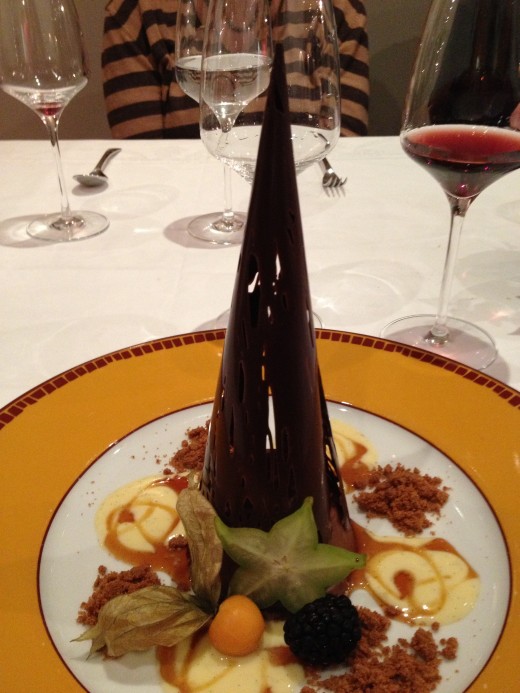 An Edible Dunce Cap?
A few days after my reunion with Marsha and a meal with Bruno's parents at Le Musigny, the only one-star restaurant in the small northern French city of Valenciennes where he grew up, which left me wondering if they'd hired the surely senile art director from the TV show "I Dream of Jeannie," I went on a mystery dinner date in eastern Paris. I'd been invited to be one of the guinea-pig guests of Crave Paris, a new supper club being set up by three decidedly talented recent graduates of Ecole Ferrandi, which I think offers the finest professional culinary education currently available in Paris.
Even though I explained to him that I like the intimacy of the private dinner party format, enjoy playing the odds of its Joker factor, and have often eaten some excellent food in such settings (the late lamented Hidden Kitchen in Paris comes to mind, along with the supper club that Chef Mun used to run in Buenos Aires) Bruno, whom I spared this particular outing, thought that I was mad as a hatter to go off to dinner with total strangers. Happily, he was completely wrong, since this was a charming and ambitious meal targeted at those whose food tastes blazed past Chicken Breasts 101 a longtime ago.
Eric from Florida, Rita from Taiwan via Canada and Camille from Hawaii via Washington, D.C. let it rip on a sophisticated meal that showed its cards right off the bat with pats of umami-rich miso butter to be smeared on good bread. And so their cooking often tilted to the Orient for inspiration. Here's what we ate:
Amuse Bouche: Crab, turnip, cucumber kimchi, citrus, salmon roe
Starter: Salmon, wasabi mayonnaise, ponzu vinaigrette, parsley oil, fried caper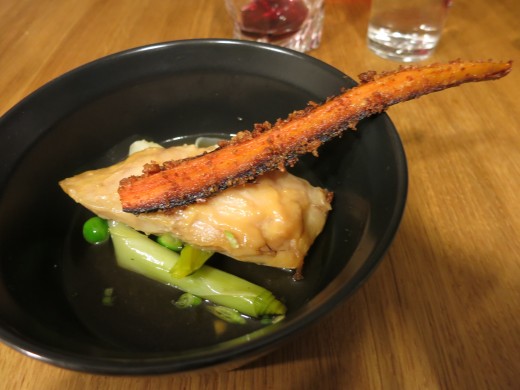 Fish: Sea bass, leek, pea, miso, dashi, carrot, brioche crumb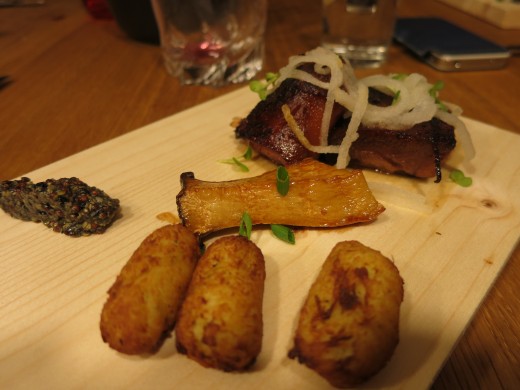 Meat: Pig Snout, king trumpet mushroom, Asian pear, kohlrabi beignets, black mustard, preserved plum
Pre-dessert: Lemon Cremeux, olive granita, olive oil
Dessert: Chocolate Cake, macha powder, chili whipped cream
And before anyone panics over the idea of finding themselves in front of a pig snout, a few observations.
1) It was delicious, and 2) The Crave Paris team always inquire about dietary restrictions and/or preferences.
For my part, it was a lively evening and a pleasure to have such an intimate and personal experience of three newly blossoming talents.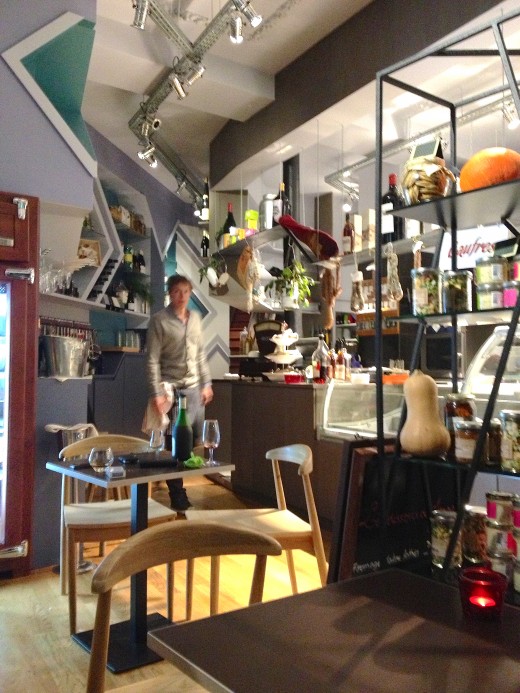 Jeanne B
With table d'hotes, impromptu bar eating, and supper clubs propitiously popping up all over town, perhaps my favorite idiom among the new feeding formats in Paris are the increasingly numerous new breed of casual-dining neighborhood places, a delightful example being the just opened Jeanne B, an Epicerie-Rotisserie-Table d'Hotes that's the latest address of exceptionally talented restaurateur Frédéric Hubig, who also owns Astier, Jeanne A, Sassotondo and the Cafe Moderne.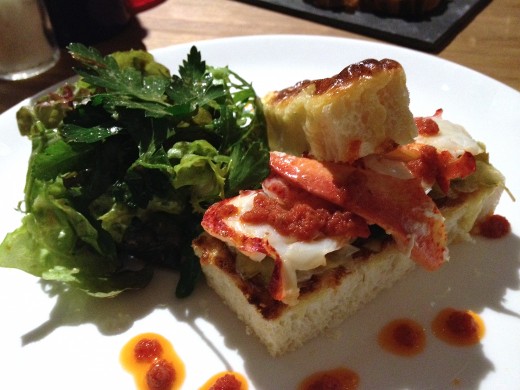 Lobster Croque
Meeting my tropical gal pal Cynthia from Singapore for dinner on a snowy Monday night, this place turned out to be just the ticket, since it was relaxed and friendly but also delivered some exceptionally good Gallic comfort food. We sat up front at the table d'hotes instead of the handsome blue dining room, so we could watch the snow falling through the big picture window, and also because we liked the sort of boffo Seventies decor where the late but forever lovely Dalida, Montmartre's most famous recent songstress, would surely have felt right at home.
Hungry, we shared three starters–a nice fat artichoke, some excellent pate en croute, and a lobster croque, a recent invention of Hubig's which is comprised of focaccia like bread topped with Parmesan cream and lightly grilled before getting a final garnish of perfectly cooked lobster tail medallions and claw meat. Having neatly cut this latter sandwich in half, we scarfed our portions down in deeply contented silence, which we broke simultaneously with the same shared regret: "We should have ordered two of these." This sandwich is so good, in fact, that it will be a certain reason I go AWOL in the middle of the day, since Jeanne B is just a brief hike up the hill from me.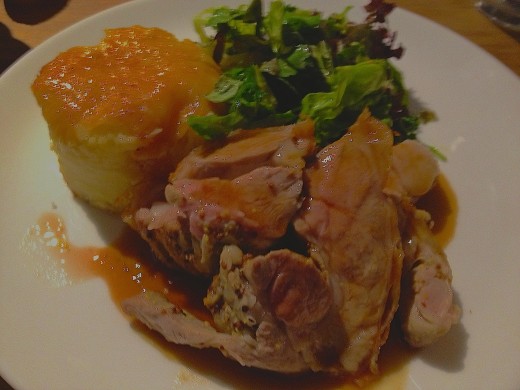 Our rotisseried mains, both of which came with salad and Dauphinois potatoes, were fine produce well-prepared, too. My roast lamb was juicy and generously served, as was Cynthia's chicken, and the wines poured by the glass by the exceptionally charming young manager were excellent. We finished up with good fresh fruit salad and a pleasant tart sable with caramelized pineapple that brought Mom's vanished into the mists of time pineapple upside down cake pleasantly to mind. With gracious friendly service and good food at fair prices, this place will surely become a big hit, especially since it's as perfect for the locals as it is for travelers exploring the neighborhood, so my hope is that Hubig will be tempted to open a whole alphabet of Jeannes all over Paris. And if he's looking, the Turkish carpet shop across the street from my front door has just gone out of business, and I know he'd make a mint in the 9th.
Le Mary Celeste, 1 rue Commines, 3rd, Tel. 01-23-45-67-89.
Metro: Filles du Calvaire and Saint-Sébastien-Froissart, Average 25 Euros, Open daily 5pm-2am.
Crave Paris Supper Club. Upcoming dinners March 24 and April 7. Suggested donation 39 Euros per person. BYOB. For reservations and more information, contact: crave.paris@gmail.com Facebook page: http://www.facebook.com/CraveParis
Jeanne B, 61 rue Lepic, 18th, Tel. 01-42-51-17-53. Metro: Abbesses or Lamarck Caulaincourt.
Prix-fixe lunch menu 15 Euros, 17 Euros; Prix-fixe dinner menus 23 Euros, 27 Euros. Average a la carte 35 Euros. www.jeanne-b-comestibles.com