Spoon 2, Paris | A Curious Carrousel of Flavors, B-
October 21, 2017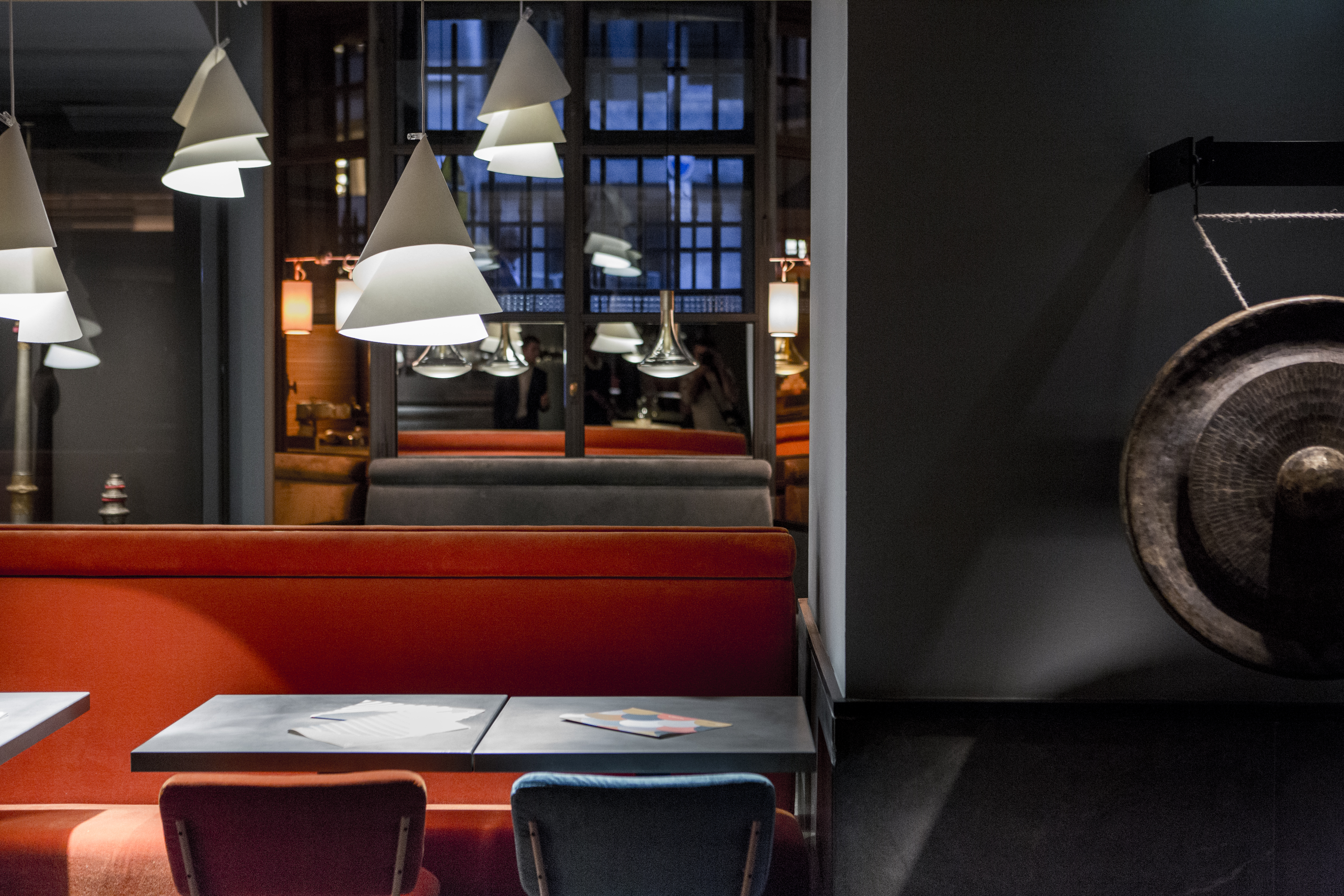 Gastronomic entrepreneur Alain Ducasse's new version of his restaurant Spoon (the original  closed after a long run just off the Champs Elysees several years ago) is called  Spoon 2. It occupies the former premises of one of Yannick Alleno's Terroir Parisien restaurants in the Palais Brogniart, the old Paris stock-market building in the heart of the city, which were redesigned in a curiously nondescript way by the otherwise tremendously elegant interior architect Jean-Michel Wilmotte .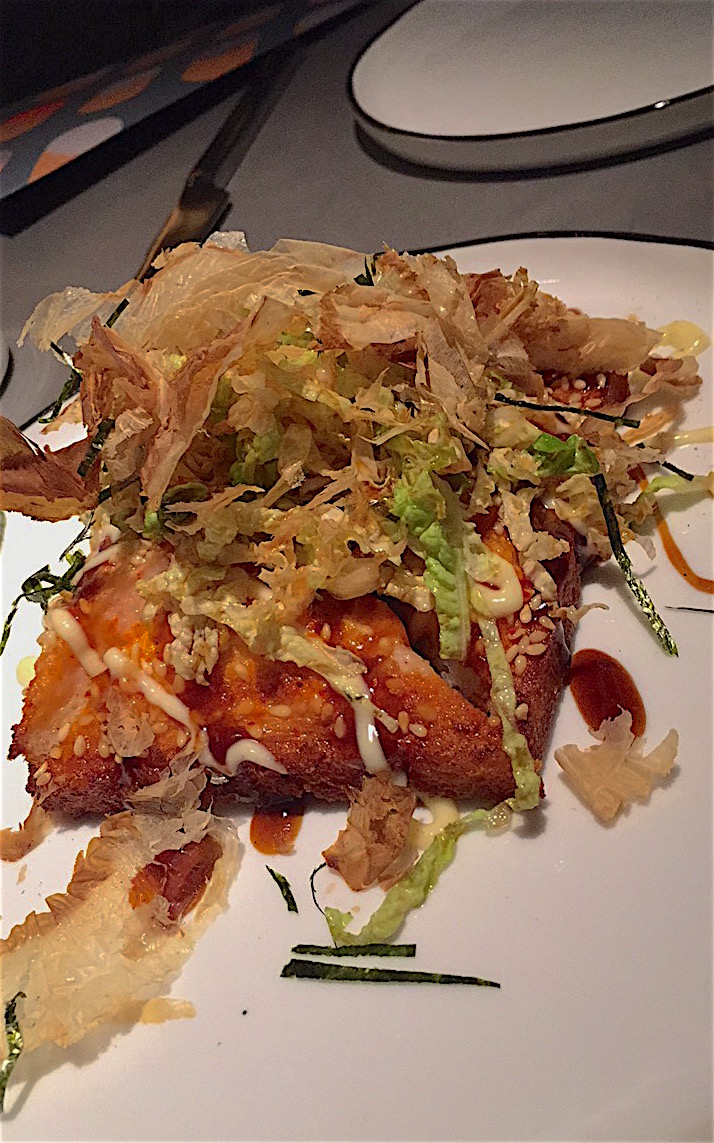 I ate here a week ago, and I am still trying to make sense of the experience. Suffice it to say that Alain Ducasse could never do a bad restaurant–he's much too talented and savvy for that. But I just can't find the modus vivendi–gastronomic or economic, for this place. Supposedly, it's about showcasing the remarkable foods and dishes Ducasse has recently discovered during his incessant travels. But the first dish that came to the table, "shrimp cake, katsuboshi," identified as being from Taiwan on the menu, is a delicious Cantonese classic that was on the take-out menu of the excellent Cantonese Chinese restaurant in the town where I grew up in Connecticut as "Shrimp Toast." The only thing that made it different at Spoon 2, were the bonito flakes, which were oddly lacking in flavor.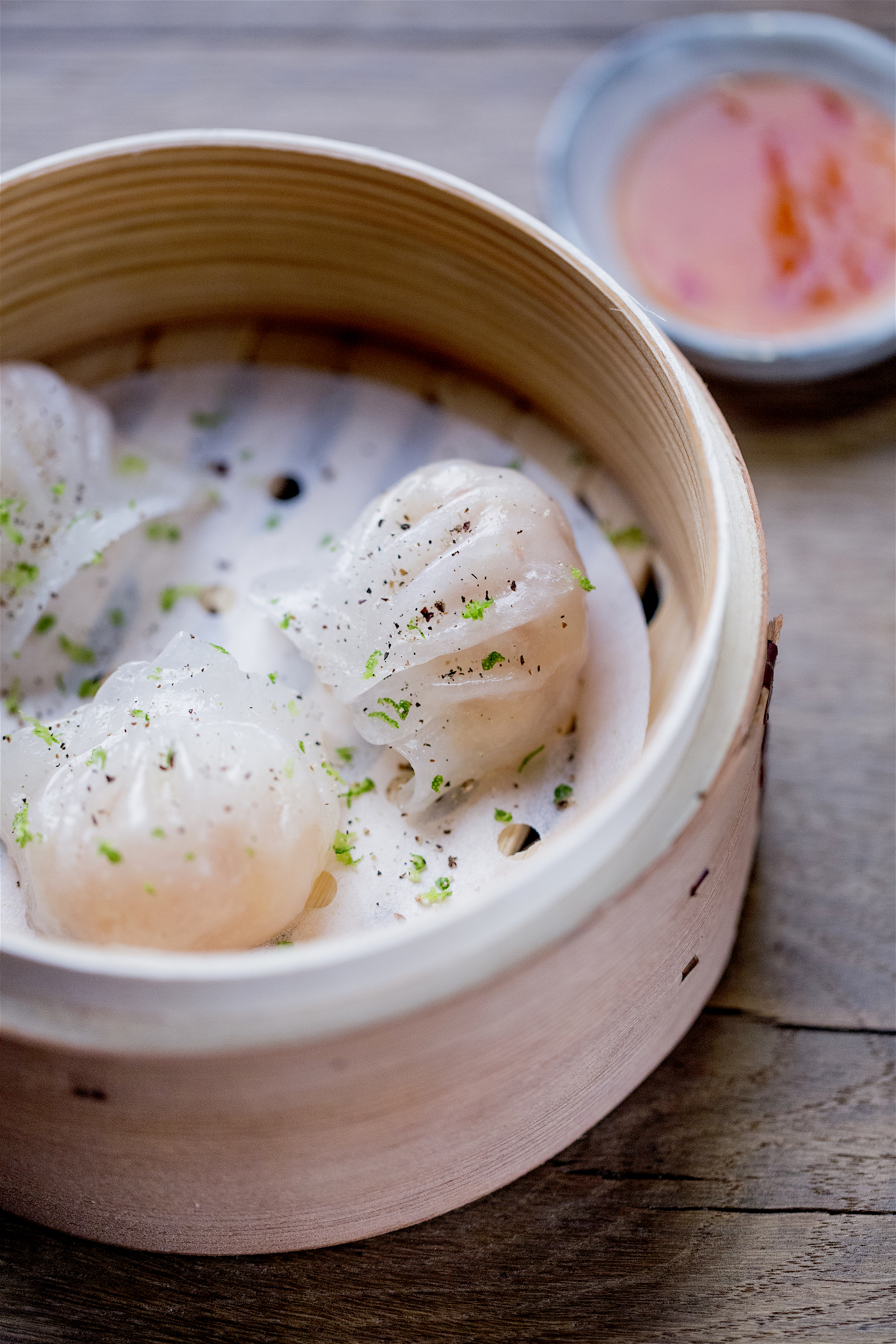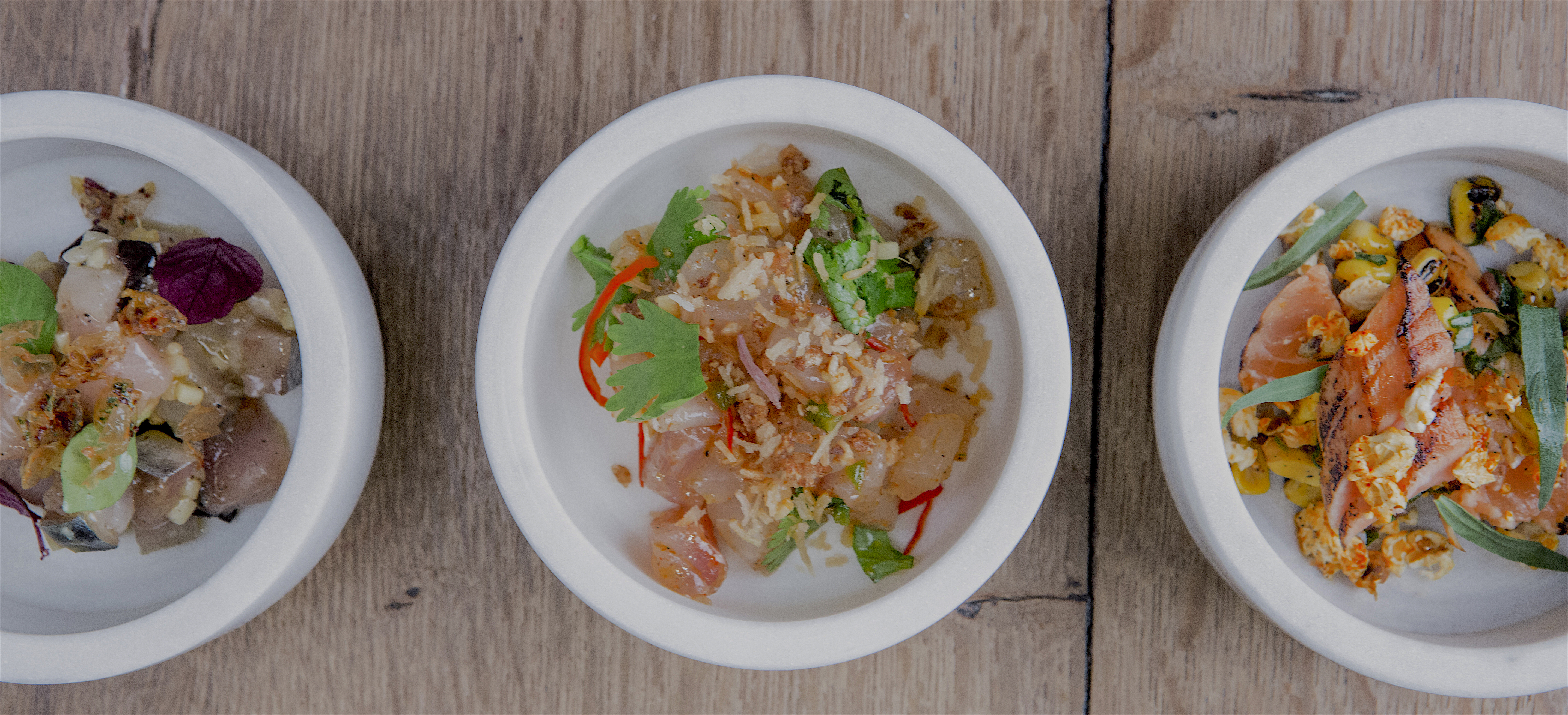 It's still very good at Spoon 2, though, but hardly a revelation, and neither was the Thai salad of green papaya (fiery but otherwise more a study in texture than taste), the three variously garnished raw fish dishes, or the two in the menu category dubbed "Vapeurs," because good quality shumai, or shrimp dumplings, and pork-and-cabbage wontons can be found all over Paris and also purchased at Picard, the popular local frozen food chain of respectable quality.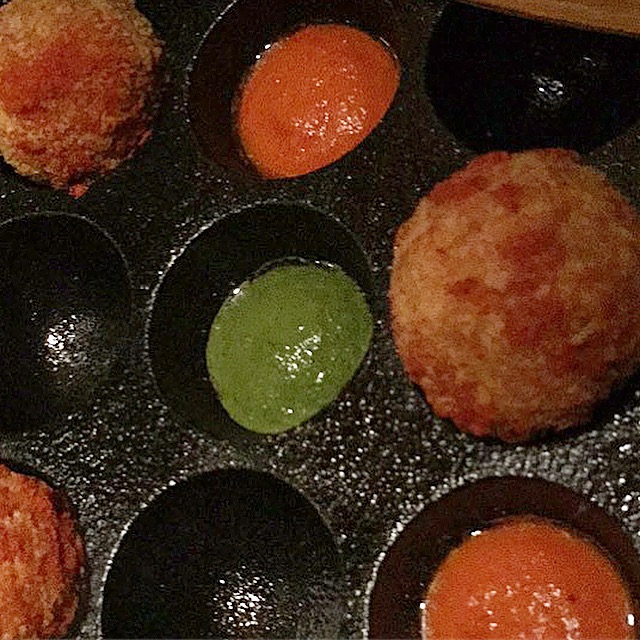 Just before we became completely bewildered by this place–I mean why would I come to Alain Ducasse for straight up Cantonese, Thai, Peruvian or other cuisines when I can go to the source elsewhere in Paris, a very clever dish arrived. Crunchy golden beignets filled with chilli sin carne (meat-free chilli, or chilli made just with beans) arrived at the table in a molded cast-iron baking dish with salsa verde and peppery tomato sauce, and they were an urbane and witty riff on a Mexican comfort-food classic.
With his knowledge, talent, and imagination, this sort of nimble, even occasionally wry, culinary reflection is what I came to Spoon 2 expecting from Ducasse, since he is one of the world's most assiduous catalogers of tastes, produce and recipes. The first Spoon, Food and Wine, later shortened to just Spoon, spun on just such an axis of disruptive innovation, reflection and imagination, which is what made it so original when it opened in 1998 (the fact that the original wine list was almost exclusively American was a real brickbat to Gallic sensibilities, too).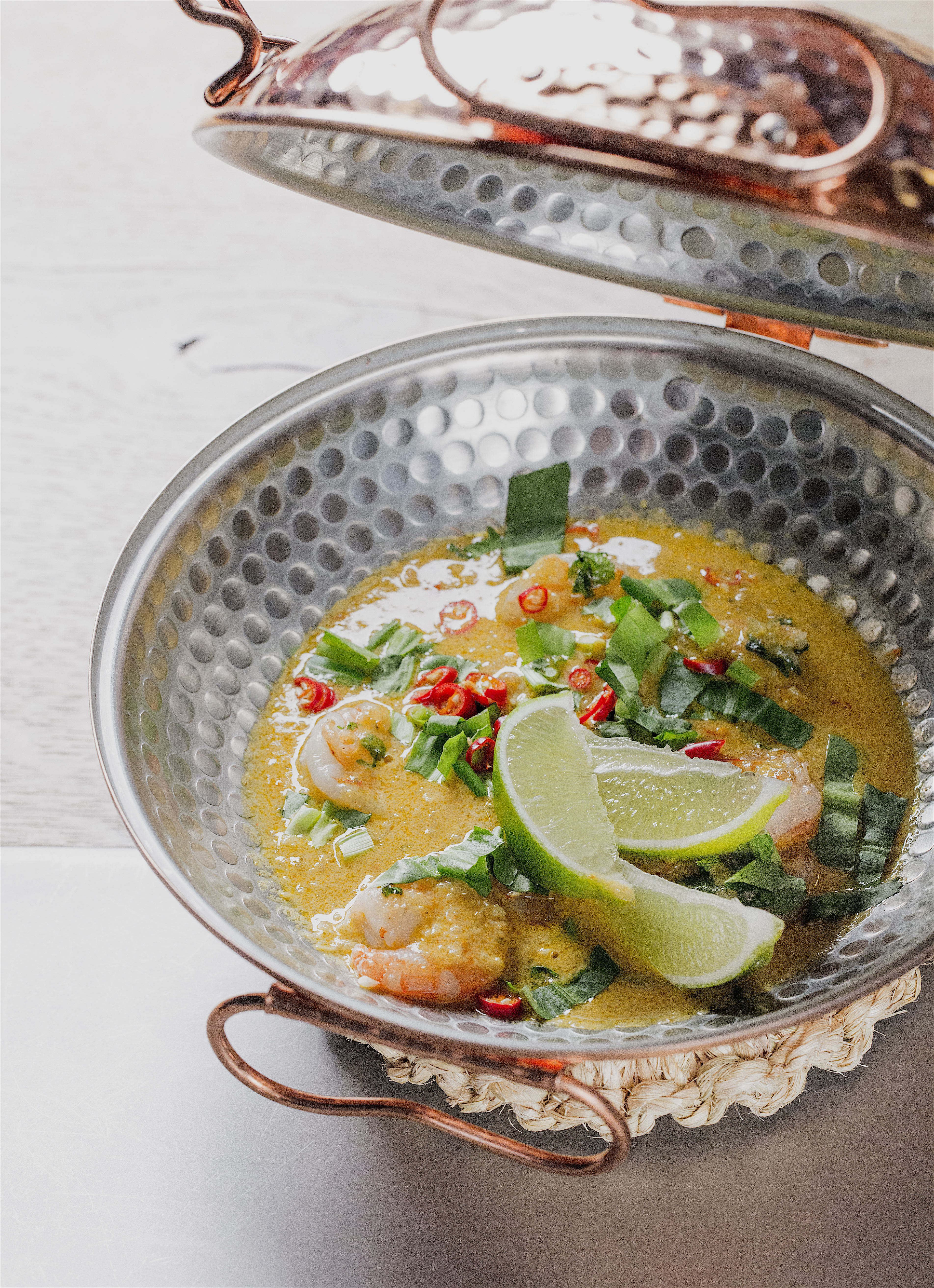 So the meal sort of ambled along, pleasantly enough, but sort of off-kilter, like those odd Air France advertisements that feature French women dressed in the stereotypical costume of various different countries, a monumental marketing wrong-foot that conveys a comic-strip version of other countries and cultures.
Spoon 2 doesn't play to such teeth-grinding cliches, but on the other hand the pale pink 'red' Thai curry served in a Portuguese cataplana dish was again a mystery to me. Before being brightened by a squirt of lime, its sole flavors were the quiet heat of bird's eye peppers and, um, coconut milk. Other main course options were similarly timid postcards from mid-eighties vacations, including a Japanese dish of beef with green chillis, skewered Japanese style sea scallops with a garnish of lemon and wakame, chicken Tandoori, and cod cooked in coconut milk with mango.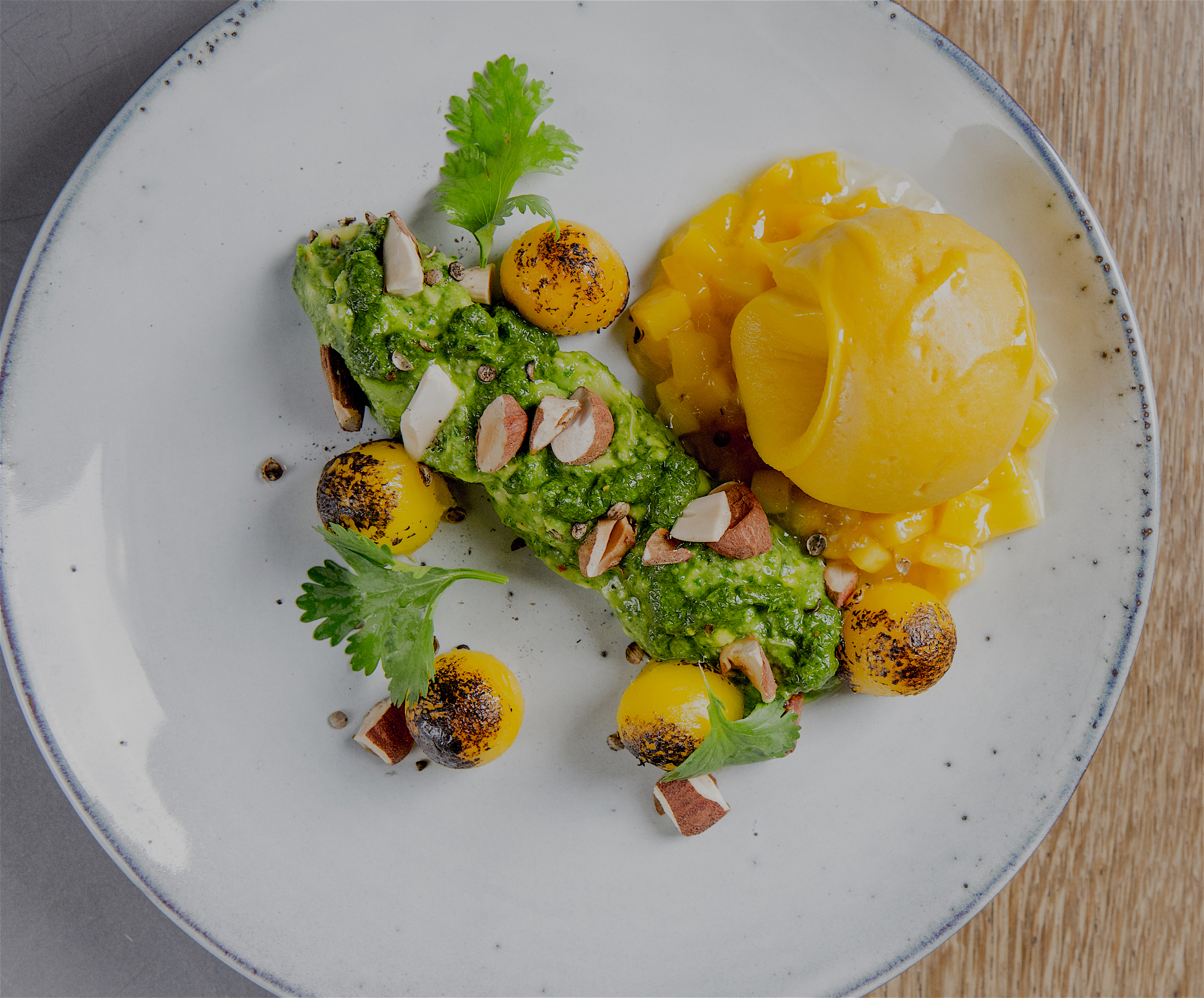 Happily, Ducasse's acute skills as a sort of swashbuckling gastronomic buccaneer reappeared brilliantly with our desserts. Identified as Brazilian, a dish of fresh and burned mango with an avocado-and-coriander hash was a thrilling high-wire act performance between sweet and savoury that was light, original and intensely refreshing. Similarly, a Ducasse's riff on a pastille au lait (flakey layers of pastry in a milk custard), a Moroccan classic, was fragile, fresh and even elegant.
It was when I noticed two other desserts I'd forgotten on the restaurant's website, that I finally figured out what this place is all about. The Key Lime pie and Iced Bounty Bar desserts let the cat out of the bag. Spoon 2 is Ducasse's first full-fledged attempt to seduce millennials, who have very different gastronomic compass points than me or the chef himself.
With this in mind, it will be very interesting to see how this place plays out. For my part, though, I hope that upcoming menus will feature a larger number of truly astonishing, never-seen-or-tasted-before dishes from the Marco Polo of French gastronomy.
Spoon 2, 28 Place de la Bourse, Paris, 2nd Arrondissement, Tel. (33) 01-83-92-20-30. Metro: Bourse or Grand Boulevards. Open Monday-Friday for lunch and dinner, Saturday dinner only, closed Sunday. Average 45 Euros.