THE SUNKEN CHIP–A Good Chippie in Paris, B; LA ROTISSERIE D'EN FACE–Fowling Out in Saint Germain des Pres, C
August 9, 2013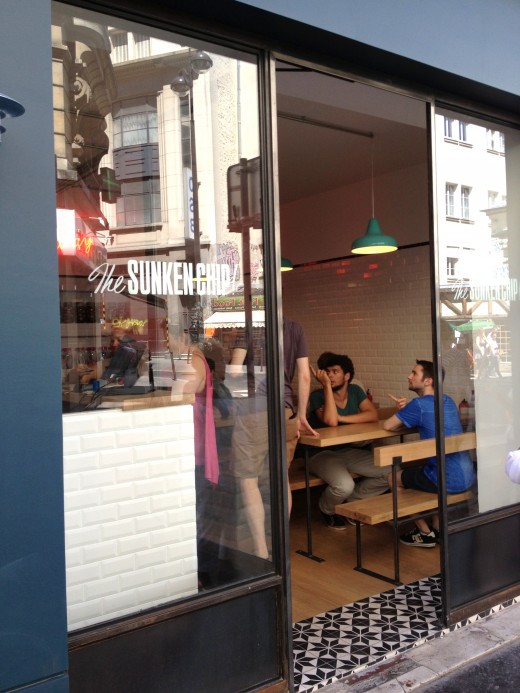 I have to admit that it took me a longtime to become a fan of fish and chips. The first hurdle was overcoming an aversion born of regular exposure to Gorton's frozen fish sticks (fish fingers in England), a staple of my New England childhood that was only tolerable as an excuse to eat a lot of ketchup and tartare sauce. To do this day, however, my heart still sinks at the sight of the little round portrait of a bearded-skipper-in-a-yellow-slicker that's the pictorial trademark of this Gloucester, Massachusetts based brand, now owned by a big Japanese seafood company.
Then, as a hard-up student in London when I was 19, I was introduced to proper English fish and chips from a place around the corner from our shabby unheated 'maisonette' (duplex shared with four others) in Fulham, a neighborhood that was in those days the preserve of hard-working immigrants and civil-service pensioners in wooly jumpers (today, to my never ceasing amazement, Fulham, which I disliked because living there meant endless waits between connecting trains at the Earl's Court tube station, has become quite smart). Knowing the fridge was bare, Peter, my Australian flat-mate, bounded through the door one night with several newspaper-wrapped parcels from the chippie around the corner and we ate. Grateful to be fed when I had only two pounds in my pocket, I kept my critical facilities at bay while silently thinking that this grease fest was more about crunchy batter than anything else.
All of this changed, however, during a weekend trip to Brighton with a boyfriend–Tim from Coventry who worked as a verger in a famous London cathedral. He said he knew where to get really good fish and chips from a hole-in-the-wall near the pier, and this time round and surely abetted by the fact that I was besotted with him and had some welcome sea air in my nostrils, they were delicious. Nice fat crunchy chips (French fries, in American parlance), long strips of cod encased in golden batter and sprinkled with malt vinegar and a pint of Strongbow cider made for a great cheap feast at a nearby pub table, and since then I've never had a chip on my shoulder when it comes to Blighty's favorite comfort food. Instead, I really love a good fish-and-chip feast now and again.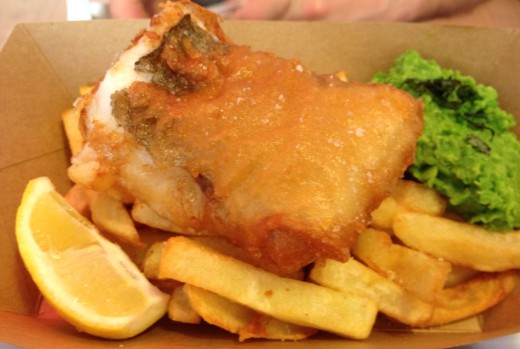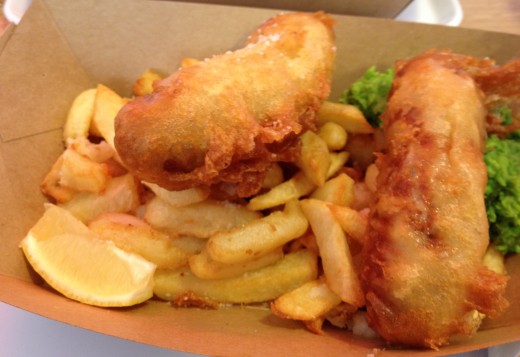 So when I heard that Englishman Michael Greenwold, half of the chef team at the terrific Roseval restaurant in Belleville (Simon Tondo is his culinary partner) and fellow Brit James Whelan had opened a chippie near the Canal Saint Martin, I was off like a shot even though it was a very hot day. I'm not enough of a scientist to know why deep-fried food appeals even when the temperature is soaring, but I arrived with a real appetite for lunch, and I wasn't disappointed. The pal I was meeting, a fellow Connecticut Yankee, and I decided we'd go for the yellow pollack platter and, in the interest of research, a deep-fried battered sausage platter as well.
While waiting for our food to come up–you can eat in here at wooden picnic tables or to do takeway and find a shady spot on the banks of the nearby canal, I was liking this place right away for no other reason than that it wasn't another hamburger joint. I love a good burger, and I initially welcomed the first few burger trucks and places that opened in Paris, but the trend has now gained a seriously dulling momentum for anyone who really likes French food. For a further explanation of my reaction to the current burgermania in Paris, you might be interested in reading this essay.
Well, the fish and chips platter won me straight away, because the fish was so fresh–the seafood here comes from Thomas Saracco, a young small-boat fisherman in Brittany who's won a reputation for his best-quality catch, and the batter was almost tempura like. Alas, the chips were soggy–I think the fryer needs some adjusting, but the dreaded side of mushy peas, a traditional Anglo garnish for this feast and something I haven't touched since an encounter with a stodgy scoop of same at Harry Ramsden's in Blackpool about ten years ago, were delicious–bright green, sweet, and garnished with chopped fresh mint. Our neighbors were eating monkfish nuggets and squid, also on offer that day–the menu varies according to what Saracco lands, and they also looked delicious.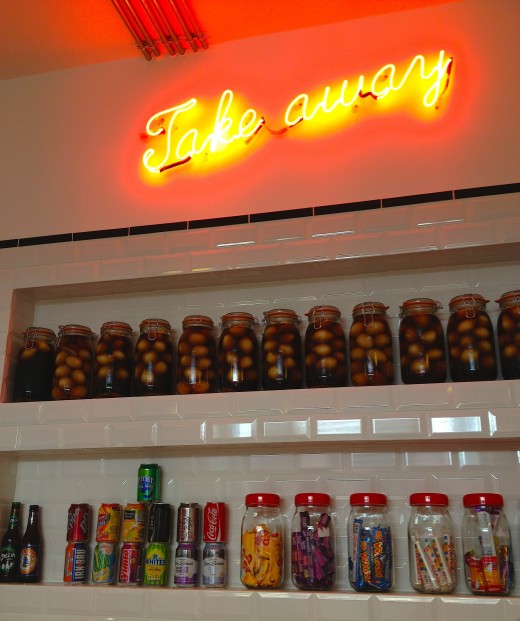 Since my sausage preferences run to the fennel-seed or hot-pepper spiked coarse-grind Italian sausage I grew up eating in Connecticut, or, more recently, morteau or Auvergnat sausage–and I do love my sausage, I won't bang on about the bangers, because I don't think I have the DNA to appreciate them. Boudin noir, morcilla, other soft sausages, yes, but aside from their gentle whiff of sage, my pulse rate just doesn't move for these. I do love the malt vinegar that was on the table, though–there's something decidedly medieval about that taste, and I'm a big pickled onion man, too, a craving that could have been satisfied by the big jars of same on the white Metro-tiled back wall with canisters of classic English sweeties.
So for a good off-the-cuff summer feed, The Sunken Chip is a lot of fun, and I also like it for the fact that it chalks up a win for gastronomic diversity in burger-mad Paris these days.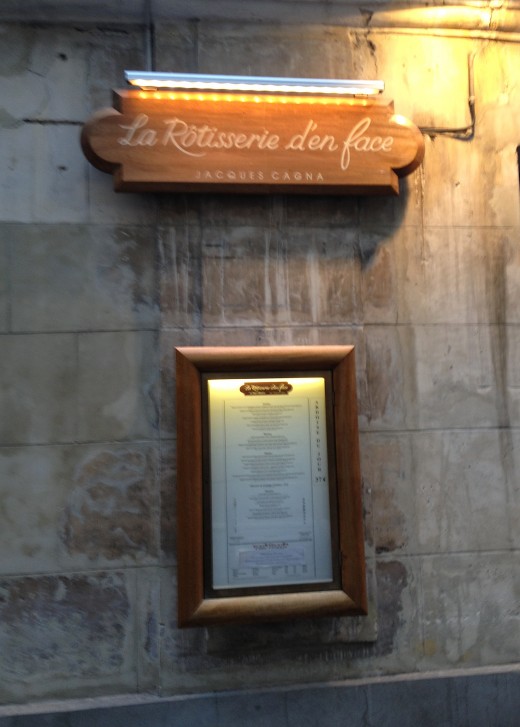 The dog days of August are a challenge in terms of finding places to eat when friends come to town, but they also offer me a rare opportunity to revisit places I haven't been for a very longtime. So when a gaggle of pals decided on dinner the other night and wanted somewhere in Saint Germain des Pres, it occurred to me that we could go to La Rotisserie d'en Face, a place I hadn't been in years.
When chef Jacques Cagna opened this studiously 'Country French' style dining room specializing in roast chicken in 1992, I lived on the Left Bank and went often, because the straightforward food was good and it was reasonably priced. You often saw Cagna here, too, because his eponymous two-star main table was just down the street, and he was rightly proud of the simple but good-quality French comfort food he served here. So the La Rotisserie d'en Face got a lot of press coverage, and then became a listing i most of the world's major English language guidebooks to Paris. It remains in these pages today, too, although I rather doubt that most of the writers have been back recently.
Cagna retired several years ago and closed his main restaurant, but this place soldiers on and fills a need in a popular tourist neighborhood for simple uncomplicated French food as much today as it did on the first day that it opened. I think concierges must love it, too, since it hits the right buttons for being within walking distance of their front doors, and also moderately priced with a menu to please almost all comers.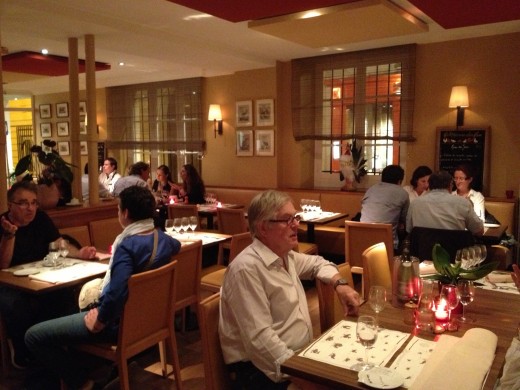 The fact that it's August and many Parisians are away on holiday notwithstanding, this is a restaurant that people who lived in the neighborhood pretty much stopped going to many years ago, because it became known as a tourist table. Rightly or wrongly, this is just a fact of living in a heavily touristed city. When a restaurant's clientele becomes largely transient and mostly foreign, Parisians don't want to eat there anymore. The other night, though, there was a large well-dressed family from Bordeaux, but as far as I could hear, almost everyone else was foreign, including the four of us, Americans who have all lived in Paris for a very longtime.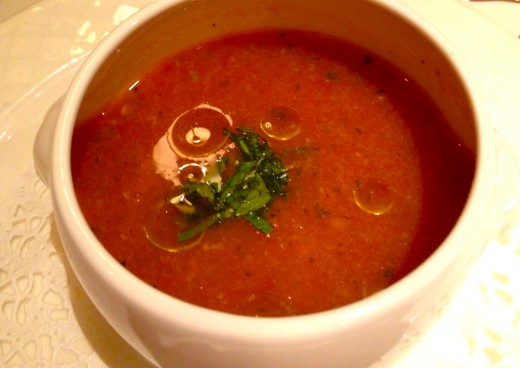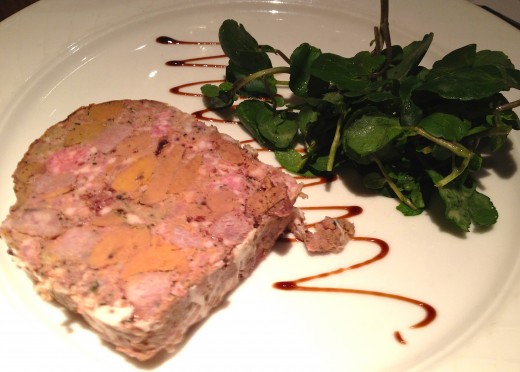 Eyeballing the menu, we agreed it looked more innocuous than interesting, but no one had any trouble finding something to eat. As it was a warm night, three of us had the cold tomato-zucchini soup with basil and the fourth chose the chicken liver and duck pate with watercress salad. Served in white porcelain bowls, the soup brought business-class dining to mind, since even at the height of tomato season in France, it lacked any depth of flavor or the rich scarlet color of ripe tomatoes and was timidly seasoned. The translation of the French word 'courgette' to 'zucchini' on the menu was another indication of their predominantly American clientele, too, since the British and most other northern European call them courgettes. In America, the vegetable must have either arrived with or gained popularity after the arrival of Italian immigrants. Though it was served too cold and defaced with a squirt-bottle dribble of sticky brown sauce that was probably some derivation of Balsamic vinegar, the pate was "correct," as the French would say, the adjective in this instance meaning something that's acceptable. Of more interest, actually, was the accompanying watercress salad, since these crisp peppery greens seen to infrequently on Paris menus were ideal for rousing heat-dulled appetites.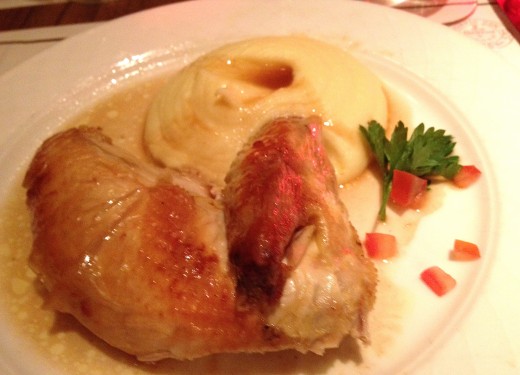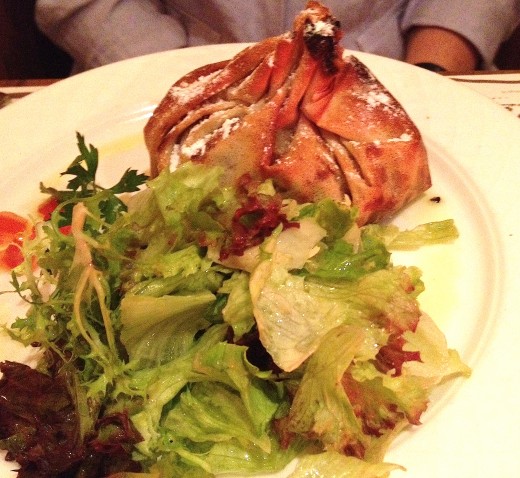 Our exceptionally attentive and polite waiter, who automatically spoke to us in English, because who else comes here but English-speakers and he'd overheard us speak English, asked the three of us who ordered the roast chicken with potato puree if we wanted a wing (i.e. breast) or a leg, a nice touch, and told me when I asked that he sells many more wings than legs. The fourth diner chose the 'pastilla' of guinea hen, eggplant and pine nuts in a honey sauce. Well, the birds were sad fowl, with dry compact meat with very little flavor and the sort of elastic skin that's created by heat lamps. They were described as 'spit-roasted' and 'free-range,' but the hopefulness elicited by these phrases sputtered as soon as we tucked in, and almost as if to emphasize the sorry anonymity of these poor poulets was the way they were garnished–with a single sprig of flat parsley and a few cubes on unripe tomato. The accompanying potato puree was 'correct,' but the jus that sauced our plates was remarkable only for nearly total absence of flavor.
Meanwhile, the pastilla had flown the coop in terms of what this word should mean in Moroccan cooking, where it's a specialty. Instead of flaky layers of pastry interleaved with fowl, my friend got a floppy confectioner's sugar dusted crepe-like reticule stuffed with a "correct' ragout of guinea hen and eggplant. Almost as some sort of vegetal consolation prize, her sack was accompanied by a large serving of salad and a few cubes of unripe tomato were scattered on her plate as–as what? Well, something decorative rather than edible. Not surprisingly, a pall briefly settled over the table as we tasted our food, and it was only banished by good conversation, a nice bottle of Saint Veran, and the well-intentioned ministrations of our very nice waiter. No one was tempted by dessert, and when we sat down on a cafe terrace for a coffee after dinner, one of the gang accurately judged the meal we'd just eaten as "Correct, sans plus," or acceptable, but not more than that, helas!
The Sunken Chip, 39 rue des Vinaigriers, 10th, Tel. 01-53-26-74-46, Metro: Gare de l'Est, Chateau d'Eau, Bonsergent, Closed Monday and Tuesday, Wed-Sat open for lunch and dinner, Sunday noon-6pm. Average a la carte 15 Euros, www.thesunkenchip.com
La Rôtisserie d'en Face, 2 rue Christine, 6th, Tel. 01-75-85-14-60. Metro: Odeon. Open Mon-Fri for lunch and dinner. Saturday dinner only. Closed Sunday. Lunch menu 23 Euros, 28 Euros, 37 Euros.; average a la carte dinner 45 Euros. www.larotisseriedenface.com