THE ZOMBIE RESTAURANTS OF PARIS
May 16, 2011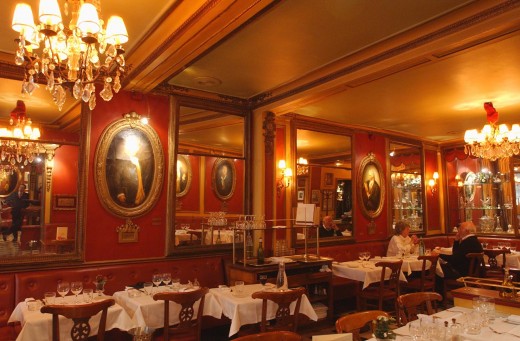 Le Procope
Having written about Paris restaurants for many years, I've learned that there's nothing more unwelcome than the relentless expert. To wit, if many friends seek me out for restaurant advice, others are less passionate at the table than I am and are more interested in just having a good time. So when I sense this to be the case, I leave my expert's hat on the hook at home, and head off to dinner for the pleasure of good conversation more than anything else. Sometimes it's actually a real treat to let someone else chose where we're going to eat anyway, and sometimes it's oddly useful for me to end up in a place that it would never have occurred to me to set foot in either, a case in point being Le Procope, the storied restaurant a few steps from the Odeon on the Left Bank.
I wound up in this place, which claims to be one of the oldest restaurants in Paris dating to 1686 when a Sicilian named Francesco Procopio dei Coltelli opened a cafe here, because an old room-mate from New York was in town with his two teenaged kids and was staying nearby. He told me that he'd made a reservation for dinner, because he was sure that I tire of doing same and he wanted his sons to get a taste of French history over what would hopefully be a good meal. I mumbled something about not having been there in many, many years, sort of vaguely hoping he'd get the hint, but let it drop when he didn't.
One way or another, it was great to see him again and to meet his boys, really good kids from Providence, Rhode Island who were winsomely wide-eyed during their first trip to Paris. Brad's done quite well since we used to make casseroles from the cocktail sausages I'd purloined from book-launch parties I'd been invited to as a lowly editorial assistant at a big publishing company in New York–we were both broke all of the time in those days, and generously treated us to a nice bottle of Champagne to start the evening. Suffice it to say, that the the company and these bubbles were the highlight of the evening, and that I found myself cringing all through the meal at the thought this these three nice men would go away thinking that this was Parisian food.
My oysters were milky and carelessly shucked, my trout was mushy and had an odd metalic taste, everything was grimly overpriced, and the service conveyed an almost oddly fascinating message of bored disdain. I didn't ask the Rhode Islanders about their food, but they volunteered that it was "okay,' which is a polite American way of saying not very good.
Oddly enough, part of our conversation during dinner turned to what Brad, a marketing man, calls 'Zombie' brands, or brands that live off of their names after having long since relinquished the quality or distinction that made them well-known. We agreed that L.L. Bean, the Maine sporting goods and sportswear company, is a sorry example of same. Both of us grew up respecting the no-nonsense, profoundly American quality of the goods they sold, most of which were once made in factories in Maine. Now a quick flip through an L.L. Bean catalogue reveals that almost everything they sell, including their famous moccasins and other shoes, is made overseas. It's a shame, too, because so many of their designs were iconic Americana, and it always felt good to order from this catalogue in the past, knowing that their well-crafted and fairly priced goods were providing a livelihood for someone. Sadly, my most recent experiences with L.L. Bean have put me off the company completely.
Walking home after dinner, I veered between a deep pleasure at having seen an old friend and the feeling of having been well and truly had, for we had eaten in a 'Zombie' restaurant, or a place where there's almost no pride or passion in the kitchen but which is instead content just to knowingly coast along serving tourists who'll never come back. Unfortunately, Paris has a fair number of Zombie restaurants, notably La Coupole, Mollard, Le Petit Zinc, and Brasserie Flo, among others. Unfortunately the Zombies survive due to out of date guidebooks, good locations, and cozy relationships with nearby hotels. Whenever I can, I call out a Zombie, because I find it heart-breaking that people should waste a meal and hard-earned money in these places, so please do everyone a favor and call out egregious Zombies of your own experience.