Vins des Pyrénées, Paris | A Marais Bolthole Gets a Clever Reboot, B
November 21, 2017
Tinkering with a neighborhood institution is always risky, but the new version of Vins des Pyrénées is a solid success. Why? Truth be told, this wonderful old hole-in-the-wall that's been open in one guise another since 1906 is actually more appealing now than it's ever been, with much better food than it served in the past, a great-looking new decor that respects its past rather than overwhelming it, friendly service, and a terrific cocktail menu. Best of all, it's still one of those rare places–for the time being, where you can decide to go at the last minute without having made a reservation (reservations are preferable, bien sur, but sometimes a date just happens, and this place privileges such spontaneity rather than imposing the tyrannical straight-jacket of a reservation on a spur-of-the-moment good time).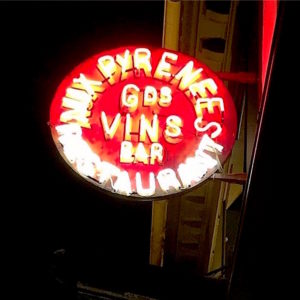 This is a rare good news story, too, at a time when income-inequality driven gentrification continues to ravage the sociological ecosystems of the world's most desirable cities. Even though Paris is subject to the same forces have sadly dulled and pasteurised so many of the most wonderful parts of New York and London, and the French capital has been less disrupted than those latter two, the Marais continues to go relentlessly upmarket. But at Vins des Pyrénées, owner actor Florian Cadiou has shrewdly respected the enduringly democratic DNA of the quartier enough to draw up a menu that lets you pop in for a single course–maybe their excellent Croque Monsieur made with truffled Gouda, and a glass of wine for twenty euros, which is what goes a bargain these days in Paris.
To be sure, some of the old timers, like the vociferously cranky middle-aged British music critic in a vintage black leather Perfecto jacket and his equally grumpy companion who sat next to us at dinner the other night, won't be pleased. But hey, the days when Jim Morrison liked to hang out here aren't coming back. That said, this place still manages to be cool without calling a tedious amount of attention to its hipster cred, and that's something to be grateful for in an age of wiltingly over-hyped and over-conceptualised restaurants. After all, who doesn't love an address where you could actually become a regular without having to spend a small fortune or reserve in advance?
At the end of a busy day, a cocktail seemed like a good idea, and it was, because young bartender Adele Fardeau, ex- Mandarin Oriental Hotel, makes a very fine drink indeed.
From the brief modern French comfort food menu by chef Jimmy Reffet, who most recently cooked at Saturne and Terroirs d'Avenir, among other places, we went for the foie gras and the roast lamb croquettes, both of which were excellent. Other tempting starters included marinated leeks with crushed hazelnuts in a sauce ravigote, jambon Basque from the Maison Ospital, and terrine de campagne with homemade pickles.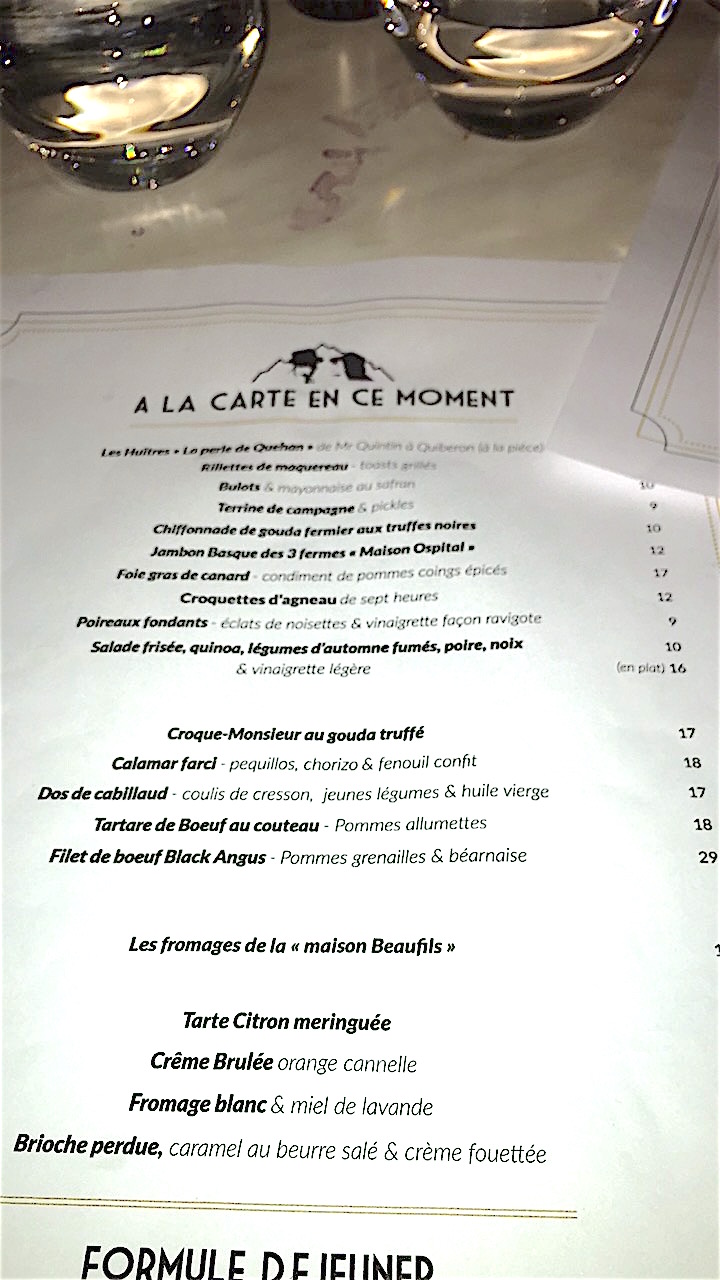 Main courses of steak tartare and squid stuffed with piquillo peppers, chorizo and fennel were nicely made, too. And in the end, the menu reminded me of the French equivalent of those pleasant if unremarkable neighborhood restaurants with names like the Peacock Feather or the Drink Well and 'bills of fare' that ran to cheese burgers and chef salads that you used to find in the West Village in New York City. This genre of now extinct Manhattan table was where the locals went on the way home from work, alone or with a friend, for a cocktail or two and a good simple meal in a place that was friendly and familiar, because the fridge was empty, their bed was empty and/or they wanted some company. Vins des Pyrenees operates on exactly the same wave-length, although the bar upstairs has already become a place where the wild things are, especially the pretty little conservatory cum fumoir.
We shared a lemon meringue tart for dessert, and agreed that the only slightly disappointing thing about this place is the wine list, which, given the name of the place, could and should be a lot more interesting. What I'd love to see is a full range of French wines running from the Basque Country to the Languedob-Roussillon and some Spanish wines, too, since the Pyrénées are after all shared by France and Spain.
Vins des Pyrénées isn't a place you come in search of gastronomic exaltation, but it's very likeable for so usefully offering a good feed and great drinks seven days a week in one of the most appealing neighbourhoods in Paris.
25 rue Beautrellis, 4th Arrondissement, Paris, Tel. (33) 01-42-72-64-94, Metro: Saint Paul, Open daily 7AM–2AM,  Lunch menus 17 and 22 Euros, average a la carte 35 Euros. http://www.vinsdespyrenees.com