VIOLA–Che Sorpresa! A Good Modern Italian Restaurant in Les Batignolles, Paris – B
February 18, 2014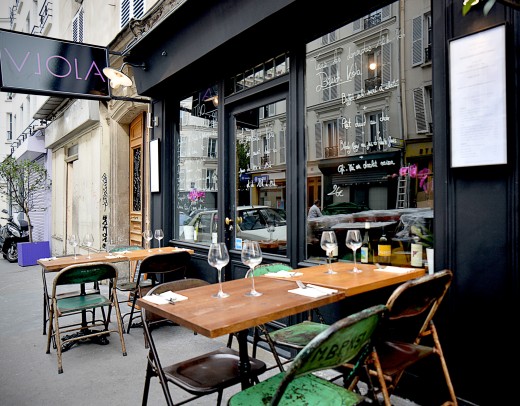 There's something chimerical about contemporary Italian cooking, and a partial explanation for this was once provided to me by chef Giovanni Passerini of the excellent restaurant Rino in Paris. Passerini, a Roman, told me he'd moved to Paris, because "Romans only want to eat their own cooking. Parisians are much more receptive to invention and innovation." In my own experience as someone who visits Italy regularly, the conundrum of modern Italian cooking definitely stems to some degree from the culinary conservatism that Passerini pointed out, but also seems to be attributed to the fact that La Nouvelle Cuisine had an even great impact on Italy than it did in France. To wit, so many of the restaurants that the major Italian guides rate most highly still practice a sort of mannerist modern cooking that espouses the worst of Nouvelle Cuisine fussiness without embracing the really important things it changed.
To be sure, there are several wonderful exceptions to this retro rut. Massimo Bottura's Osteria Francescana in Modena is not only one of the best restaurants in the world, but one of the most consistently interesting and audacious, and I also really like Cristina Bowerman's restaurant Glass in the Trastevere district of Rome. But during visits to Milan, Verona, the Italian Lakes and Venice last year, most feints at anything contemporary were disappointing, usually because they were more exercises in style than taste and often came off as sadly deracinated. So after several recent excellent Italian meals in New York, London and Paris, it occurs to me that the future of the Italian kitchen is as likely to be played out beyond the country's borders than it is within them, since due to both the country's poor economy and it's prevailing preference for traditional cooking, many talented young Italian chefs go abroad to work.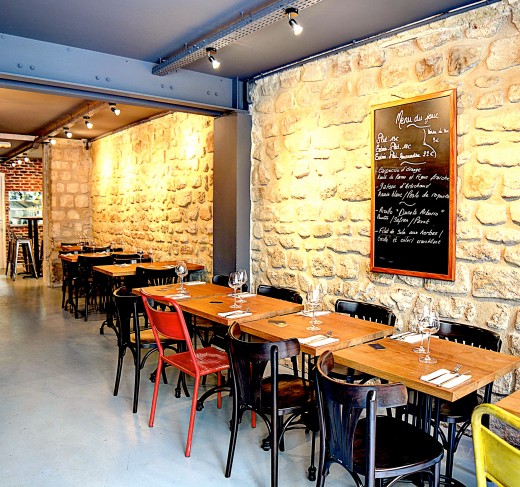 Still, it was a real surprise the other night when Bruno and I went to Viola, a new restaurant in the Batignolles in Paris, and stumbled upon some good and rather interesting contemporary Italian food. Truth be told, I wasn't especially keen on this adventure–the address had been recommended by a friend of Bruno's from the gym, and I don't really like going out much on Sunday nights–but in the interest of fairness, I said "Sure" when he bounced into my office and suggested it. "It's always good to put a zig-zag in the routine, no?" said Bruno, and so a zig-zag it was. After all, I cringe a little when I think of the dozens–okay, hundreds–of times he's uncomplainingly accompanied me of a given evening when I knew he'd have been much happier at home eating a salad. When we arrived, the place seemed vaguely familiar, and despite the fact that it's been attractively remodeled with an appealing sort of loft-like neo-industrial decor, I recognized it as the former premises of Le Bistral, a contemporary French bistro that I always wanted to be better than it ever was.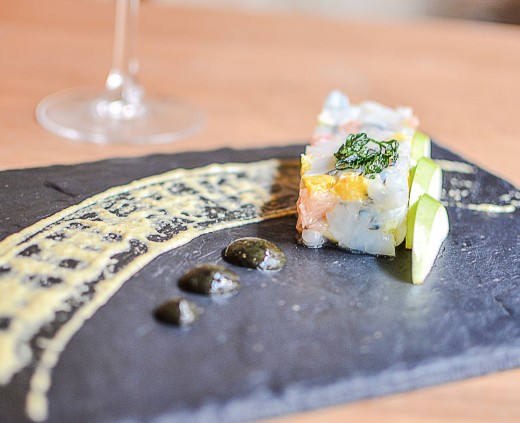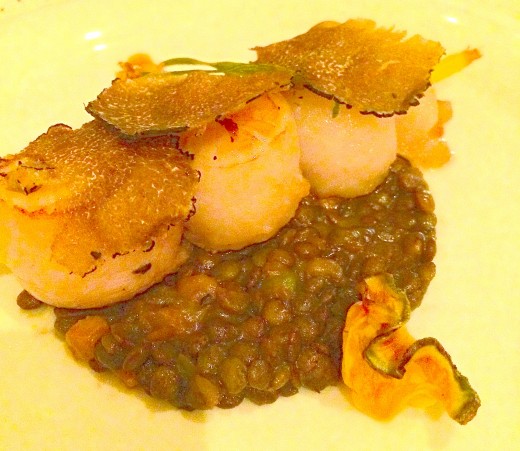 The service was immediately friendly, and the very pleasant waitress proposed a variety of really good organic and 'natural' (un-sulfured) Italian wines by the glass, so things got off to a good start, since good Italian wine is still much too rare in Paris. Then the menu looked, well, interesting, and a decided, and welcome, departure from the usual miscellaneous pasta-and-pizza jumble typical of neighborhood Italian restaurants in Paris, a city that's still waiting for a seriously good Italian restaurant, and this despite the fact that the most Parisians know and love Italy and its food. 
Since both of us wanted the shrimp tartare with grapefruit, Bronte pistachios (from the Sicilian village of the same name) and seaweed, we agreed to do what Bruno describes as a "Fifty-Fifth," or to share our starters. So I ordered the scallops, which came corseted with ribbons of lardo di colonnata on a bed of lentils. Though the green apple fins flanking the tartare were an unnecessary Memphis style flourish, the tartare was excellent, with the pistachios and pureed seaweed amplifying the natural sweetness of the shrimp and the grapefruit adding a pleasantly tart foil to the richness of this composition. The scallops–nicely seared–were excellent, and the lardo was a great idea, since it brought them some salt and linked them to the earthiness of the lentils and the superfluous shavings of Burgundian truffle, which tasted like wet leaves.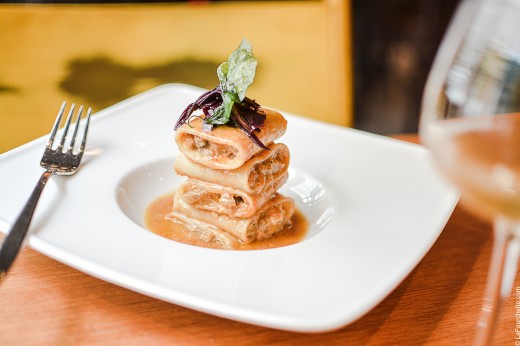 Our main courses were pleasant but less vivid than our starters. My crab and eggplant stuffed paccheri were good but lacked an ingredient that might have brought their tastes into higher relief–maybe finely chopped preserved lemon or some capers. Bruno had the lamb two ways–an excellent lamb tartare and a beautifully cooked and very tender filet that had been rolled in crushed pistachios. Again, I didn't see the point of the pistachios, but the garnish of Emiglia-Romagnan pumpkin puree with miniature finials of fresh treviso was an excellent idea.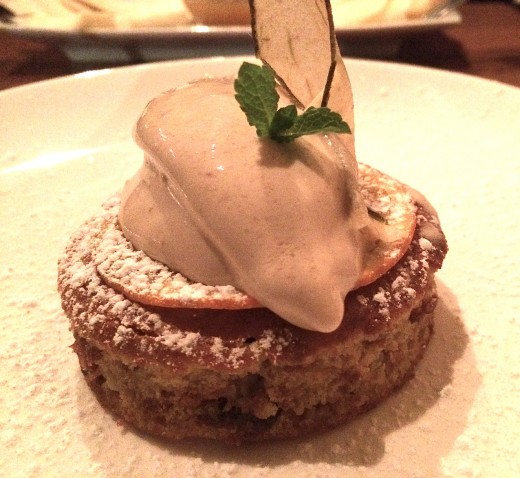 As soon as I saw it on the menu, I knew Bruno would go for the homemade panettone with panettone ice cream as surely as he knew I'd conclude with some cheese. I'd have liked a more robust assortment of cheeses, including several different Peccorino–they were good but tasted rather alike, but the panettone and its accompanying ice cream were superb. I was impressed not only by the intelligent inventiveness of this cooking, but also the fact that the chef–Vicenzo Patruno–had gone to the trouble of sourcing so many signature Italian ingredients, including the Bronte pistachios, but also red onions from Tropea in Calabria.
Originally from Puglia, Patruno, 28, worked at the Hotel Monaco in Venice, the Armani Caffe restaurants in Milan and Paris, and then served as chef at Il Viccolo for seven years before being drafted as head chef for Paris's first bistronomique (modern bistro) Italian table,. While I didn't agree with the gastronomic logic of everything he did during this meal, he's clearly a talented chef with a large future in front of him, and I'll happily return to this pleasant little restaurant to experience his well-grounded imagination again.
80, rue Lemercier, 17th Arrondissement, Paris, Tel. 01-42-63-59-61. Metro: Brochant or La Fouche. Open daily. Prix-fixe menus, lunch–18 Euros, 22 Euros; dinner, 29 Euros, 36 Euros. Average a la carte 40 Euros. www. restaurant-viola.com