WILL Restaurant, Paris–A Delightful Modern Bistro, B
April 14, 2014
Recently I've been thinking something's gone very wrong with the whole process of going out to a restaurant for a meal. Consider this Tweet from Jay Rayner, the Guardian's excellent food critic, this morning: "25 minutes of hold music that crackles and breaks up. an online booking system that claims to have no tables. credit card numbers mandatory." Needless to say, all the poor man was trying to do was make a reservation.
When I first started going to restaurants with any regularity, the only ones that required reservations were the fancy French places on the East Side of New York where I booked lunch for the editor for whom I was working as an earnest but hopelessly incompetent assistant. With the hind sight of years, I'm very grateful to this brilliant gentleman, the late Joe Fox, too, since he might have fired me on the spot for being such a stunningly incompetent typist. Instead, he just shook his head in disbelief at the completed letters I brought in for him to sign. "Good God, Alec! How did manage this? This line drops down, jumps back  up, drops down again, and then flies off the page!" White-Out, a correction fluid in a little bottle with a brush, had recently been invented, and I availed myself of it with such regularity that Mr. Fox used to refer to my letters as my "canvases." As he grumbled once or twice, the only reason he kept me on was that he liked my reader's reports. These were the summary outlines that I'd do when I finished reading a manuscript from the huge pile of submissions under my desk, and they ended with a 'yes' or a 'no' recommendation. Needless to say, this reading was the most interesting part of my editorial assistant's job.
My luck was in working for such a brilliant and ruthlessly demanding editor–I learned as much about writing during the year and a half that I was his assistant as I had in four years at a small liberal arts college in New England with a vaunted reputation, and also the fact that every once in a very blue moon–maybe because it was my birthday or his lunch date had cancelled and he liked good food much too much to let that keep him away from Le Veau d'Or or any of the other places he went regularly to let this be an obstacle, I'd be invited out to lunch. These infrequent but much yearned for meals were the beginning of my more serious education in French cooking, too.
In my own life, though, I wasn't going to fancy French places, but fashionable restaurants frequented by Manhattan's night-life crowd–Ruskay's on the Upper West Side where I lived, Raoul's in Soho, the long-gone Cafe Geiger on East 86th Street for delicious German home cooking,  a couple of cheap Italian joints in Greenwich Village, Cuban-Chinese places on Broadway, and delicatessens. We almost never made reservations in those days, but always found a table when we came in, which meant we ate where we felt like eating that night and what we felt like eating that night. To be sure, there were places like Lutece, the brilliant little French place on the East Side or, later, Chanterelle in Soho, that you had to book weeks ahead of time, but they were high-brow exceptions.
Now in New York, London and Paris, a reservation is essential, and depending on the city, obtaining and maintaining one requires a varying but usually large and often irritating amount of effort.  I'm very sympathetic to the problem of no-shows, those ne'er do wells who can punch a painful hole in a restaurant's fragile bottom-line, but on the other hand, why do I have to call back to confirm the reservation? In London recently, I found a message on my silenced cellphone–I'd turned it off during a meeting and the lunch that followed–briskly informing me that my reservation had been cancelled, because I hadn't returned the confirmation request within a two-hour window. Enough said on this subject, but if only the entire restaurant world would shift over the winningly efficient services of Open Table, La Fourchette and other online booking engines.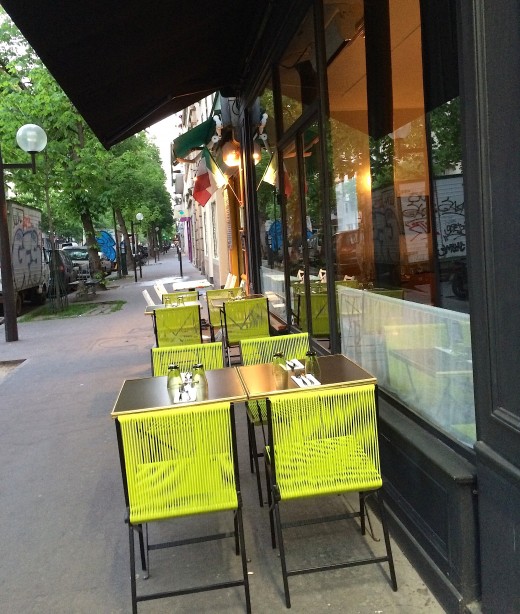 So what happens if it's a pretty spring night in Paris on a Friday, and you suddenly decide you want to go out for a good meal? Well, you're not going to Le Chateaubriand, Septime, Spring or Verjus at the last minute, but with a little luck, you might snag a table at Will, a good looking new bistro that recently opened near the Bastille. "Oui, bien sur, une table pour deux sans problemes," said the pleasant-sounding man who answered the phone, and two hours later, I guessed that the restaurant down the road with the bright green chairs out front was Will, and I was right.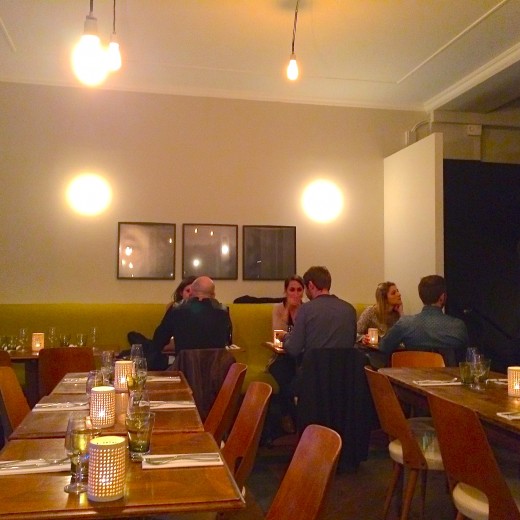 "Sit wherever you like," said the same charming man I'd spoken to earlier, a warm invitation that immediately made a nice change from the strategized seating plans in so many restaurants these days. The spare but attractive dining room, which not unpleasantly reminded me of what restaurants once looked like in East Germany, was already half full, and was evenly divided between couples on what appeared to be on dates and middle-aged ones who'd been together for a longtime, which is what I guess we were. The crowd matched the arty look of the room, with its Fifties wooden chairs and tables and lighting fixture that might once have been in East German president Erich Honecker's office, and the single waitress was as pleasant as the maitre d'hotel when she came with two glasses of Jacky and Pascal Preys's very good Silex Touraine we'd ordered as an aperitif.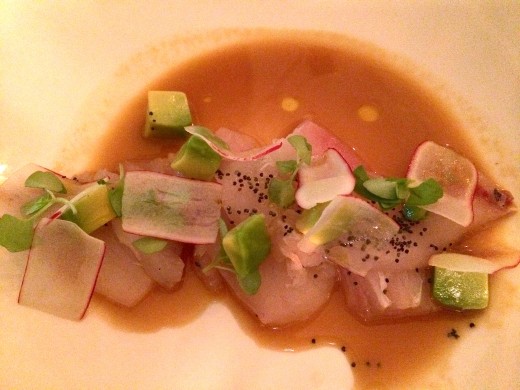 Although the 45 Euro prix-fixe menu (you can also order a la carte) was brief, neither of us had any trouble deciding on a meal that pleased us. My salt-marinated salmon was succulent, generously served and nicely garnished with a citrus coulis and a few fava beans, and Bruno liked his maigre (croaker) carpaccio with shaved radishes, mustard cress, avocado, poppy seeds and a light soy based dressing. Both dishes were made with excellent product, suavely seasoned and displayed good culinary logic. The accompanying bread was excellent, too.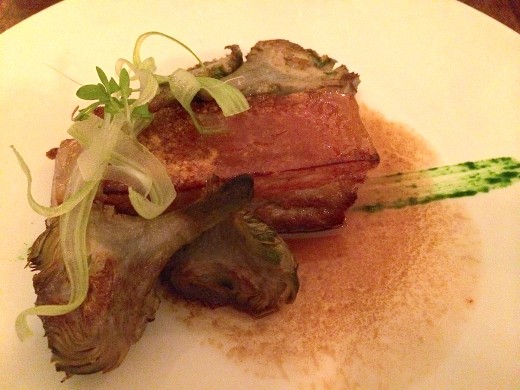 I'd been curious about chef William Pradeleix's cooking for a while, too. Most recently, he cooked at the nearby Manger, and before that he'd had a Marco Polo career that included stints at the St. Regis in Bora-Bora with Jean-Georges Vongerichten, the Mamounia in Marrakech, and the Connaught in London with Hélène Darroze. Though Pradeleix has a style of his own, it was probably Vongeritchten's limpid, produce-centered approach to cooking that had marked him the most, or at least on the basis of my main course, a square of pork belly with a crust of golden crackling and a garnish of grilled baby artichokes, the delicately acidulous vegetable creating a perfect foil for the rich meat. Bruno's duck breast had a scored crust of flavorful fat, was cooked rare and came with a side dish of romanesco, that vegetable that looks like it was born of furtive coupling between broccoli and cauliflower, and a light sauce of pan drippings.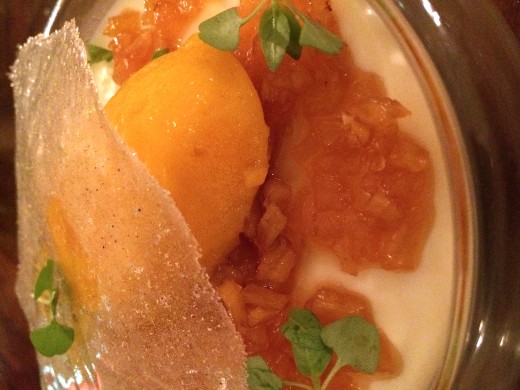 Well-fed, for dessert, we split a cardamom-flavored panna cotta with mango ice cream and roasted pineapple that brought Mom's pineapple-upside-down cakes of yore to mind–nicely candied and lightly caramelized fruit, which came to the table under a flirtatious but extraneous pane of carmelized sugar. With friendly and alert service, this was a very good meal, and my only reservations about this place are the short wine list, which will hopefully grow longer and more interesting, and a wish for a more extensive selection of cheeses for anyone ordering cheese instead of dessert. Otherwise, I'm shopping an excuse to find myself in this neighborhood again sometime soon so that I can enjoy the same great cooking as part of the good-value lunch menu.
Will, 75 rue Crozatier, 12th Arrondissement, Tel. 01-53-17-02-44. Metro: Ledru-Rollin or Faidherbe-Chaligny. Closed Sunday and Monday dinner.  Lunch menu 19 Euros, prix-fixe dinner menu 45 Euros, average a la carte 45 Euros.