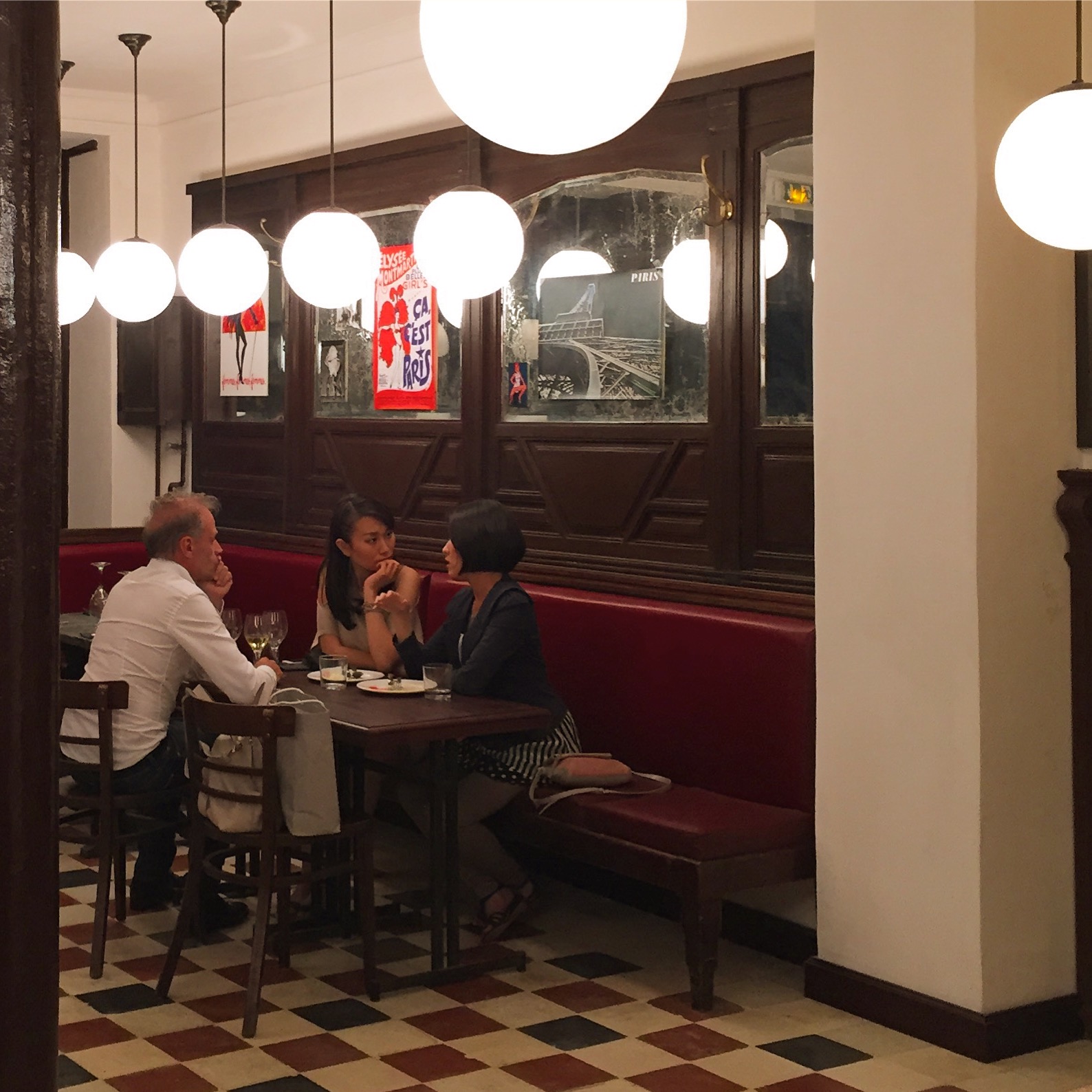 It's some of the best news of la rentrée (the Fall/Autumn season) in Paris this year: With the opening of Le Bistrot de la Galette, there's finally a charming restaurant in Montmartre that actually serves good reasonably priced French food. This beautiful bistro looks like it's been there forever, but it's actually the very recent creation of the very talented pastry chef Gilles Marchal, who has worked at the Hotel de Crillon, the Hotel Bristol and many other places, and who has also just opened biscuiterie (cookie shop) not far from his excellent patisserie in the nearby rue Ravignan, both in Montmartre.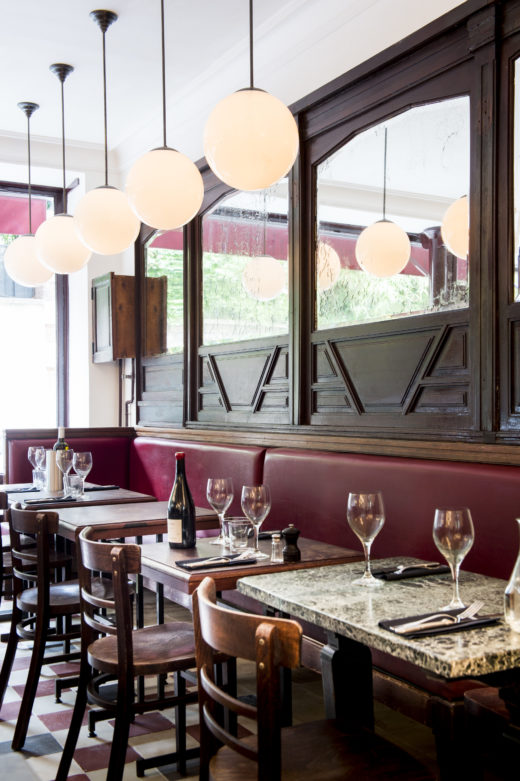 So just steps from the sorry tourist-trap tables of the Place du Terte, where wide-eyed people come from round the world to track down the long vanished traces of the bohemian community that made Montmartre one of the world's greatest artist colonies between 1880 and 1914, at long last there's a pleasant, uncomplicated, fairly priced and profoundly French place to have a meal.
Walking up the rue Lepic to meet Bruno here for dinner on an Indian summer night, I arrived feeling gently melancholic and a little wistful, since I once had a very close friend who lived on the rue Lepic, and I still don't understand how that friendship just sort of went missing after a very large distance separated us. Though I'm now happily married (who'd have ever believed that I could pen that sentence! Not me, but what huge happiness it's brought to a loving couple that's nearly twenty years old), friendship will always be for me the ballast of a life well-lived and an honestly sacred troth. In fact I think of my friendships like gardens, or rich fertile places that need to be loved, respected and regularly cared for to thrive. This doesn't mean, of course, that one has to hover over a friendship, or be too exigent about what defines it, since one of my very dearest friends in the world is a man who lives in Sydney and whom I see only a couple of times a decade, if we're lucky, as we were this past summer, when we met up by the seaside in Spain.
But I couldn't help but sort of idly musing on what social media has done to my admittedly very old-fashioned idea of friendship as a miraculously created web of intimacy spun on a frame of respect and nourished by humour, honesty and a joyous conscientiousness. The little blue 'like' button on Facebook has become a sort of unfathomable shorthand for some form of intimacy born of affinity, which can of course be wonderful, but on the other hand, I have hundreds of 'friends' I've never met, and whom I'm usually connected to out of possibly reciprocally self-interested need or desire to show the world that we're 'friends.' Ultimately, however, real friends are those people who will forgive your occasional bouts of madness or seriously bad behavior, because they know and love you and so understand from whence this ugliness issues and also that it will pass. Such people are very rare and very precious.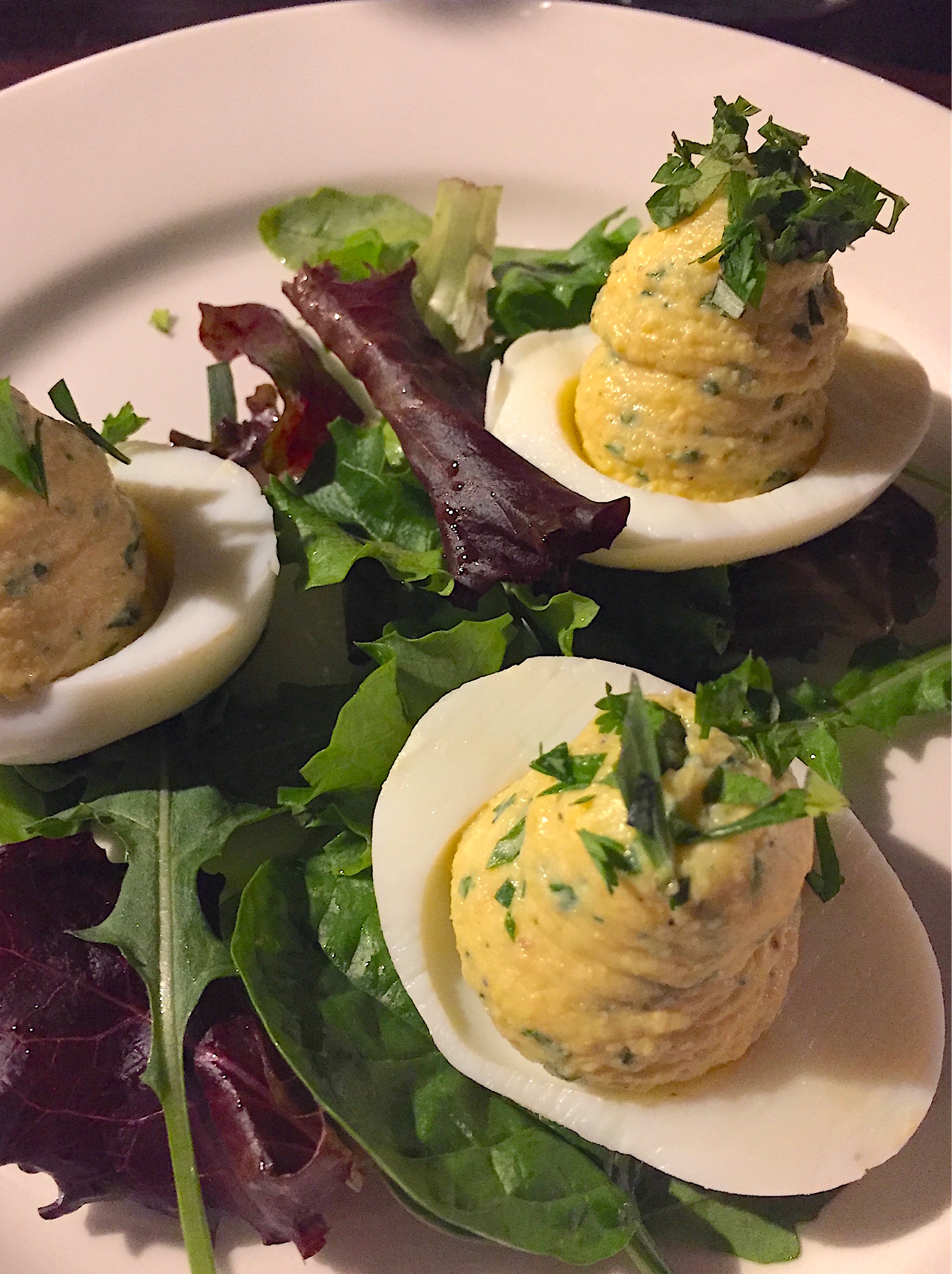 Oh well, maybe the friendship gone oddly asunder lacked the rudder I always believed it had, but one way or another, this particular sweep of Parisian cobblestones will always have tender resonances, and between doing this very personal psychological fine-stitching  and the steep slope I climbed, I reached the table honestly hungry for something as delicious as the oeufs Mimosa (a superior French version of deviled eggs) pictured above.