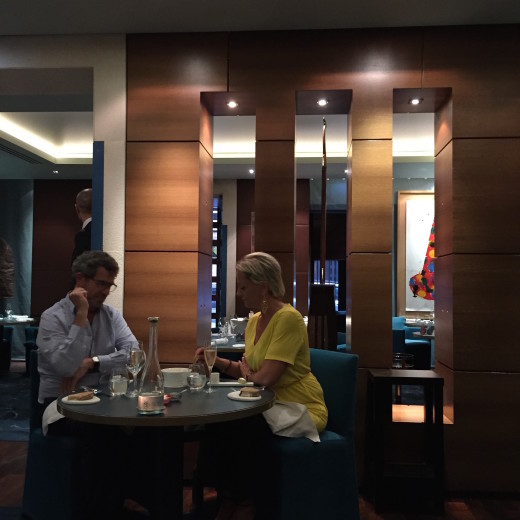 After chef Guy Savoy moved his eponymous three-star table to La Monnaie de Paris, the magnificent Paris mint building on the banks of the Seine in the heart of Saint-Germain-des-Prés two months ago, his former premises on the rue Troyon have been transformed into a chic little seafood restaurant called Etoile sur Mer. This punning name requires a bit of explanation for English speakers, since etoile de mer is not only the French word for a starfish but a reference to the tentacular circular intersection around the Arc de Triomphe, which the French refer to as l'étoile (the star) and which is just around the corner from Etoile sur Mer.
Be that as it may, chef Clément Leroy, Savoy's right-hand man, runs the kitchen here, and Savoy's favorite interior-architect Jean-Michel Wilmotte signed the new decor, which includes bare sea-foam-colored anodised tables and dishes that look like they were inspired by shells and drift wood. The atmosphere in this intimate place is confidential and perhaps a bit too hushed, but ultimately it made me think of the the subtle sultriness so beautifully depicted in Hong Kong director Wong Kar-wai's 2000 film "In the Mood for Love." Though I expect it's busy with a business crowd at noon, in the evening, it becomes the kind of place you'd chose to go with a lover you have a hard time keeping your hands off of, because the lighting is low, the dining rooms are flirtatiously private, service is discreet, and a meal of impeccably fresh beautifully prepared wild seafood is perhaps the greatest gastronomic luxury you can share these days.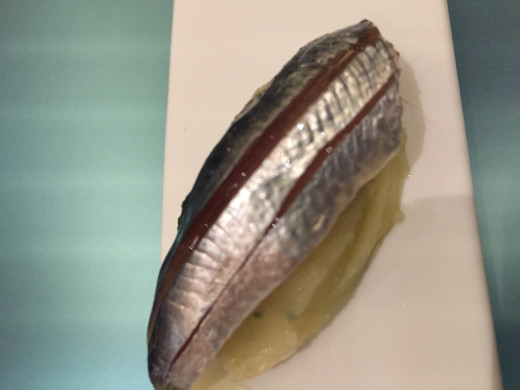 Having astutely observed the ongoing evolution of the international beau-monde's culinary predilections from his perch on the rue Troyon for nearly thirty years, I think Savoy knows this, too. To wit, the inflection point between the scarcity that always informs luxury and gastronomic pleasure parsed out according to the principles of healthy eating is seafood, but this doesn't have to mean monastic minimalist preparations either. Modern French seafood cookery basically banned added fat or dairy when it was first birthed by chefs like Paul Minchelli some forty-five years ago. So this is the idiom in which chef Clément Leroy, 33, came of age, and the one from which he so shrewdly innovates. A perfect preview of Leroy style and that of the meal to come was an amuse bouche of sardine sushi on a bed of chive flecked potato puree–what it told was Leroy's Asian style restraint with fresh seafood and also his attachment to intensely studied but simple looking Oriental aesthetics on the plate.