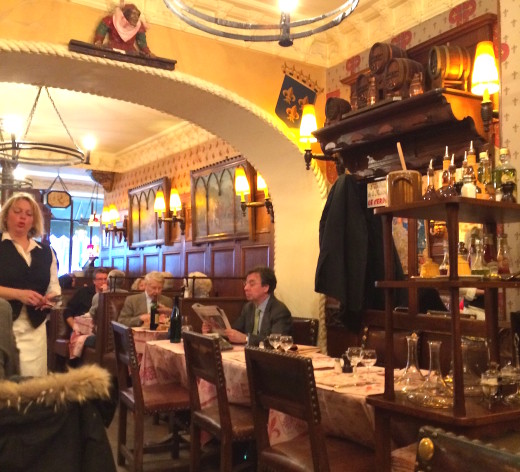 After a morning of musing on the question of where to go to lunch with a friend from London who loves old-fashioned French bistro cooking, the Auberge Bressane suddenly bobbed up in my mind as a possible solution. True, I hadn't been to this Gaullist gastronomic redoubt in a very longtime, but a quick glance at their menu online left me with a pulse-quickening desire to eat there again. And besides, I'd already allowed the work of choosing a restaurant for us, complicated by the fact that many places are closed on Monday, to take more time than I really had.
The problem, you see, is that I've always taken the business of choosing a restaurant very seriously. Not only is there something both sad and vexing about a bad meal eaten anywhere but at one's own kitchen table (happily, I can't remember the last time that happened either, although if he were around this afternoon, Bruno would doubtless chime in to reprimand my free-handed tendency with the garlic and the chile peppers when I make marinades), but the remote possibility of a disappointing meal with a friend who loves good food as much as I do is something I'd work to avoid at almost all costs.  It's complicated, though, since beyond the necessity of great food, they're many other inputs to be considered as well–the price, bien sur; the atmosphere, which is a unique-to-every-restaurant mixture of the decor, service and clientele; the time allotted for the meal; accessibility; and the personalities and tastes of the other diners. Going to a restaurant is like casting yourself into a play, so it's generally a good idea to make sure that there's a role that appeals to you and suits you before you show up.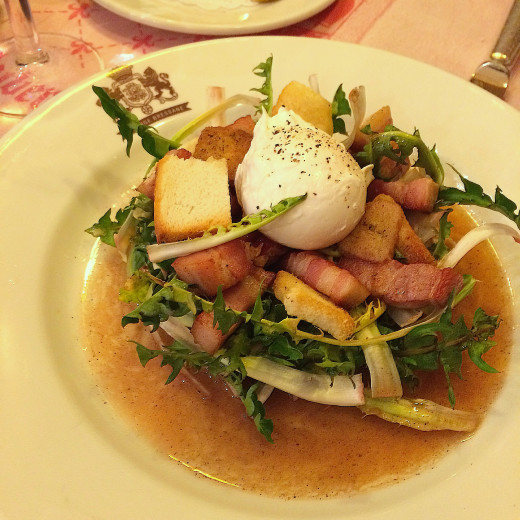 Of course counter casting can be fun, too, and that's the sociological posture I chose in deciding to ignore the fact that the Auberge Bressane is so profoundly vieille France, or a bastion of the bourgeoisie, an address favored by penny-pinching aristocrats, and a place popular with conservative blowhard politicians. My friend and I didn't tick any of these boxes, but we do like a good show and since we're polite, our shaggier bohemian traits and attitudes can occasionally be concealed behind a scrim of manners. So we settled at a table in the very back of this restaurant with its oak-paneled walls, vaguely Violet-le-Duc mock medieval style woodwork and chandeliers, and all of the coats of arms and signage in typefaces that evoke France in the Fifties and Sixties and got to work with the menu, which looked like a mimeographed page like the ones I dealt with in grade school, minus, that is, the smell of the toner, which I'm certain was potent enough to make any receptive second-grader a tiny bit high.