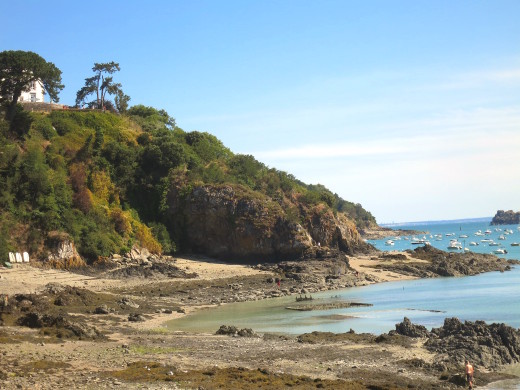 I've been in love with Brittany for nearly thirty years, which isn't surprising, because I grew up in New England. From my very first visit, this friendly delightfully shaggy and craggy green Celtic province of western France that's lapped on its back and belly by the Atlantic Ocean has always struck me as an even better version of my own much loved home turf. Why? Well, the food, among other things.
If I've always loved the tourist Brittany of crepes, oysters, langoustines and homard (lobster) a l'amoricaine, over the course of the decades I've lived in France, Brittany has become one of France's foremost gastronomic regions. Today it rivals, maybe even trumps, parts of Gaul with more established and deeply rooted gastronomic cultures, places like Burgundy and Provence, for example.
These were the thoughts that were bobbing around in my head as we greedily scarfed down a half dozen wild oysters on the edge of the port of Cancale before heading to a superb Sunday lunch at La Table de Breizh Café on a beautiful recent summer day. Since I first dined here a year and a half a go, Japanese chef Raphaël-Fumio Kudaka's restaurant has become one of my favorite tables, and I was looking forward to having a meal here with Bruno, who loves Breton produce and Japanese cooking as much as I do.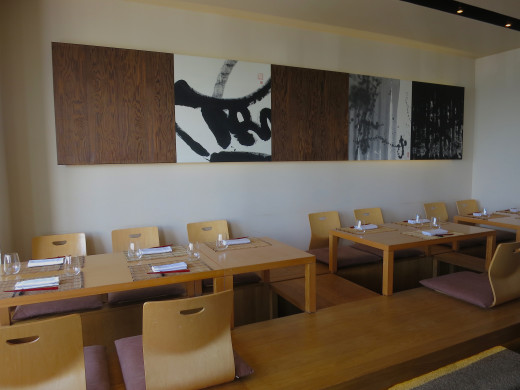 Arriving, we were the first customers of that Sunday lunch service, so we eschewed the Japanese style tables, and opted to sit at the counter where we could watch Kudaka and his team at work and also enjoy the sweeping views and salty breezes of the aquamarine-colored Bay of Mont Saint Michel , which was dotted with exposed oyster parks at low tide.
Since there are only two tasting menus available here on Saturday and Sunday, 75 Euros or 135 Euros, it was easy enough to make a choice. With a train ride back to Paris before us after lunch, and having lavishly well eaten during the previous days, we went with the former, to which we added a tempura course at a supplement. That taken care of, I was able to explain the genesis of this restaurant to Bruno.
After hotel school in Dinard, Breton Bertrand Larcher worked in Switzerland and then moved to Tokyo, where he opened that city's first Breton crêperie in 1996. Eventually he returned to France and opened crêperies in Cancale, Saint-Malo and Paris that rebooted a genre made stale by tourist induced mediocrity by using seriously good quality produce, much of it organic, and making his crêperies into little showcases for the superb foods of his home province. When Larcher met Raphaël-Fumio Kudaka, who had previously worked with Olivier Roellinger in Cancale, they decided to open a restaurant where Kudaka would cook his own very personal Breton-Japanese cuisine.