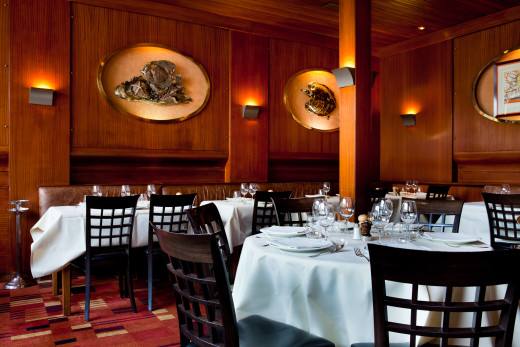 After I stepped into the vestibule at Le Duc, a long-running seafood house in Montparnasse, a delightfully nostalgia-freighted evening pushed out from the dock the moment I was seated at a corner table in the wood-paneled dining room. With its jaunty nautical decor–the late great French restaurant designer Slavik was surely inspired by one of Gianni Agnelli's Riva speed boats when he set to work here–and conditionally lordly service, this place is rather like the catch-of-the-day oriented little sister of Le Voltaire, another vintage beau-monde monument of a restaurant on the Left Bank. And like Le Voltaire, it's a place that not everyone will "get" or like, because it could be accused of being clubby, expensive and old-fashioned.
Indeed it's all of those things, but l still liked it enormously, and after a superb meal here, I'd rank it right up there with Rech and Dessirier as one of the best seafood restaurants in Paris. But first, back to Slavik and the question of restaurant decor. Before a knock-off version of Jacques Garcia's Napoleon III bordello style dining room for the Hotel Costes became the new boilerplate for Paris restaurant decors, it was Slavik who ruled the roost of Paris restaurant design, especially in the seventies when he did Chez Georges near the Porte Maillot and L'Européen across the street from the Gare de Lyon. If there was always something a little corny and larger-than-life about Slavik decors, many of them have aged to real charm. Unfortunately, this is also often the very same moment that restaurant owners who dread being called 'old-fashioned' dream of gutting their Slavik decor and replacing it with yet another bad version of Garcia's now also dating look for the Hotel Costes.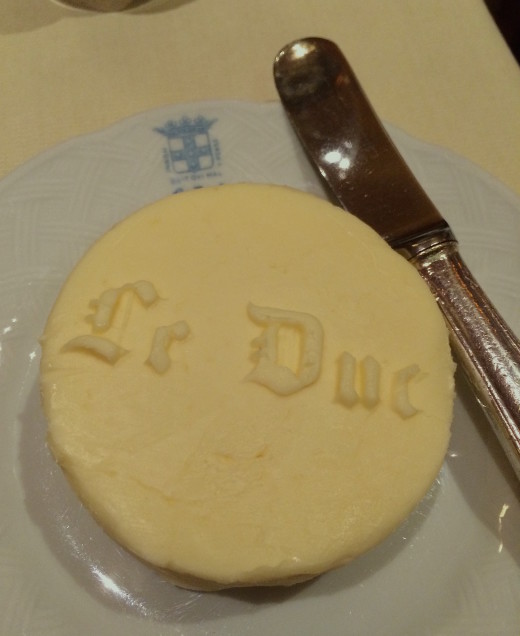 Hopefully Le Duc will be spared, because it has a bona-fide retro glamour, and the same might also be said of its clientele, a veritable gratin de Paris that included Alain Minc, Philippe Labro and the Contessa Brandolini the night I was somewhat improbably cast into their midst by the generous dinner invitation of a friend. Recognizing a few famous faces–a political advisor, a writer, and an Italian aristocrat, respectively, momentarily propelled me back to the days when I'd just arrived in Paris and was working as an editor for the American fashion-publishing company that pioneered the modern-day people press. Part of our job while attending fashion shows and other events was to cull as many famous names as possible for later use as seasoning for our reviews. I hated intruding on total strangers to beg a quote, and I hated the fact that these mumblings were awarded so much importance, but against the backdrop of today's high-velocity celebrity-driven marketing, all of this looks rather quaint in retrospect. The people we stalked in those days had beauty, talent or breeding, or all of the above.