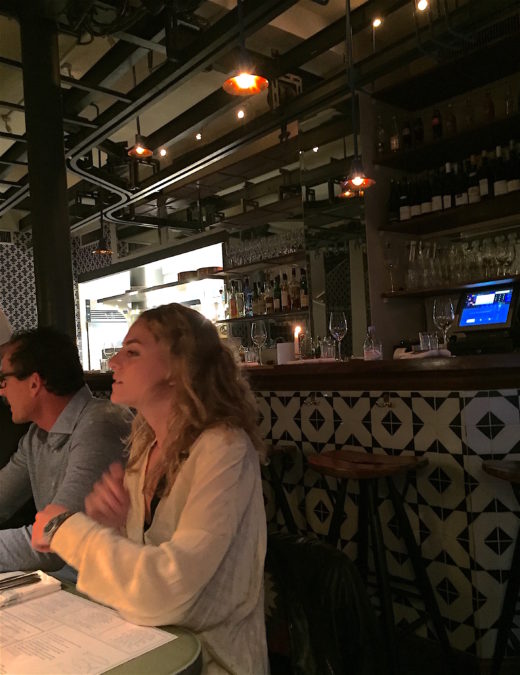 When the Fish Club, the seafood oriented cousin of the Beef Club next door, first set sail several months ago with a vaguely Peruvian themed menu that spun on carpaccio and ceviche, it never really caught on. Now this address in a former butcher's shop on the edge of Les Halles with a stylish decor by the parent Experimental Cocktail Club group's favorite interior designer, Dorothée Meilichzon, has been rebooted with a really appealing menu by chef Julien Burlap. What makes it so attractive is that it's unpretentious in a city where brand-name food–bread by, carrots grown by, chickens hatched by, etc.–is becoming an alarming new gourmet meme.
What irks me is the accelerating brand-naming of gastronomy, since the wheels of big money have now spotted it as another perfect target for 'affordable everyday luxury,' the new motor of consumption in major western cities. So whether it's deliberate or not, the menu at the Fish Club sort of ignores these rules in favor of a time-tested fail-safe old-fashioned marketing method: quality, which never needs a bold-faced name dangling from it.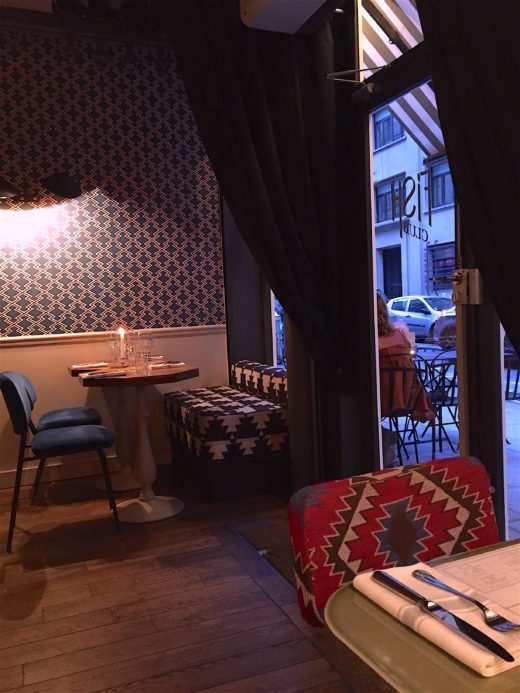 Here, names are named when they're useful, rather than to diddle you with aspirant gastronomic shorthand, i.e, butter by Bordier, meat by Hugo Desnoyer (such a shame about what's going on with him since he was bought by Alain Mikli, the eye-wear designer, etc.). Oh to be sure, a half Saint Marcellin cheese is ID'd on the menu as coming from La Mere Richard, a formerly famous Lyon cheesemonger that was also scooped up not long ago by a big industrial dairy, but at least the staff here–almost unnervingly charming, helpful and informative–remain on the side of the diner; when I asked if the Saint Marcellin, one of my favorite cheeses, was 'coulant' (runny, the way I like it, the way it should be), the waiter said, "No, if that's the way you like–and you should!–what we have won't make you happy."
Instead, the idea of this place, as the well-briefed waitress explained before we ordered is "to offer good quality seafood at a price point that's in between the insane prices of haute cuisine and the quality compromised ones of brasseries and chain restaurants."
This sounded promising, so we decided to splurge on absurdly expensive flutes of Champagne and an order of croquettes des crevettes grise, a Belgian comfort food that makes me ecstatically happy. These amber-colored crispy beignets came to the table with deep-fried parsley, as they should, and lemon halves, and they were so good it didn't even occur to me to photograph them, such was my haste for this pleasure of crunchy cartridges filled with runny pink gently marine tasting béchamel filled with tiny gray shrimp caught off the Belgian coastline. What explained their presence here is the fact that consulting chef Julien Burlat, who's from the north of France, has worked in Antwerp for several years at an excellent seafood brasserie there called Le Dôme sur Mer.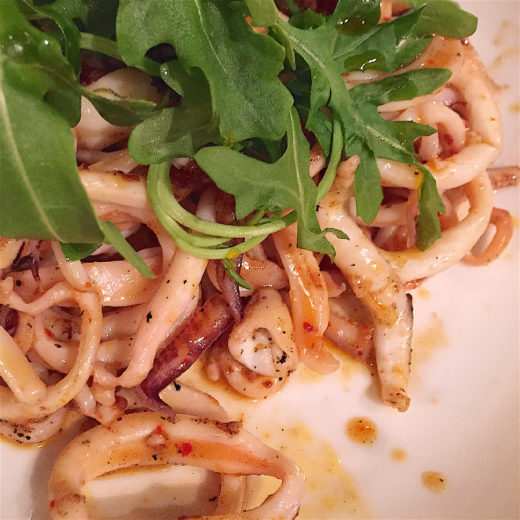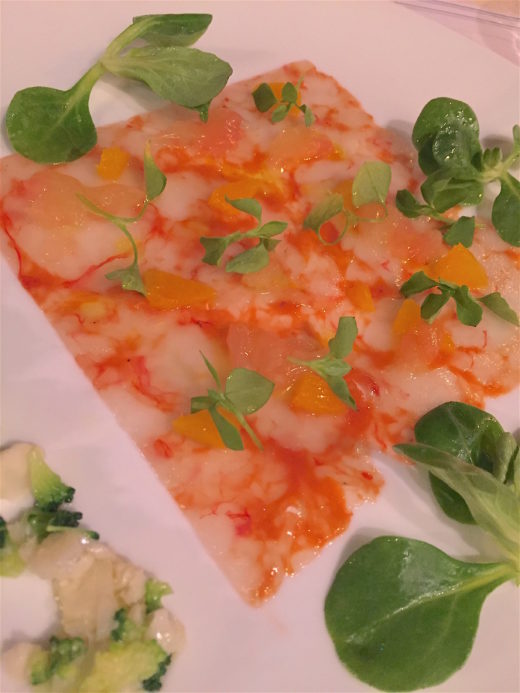 Though there was a nice selection of oysters and other shellfish on offer, we decided to order slightly more elaborate starters out of a desire to understand this place. So I went for the grilled baby squid with arugula and Bruno chose the red shrimp carpaccio with citrus segments and lamb's ear lettuce.
I liked the quiet fire of piment d'Espelette that enlivened my generous tangle of tender milky squid, and Bruno's shrimp was impeccably fresh, iodine bright, and very pretty on the plate. So we became hopeful, because more and more what we really love eating these days is good seafood, and as we know, our ardor is projected upon the screen of the harrowing reality that wild seafood becomes scarcer by the day, which is what explains its eye-watering prices in Paris. Continue reading…