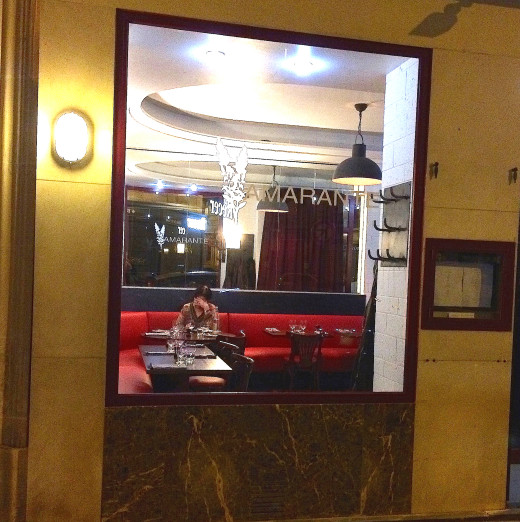 It was a nice surprise when I learned that L'Amarante, chef Christophe Philippe's new bistro in a quiet street not from from the Bastille, is open on Sunday nights. Why? If Monday and Saturday are my least favorite nights of the week to go out to dinner in Paris, because Monday always feels forlorn and there's rarely much fresh fish available, and Saturday is too amped up and noisy, my two favorite nights are Thursday and Sunday. On Thursdays, the average Parisian restaurant kitchen is well limbered up and provisioned and the crowd in the city's dining rooms is still mostly Parisian and in a good mood with just a day left before the weekend. Having a good dinner out on Sunday usually succeeds in dispelling the wistfulness the day can induce by occasionally being being stitched with intimations of mortality conveyed by religion and the fact of an imminent return to work. Sunday nights out feel sort of confidential, too, since most people tend to stay home and get to bed early in preparation for the week to come. Me, I've always liked swimming upstream and throwing such sensible cares to the winds, especially if it means I'll have a good meal.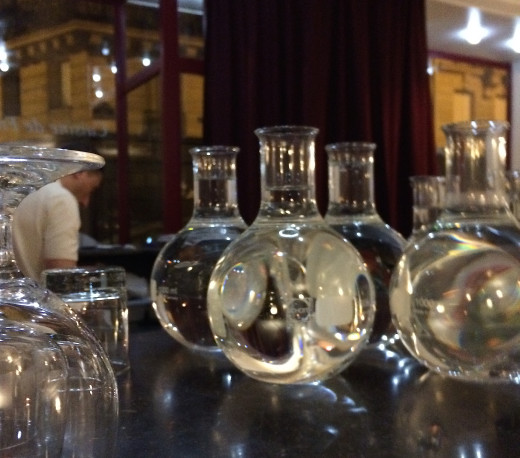 So Bruno and I met our friends Carole and Laurent for dinner at this L-shaped thirties vintage bistro with a big service bar at the joint between its two small dining rooms with bare wooden tables and red banquettes, and I was intrigued to find it busy with an intriguingly diverse-looking crowd of epicures who clearly hadn't come here by chance. For ever so many reasons, the four of us make a good quartet at the table. Carole and Bruno have known each other since they were children in Valenciennes, a pleasant hard-working little city on France's border with Belgium, and Laurent and I always have fun talking about our increasingly distant pasts as reckless feckless creatures of the night in our twenties and thirties, love good wine, are interested in politics, love good food, and enjoy affectionately teasing Bruno and Carole about being from Valenciennes (Laurent is a native Parisian, and I am a child of that part of New England that has been ingested by greater New York, Fairfield County, CT). And we all have different appetites. Bruno loves organ meats, Laurent's wild for game, Carole will only eat fish, and I'm the omnivore sticking my fork into everyone else's plates.
I was keen to come here, because I've loved Christophe Philippe's cooking ever since I first discovered him in a tiny plain dining room in the 5th Arrondissement over ten years ago. This is why I included him in HUNGRY FOR PARIS and why this address has long been one of my permanent recommendations in this part of the city. Now, though, he's crossed the river and set up shop in this new place with a very different menu from the one he served in the Latin Quarter. And he's cooking better than ever.