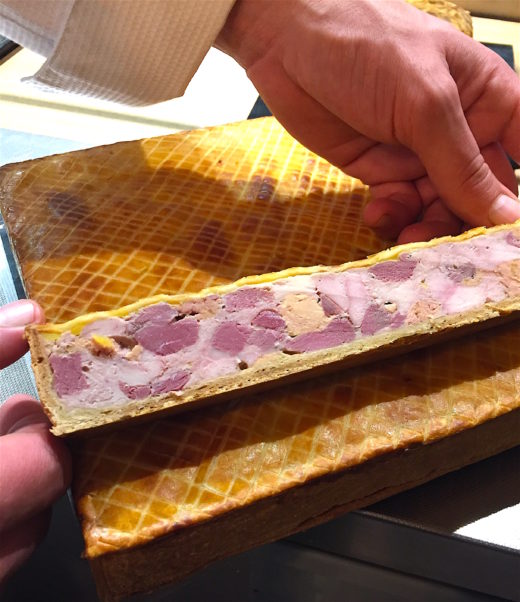 In Paris, Arnaud Nicolas, 34, has launched a spectacularly succulent revolution at the new restaurant and boutique that bears his name on the leafy Avenue de la Bourdonnais in the ever so discreetly chic 7th Arrondissement.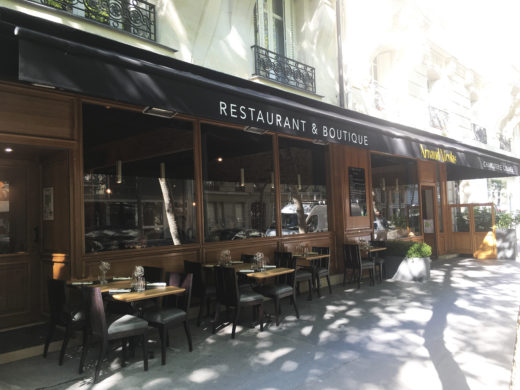 Stopping by this elegant pair of rooms with oak parquet floors, exposed stone walls and beams, and battle-ship gray paintwork for dinner the other night, Nicolas was intently concentrated on cutting a slice of a superb looking pâté en croûte for a older woman with a spun-sugar chignon and a belted calico shirt dress that matched her eyes. I was watching her watching him when she glanced at me and smiled. "This is what I'm having for dinner tonight. A slice of this nice young man's exquisite pâté en croûte, a green salad and a glass of good wine," she said with dogmatic satisfaction.
Turned sideways, the poultry pate studded with foie gras resembled a beautiful piece of some rare stone except that it was framed with a delicate envelope of impeccable egg-washed pastry. "You absolutely must try it, Monsieur–it's exquisite!" said the charming woman. "You know, it's rather nice to have a new vice, especially at my age!" she added, and exited the boutique with an eager spring in her step. As if it were necessary, she confirmed for me that vanity is a major life force, and later in the evening, I couldn't help but wondering what she wore during her wonderful little supper. Did she remain in the shirt dress, or maybe slip into something more comfortable, perhaps a shot silk dressing gown she'd bought in Saigon many years ago? And what perfume was she wearing? I'll never know, but these new mysteries to gnaw make me love living in a big city.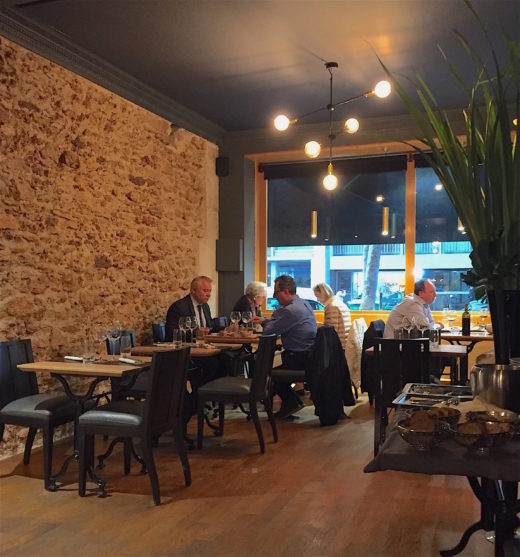 Bruno and I were ushered into the loft-like masculine-feeling dining room and were studying the decidedly alluring menu over a glass of white wine when Nicolas stopped by our table to comment the menu.
"My idea here is to create a showcase for the great French art of charcuterie and to seduce Parisians into wanting to eat it again," he explained. "Because so many people have only ever tasted industrial charcuterie, this ancient, delicious and very nourishing part of the French diet has experienced a certain disaffection during the last few years, and this is normal when you see what they sell in supermarkets. The absence of real charcuterie in most towns and cities has been accelerated by a drastic decline in the number of professional French charcutiers. Last year, there were only a thousand students learning to become charcutiers in a country of almost sixty million people. So I want to bring la charcuterie back, to make it modern and appealing in the same way that a new generation of patissiers have renewed the art of pastry in Paris," Nicolas explained.
I told him that we'd been thinking of starting with the quail-and-dried-fruit pate and the poultry-and-foie-gras one, and he suggested we come to the shop next door to inspect them and see the other possibilities (the restaurant is reached through a door from the shop). Frankly, all of the terrines and pâté en croûte were so beautiful looking we'd have been happy with any of them, but Nicolas suggested he create a sampler for us that would include the two we'd already chosen, plus a little couronne du porc, an all-pork terrine in pastry, and some of his luscious looking head cheese.
Bruno likes head cheese so much he was practically yelping by the time we returned to the table to taste the white Pic Saint Loup I'd ordered to accompany our meal. For our mains, we agreed to try two of Nicolas's other homemade victuals, a lobster boudin and a lamb sausage served with a puree of Agen prunes. There were lots of other appealing dishes on the menu, though, including cod with baby artichokes, yellow pollack with cockles and a shellfish jus, entrecôte, and grilled duckling with baby onions.