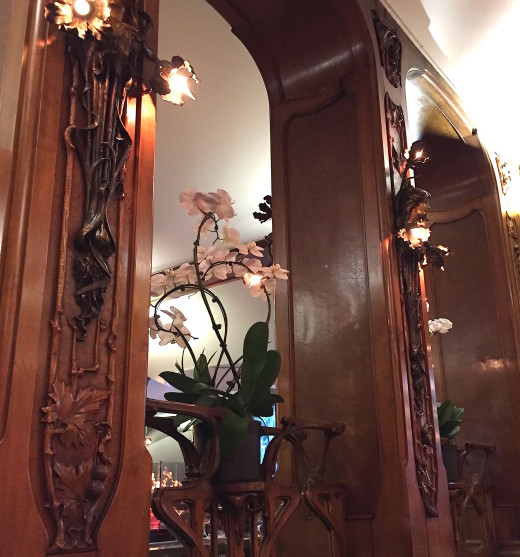 They're few dining rooms in Paris that are so deeply invested with a long and mostly very happy album of memories for me than Lucas Carton, the magnificent landmarked restaurant with a spectacular art-nouveau decor by Louis Majorelle just across the street from the Église de la Madeleine in the heart of the city.
So I was a little anxious when I went to dinner here the other night for the first time in a very long time–my purse doesn't allow me to be a regular, and ultimately relieved but not surprised to rediscover that young chef Julien Dumas's cooking makes him a brilliantly worthy successor to Alain Senderens, who had billing as head chef here for almost thirty years, despite the fact that it was his lieutenant Jerome Bactel who'd actually been running the kitchen on a daily basis for a while.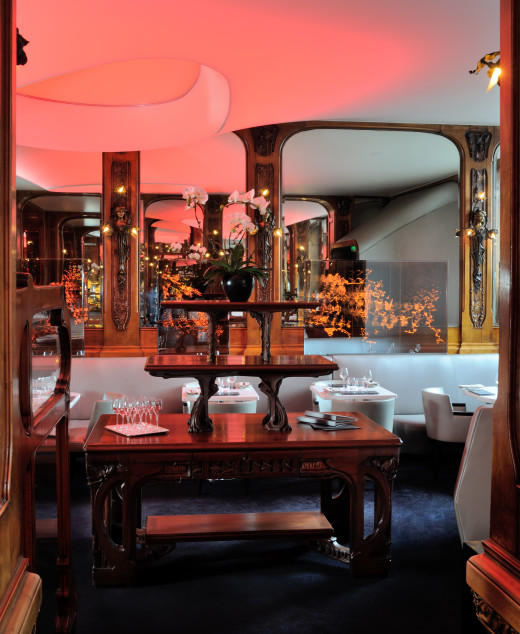 In fact Bruno said that our meal reminded him of his initial experience of Yannick Alleno's cooking, or a dazzling first encounter with a startlingly talented and rapidly rising young chef, and I quite happily agreed. Dumas is exactly what Lucas Carton needs to remain a relevant and desirable restaurant in Paris in 2015. So ultimately I was able to add another gastronomic sketch to the brief but privileged album I carry around in my head of occasions spent on these premises.
To be perfectly honest, the one that really sticks out in this slender volume of memory is deeply tinted to this day by trauma. When I arrived in Paris from London to work as an editor in the rue Cambon offices of Fairchild Publications, this restaurant was the setting for one of the most excruciating meals I've ever had in my entire life. Sifting through the still tender shards of remembrance attached to that evening, I don't find the name of my host or hostess, but I know it was a Paris fashion designer and that the chic little supper was intended to size me up and 'welcome' me to Paris, in that order of importance.
To say that things did not go well that night is a massive understatement. My eight years of French failed me miserably within minutes of being seated between the attache de presse who'd organized the evening and a druggy middle-aged Countess who immediately told that she thought les Americains were "des sauvages" (savages) and who regularly left the table for five minutes or longer to then return with white-powder-rimed nostrils. In retrospect, the least she could have done in those days before I became sensible and settled was to offer to share her loot. In any event, the meal was a horror, and the worst of it was a starter salad, a tumble of pretty little leaves, that looked innocent enough until I noticed a tiny gnarled bird's leg sticking out of the greenery. This leg was so tiny I couldn't imagine anyone would actually want to eat it, and I found myself wondering if it might have found its way into my plate by dint of some horrific accident in the kitchen, or maybe it was a practical joke, or maybe….