Seafood in Paris is so popular that I was more amused than taken aback when my butcher recently confided that he increasingly prefers fish to meat. It's no surprise then that innovative and charming Paris restaurateur Frédéric Hubig-Schall's new restaurant La Marée Jeanne has been packed ever since it opened in early March. Since I love seafood, and the accomplished Hubig-Schall also owns Astier, Jeanne A, Jeanne B and Sassotondo, I was especially eager to discover his newest table when I went to dinner there with Bruno the other night.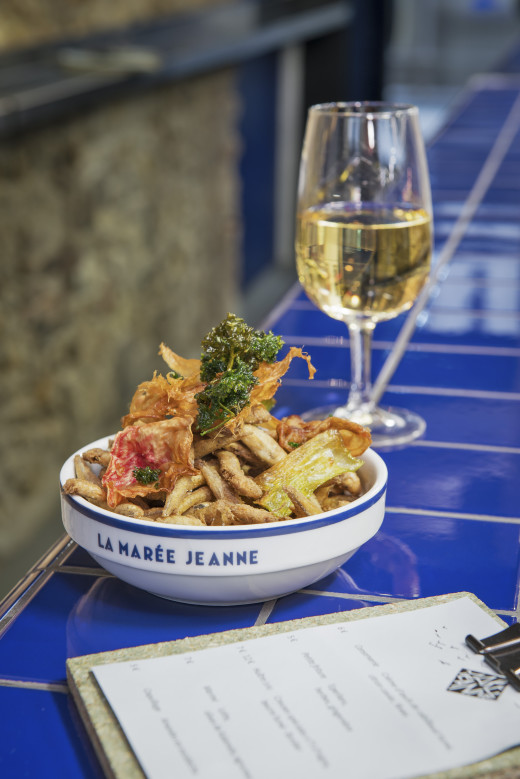 What we discovered tucked away in a side street off of the pedestrians-only rue Montorgueil is a lively restaurant that offers a winning French take on the casual good-value sea-shack style seafood restaurants that make any summer vacation in New England such a pleasure. Since La Marée Jeanne is in the heart of Paris and not overlooking Narragansett Bay or Boston harbor, however, a very different decorative idiom was necessary, in this case a sort of jaunty cross between a classroom in a Danish elementary school and an artist's loft with the requisite industrial fittings of dangling Edison bulbs and gray cement walls and floors, and metal railings.
Studying the menu over an order of deep-fried whitebait cleverly brightened by garnishes of flash-fried ginger, parsley and other vegetables, I couldn't help but thinking about how shrewd it was. Not only did it offer the opportunity for a light bite, a large meal and everything in-between, because so many dishes are offered in 'small' and 'large' portions, but the fact that so many of the alluring Gallic comfort-food preparations were prepared in advance means the small open kitchen won't become too strained by the constant turnover here. The limited amount of on-the-spot cooking during any service precludes the possibility that you'll end up scented of your supper for the rest of the week, too.
The menu happily navigates between tradition, as in mousseline soufflée, sauce homardine  (pike-perch dumplings, in creamy lobster sauce) and more modern French favorites, including marinated monkfish with Kalamata olives and citrus vinaigrette. And it also implicitly favors the admirable recent local restaurant trend towards privileging fish from sustainable fisheries; to wit, there's whiting on the menu but not turbot and grilled croaker instead of sole.