Books
Hungry for Paris, Second Edition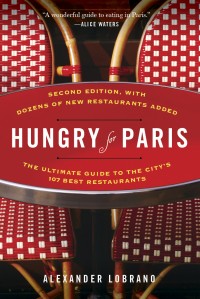 "A wonderful guide to eating in Paris" — Alice Waters
"Not since Patricia Wells's classic Food Lover's Guide to Paris has a guidebook given readers such a mouthwatering tour of the City of Lights." —Publisher's Weekly
Lobrano, GOURMET magazine's European correspondent from 1999 until it closed in 2009, has written for almost every major food and travel magazine since he became an American in Paris in 1986.
With the new second edition of Hungry for Paris, he shares his personal selection of the city's 109 best restaurants, each of which is portrayed in savvy, fun, lively descriptions that are not only indispensable for finding a superb meal but a pleasure to read. Dozens of new restaurants have been added to the book, and every restaurant in the book has been revisited and updated to insure that it will still serve you a truly superb meal.
Lobrano reveals the hottest young chefs, the coziest bistros, the best buys–including those haute cuisine restaurants that are really worth the money–and the secret places Parisians love most, together with information on the most delicious dishes, ambience, clientele, and history of each restaurant. A series of delightful essays cover various aspects of dining in Paris, including "Table for One" (how to eat alone), "The Four Seasons" (the best seasonal eating in Paris), and "Eating the Unspeakable"(learning to eat what you don't think you like). All restaurants are keyed to helpful maps, and the book is generously illustrated with beautiful photographs by former Life magazine photographer Bob Peterson.
The Boston Globe – November 8, 2008: Your Friend in Paris
"Every trip to Paris is accompanied by the expectation of at least one great meal, if not several. Yet like any popular tourist city, Paris has its fair share of mediocre eateries and awful tourist traps. That's why you need a friend to guide you to the best, and in his new book, Hungry for Paris (Random House, 2008), author Alexander Lobrano does exactly that. As European correspondent for Gourmet magazine, he knows practically every chef, and dish, in the city. Not only does Hungry for Paris lead you to great meals all over town (and in every price range), Lobrano suggests signature dishes, explains the mechanics of a French meal, and tells readers how to have the very best experience they can in a French restaurant." — A.R.
Residing in Paris for almost 20 years, Alexander Lobrano has become known for his dispatches to Gourmet magazine about the local dining scene. Being a rabid gourmand,Hungry For Paris: The Ultimate Guide to the City's 102 Best Restaurants, has too much information to stick in your pocket or bag for the day; savvy travelers should just jot down addresses prior to heading out.
When I got the book, I started flipping through it, jumping in and out of various chapters…but the writing was so good, I wanted to do it justice and read it front-to-back, and found it to be not just a list of restaurants, but a truly superb read. — David Lebovitz
The Christian Science Monitor – June 23, 2008: A chance to break French bread with an expert
"In any given week, Alexander Lobrano tries out a half dozen new restaurants and revisits old favorites. And as European correspondent for Gourmet Magazine, he's the perfect host to introduce us to everything we need to know about dining well in Paris. Part food memoir, part enticing restaurant guide, Hungry for Paris leads visitors to Paris through a maze of information that makes dining in the French capital as simple as grabbing a bite at your neighborhood eatery. A cook as well as a food writer, Lobrano invites us to become his pal, his accomplice in navigating the Parisian restaurant scene.
For those who wonder exactly what is French food, he presents 10 dishes that define the cuisine for him, from his childhood favorite boeuf bourguignon, to cassoulet and pot-au-feu. If you're confused by bistros versus brasseries, about dress codes, or whether to bring young children to a fine dining establishment, Lobrano will have you eating like a Parisian before you even get to his list of recommended restaurants.
And oh, those 102 restaurants! Arranged by arrondissements, each place he's sampled is remembered with a story, a dish, and a short "don't miss" recommendation. From Le Bristol, in the eighth, for a "top-flight business meal … one of the city's best addresses for romantic dining," to Le Pamphlet, tucked away in the Marais – a "dark horse of a bistro" with delicious Basque-béarnaise-inspired cooking – the list will tantalize serious foodies as well as bargain travelers. But beware, Lobrano's charming and detailed descriptions make it impossible to put this book down long enough to plan that trip to Paris.
With the French fetish for freshness and the Atlantic and Mediterranean coastlines surrounding the country, Paris is Europe's best city for seafood. Conquer your fear of the unknown, sample oysters or even a sea snail, if you will. In his essay, "Eating the Unspeakable," this formerly shy kid who hated messes – including lobsters served by his grandmother – poses the question, "Why fly all the way to France to eat chicken breasts or steak? You may discover you enjoy pig's feet or calf's brains. At the very least, you'll have a delicious tale to share when you return home." — Augusta Scattergood
Chicago Tribune – May 25, 2008: Chances of a martini in Paris? Wee
"PARIS—If you really want to stand out as an American here, or anywhere else in France, for that matter, simply try to order a dry gin martini, straight up, with a string of green pimento-stuffed olives.
Ain't gonna happen, unless you're incredibly lucky or know where to look.
As noted in expatriate Alexander Lobrano's wonderful new restaurant guide, "Hungry For Paris" (Random House, $16), the French rarely drink cocktails or hard liquor before dinner. Dulls the taste buds, or so they say.
Instead, Parisians will choose a glass of Champagne, white wine or kir, which Lobrano describes as white wine "dosed" with a fruit liqueur. As a former restaurant reviewer, I knew of this belief and how strongly it is held. Indeed, I'd often caution guests when going out to French-owned restaurants to stick with wine to establish better cred with the servers." — Bill Daley
Publisher's Weekly – April 2008
"A Paris vacation in book form, this volume travels from the glittering restaurants of the Boulevard St.-Germain to the grittier haunts of Belleville and Clichy, offering insights into classic bistros, new favorites and even a smattering of ethnic cheapies (the sorts of dining establishments that Parisians themselves have only just started getting used to). Lobrano, European correspondent for Gourmet magazine , is an observant and dedicated restaurant-hound, noting the peculiarities of a certain proprietor at one brasserie, recording the exact temperature at which oysters are served at another. No entry is longer than two or three pages, but rest assured they're fully stocked with strong opinions and recommendations; happily, Lobrano is unafraid to challenge culinary convention, calling L'Ami Louis, long a brutally expensive stop on the "when in Paris" tour, "a pretty egregious example of conspicuous consumption… especially when you can find better roast chicken and foie gras anywhere." Not since Patricia Wells's classic Food Lover's Guide to Paris has a guidebook given readers such a mouthwatering tour of the City of Lights."
Gourmet Magazine
"Every time I go to Paris I call Alec and ask him where to eat. Nobody else has such an intimate knowledge of what is going on in the Paris food world right this minute, and there is nobody I trust more to tell me all the latest news. Happily, Alec has written it all down in this wonderful book and now I can stop bothering him." — Ruth Reichl
Dorie Greenspan
"Hungry for Paris is a brilliant book with an almost fatal flaw: the writing is so enchanting you may never leave home to go to any of Alec's favorite places. Few people know, love and appreciate Paris restaurants the way Alec does; no one writes about them better or with more charm." — Dorie Greenspan, author of Around My Paris Table
Alice Waters
"When I was nineteen, I went to France to study, but instead, I just ate. The experience changed me: I came back to the United States, and a few years later, started Chez Panisse. InHungry for Paris, Alec Lobrano describes his own gastronomic awakening, probably better than I could! This book is a wonderful guide to eating in Paris." — Alice Waters
The Washington Post
"…Lobrano is a master of gastroporn, and he fleshes out his luscious prose with tempting photos. "Hungry for Paris" is like a cozy bistro on a chilly day: It makes you feel welcome." — David Kirkby
Los Angeles Times
"Life is too short to choose the wrong restaurant in Paris, so one needs help. There is too little overlap among Paris restaurant guides; in New York, for example, there are always a handful of restaurants everyone's talking about. Then there are the ones your grandmother might have taken you to on special occasions, like Café des Artistes — those never go away, generation after generation. "Hungry for Paris" is not that kind of guide, but it offers something else, "a portrait of Paris seen through the prism of the city's best food." Organized by neighborhood and interspersed with delightful sections on such matters as eating alone, the Parisian obsession with North African food and the author's first experience of true grandeur (at Le Train Bleu), this is the sort of guide you read before you go to Paris — to get in the mood and pick up a few tips, a little style. Alexander Lobrano tells you what to expect and how to act (don't bring small, ill-behaved children, don't ask for less garlic or no salt; fizzy water or cocktails may raise eyebrows). A word of warning: Unless you're a truly Ugly American, fear of the French (especially French waiters!) has wrecked more than one visit. It's a beautiful city. The food is fantastic. Enjoy." — Susan Salter Reynolds
The Wall Street Journal
, April 24, 2008: The Other French Paradox
"Paris may be the world's greatest dining city, but once there, it's awfully easy to stumble into a bad meal. The latest insider to arrive bearing dining recommendations for the City of Light is veteran food writer Alexander Lobrano, whose "Hungry for Paris: The Ultimate Guide to the City's 102 Best Restaurants" has now been published by Bertelsmann AG's Random House imprint as a paperback original.
There's plenty of competition on the bookshelves, ranging from "Michelin Red Guide 2008 Paris: Restaurants & Hotels," to the fourth edition of Andy Herbach and Michael Dillon's "Eating & Drinking in Paris: French Menu Reader and Restaurant Guide.
But Mr. Lobrano, who moved to Paris in 1986 as a food writer and never left, thought there would be interest in a book based on more than 20 years' experience that includes dining at six new Parisian restaurants a week. "Consider me to be your pal in Paris," he writes in his preface.
Travelers need a pal, says Mr. Lobrano, because there are plenty of ways to go wrong when choosing a place to eat in Paris. "The most serious mistake Americans make is that they instantly go to the brasseries, such as La Coupole or Bofinger, because they think this is real Paris," said Mr. Lobrano in an interview. "What they don't know is that there's no real cooking going on, the meals cost a fortune, and the food is lousy."
American travelers also think that they can stumble out of their hotels in the Latin Quarter or Saint Germain and find a delicious local restaurant, he says. But real estate prices are now so high that many local fish stores and boulangeries – which provided chefs with basic ingredients – have disappeared, replaced with chain stores like Zara and Benetton.
"The whole Left Bank is gentrified," he says. "I spend a lot of time with this book in the 5th, 6th and 7th arrondissements, because that is where most Americans stay. But without sound advice you'll go home unhappy."
A good insider tip? Mr. Lobrano says that the "most gastronomic" block in Paris is on a tiny street called the Rue Paul Bert, in the 11th arrondissement, not far from the Bastille. There the adventurous will find three killer restaurants: two bistros, including Le Bistrot Paul Bert, and a fish house, L'Ecailler du Bistrot, all within 50 feet of each other.
"You have to go into the double-digit arrondissements where young chefs can afford to pay the rent," he says. "Yes, you will need lots of metro tickets. But you'll find fresh, original food, and it won't be that expensive. It's a new take on Paris."
Mr. Lobrano says that he isn't concerned that his 437-page book is too heavy to be comfortably toted around the streets of Paris. "I was certainly aware of that issue because I travel about 200 days a year," he says. Still, he says his intention was to create a literary hybrid – part guidebook, part memoir, part confession – that would keep his readers company and enhance both vacations and armchair travels.
Of course, not every traveler is a gourmet. How will they know when they've had a truly great meal? "Your eyes roll back and you moan," says Mr. Lobrano." — Jeffrey A. Trachtenberg
The New Mexican, Santa Fe, NM
"Hungry for Paris is really two books: the ultimate guide to the city's 102 best restaurants and an eloquent food memoir.
Alexander Lobrano is an American who has lived in Paris since 1986, much of that time spent doing what most of us can only dream of — eating on an expense account.
He evocatively describes everything from his first French restaurant meal (in New York at the age of 11) to losing his oyster virginity (sex had everything to do with it) in Normandy as a foreign correspondent. He does so with a sharp wit and an even sharper sense of smell, literally following his nose through an education in eating.
The memoir alone, interweaved with the guidebook, is worth the price of purchase.
Hungry for Paris is also a guide to the manners and traditions of French dining. When I'm in residence in Paris, I'd like to hand the chapters comprising his "Happy Eater's Almanac" to all my American visitors. It succinctly identifies the points of cultural misunderstandings that sometimes lead to unhappy dining experiences for the uninitiated, as well as providing some general definitions and useful tips.
Lobrano notes, for example, that Parisians in a restaurant generally speak more softly than we do. And while Americans expect their meal their way, the French admire the culinary profession and trust the chef to know what he or she is doing — so you won't hear them asking for special preparations or omissions. That doesn't mean a restaurant won't try to accommodate a special diet, such as vegetarian, if possible. But, as Lobrano says, the French "believe that gastronomic pleasure is more important to one's physical well-being than obsessive calorie counting."
A man who confesses to eating more than six meals out a week, Lobrano has compiled an impressive number of restaurant recommendations that read almost like short stories. The book also includes maps for finding them, as well as other practical information a visitor needs and expects." — Susan Meadows
Fodor's
– April 20, 2008: Alexander Lobrano's Favorite Paris Restaurants
Writing about food for a living sounds like fun, but only if you're living in a city where people are intensely passionate about the culinary arts. Alexander Lobrano, European correspondent for Gourmet magazine, lives in Paris, where people are almost as passionate about good food as they are about God. In fact, Lobrano is so enamored of French cuisine that he's written a guide to Paris' top restaurants, Hungry for Paris: The Ultimate Guide to the City's 102 Best Restaurants. Fodor's recently chatted with Lobrano about the book, which is by turns authoritative, thoroughly accessible, and delightfully witty.
Why did you write Hungry for Paris?
AL: I wanted to create a book that I would like to find myself if I were coming to Paris. I didn't want a book with a thousand restaurant reviews — I wouldn't know which one to go to. I wanted something that is companionable and reliable and informative about the city and the character of the restaurants themselves.
Your book is disarmingly funny. We don't often expect that from a food critic.
AL: There is a tendency these days among some professional food writers to be a little too serious about a subject that is by definition joyous and even a little silly.
You write that Paris made dining fashionable. Is Paris still leading the way?
AL: Paris and French cooking are very misunderstood in the world today. The world is impatient with subtlety and refinement, which is the real basis of French cooking. From that point of view, a lot of the showier things going in countries like Spain are studied and toned down in France. The French remodel trends in hugely useful ways and put them into a very traditional human framework, and that's important because I don't need to have explosions in my mouth every time I go out for a meal.
What neighborhood in Paris is best for haute cuisine?
AL: There are almost no freestanding, independently owned haute-cuisine restaurants left in Paris. This is the province of extremely well-banked hotels, and right now in Paris the eighth arrondissement is the Fort Knox of French haute cuisine. Most of these restaurants are all under the wing of luxury hotels around the Champs Élysées and the Madeleine.
Do you have a favorite restaurant in Paris right now?
AL: I could give you a different answer to that question every day. On this cold, rainy March day the answer is Garnier (11 rue Saint-Lazare), a wonderful seafood brasserie in front of the Gare Saint-Lazaire. I would order oysters and grilled sole. The most interesting restaurant in Paris right now is Le Chateaubriand (129 Avenue Parmentier), in the 11th arrondissement. The chef, Inaki Aizpitarte, makes you taste things you've never tasted before, like he is teasing flavors out of food that you didn't think were there — it's all about juxtapositions of flavors and textures. Aizpitarte is the most inventive chef working in Paris right now.
Where do you go when you're in the mood for your favorite dish, boeuf bourguignon?
AL: Josephine Chez Dumonet in the 6th arrondissement.
And when you want excellent bistro cuisine?
AL:  A la Biche au Bois (45 Avenue Ledru-Rollin, Tel. 01 43 43 34 38) in the 12th. It's a place where they do an anthology of classical French bistro dishes, a friendly well-run neighbourhood restaurant where you walk in, sit down, and say "all is well with the world." For something a little heartier, I love the late-night restaurants in Paris, like La Tour de Montlhery (5 rue des Prouvaires), in the 1st arrondissement. They serve things like mutton with white beans — and they serve so much. One dish could easily satisfy four people. The service is jocular and fun. It's a wonderful restaurant.
AL: For front and center romance, and for people with very deep pockets, I'd recommend Pierre Gagnaire. The intensity of the cooking will drive you into each other's arms.
How fascinating. What dish would you recommend for maximum ardor?
AL: Gagnaire's menus change seasonally, but his winter menu often features a 25-year-old "Pied de Cheval" oyster, served warm with artichoke veloute, scallops, green asparagus tips, crab, currants, and horseradish — an absolutely astonishing constellation of tastes and textures.
What budget restaurants in Paris would you recommend?
AL: One of my favorites is Au Pied de Fouet (45 rue Babylone). Cocteau used to go there. It's in the 7th arrondissement, which is a very old aristocratic neighborhood, a place where the flower sellers go out of business after six months because the rich people there are too cheap to buy fresh flowers. It's such a pennywise neighborhood that it's oddly great for cheap eats. Au Pied de Fouet serves the kind of food you might expect from a live-in maid — real old-fashioned French cooking.
Can you recommend outstanding French restaurants in other cities?
AL: I've always liked the Paris Bar in Berlin, off the Ku' damm, in what used to be liveliest part of West Berlin. They do really outstanding old-style French cuisine, and the crowd is wonderful. In New York I like Raoul's in Soho.
Do you have a favorite bar or cafe in Paris?
AL: The best bar in Paris is the Hemingway Bar at the Ritz. You have to mug someone to afford a drink there, and the place is minuscule, but the bartender, Colin Field, is terrific. It's a great place to go and nurse a drink. My favorite café is Café Le Nemours next to the Comedie Francaise. It's a very democratic café where countesses can be found sitting next to cleaning ladies.
Do you ever tire of dining in Paris?
AL: The day I tire of dining in Paris is the day my friends will be advised that donations in my memory can be made to the New York Times' Neediest Cases Fund, the Nature Conservancy, the New York Public Library, and other worthy causes and institutions.
— Chris Culwell
"The fragile golden pastry case was shaped like Venus's breast but incised with a fine swirling spiral…I cut it open, and inside was an impeccably cooked veal sweatbread wrapped in a mantle of wilted sorrel leaves…" So begins one of the unfailingly absorbing reviews (in this case, of Taillevent) in Alexander Lobrano's new book, Hungry for Paris: The Ultimate Guide to the City's 102 Best Restaurants. Lobrano, one of Indagare's favorite food writers, has been eating his way through the French capital since he moved there in 1986 (it helps that he's Gourmet's European Correspondent). Arranged by arrondissement, his guide is full of long, thoughtful reviews, lively anecdotes, essential information (métro stop, days open) and plenty of suggested dishes, from the classics to the more adventurous (beef cheeks braised in red wine, carpaccio of calf's head). There are also general tips on subjects like navigating the wine list and the best time of year to eat chèvre (the spring). But it's the writing—warm, funny, full of passion and knowledge—that will leave you hungry for more.
Hungry for France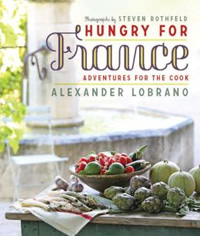 "I can't think of anyone better than Alec Lobrano to brilliantly capture what makes France such a beloved culinary destination. Bravo for this tour de France, from one of the most talented food writers of our time." —David Lebovitz, author My Paris Kitchen
"Leafing through the pages of this book makes me so hungry! I want to get on the next plane and fly right o! to France. Alec is the best kind of connoisseur—he loves the food and the people— and his book reflects that. The pictures are gorgeous, the recipes appealing." —Ruth Reichl, author of Delicious!: A Novel
"For years, Alec has been my most charming, most literate, most amusing, and trustiest guide to all things delicious in all parts of France. Now he's yours, too. Hungry for France is a go-to whether you're searching for an elegant dinner, a roadside snack, or even a recipe that will bring the flavors of France to your own home." —Dorie Greenspan, author of Around My French Table
An insider's culinary tour of some of the most alluring restaurants, inns, and food producers of France, with more than seventy-five recipes updating classic regional dishes. Every food lover's ultimate dream is to tour France, stopping off at luxurious inns with superb restaurants and sampling fresh produce from local markets. Imagine having as your guide a savvy and deeply knowledgeable connoisseur, someone who lives for the pleasures of the table and knows just where to ferret out all the delicacies in each town. This book delivers just that, along with gorgeous photographs.