"AROUND MY FRENCH TABLE," Dorie Greenspan's Wonderful New Cookbook; SATURNE, Good Contemporary Bistro Cooking, B-
September 23, 2010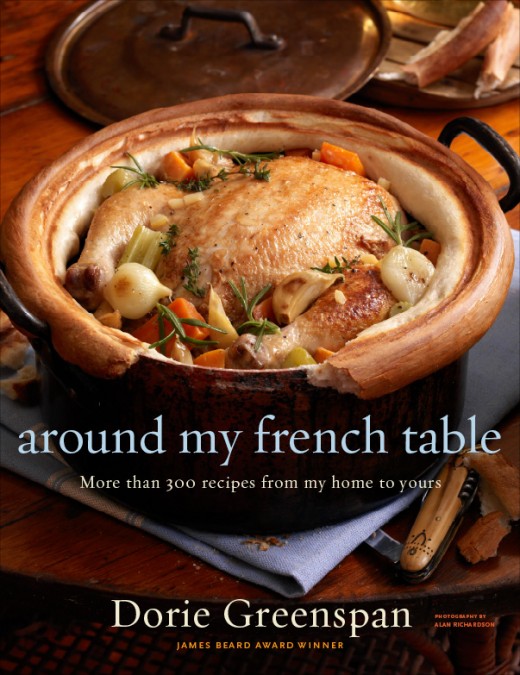 It was at least twenty-five years ago that I attended a dinner at the James Beard Foundation in New York City as part of the research that I was doing for an article on this organization for a British food magazine. I was living in London in those days and had flown back to New York to work on this story and several others, and I was spending long hours in the New York Public Library in a race to get all of the material I needed before returning home to England. The Beard people very graciously invited me to dinner as a way of seeing their work in action and walking to this townhouse in Greenwich Village on a brisk autumn night I was overcome with a bout of the same shyness that had made me such an incorrigible book worn as a little boy. I skulked on the sidewalk out front for a while, then finally summoned the nerve to march into a party where I knew no one. I hovered with a glass of white wine in hand in a corner for a while, and then it was time to go in and sit for dinner.
I didn't know a soul at the table where I found my place card, while most of the other guests all seemed to know one another and plunged into a conversation that left me very much on the periphery. I was starting to fear that it was going to be a long haul of an evening when I very pretty woman with a pixie-like face and a lovely smile introduced herself to me. "Hello," she said. "I'm Dorie Greenspan, and isn't it nice to see a new face at one of these events." And through this characteristically kindly gesture, a twenty-five year friendship was launched that's led to dozens of wonderful meals together in both New York and Paris.
The meals with Dorie that I've most enjoyed have been those she's cooked in her own Paris kitchen. She's one of the most talented cooks I know, and she has a culinary grace and style all her own, which is why I was thrilled to receive a copy of her brilliant new cookbook, "Around My French Table: More Than 300 Recipes From My Home to Yours."
If many of the recipes in this book are Dorie's, she also had the very original idea of calling in recipes from her many friends in Paris with the idea of creating a cookbook that truly shows how those of us who live in Paris eat and cook now. If they're some wonderful classics in this cookbook, it also includes a variety of terrific contemporary recipes by other talented Parisian cooks like David Lebovitz–his seaweed sables are superb, Betty Rosbottom, and local chefs like Daniel Rose, the chef at the very popular Spring restaurant. There's even a recipe by yours truly for a Dominican style roasted pork loin that I learned years ago while living in a mostly Dominican neighborhood on New York City's Upper West Side (yes, I love to cook, and cook constantly; I don't in fact think that anyone can review restaurants with any real honesty if they're not in the kitchen themselves on a regular basis).
What's really brilliant about this book is that it's Dorie's break-out cookbook. If the world has long known that she's an exquisite baker and dessert chef, it's only those of us who've been lucky enough to sit at her table who've known that she's a damned good cook, full stop, and one of the best fish cooks I've ever come across. Dorie's book is as much fun to read as it is to cook from, too, since the stand-firsts on every recipe constitute a delicious portrait of culinary life in Paris today. Having already made Dorie's Jerusalem Artichoke Soup with Parsley Coulis and Chicken Breasts Diable, I know this book is going to live on the shelf in my kitchen, as opposed to becoming part of the alarming collection of cookbooks that reside in my office and which I'm constantly worrying may one day put a whole in the ceiling of the apartment on the floor below me.
—————————–
As soon as I reached Saturne, I loved the look of this new bistrot a vins not far from La Bourse in the 2nd arrondissement. The shop space up front is furnished with beautifully made oak open shelving to stock the wines on sale here, and a ramp leads up to a bar and the main dining room, which occupies a very pretty 19th century former atelier space with an old-fashioned atrium roof of glass and steel. The same soothing decor prevails in back, too, with smooth oak tables, soft lighting, and handsome Danish modern chairs (For design buffs, Danish modern is currently enjoying a major comeback all over Europe right now). All told, an elegant and very graphic space, plus an open kitchen where you watch the chefs at work.
Though the restaurant had only been open for a day or two, it was packed the night I went–news of this opening had gone through the cyber space of Paris like a shot, and maybe this explained the rather tetchy welcome we received when we arrived–as far as the crew here was concerned, they'd already shot a bull's eye and they were all feeling sort of smugly proud of themselves. Inspecting the brief menu, which offers a choice of four courses for 39 Euros or six courses for 59 Euros, we decided to go whole hog, and then had a slightly puzzling chat about which wine to drink with dinner with sommelier Ewen Lemoigne, who previously worked at Racines in the Passage de Panorama with Saturne's chef Sven Chartier. Unfortunately they hadn't yet gotten around to printing up the wine list yet, so Lemoigne, an ardent believer in natural and biodynamic wines, suggested a Saint Peray, which was pleasant enough but shading to a bit more sweetness than would have been ideal with the menu that followed.
Our meal began with a pretty composition of sardine filets, raw shrimp and baby cucumbers lightly dressed with Savagnin wine vinegar and garnished with herbs, including wild fennel, and nasturtium flowers that add a bright burst of color to the plate. It was a perfectly pleasant dish, with varying tones of iodine, salinity and sweetness, but it stopped short of being particularly original. Next, veal sweetbreads meuniere with a dull comma of oyster sauce and a few slices of button mushroom, again nice eating, but nothing earth-shaking.
Filets of line-caught sea bass followed with delicious baby spinach and rather desicated smoked mussels in a buttery foam, another better than average but not especially memorable dish, and then the high-light of the meal, which was a thick and absolutely delicious chunk of Challans duck cooked rare but with a fine crispy skin and a side of red beets, a wonderful pairing. An excellent cheese plate followed, and then dessert, which was a somewhat over-seared piece of brioche perdu with fresh rasp and delicious grilled corn ice cream, the latter being the most original and surprising element of the meal.
All told I found myself musing on a favorite Curnowsky quote–"Sauces comprise the honor and the glory of French cooking," and deciding that this meal would have left him a bit puzzled. I enjoyed my dinner, as much for the very witty conversation of the lady from Kansas with whom I was dining as for the food, but good as it was, I'd be more inclined to pick up the phone and book dinner at Spring if I wanted some truly dazzling market-driven cooking than I would to return to Saturne.
Saturne, 17 rue Notre-Dame des Victoires, 2nd, Tel. 01-42-60-31-90. Metro: Bourse. Open Monday to Friday for lunch and dinner.