BISTRO VOLNAY: Low-key Parisian Chic and Good Modern French Bistro Cooking, B; NOTA BENE: Musings on the Cyber Stew; A MOVEABLE FEAST: A Terrific Read and a Wonderful Gift for the Holidays
November 6, 2010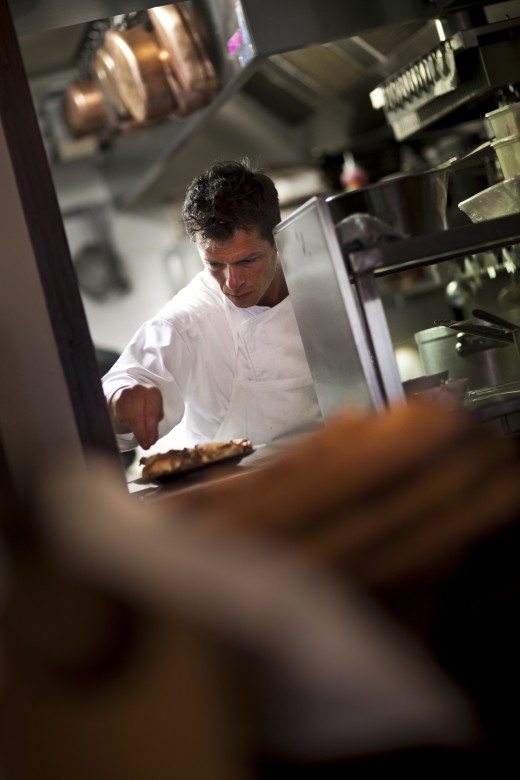 Chef Thierry Dufroux at Le Bistro Volnay Since talented chef Thierry Dufroux took over the kitchen in May, Le Bistro Volnay, on a quiet street behind the Paris Park Hyatt hotel and the Place Vendome, has become one of the hippest restaurants in town, or the kind of place where you recognize well-known faces in the hip and very good looking young fashion and media crowd who've made this place one of their favorite watering holes.
Run by Magali, who's put together a really superb wine list, and Delphine, it's a wonderful looking restaurant with a New York supper club vibe and a low-key but wonderful art-deco inspired decor that's mostly black with the punctuation of some really good art and a row of milk-glass ball suspension lamps over the bar. Aside from Dufroux's very good contemporary French bistro cooking–his impressive resume begins at the Hotel du Palais in Biarritz, includes stint at Michel Guerard, Bernard Loiseau, Chez Sarko, aka the Elysees Palace, and most recently with Alain Ducasse in Monaco and at Ducasse's cooking school in Argenteuil, what I love about this place is that it proves that hip young Parisians really do know and like good food beyond the identikit menus at the Costes Brothers tentacular empire.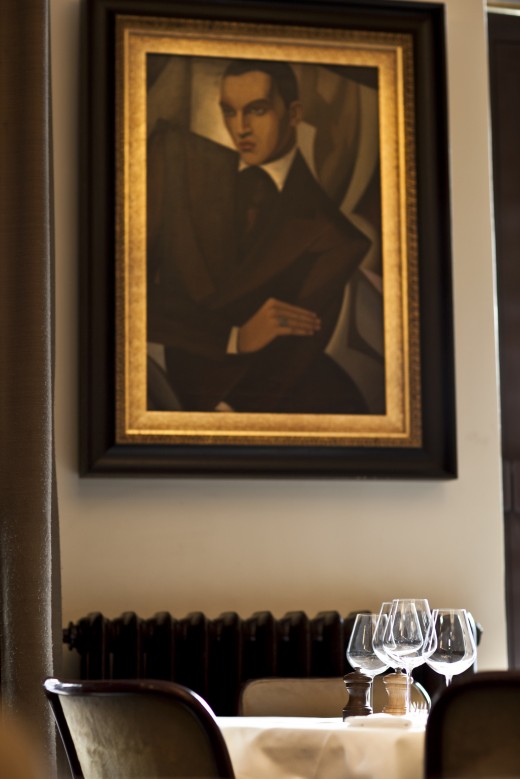 Dining room at Le Bistro Volnay
Stopping in for dinner on Friday night with my friend Maggie, we loved the white Saint Aubin that Magali poured us an aperitif, and then a superb terrine of wild hare with foie gras for her and a bouillon de cepes (cream of porcini soup) for me. Since I'd been eating game all week, I let Mags make the most of the current game menu, and her roasted pheasant was outstanding, while my sea bass filet came on a bed of plump white coco beans with cubes of chorizo and a dribble of herbal pesto sauce and was delicious. Looking around the room, the fauna here reminded me of the Cafe Luxembourg on New York Upper West side when it first opened, or a place with the same stylish, arty vibe and a wonderful crowd.
After finishing up the superb Chambolle-Musigny that Magali poured for our main courses, Mags went for the Grand Marnier souffle, which she found a little too sweet, and it was, and I had a pear poached in spices with a light chocolate sauce that was excellent. All told, a very good meal, and since this address is within walking distance of so many hotels in central Paris, it's a great place for visitors to bear in mind. The only thing I regret about the Volnay then is that it's only open from Monday to Friday. Be sure and book, too, since the place was packed the other night and also has an avid crowd of regulars at lunch.
Le Bistro Volnay, 8 rue Volney, 2nd, Tel. 01-42-61-06-65. Metro: Opera or Madeleine. Open Monday to Friday for lunch and dinner. Closed Saturday and Sunday. Three-course prix fixe menu 36 Euros.
——————————
Following an indignant email conveying disappointment with a restaurant I'd reviewed here recently–Le Restaurant du Marche, I've been musing on the impact of the internet on my chosen metier, which is perhaps best described as gastro scribe, a fusion of two of those things–writing and eating, that I've loved ever since I have any memory of doing either.
In the main, I think the internet has been brilliant for food writing, since it opened a window on a rather stuffy and often precious world and let in some fresh air. It's also wonderful to be able to address you as directly as I do here every week, and I think that the rambunctious, sometimes fractious but always heart-felt exchange of opinions that stunningly immediate technology facilitates is not only healthy but often quite wonderful.
On the other hand, the explosion of food websites and user-arbitrated forums has also created a sharp-elbowed, speciously competitive, and often petulant peanut gallery that has every right to its opinions but which has collectively forgotten that reviewing restaurants, writing about food, developing recipes, etc., constitute a profession that may lack the gravitas of law or medicine but which still requires real credentials, not the least of which are an intense seriousness, personal probity and years of experience. To wit, everyone has a right to their opinion, but an opinion alone is not what the best food writing is about.
Let me explain. I've probably been to La Tupina, a restaurant I like very much in Bordeaux and discovered thanks to Jonathan Meades of the London Times and Patricia Wells, ex-International Herald Tribune, several dozen times over the past twenty years. If, say, 30 of the 48 meals I've eaten there have been very good or better, and maybe ten really excellent (none of these lately, I'm afraid), there've been other occasions when I've had a just plain good, or even an okay meal here. But I'd still stand by this place because I know not only the chef and the quality of the produce he uses, but I also understand that cooking, like any other performance activity, can vary vastly from one meal or recipe to the next. Consider the hundreds of times I've made spaghetti carbonara–sometimes it's so good, I'm misty eyed when I get to the bottom of the pasta bowl, other times, it's just okay. Similarly, recipes, like restaurant reviews, don't come with a guarantee–I mean, how could they, since cooking is as variable as any other essentially scientific activity, and this is why it disturbs me to see how often the websites of immensely talented and experienced chefs are treated like dart boards by the culinarily befuddled, a clan that I'm occasionally part of too.
A restaurant review, then, is like a theater review. An informed, deeply considered analysis of the overall performance and potential of a kitchen and dining room that takes into account the possibility that some dishes will be better than others and that even the best restaurants have off nights. In fact, the next time you go to your favorite restaurant, I'd invite you to consider the fact that there's surely someone in the room who is doubtless having what they'd deem to be the worst meal they've ever eaten in their lives. And this is another reason to be wary of ego-driven mad-hornet bloggers who follow in the foot steps of those very few surviving marquee food critics, have a disappointing meal, and then rush home to pen a post about how the emperor has no clothes. While everyone's palate must be said to be perfect, because they know what tastes good to themselves better than anyone else could, the same case cannot be made for everyone's gastronomic judgement. We still need bona-fide experts, and as someone who travels often, usually to eat as well as I can, I'm very grateful that they're still there–those who really know better, to help me make sense of the often fascinating, frequently peppery, but not infrequently wrong-footed calls of the food blog bog in every city I visit.
————–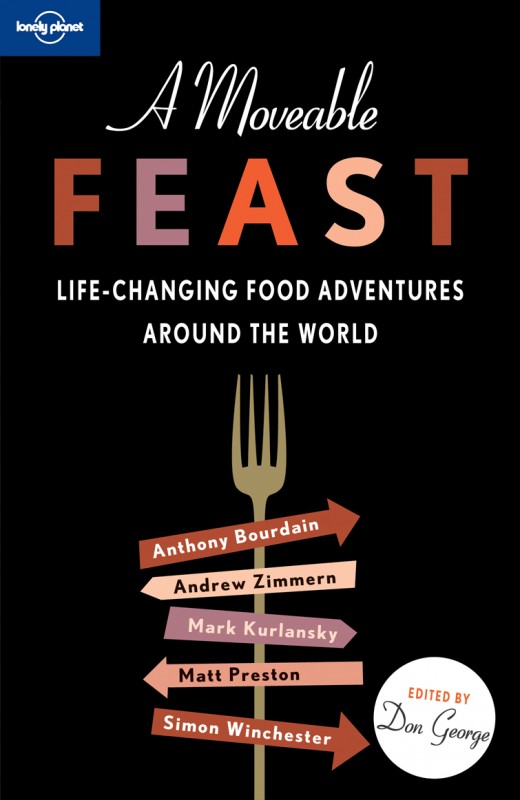 Even beyond the fact that I contributed an essay about a magical lunch in Portugal many years ago to A Moveable Feast, a newly published book of "life changing food adventures around the world" by Lonely Planet, I think it's just swell. I love reading about other people's culinary epiphanies, and they're lots of those in this absolutely delightful volume that was conceived and edited by crack editor Don George.
I'm in good company, too, since many friends, including William Sertl, David Lebovitz and Karen Coates are also contributors, along with head-liner names like Anthony Bourdain, Mark Kurlansky–one of the best food writers in the world today, in my humble opinion, and Simon Winchester.
This is a terrific arm-chair read for food-loving travelers or traveling food-lovers, and it's also an ideal and, at $14.99 cover price, affordable gift with the holidays looming.
A Moveable Feast: Life-Changing Adventures Around the World, Edited by Don George, Lonely Planet, $14.99.