Living the Sweet Life in Paris by David Lebovitz; a brilliant Japanese table and a Left Bank letdown
May 9, 2009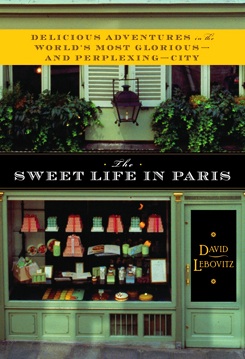 As an American in Paris for almost 23 years, I took a particular pleasure in reading David Lebovitz's delightful new book LIVING THE SWEET LIFE IN PARIS. Lebovitz, one of America's most renowned pastry chefs, a hugely successful cookbook author and blogger extraordinaire (www.davidlebovitz.com) recounts his decision to move to Paris and the sweet-and-sour baby steps of learning a new language and culture with wit, grace and trenchant honesty, which makes this book a far cry from the usual extremes of this genre.
Much too often, the tone of books about living in Paris by Americans runs to treacle or battery acid, with most of the herd tending to the former rather than the latter. What Lebovitz has penned instead is a nuanced and very personal take on Paris. As he said to me over lunch several weeks ago, "Many Americans spend a week in Saint Germain and think they've been to Paris, which makes about as much sense as saying you know Hawaii after a visit to Waikiki."
Refreshingly, the epicenter of Lebovitz's Paris are the city's 11th and 12th arrondissements, where he continues to perfect his terrific recipes–they're many of them interleaved through the chapters of this memoir as well–in the tiny kitchen of his apartment, shops at the wonderful Marche d'Aligre and deepens his gastronomic knowledge by working at a poissonerie and a chocolate shop.
If he mostly enjoys his new life in Paris, he also discovers that the rose has a few thorns. The ACCUEIL (welcome) desk of any French department store, or the customer-service department, is unfailingly the least welcome place one can imagine, and Parisian grocery stores, specifically the FRANPRIX chain, are small, filthy, inhospitable, and poorly stocked when compared the average American or English super market (yes, yes, yes, the city has wonderful outdoor markets and great specialty shops, but everyone needs a good grocery store). He also ponders the peculiar incapacity of Parisians to understand or respect the American/British habit of standing in line, and rues the ambient aggressiveness of Parisians in any public setting. (He missed a couple of my pet peeves, including pay toilets in train stations and the general Parisian indifference to environmentally correct behavior like recycling and conservation). The coffee in Parisian cafes is generally ghastly, too, and hand-held shower attachments (as opposed to wall mounted) are a miserable inconvenience.
In general, however, he finds the city utterly delectable, and after five years here, he considers himself a dyed-in-the-wool Parisian. How did he know that he'd become a Parisian? He realized it the day that he took a shower and put on a clean shirt just to take out the garbage–as he quickly learned, appearances are everything in Paris, and this is one of the reasons that the city is such a lovely place to live. Clerks in pastry shops tie up your purchases in beautiful paper pyramids, the fromages really are fantastic, and oh the pastry shops!
A treat to read, LIVING THE SWEET LIFE is also a great source of insider's tips–Lebovitz divulges that the city's best hot chocolate is to be found at the tiny Patisserie Viennois in the 6th on the rue de l'Ecole de Medecin and his favorite chocolatier–Patrick Roger in the 16th. As always, Lebovitz's recipes are both tempting and impeccably written. Just in time for summer, this is a great arm chair read that will tantalize anyone who is planning a trip to Paris as much as it amuses anyone who knows the city well. I highly recommend it.
—————–
Since I've lived in Paris, the rue Saint Anne has quite wonderfully become the city's preeminent Japanese restaurant zone, which is a real boon to anyone looking for a cheap, expedient and delicious feed in the heart of the city. The challenge, of course, is to know which of these places are the best. A big fan of gyoza (grilled Japanese dumplings) and noodles, I've been assiduously and very happily eating my way through the area for years, and finally have discovered what I think is the best noodle-gyoza restaurant in Paris–Hokkaido. I went for lunch on this rainy Saturday, and there was already a line at the door when we arrived. A mixture of Japanese residents of Paris and Asian food-lovers, they all clearly knew that this simple, busy place serves outstanding food. Today we scarfed down a double portion of gyoza (God are they good), and then Bruno has udon noodles sauteed with vegetables and beef and I went with the tonkatsu (fried breaded pork cutlet) in a bento box on rice with enoki mushrooms and a lightly scrambled egg. Both dishes were absolutely delicious, and lunch for two with two mugs of green tea was less than 30 Euros, making this place one of the best bargains in Paris. 14 rue Chabanais, 2nd, Tel. 01.42.60.60.95. Metro: Quatre Septembre or Pyramides.
————————-
Since it regularly breaks my heart to see visitors to Paris falling prey to the myriad tourist-trap restaurants in Saint Germain des Pres, I follow new openings in this neighborhood with extra vigilance, always hoping that maybe another good new place might be added to the short roster of honestly good restaurants in this eternally popular part of the city. Thus I was hopeful when I walked by the great-looking new l'Atelier Mazarine on the rue Mazarine a few days after it opened. Off I went with my friend Judy who lived nearby, and we settled into high stools with low backs in the narrow dining room with high hopes. Low lighting, exposed stone walls, reasonably friendly service, and a country ham in a brace on the long counter that runs the length of the space were encouraging, and the short menu was interesting. Alas, things went off the rails right from the start. Judy's lightly grilled tuna came with a drab eggplant salad and a strangely fermented pistachio crumble–a composition that had no coherence whatsoever, and my grilled shrimp were a bore. Next, overcooked John Dory with a silly "vegetable sausage" for Judy and an awful griddled veal tartare with Parmesan for me. Drinking the cheapest red on the menu and skipping dessert, we still end up spending over a 100 Euros, which made this place not only a disappointment but an expensive misfire. So give it a miss and head for the excellent L'Epigramme (9 rue Eperon, 6th, Tel. 01-44-41-00-09. Metro: Odeon. Booking essential) instead.
L'Atelier Mazarine, 43 rue Mazarine, 6th, Tel. 01-43-54-12-43. Metro: Odeon.