"Thoroughly Modern Milkshakes" by Adam Ried; Au Boeuf Couronne, Paris , B+
July 7, 2009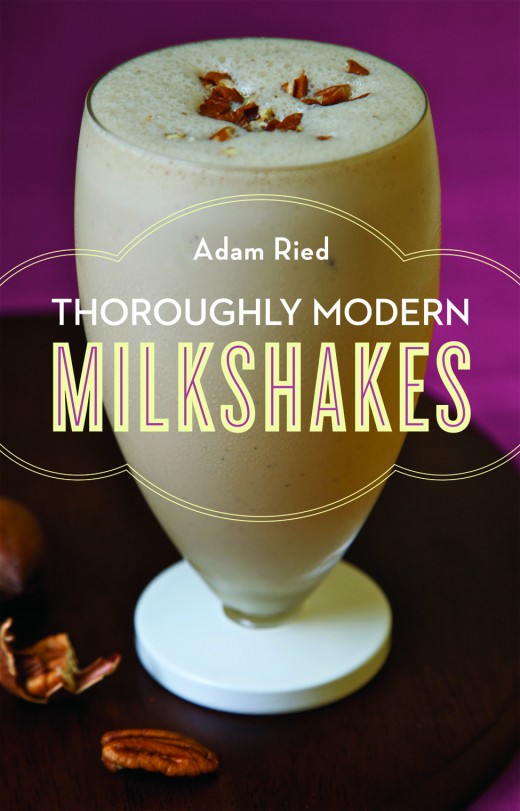 If you work at home like I do, going downstairs to get the mail is a highlight of the day–what welcome distractions from my keyboard will I find when I open the mailbox? Yesterday there was a bubble-wrap mailer from W.H. Norton in New York, and I ripped the package open in the cobbled hallway of my building in eagerness to see what it contained.
It was a thrill to find a copy of my friend Adam Ried's beautiful new book "Thoroughly Modern Milkshakes" enclosed. Adam, whom I met when he and his partner moved to Paris for a year, is one of the most naturally talented cooks I know, so I couldn't wait to get upstairs and dive into his new pages. Right off the bat, this beautifully produced book–lovely photographs, good paper, excellent editing, all a real rarity in the modern world of publishing, was a charmer. He'd told me about the book when I saw him in Cambridge, Mass. where he lives last winter, and having had the pleasure of many meals cooked by Adam, a former editor at Cook's Illustrated and presently the cooking columnist for the Boston Globe and kitchen-equipment specialist on PBS's popular "America's Test Kitchen," I was certain it would be a lot of fun.
And so it was, with the head notes, or the introductions to each recipe, being so much fun to read that I immediately sent an email about a generalized power failure in my Paris neighborhood to the poor woebegone editor who was awaiting an overdue story from me, and cozied up in the kitchen, my favorite place to read, with his book. Talk about good timing–in the midst of this ambient gloom, when everyone I know is counting centimes and hopefully hunting down life's simpler pleasures, a milkshake cookbook is a real bull's eye.
If I still think fondly of the banana-vanilla-ice-cream-and-maple-syrup milkshakes Mom made with our noisy but indestructible Waring blender as an after school treat, Adam showed me that the genre offers vastly larger and more intriguing possibilities, including a vanilla, rum and grilled cashew shake, a maple-bacon shake (two of my favorites flavors in one fell swoop), and a triple peach and buttermilk shake. Suffice it to say that my Kitchenaid blender got a real workout last weekend, and that the maple-bacon shake has become my all-time favorite.
This charming book is ideal for families, the newly divorced, singles of all ages, and as a house present for anyone you might be visiting this summer. As Adam says, "Shake, Rattle and Roll."
———
So finally the weather in Paris broke, and I was suddenly hungry for a real feed but not in the mood to prepare any meal more complicated than a plate of the sublime Corsican charcuterie I'd brought back from a recent trip and a tomato-mozarella-basil salad with one of my new favorite olive oils–Christian Mons Catoni's "Fruite Noir," which is made from lightly fermented black Corsican olives. What I really wanted was to sink my teeth into a good steak, and when Bruno got home from work, we compared our respective desires (happily, they were in synch) and set out for Au Boeuf Couronne in the distant 19th arrondissement.
I had been here since a long ago dinner during which actress Leslie Caron spent the whole evening attacking a tete de veau with a mallet, a process she did with her usual elegance, although both Judy and I ended up being spattered with various bits of calf's head, but a friend who just moved into this neighborhood–La Villette, or the district where Paris's slaughterhouses were once located, recently raved about a steak feast she'd had there. So we put the top down on Bruno's little black convertible and set off through a mostly empty city that seemed to be regularly punctuated with billboard's advertising a new halal chicken loaf.
The restaurant hadn't changed a wit since I was last there, nor, thank goodness, had the menu. Deciding to defy the cholesterol odds for a change, I ordered a frisee salad with a poached egg and lardons and a filet, while Bruno went with the marrow bones (which looked like they'd come from a dinousaur) and a faux filet. I was rather let down that they weren't doing their sublime pommes soufflées, or potato slices fried so that they puff up, but the pommes dauphine the waiter proposed in their stead were worth the trip across town. These perfectly deep fried golden nuggets of choux pastry mixed with mashed potatoes had a slight whiff of nutmet and were absolutely heavenly with one of the best pieces of meat I've eaten in a very longtime. The frisee salad wasn't cooked to order–the lardons were cold, as was the egg, and a squiggle of reduced raspberry vinegar had no business being on the plate whatsoever, but our main courses were a triumph, the waiter was charming, and it was a real pleasure to be in an old-fashioned Paris restaurant that didn't reek of marketing.
Open seven days a week all year long, this delightful place really is worth the cab fare for diehard carnivores.
Au Boeuf Couronne, 188 avenue Jean-Jaures, 19th, Tel. 01-42-39-44-44. Metro: Porte de Pantin. Average 45 Euros.