A Bona Fide Bistro du Quartier
August 29, 2008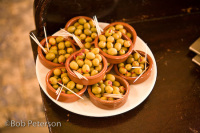 Ever since I moved to the rue Saint Lazare a year ago, I've been happily discovering the wonderful vie de quartier along this narrow, pretty street, which is lined by some very beautiful 18th and 19th century buildings. (N.B. The rue Saint Lazare I'm referring to runs from the rue Notre Dame de Lorette to the Place Estiennes d'Orves, and has nothing to do with the broad, traffic chocked artery of the same name that constitutes the other half of the street). Not only are there several excellent bookstores along this ancient road, along with a couple of superb antique shops and one of the oldest and most distinguished parfumers in Paris, Detaille at No.10, but it also has a wonderful assortment of cheap, low-key neighborhood restaurants, my favorite of which is Aux Sources.
A self-described "Bar-Brasserie," Aux Sources is a hugely popular and very simple little hole in the wall that gets packed to the gills a lunchtime with a curious but amusing mix of fashion execs from the nearby Galeries Lafayette offices, bankers and brokers, and harmless neighborhood odd balls who stop by for a drink or three and a chat with the amiable patron, known and appreciated for his generous pour.
The mise en scene: there's a bar just inside the door, a hard-working young cook works in a kitchen in the corner of the room, and the small room is dominated by exposed stone walls, mosaic floors and a wry waitress in leopard-print mules rules the roost with her raucous voice and friendly teasing. I took a friend from Chicago to lunch here yesterday, and he was agog–"This place is exactly like a French movie!", said Tim. And it is, right down to the mustard pot on every table and the perforated aluminum bread basket filled with excellent baguette. While we studied the menu, the waitress told a bunch of neck-tie wearing bankers to order the steack tartare, so that they could "please a woman, for a change," and listened patiently while a stout lady in a house coat, clearly a regularly, told no one in particular that the reason she couldn't lose any weight is because she only eats pasta and potatoes. "Eh bien, ma petite, t'as une vrai probleme," quipped the waitress for the benefit of all adjacent ears.
We ordered oeufs mayonnaise (hard-boiled eggs with big dollops of delicious ivory-colored homemade mayonnaise) and a plate of freshly sliced jambon de campagne to start, and then Tim had the tartare and I went for the plat du jour, Les Petits Farcies, a Nicoise dish of eggplant, tomato and zucchini filled with a fine veal stuffing and baked. The tartare came with real pommes sautee (crisply fried potatoes) and was perfectly seasoned, while my vegetables were bathed in a delicious thyme-scented fresh-tomato sauce. "I think it was because of places like this that people used to say you couldn't get a bad meal in Paris," observed Tim, and he's right. These very simple, neighborhood places with real cooks and a lot of pride in what they serve used to be the bedrock of good eating in Paris. Unfortunately, rising rents and changing eating habits–central Paris is increasingly filled with salad and soup bars–mean that they're becoming scarce.
Next, having noticed the excellent cheese plate on the table next to us, we decided to split one, and it was outstanding–perfectly ripened camembert, reblochon, comte and bleu d'Auvergne, an ideal quartet with which to finish up our 50 cl pitcher of very good Coteaux Lyonnais red. When I complimented the waitress on the cheese, she briefly emerged from her bawdy serving personna. "Merci," she said with a gentle smile. "I buy them myself at a cremerie in the rue des Martyrs every couple of days and, If faut qu'ils soit bien, bien affinee," she said (They must be perfectly aged)."
In the end, Aux Sources always moves me, because it unfailingly reminds me of why I fell so hard for Paris all of those years ago–the delicious food, the ambience of communal pleaure in the dining room, and the wry banter of the waitress, which implies, "Eh oui, the world's going to hell in a hand basket, but that doesn't mean we shouldn't all have a good lunch before the curtain drops."
Open for lunch only from Monday to Saturday, and our meal cost us 19 Euros a piece.
Aux Sources, 31 rue Saint Lazare, 9th, 01.48.74.20.89