ANNE-SOPHIE PIC, Lausanne, Switzerland: The Lap of Luxury, A-
April 9, 2011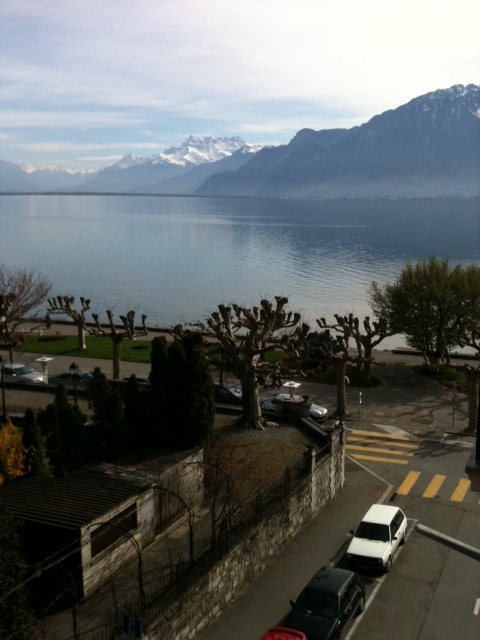 Room With a View I spent much of last week traveling in Switzerland with friends, and enjoyed several really spectacular meals in towns along Lac Leman (Lake Geneva in English), or the French speaking swathe of the country known as 'La Suisse Romande.'
Not having traveled in Switzerland for a while, there were several things that consistently impressed me beyond the excellence of the individual meals. First off, the outstanding service–whether we'd popped into a simple restaurant for lunch or were dining in Michelin-annointed palaces, the welcome and well-drilled attention of the dining room staffs was so good as to be almost a distraction–I'm simply not used to being waited on by people who are so gracious and proud of their work. And then there was the produce, which was almost completely local and so excellent as to leave me feeling a bit wilted when I got back to Paris.
Arriving for dinner at the Lausanne branch of Anne-Sophie Pic (her main table is in Valence, France and has three stars) at the sumptuous Beau Rivage hotel, a Belle Epoque beauty with a dreamy lakeside setting, I found myself quietly wondering if Ms. Pic would be more successful at translating the gastronomic glory of her original namesake table to a branch restaurant than most chefs are–in my experience, it's almost impossible to replicate the quality of any great restaurant when the signature chef isn't in the kitchen.
Even before we'd been served our amuse bouches with aperitifs, I was impressed by the contemporary luxury of this elegant dining room with generously spaced tables, perfect lighting and tables set with etched Baccarat water glasses and hurricane lamps and small pretty bouquets of roses.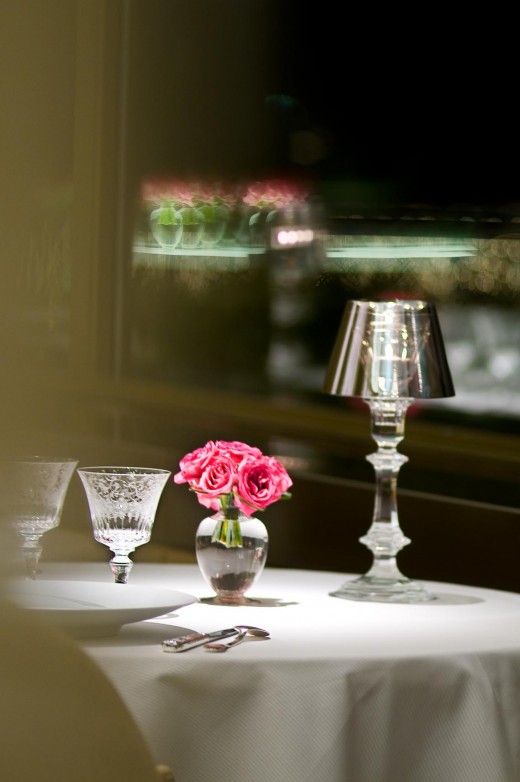 Since several of us had never been to Pic in Valence, we decided to order the 330 Swiss Franc tasting menu, but happily, I was able to substitute one dish on the a la carte menu that I was desperate to try–a deconstructed millefeuille of baby morel mushrooms in a cream of Gruyère Caramel and tarragon. This was my first course (the others had baby peas and Aquitaine caviar on half-spheres of white spring onion), and it was thrilling when it came to the table. First-of-season morels were penned into a miniature coral by four strips of flakey brown pastry and topped with a unctuous cream of Gruyère delicately teased with fresh tarragon. It was one of the single best dishes I've eaten in a very long time and a wonderful nod at the fact that we were in Switzerland and not France.
Next, a great Pic classic–succulent little crayfish tails in a golden capped gratin worthy of Escoffier, but created by Pic's grandfather, André Pic, in 1929. Slowly spooning my way through this dish, I found myself being quietly fascinated by the fact that a certain evanescent delicateness seems to be the culinary trademark of this distinguished family, a fact confirmed by the next course, which was a snowy filet of sea bass topped with Aquitaine caviar in an intriguingly light cloud of cream. Almost angelic in its purity, this dish was created by Anne-Sophie Pic's father Jacques in 1971.
Next a studiously modern riff on tournedos Rossini, or bite-sized chunks of tender beef cooked rare interleaved with matching cubes of duck foie gras and served on a bed of creamed leeks, a very pleasant dish but one that was a bit too reticent for my tastes. Though there was apparently a dash of nutmeg in the leeks, it was lost on me, and I'd have liked more punctuation in this dish, perhaps a little pinch of piment d'Espelette or even vadouvan, but the cooking and produce were impeccable.
Since the portions of this tasting menu were so dainty, I was in full form when the cheese trolley arrived and provoked a paroxysm of gluttony that I politely half-tamed, a restraint I've been deeply regretting ever since.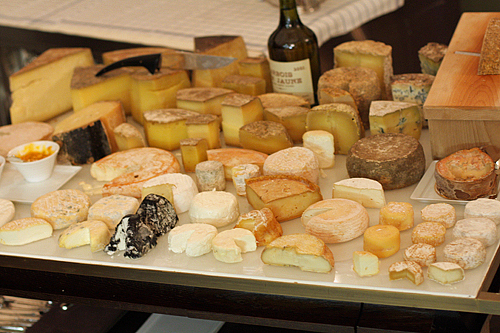 Left alone with this loot, I'd have savaged it, but in deference to my pals, I tried an excellent Swiss tomme and a spectacular slice of two-year-old Gruyère, with an excellent garnish of freshly roasted walnuts. A perfect Grand Marnier souffle with a side ramekin of blood oranges in a light syrup concluded this meal, and I have to say that I tip my hat to Anne-Sophie Pic, since she's been much more successful in transmitting the magic of her home table to this admirable Swiss outpost than almost any of the more ambitiously globe-trotting chefs that I've ever experienced. To wit, this really is Anne-Sophie Pic's cooking, with stunningly good service and a setting that's as comfortable as it is chic to boot.
Anne-Sophie Pic, Beau Rivage Palace Hotel, Place du Port 17-19, Lausanne, Switzerland, Tel. 41-21-613-3339. Open Tuesday to Saturday for lunch and dinner. Business lunch menu 75 Swiss Francs, Tasting menus 330 ST, 245 SF, 195 SF, Average a la carte 300 SF.