CANNES CANNES? Mais, oui, at LE 45, A-/B+; and a reboot of LA RESERVE in Nice, B
May 22, 2010
I've been to the Cannes film festival often enough to know that most festival-goers are little concerned by good food and that this is also generally true of the convention-goers who flock to this seaside resort town gone conference center on a regular basis, but with summer just about to come out the gate, I want to point out that there's a really terrific restaurant in Cannes for anyone who's likely to end up there either on holiday or for professional reasons during the upcoming months–Le 45 at the Grand Hotel.
It was thanks to a friend who lives locally that I found this place, since truth be told I'd never even noticed the Grand Hotel, which sits at the back of a deep and truly beautiful garden right on La Croisette. Until recently, it was the Miss Haversham of the seafront, but now the only son of the owners has taken over the reins and he clearly has ambitions for this place, right from recognizing that it has sort of a fabulous, funky TWA (defunct airline) style decor. Other people might have ripped this out once they took the wheel, mais Monsieur realized that this early sixties vintage look has suddenly aged to a point of rare fabulousness and so chose to renovate.
Likewise, he hired eminently talented young chef Sebastien Broda to take over a dining room which had catered to an elderly perma-tan crowd for ages and reboot it to draw people who aren't staying at the hotel. To be sure, this isn't a new idea in Cannes. Almost every shrewd hotel owner has the same idea every seven to ten years or so, but in this case, Borda shot a bull's eye.
On one of the first warm nights in early May, I went to dinner at Le 45 with my Paso Robles, CA pal Ginger and we had a terrific meal. She started with "Le Tourteau servi en émietté dans un verre, écume de yaourt, gelée de concombre-citron, poudre d'agrumes et huile d'avocat," which translated to crab meat with cucumber and lemon jelly, citrus powder and avocado mousse, a gorgeous summer starter, and I had a terrific composition of langoustines in a crispy angel's hair wrapper with asparagus, squid, Aquitaine caviar, a tiny salad of baby fava beans and grapefruit sections en vinaigrette. What impressed about both of these first-courses was Borda's puppy dog eager desire to play and to please, and more seriously, all of the hard work that went into these dishes. Our mains–baby kid with brocoletti in two different preparations, stuffed piquillo peppers and new-season garlic mousse for me and pigeon withasparagus, veal sweetbread in a hazelnut crust, and morel mushrooms with Spanishham for Ginger, were both brilliant. In fact with no disrespect to the talented Borda, I couldn't help but thinking that his cooking was reminiscent of a sort of junior version of Pierre Gagnaire.
We split a sublime orange-blossom mousse with kumquats, a macaroon and lemon sorbet for dessert, and both of us agreed that with the very sweet service and the quietest and prettiest garden terrace in Cannes–Le 45 serves outdoors in the Grand Hotel's stunning gardens during the warm weather, this restaurant is the one that's going to restore Cannes's gastronomic credentials at the beginning of a new century.
——–
Meanwhile, Bruno Oger, ex-two-star chef at Le Majestic, has just opened in Le Cannet, a suburb of Cannes. Popping in for lunch, we liked his neo-provencale cooking, but decided it was just too soon to judge this place, which smelled of fresh paint and the scary petroleum exhalations of new carpeting.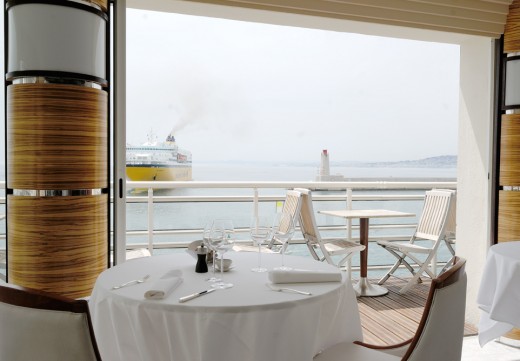 La Reserve in Nice
On the other hand, even with a rather dramatic chef change, La Reserve in Nice, seems to have rapidly reached cruising speed, which is good news, since this 1930s art-moderne place overlooking the Mediterranean is just about the only place to go in Nice if you want a view of Le Grand Bleu (the sea). To be sure, young chef Sébastien Mahuet doesn't cook at anywhere near the same weight as the defecting local star Jouni Tormanen he replaces, but his food is still very good and the setting is superb.
When I went to lunch with my ratty old ex- Christophe, the waves were so strong that they slapped the rocks below the restaurant and sent up a bracing saline spray. It was a sunny day, and we loved watching the mad men (and women?) in kayaks out on the choppy sea while we ate a light lunch–he started with a fricassée of white and green asparagus with morels mushrooms with an egg-yolk filled ravioli, grilled bacon, and Parmesan shavings, and uncharaceristically, I went with a salad, La Grande Riviera, a bush-whacked garden of artichokes, celery, zucchini, fava beans, radishes, baby lettuces and arugula with a shallot vinaigrette.
Next, a brilliant dish of John Dory barded with Italian ham and garnished with chickpea puree, roasted asparagus, artichokes and sun-dried tomato puree for me, and rougets (red mullet) for Christophe.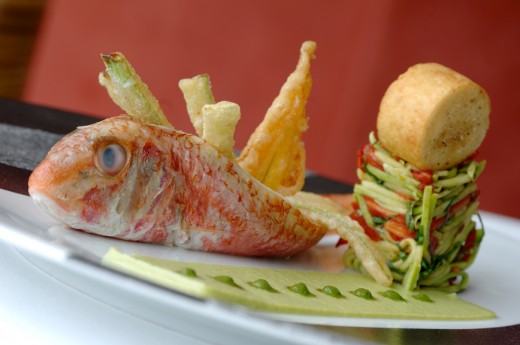 Red Mullet with Mediterranean garnishes
A fabulous peach melba and a plate of provencale cheeses (almost all of them goat cheeses and wonderful with the rest of our bottle of Bellet) concluded this meal, and if it lacked the fireworks of Jouni, the Finland born culinary genius, it was still a fine southern French feed.
CARNET D'ADDRESSES
Notre Dame des Anges (chef Bruno Oger), rue Notre Dame des Anges, Le Cannet, Tél. 04-92-18-18-28, A la carte 65 Euros.
Le 45, Grand Hotel, 45 boulevard de la Croisette, Tel. 04-93-38-15-45. A la carte 85 Euros.
La Reserve de Nice, 60 boulevard Franck Pilatte, Nice, Tel. 04-97-08-14-80, Prix-fixe menus 95 Euros, 65 Euros, 45 Euros, a la carte 80 Euros.