CLAUDE COLLIOT–B; And Viva Barcelona!
December 5, 2009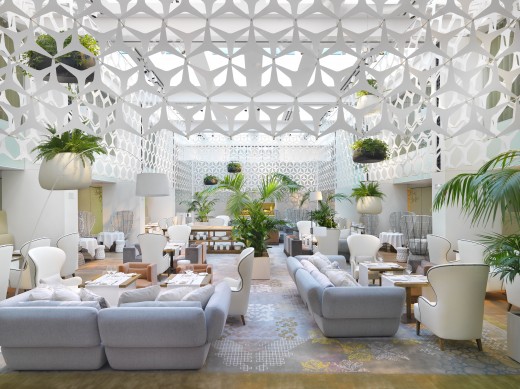 Atrium lounge at Mandarin Oriental, Barcelona
For many years I lived in the rue du Bac in the old stables at the head of the courtyard of the building next door to the Chapelle de la Medaille Miraculeuse (Chapelle of the Miraculous Medallion, so named because a nun named Catherine Labouré who once lived in the convent here claimed to have been given a miracle-working gold medallion by the Virgin in 1830). On summer mornings, I often woke to the other worldly sound of the nuns singing, but the only real miracle that befell me while in the vicinity was when chef Claude Colliot opened his charming little restaurant La Bamboche around the corner from me in the rue de Babylone in 1998. At the time, there was almost no where really good to eat within an easy leg of my front door, so these two terra-cotta washed dining rooms came as a god send. Colliot's charming wife ran the dining room, and he sent out excellent and very imaginative contemporary French dishes.
As time went by, though, Le Bamboche became so popular with visiting and resident Americans that I grew a bit shy of the place, and then Colliot moved on to run an unlovely restaurant called L'Orenoc at the Merdien hotel at the Porte Maillot, not a part of the world I find my way to very often. He seemed very out of his element there, the dining room was an awkward corporate space, and I ate there twice with no memory of anything I'd eaten a few days later.
So I was heartened to hear Colliot had gone out on his own again with an eponymous table (Claude Colliot restaurant) in a somewhat unlikely location, the space most recently occupied by Le Dos de Baleine in the Marais. (Why unlikely? Though they're some good restaurants in the Marais, this neck of the woods doesn't have the same bourgeois ballast as the rue de Babylone–aside from a couple of types from the Centre Pompidou, it's hard to imagine who the lunch clientele will be).
Bref, I came for dinner with my friend David, and both of us immediately liked the the good-looking dining room–exposed stone walls, stylish comfortable modern chairs and hip light fixtures, even a little counter for solo diners (which won't work unless they put a mirror up, since no one eating serious food on a stool on their own wants to stare at a blank wall).
And then the meal started, and quite well, since the service here is outstanding. A promising wine list added to our anticipation, too–good wines, most of them bio or biodynamique–at good prices, and the smart and appreciated detail of filtered water, flat or fizzy, instead of bottled, were also encouraging. Then our first courses arrived, and converation stalled as we worked very hard to understand them. My grilled scallops on a spear of lemon grass also came with an egg yolk, some Microplane grated carrot slaw, and a dab of fish (anchovy, I think) paste. The scallops were cooked pellucid and lovely, but aside from the inevitable pleasure of dipping almost anything in egg yolk, the arcane constellation of flavors on my plate never made sense. Ditto David's "Crelice" (whatever that may be–why restaurants practice high-fallutin' menu poetry never ceases to amaze me–wouldn't it have been easier for all involved to say that it was a foie gras mousse?). "I'd love to go into the kitchen and fix this," David said after we'd both agreed that it needed salt, and then, what, maybe cumin seeds?
Fried slices of sweetbread with pedigreed Joel Thiebault carrots and another Microplane slaw (ginger, this time), renewed my confusion. I know Colliot can cook, and well, but these dishes were like mathematical equations that didn't add up, and unlike another chef who likes parsing out individual taste, Pieter Nielssen at La Gazzetta, there was no tenderness, no desire to please in any of these dishes. Instead this was decent but head-strong and very cerebral cooking that wasn't working very hard to make people happy.
When I talked to another friend about Colliot's food the next day, she described it as "'Kneel at my altar, if you must cooking,' " and I tend to agree, since the ultimate example of same was a very disappointing "larme de chocolat" (chocolate tear) where the chef had attempted to decline the natural tastes of chocolate with black olive tapenade and candied hazelnuts. Not unpleasant, but a good snap shot of why the heart's always more important than the head in really good cooking–you can be as creative as you want, but the ultimate goal should always has be to make people wildly, wildly happy, not to cook for your friends or critics.
So would I go again? Yes, I'll try Colliot another time–he's a good cook, but I just hope he retrieves his desire to please his customers as much as he did at La Bamboche.
———————
Still don't know what you're going to do for the holidays? Why not run away from it all and spend them in Barcelona, a city I've been head over heels in love with ever since I first visited and worked as an English conversation teacher in the early 1980s. I lived in a tiny studio in the Barri Gothic with regularly backed up drains, but when I had plumbing problems, I run away from home and spend all afternoon in a beach restaurant in Barceloneta eating fideo (vermicelli noodles) cooked with fish broth and squid's ink, garnished with fried squid and garlic mayonnaise–bliss!
That rundown, seat-of-the-pants Barcelona vanished a while back, but I still jump at any opportunity to visit the city, and so this weekend, I came down to write on various things for various people and ended up at the wooden counter of Koy Shunka, the new Barri Gotic sushi bar that's the sister of Shunka, Ferran Adria's long-running favorite.
I got there around 1.30pm, early for Saturday lunch in Barcelona, and settled into a seat at the sushi bar where one of the most charming sushi chefs I've ever watched or talked to (yes, yes, I know–that's part of their job, too) wielded a knife in a way that gave me goose bumps. After Manilla clams steamed in sake, he went to work on some Torro (fatty tuna belly) to create a dish garnished with sea urchin and almost invisible ribbons of Nori (seaweed) that I'll honesty never forget. Jesus was it good, as were four grilled shrimp from Palamos on a bed of rock salt, and a Chef's Special Roll of salmon, tuna, and avocado.
This was easily the best Japanese food I'd eaten since a trip to Tokyo four years ago, and it made me yearn for Japan again as soon as possible. My local consolation–I got to go back to my room in the breathtakingly elegant new Barcelona Mandarin Oriental and jive on the same wonderful aesthetic I'd just eaten, but in Hispano Zen visual terms. Hats off to Patricia Urquiola for the full bore chic of this place, which has a superb location on the Passeig de Gracias.
Oh, and I bought Pimeton, or smoked paprika powder, strong and soft, at the Santa Catarina mercat, so stay out of my way les douaniers!
Claude Colliot Restaurant, 40 rue des Blancs Manteaux, 4th, 01.42.71.55.45, Metro: Hotel de Ville, Avg 50 Euros. Closed Sunday and Monday.
Koy Shunka, Calle Copons 7, Barcelona, Tel. 34 934 127 939, Tasting menu 68 Euros,