Clover Grill, Paris | Les Halles Gets a Great New Grill, B+
December 5, 2016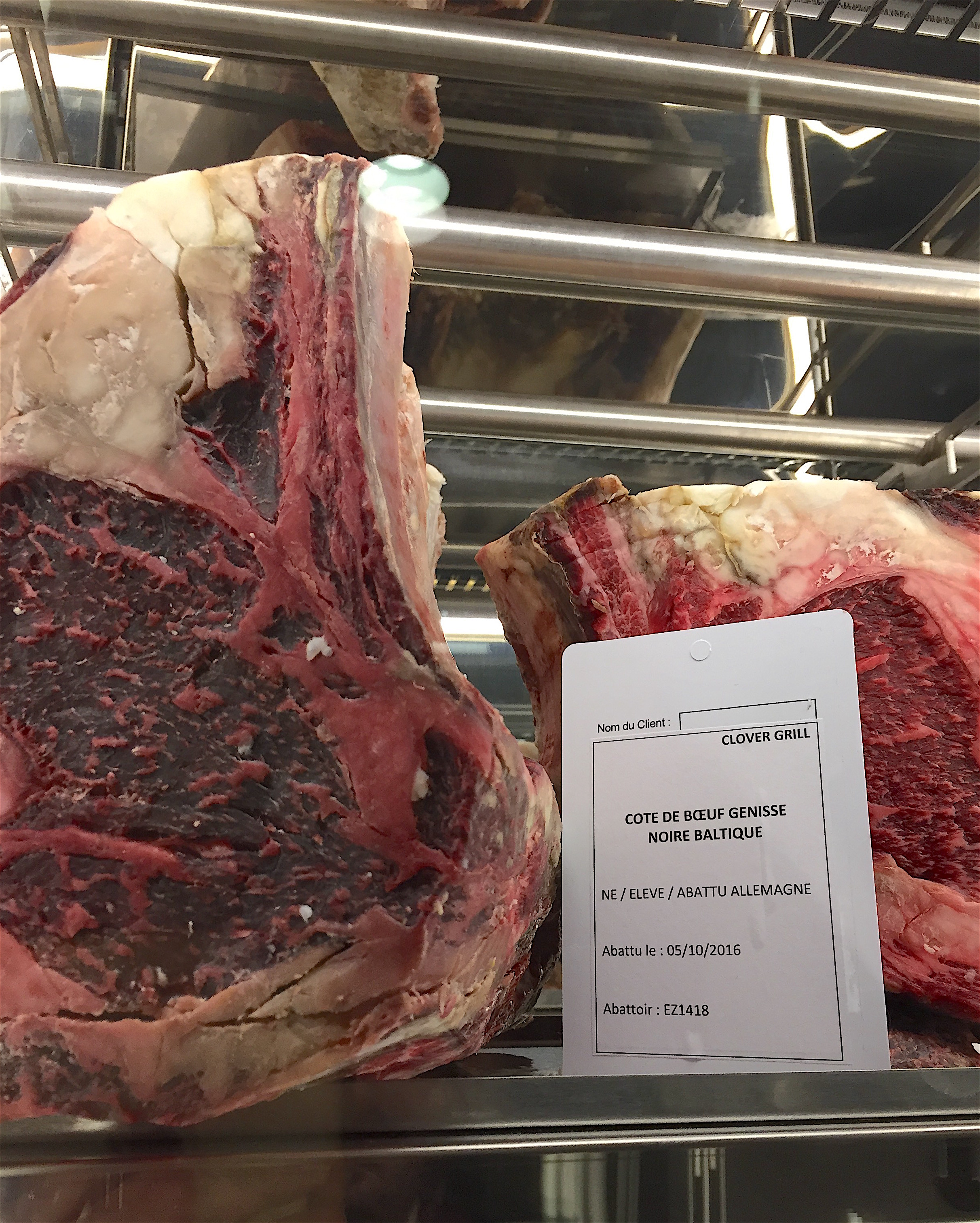 As Jean-Francois Piège has proven once again at the Clover Grill, his casually chic and wonderfully convivial new grill restaurant in an ancient side street in Les Halles, he's not only a superb chef but a brilliant restauranteur. If this convergence of talents might seem logical, even natural, the truth is that many gifted chefs are actually pretty hopeless when it comes to doing the social, aesthetic and financial engineering necessary to create a successful restaurant.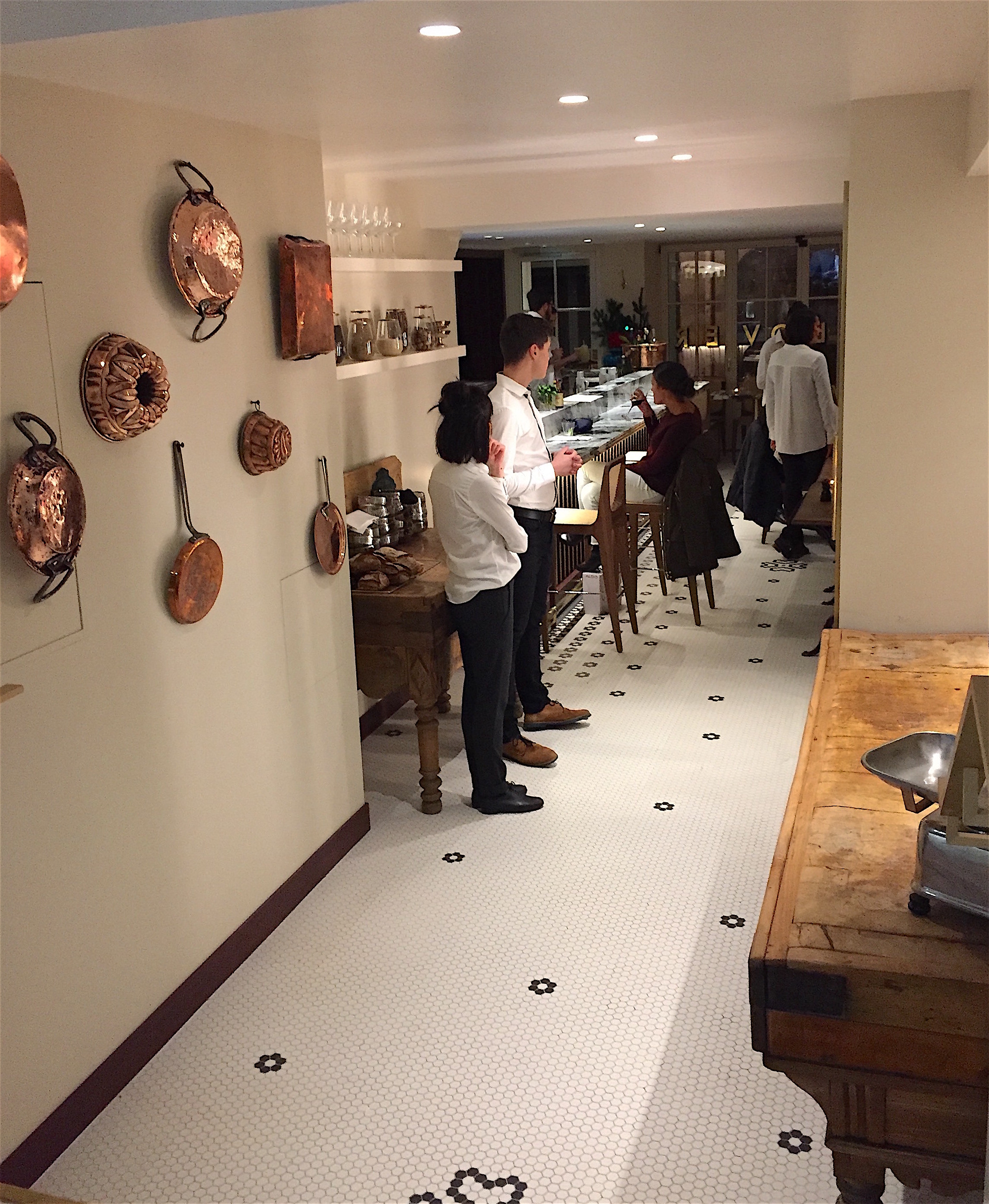 Piège created the Clover Grill, a handsome space with a jet-engine strength ventilation system, which means you're spared the curse of most Paris grill and meat restaurants–your coat smells like the meal you just ate for a week afterwards, with his wife Elodie, and the décor here is an expression of their assured and winningly witty good taste. The Pièges play with some tongue-in-check retro references to the decors once commonly found in French bistros and hotels with cabbage-rose wallpaper (Everyone old enough to have done a Eurail trip around Europe with a backpack or, in my case, ghastly tweed-sided American Tourister suitcase, will doubtless feel the twinge of a long dormant visual memory stirring when they spot this murky floral wall covering in the cozy second dining room here; for me, it's an instant ticket to a triangular shaped Lyon hotel room next to the train tracks with those hateful hard round pillows called a traversin rolled up in the top of the bottom sheet and a sink but no toilet in the corner), honeycomb tile floors, wainscoting, globe lamps and other Gallic memes, but have the gift of making it all seem fresh and modern, too. This comes from the excellent lighting, beautifully made modern chairs and tables, and puckish fun of including a once shunned object like a Napoleon III faience plant stand in a decidedly hip décor.
The look of the place is important, too, because it tells you why you're here, which is to have a good time. This is, in fact, the Piège's welcome new take on the type of fashionable night-on-the-town Paris restaurant that hasn't really been seriously updated since the Costes Brothers unleashed their formula of louche decors, snippy service and commissary style disco food on the French capital in the 1980s.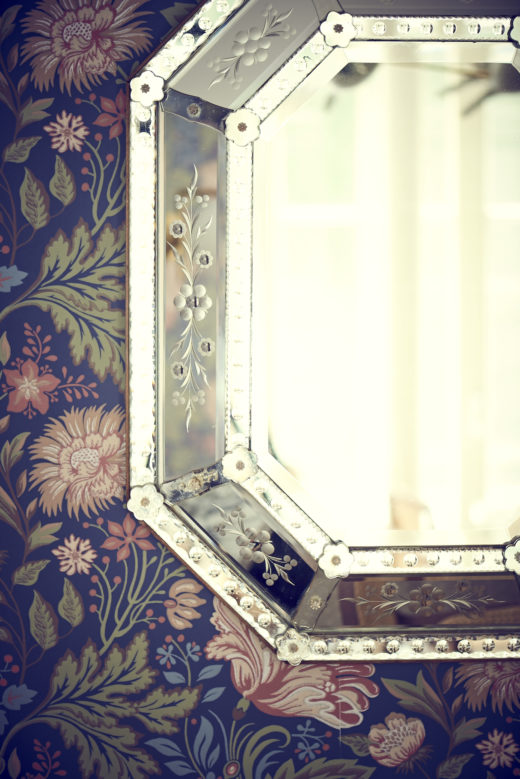 At the Clover Grill, however, not only do the room and the crowd look great, the service is charming and they serve the kind of good honest uncomplicated food you look for in a grill restaurant. That said, the bonus here is Piège's consistent and admirably restless culinary creativity, which shows up most legibly in the starters.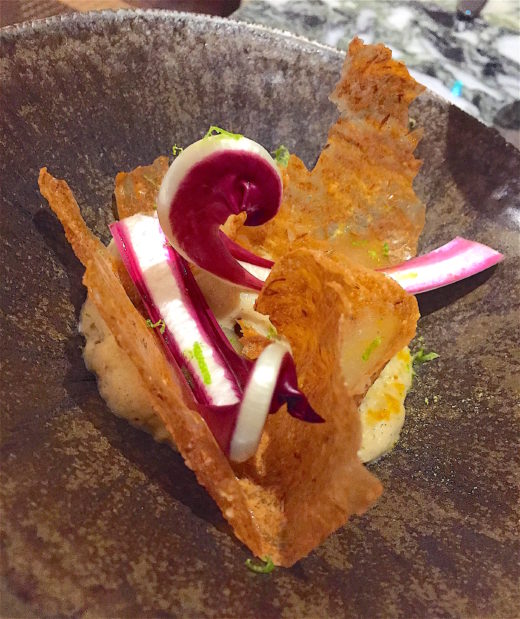 Arriving for dinner the other night, we were offered a choice between the two dining rooms—the low-lit one with a Sputnik style ceiling-mounted lighting fixture and that memory-stoking wallpaper, or the bar room. We chose the latter, since it offered good sight-lines of the long great looking marble bar where you can also sit for a meal and a bartender from the Experimental Cocktail Club group mixes up some seriously good drinks, including the pimenton sprinkled Pisco sour I had to take the edge off of a long day, and the open kitchen where meat and fish are grilled over charcoal or cooked on a rotisserie in the back of the room. The cocktail was served with a nice complimentary hors d'oeuvre of spelt wafers, radicchio fronds and citrus crème, which pleasant provoked the appetite without exhausting it.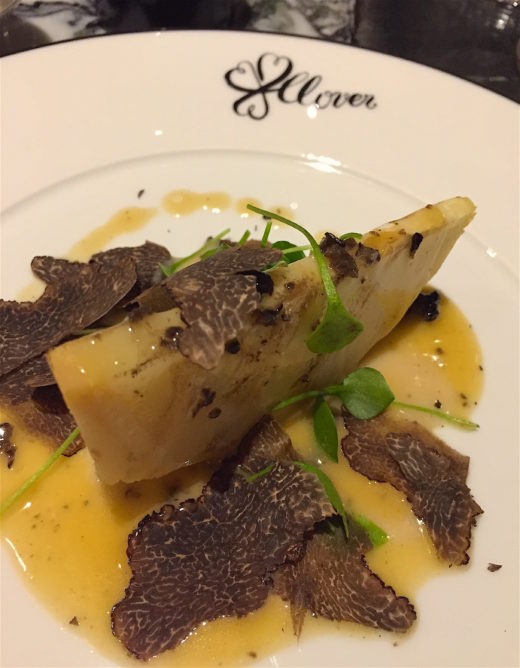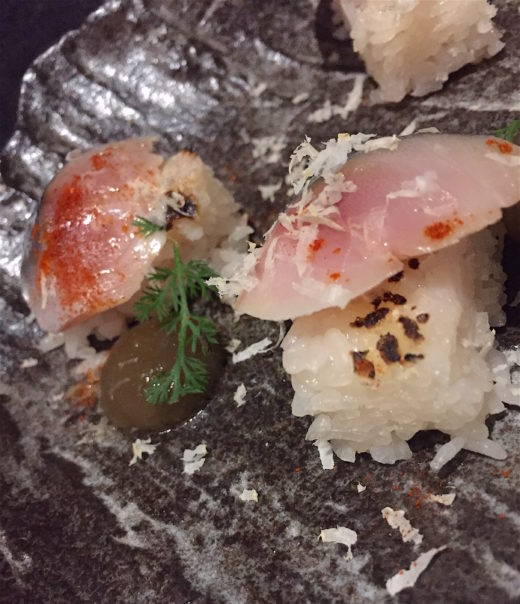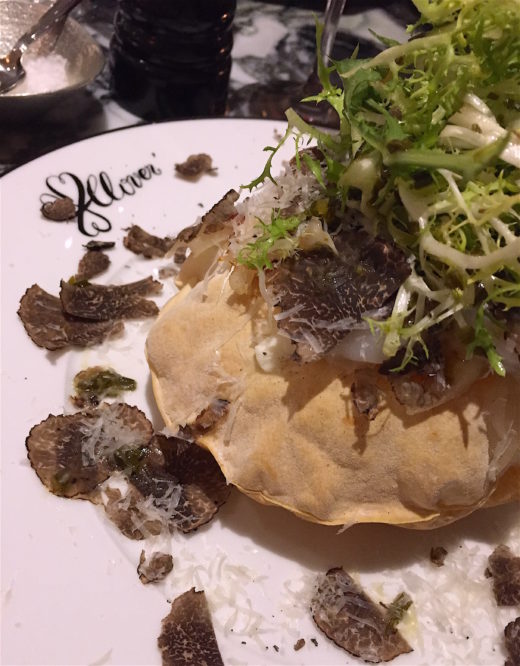 Hungry and unable to make up our minds, we settled on three starters, celeriac cooked like a baked potato in the cinders of the grill and then served with a black-truffle-and-Parmesan butter, mackerel marinated in white wine and served on canapés of grilled Koshihikari rice with horseradish, and "Comme une Pizza," a brittle sphere of pizza dough—an idea Piege perfected when he was chef at the Brasserie Thoumieux, with sliced scallops, onions, truffles and bacon.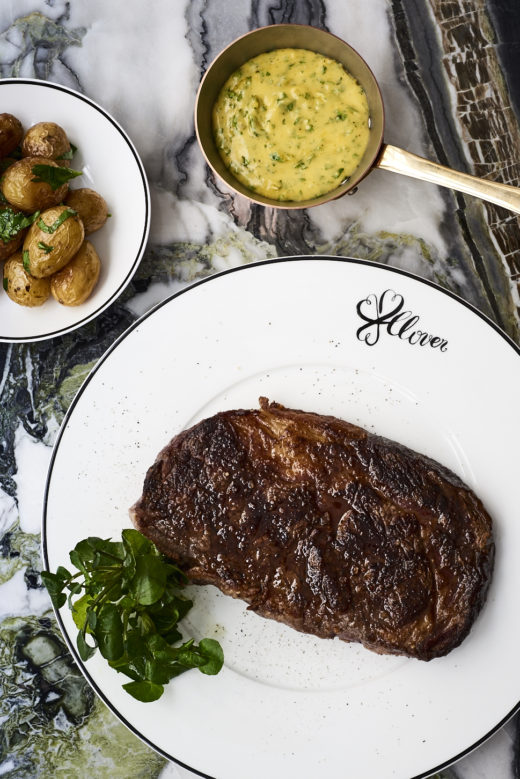 Though grilled fish and lobster are offered, as well as rotisserie-cooked duck, Bresse chicken and roast lamb for two, beef is the meat of the matter here, and though I love a good cote de boeuf, I was eager to try the two meats that Piege himself recommended to us when we chatted with him—the Noire de la Baltique beef and the Black Market beef from Australia, so I went with a contre-filet of the former and Bruno an entrecote of the latter, which we ordered rare.
As I've learned from finding myself in the middle of the road between a European preference for beef of texture and character and an American adulation of tenderness, tastes in beef are ferociously national and personal. Last year I wrote a piece on the great steaks of Europe for the Wall Street Journal, and it elicited some serious braying from North American readers who rejected the idea character could count for as much as tenderness. Here the story goes that a lot of the beef in Europe is unpleasantly tough, as opposed to the great feed-lot- fattened cuts-like-butter beef produced in the U.S. The point of my piece, which so many missed, is that for me the best beef exhibits an equilibrium between North American and European preferences, or is flavorful and textured but not tough.
Enjoyed with a glass of the very good Muscadet suggested by the savvy female sommelier here, our starters were excellent, and so they should have been for the hefty tariffs they carry. With just a single 69 Euros prix-fixe menu being the only alternative to a la carte, this new place is definitely going to be the province of the well-heeled. Then our steaks arrived with baby potatoes roasted in goose fat, and they were huge.
A first taste of my Noire de la Baltique contre filet (sirloin) made me head spin because it was so sapid. It's flavor was potently mineral rich and ever so slightly fermented, even faintly winey and gamey, with a subtle nose of the beech-wood shavings on the floor of the room in which it had aged for two months in Hamburg and also notes of iodine, which led me to guess (correctly) that the aging atelier was somewhere in that city's port district. There was a little bit of a mystery here, however. When we inspected the beef on display in the glass-fronted display cabinet in the back of the bar room, it had a label that said "Born, raised and slaughtered in Germany." The only other restaurant I've been to that serves this beef, Beef in Geneva, which is supplied like Piège by the Metzger brothers butcher shop in Paris, identifies it as being Polish.
Whatever its provenance or biography may be, however, the Noire de la Baltique is some spectacularly good meat, and we both liked it better than the Australian Black Market beef, which had the somewhat overwhelming fatty richness of certain Japanese breeds. But again, beef preferences are personal in the most ornery of ways.
Aside from the two breeds we tried, the Clover Grill also proposes Bavarian beef (Simmenthal), Black Angus from Kansas, and Genisse de Boeuf (from heifers that have not yet calved) from the Limousin, Auvergne (Salers) and Charolais. A choice of four different sauces are also offered to garnish your meat: black Sarawak pepper, Bearnaise, Bercy (red wine with bone marrow and shallots), and a stunning reduction of macerated black currants and blackberries that's the single most exciting steak sauce I've ever tried anywhere. This is because the jam-like depth of the red fruits meet the winey taste of the meat perfectly but without muddling it with red-wine tannins. When I asked Piège about this sublime sauce, he said his mother and grandmother used to make it in the Drome, the region in the Midi where the chef grew up in Valence, as another way of fully using the seasonal harvest of these berries.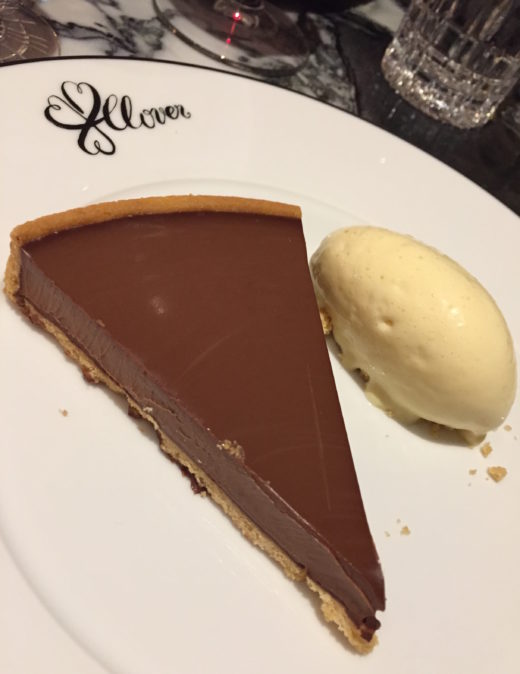 Among the four desserts proposed, the stand-out is the rotisserie-roasted pineapple, which would seem to be painted with butter and sugar, so that it caramelizes while it roasts to end up with a taste that reminded me of my mother's pineapple-upside-down cake, with it's winking red maraschino cherry 'eyes' inside of each pineapple ring embedded in the delicious gooey caramel topping. To cut its sweetness, it comes to the table with a scoop of freshly made lemongrass ice cream, which is delicious. Otherwise, the smoked chocolate tart with a sable crust and hay-flavored ice cream was pleasant, but I can't see myself ordering either the churros or the grilled banana 'facon split' the next time I come here. There will be a next time, too, since I'm curious to see what the 20 Euro burger is like, and I'm already craving another taste of that uniquely luscious Noire de la Baltique beef.
Clover Grill, 6 rue Bailleul, 1st Arrondissement, Paris, Tel. (33) 01-40-41-59-59, Metro: Louvre-Rivoli, Open Monday to Saturday for dinner. Closed Sunday. Lunch from Monday to Saturday from January 1, 2017. Average 70 Euros, www.clover-grill.com