Comice, Paris | A Deliciously Suave New Table, A-/B+
January 3, 2018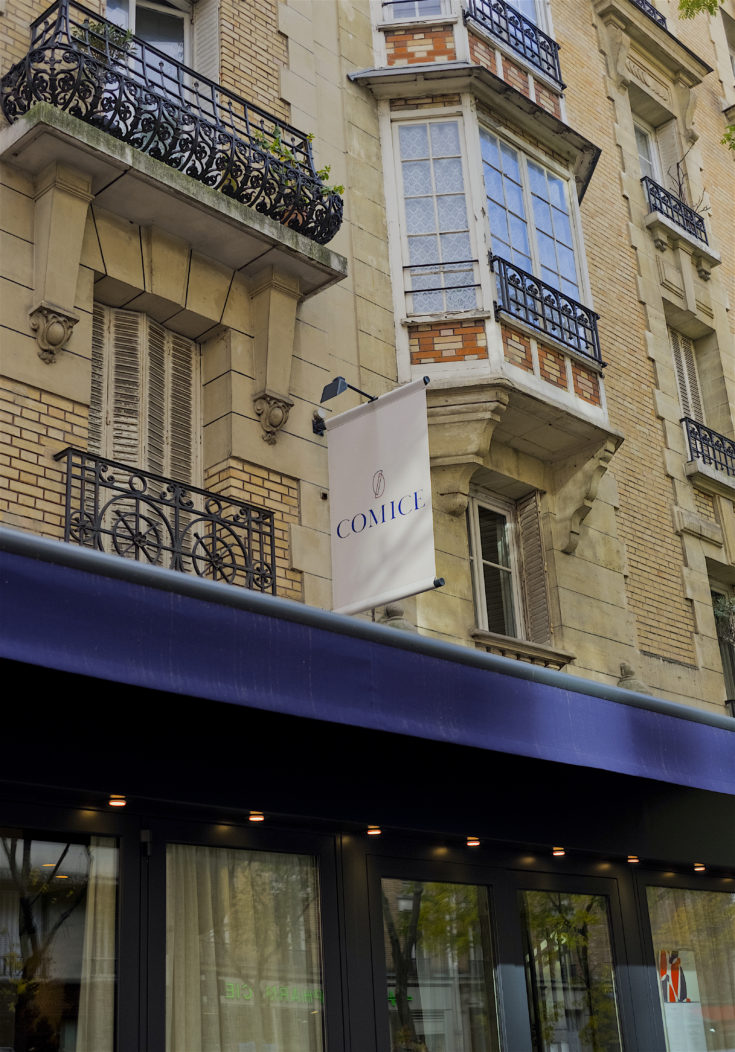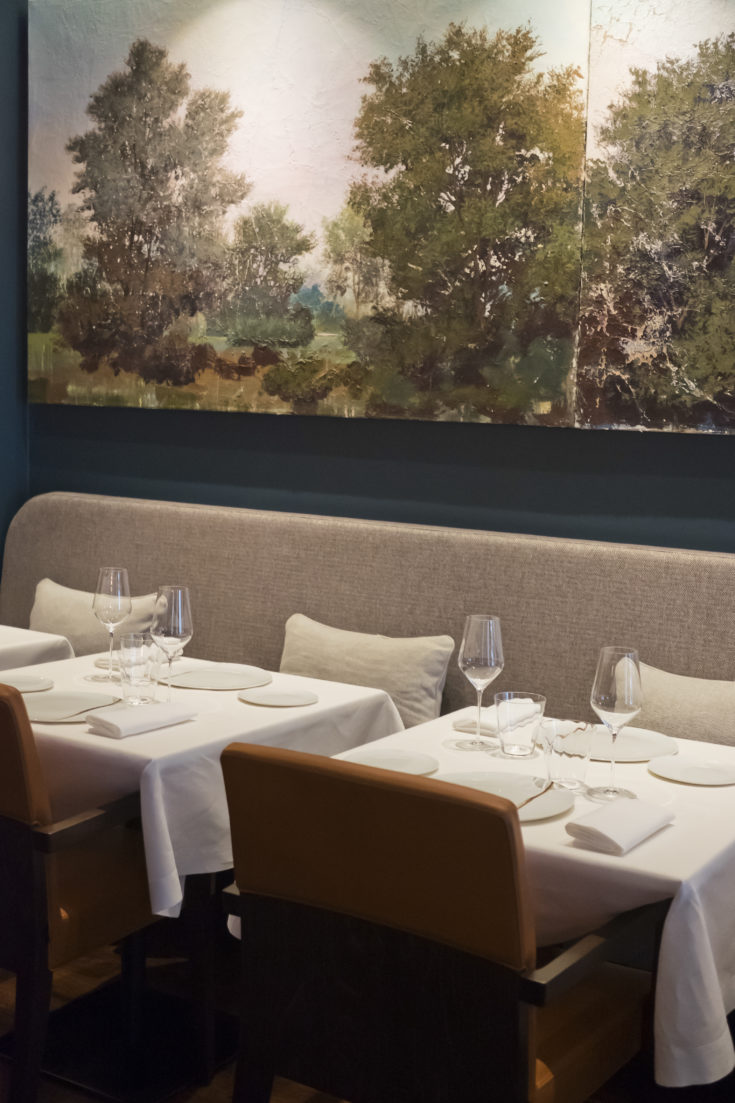 With the opening of Comice, I've finally found a delicious reason to head for the 16th arrondissement, since this restaurant is the suave but relaxed address with outstanding contemporary French cooking this quiet bourgeois part of Paris has so sorely been missing. Traveling to meet a friend here for lunch just before Christmas, I found myself in the midst of a long meditation on my relationship with this part of the city as first I took the Metro many stops west from my home in the heart of the city, and then I walked many long blocks on pavements made pretty but slippery by random collages of the year's most tenacious yellow leaves finally pelted off the trees by a hard cold early winter rain.
Truth be told, for reasons variously financial, sociological and psychological, this isn't a part of Paris with which I've ever had much kin. To be sure, they're a few restaurants in this demure, well-tended zone of restrained privilege that I've always liked, including Les Tablets de Jean-Louis Nomicos, L'Astrance, Le Stella, Pages, and Monsieur Bleu (more for Joseph Dirand's sublime decor than the food). But with the exception of the 9th Arrondissement where I live, my axis of good taste has been decidedly tipped towards eastern Paris, or the 3rd,  the 10th, the 11th, the 12th, and more recently, the 18th arrondissements for many years for the simple reason that these are the neighbourhoods of predilection for a whole generation of talented young Parisian chefs. Why? That's easy. These are the quarters where the rents for both flats and commercial spaces are still relatively affordable, which means that they're also among the youngest parts of the city.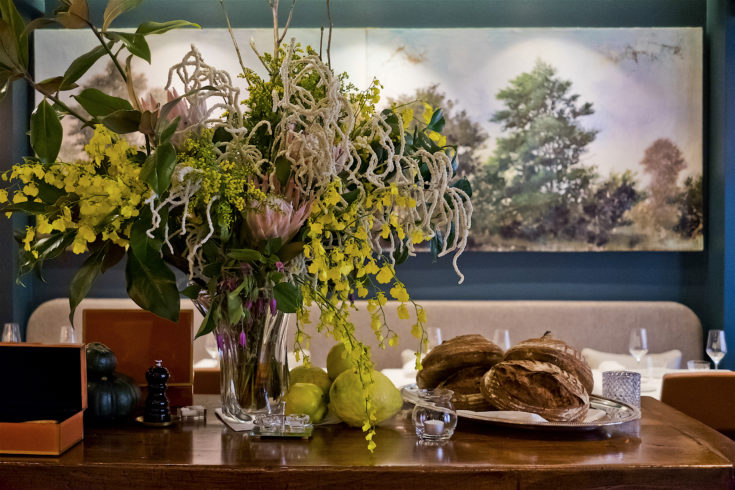 For my part, and as someone who will always be in life-long recovery from a childhood in a safe, well-groomed, and very polite suburb of New York City, I prefer neighbourhoods with more edge and human variety than I've ever found in the 16th, and when I was single, I liked living somewhere central that made it easy to walk home after a night out in the clubs. The 16th has also always failed my anonymity test, which is to say people observe one another day in and day out, because these zones are rarely troubled by unknown faces. Myself, I like unknown faces, thrive on diversity, and like my neighbours sparse and mostly kept at a friendly arm's length.
The last time I'd spent any real time in this neighborhood, as in coming here once or twice a week, was over thirty years ago when I'd lingered in an emotionally inappropriate affair, as one does, because the sex was so good. Waiting to cross a street on the way to lunch, this furtive fumbling connection came back to me vividly, but now, instead of making me cringe as it had for so many years before, I finally laughed out loud at the absurdity of the time I'd spent with a handsome Belgian man who'd once been a monk but who had gone on to become an unhappily married insurance executive instead. Doubtless it was this lurid if good-humoured recollection that finally landed me at the door to this notably attractive dining room in high spirits and with a ravenously well-honed appetite, my revenge, perhaps, on the gimlet-eyed concierge in the Belgian's building who always eyed me through an index finger's pullback of ivory lace window veneer as Satan himself.
My lunch date from Los Angeles hadn't arrived yet, so I chatted with the delightful Etheliya Hananova, who explained that she was originally was from Winnipeg but had arrived in Paris with her husband, chef Noam Gedalof, also Canadian, when he got the job as sous-chef to Antonin Bonnet at Le Sergeant Recruteur on the Ile Saint Louis. So I went back to the open kitchen to say hello to Gedalof, and learned that he'd also worked at Thomas's Keller's The French Laundry, an experience that he found 'invaluable' and had done a stint with chef Pascal Barbot at L'Astrance. "My cooking is all about produce, making it more eloquent while respecting its natural tastes and explained, adding that he enjoyed the challenge of sourcing as much of his produce from small producers he finds himself as possible. "There should be an element of surprise at every meal, and so I don't want to use the same suppliers everyone else does," Gedalof said with a smile. An example? "The poularde (a chicken that's more than 120 days old and which has been fed on a special diet) of farmer Simon Graf at La Ferme du Poc in Gascony. This bird is incredibly succulent and has the most amazing flavor."
So I already knew what I wanted for lunch when the lady in black, chic as ever, finally darkened the doorway and raised my spirits.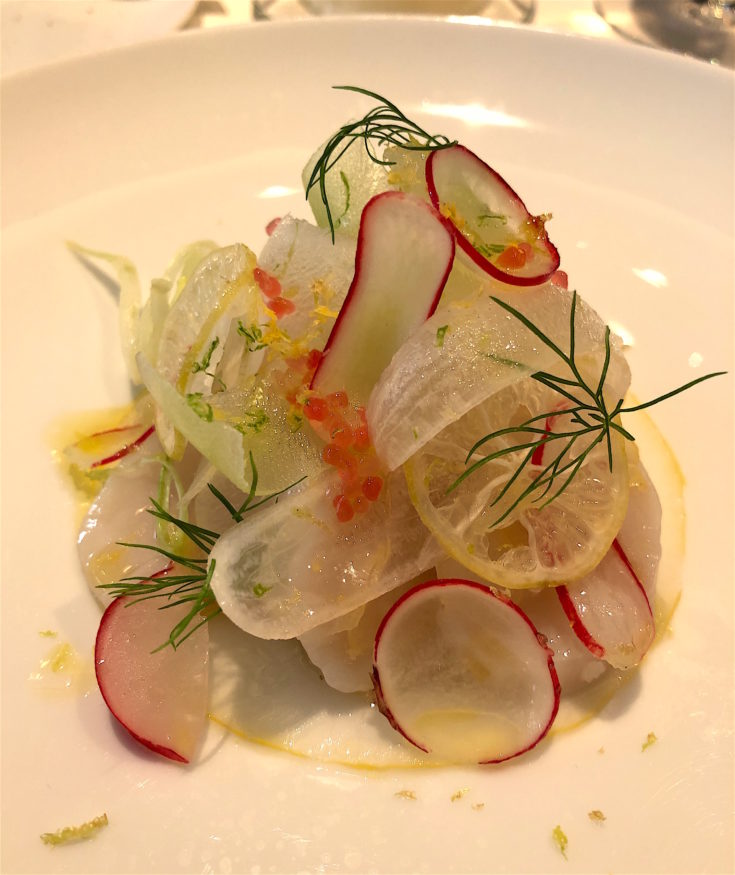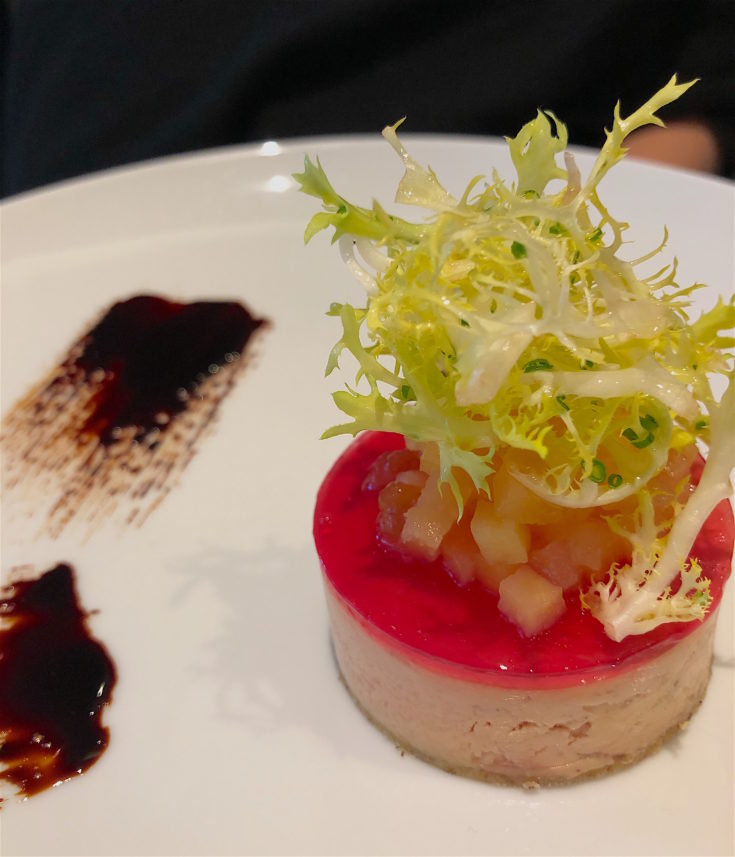 "What a good-looking room, " she said after settling down and inspecting her surroundings. "Who did it?" Well, that would be Parisian architect Nicolas Kelemen, with the beautiful flower arrangements coming from the exceptionally chic florist Debeaulieu in the rue Henri Monnier, and the handsome paintings of trees that are the focal point of the spacious dining room in tones of gray, petrol blue, almond and bittersweet by the Berlin based Canadian painter Peter Hoffer. "Chic but relaxed," she said, adding, "And I'm hungry."
So we looked at the menu, and decided she'd start with the scallop carpaccio, and I'd go with the foie gras mousse, that we wanted to try the roasted cauliflower, and that then she'd have the Corsican beef filet in Port sauce, and me that bird chef Gedalof had vaunted earlier.
When they arrived, our starters were beautiful. "Let's hope they taste as good as they look," said the Los Angelina, taking the words right out of my mouth. And they did. In fact, the purity, precision and humility of Gedalof's cooking blew on the embers of one of my most cherished gastronomic memories, my first meal at the long gone restaurant Lutece in New York City, a meal that dazzled me with chef Andre Soltner's discipline and exquisite ability to frame the natural flavors of food by enhancing them. This food was as elegant but quietly modern at Soltner's cooking had been forty years ago, too, so much so, in fact, that Gedalof could be his students.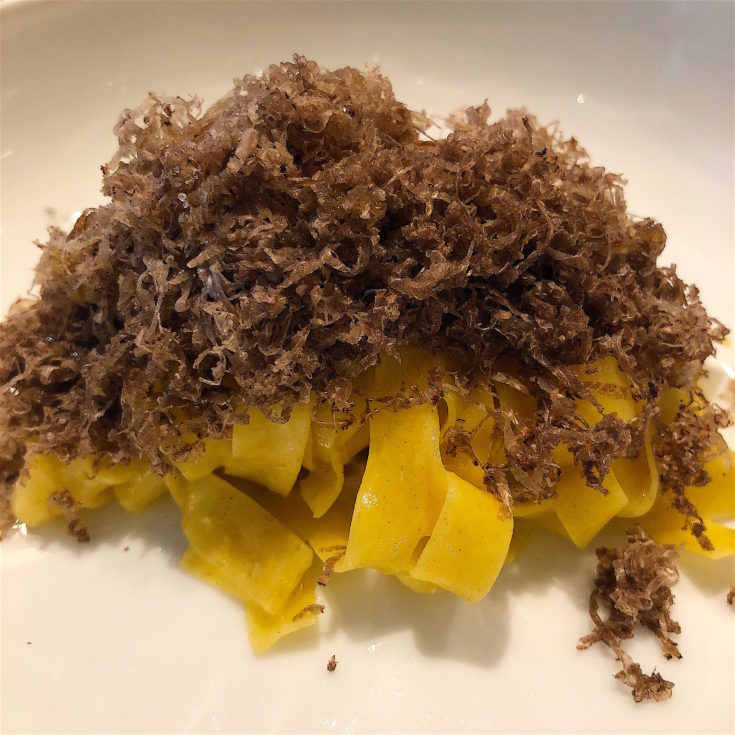 And to prove that he's in a league with Soltner and a savvy student of Thomas Keller as well, a deliriously good next complimentary next course arrived, homemade tagliatelle with shaved truffles, because, as the charming Etheliya Hananova observed, "you can never eat enough pasta, and Noam loves making it." We stared at the noodles in their mink stole and giggled with pleasure. "Now I know why I got up this morning," my friend said.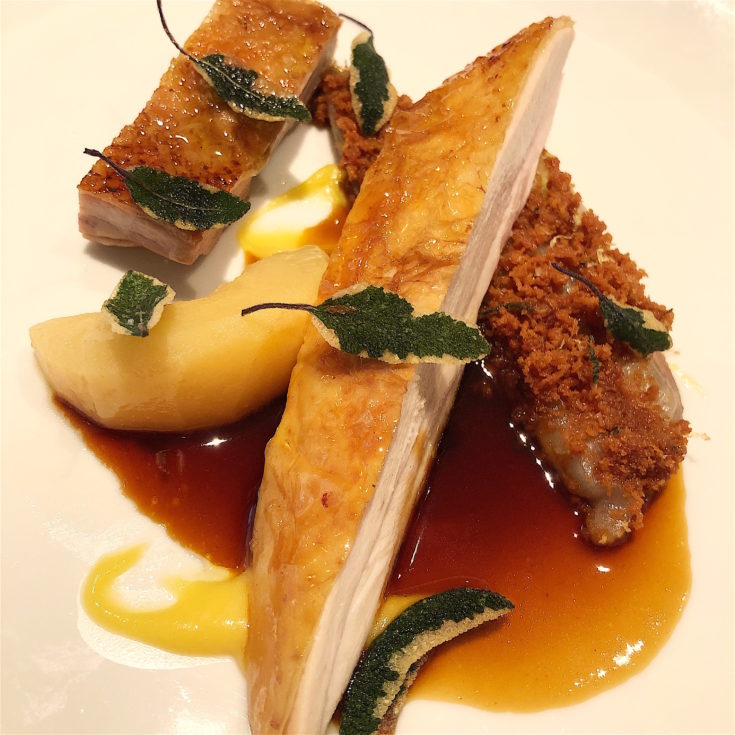 I felt the same way when my poularde arrived. It was the best French fowl I've eaten, both in terms of product and cooking, since a tear-inducing poulet de Bresse at Paul Bocuse some five years ago. Impeccably cooked and napped by a velvety jus, it came with quince, buttery brioche toast, and tiny fragile sage-leaf beignets. Cynthia loved her beef with sweet-potato filled ravioli, too (no photo here, because she was too fast for me).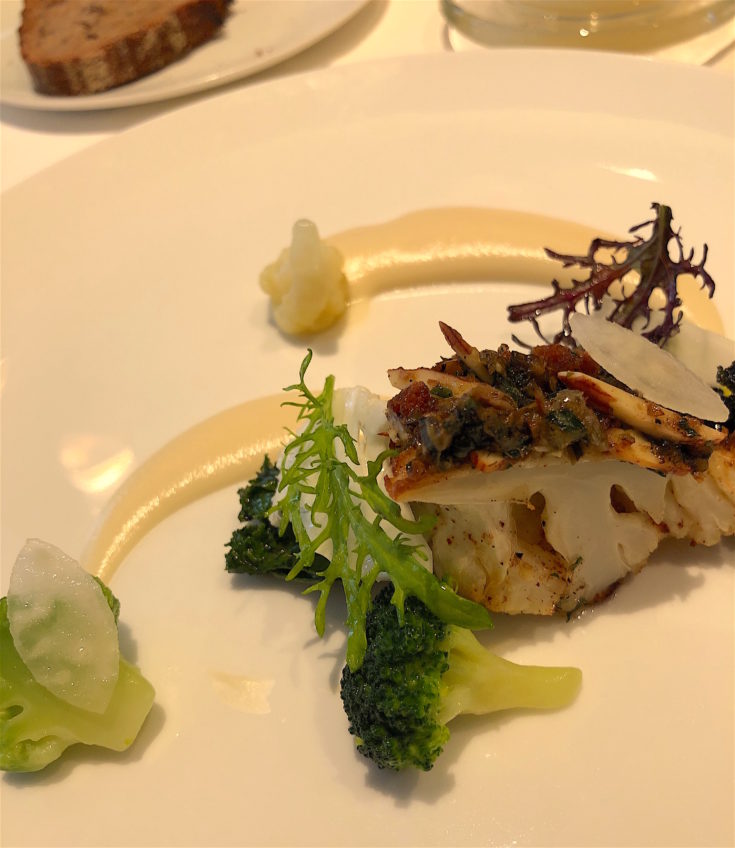 We also loved the bake whole cauliflower with a superb Grenobloise (capers, croutons, lemon) garnish, which we ordered as a side dish.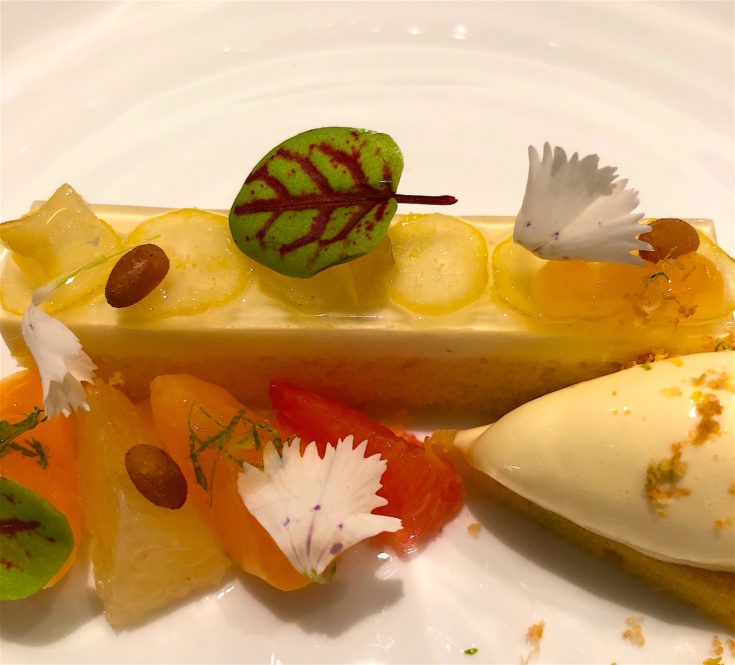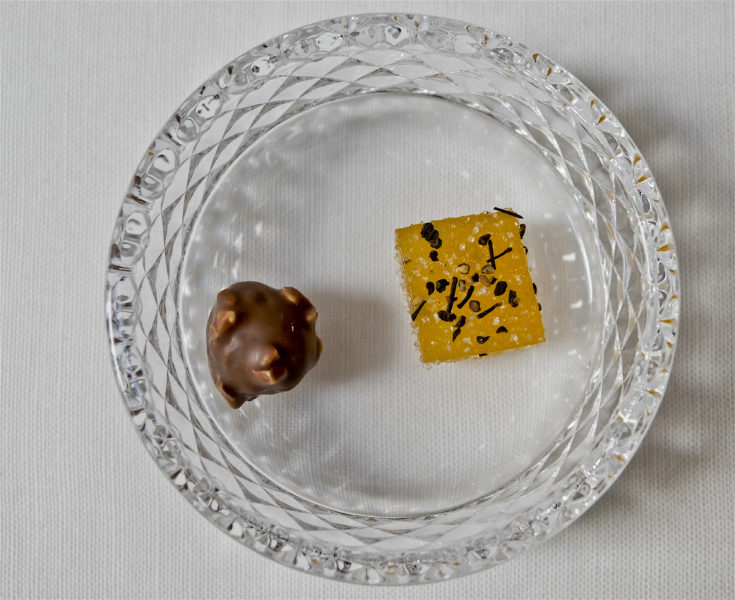 Gloriously well fed, and for me, perfectly wined, first with a glass of Domaine Ledogar Carignan Blanc and then a lush glass of Arianna Occhipinti SP68 Terre Siciliane from Hananova's superb wine list, we doubted we could manage dessert, but finally, and very wisely, decided to share brilliant American pastry chef Catherine Takayama's delicate "greek yogurt panna cotta with a citrus medley" and orange blossom ice cream, a supremely refreshing winter dessert. This was followed by mignardises that defied any attempt to resist temptation, and suddenly it dawned on me that I'd now be spending time in the 16th Arrondissement for reasons more sacred than profane, because Comice is a truly delightful restaurant.
31 avenue de Versailles, 16th Arrondissement, Tel. (33) 01-42-15-55-70. Metro: Jasmin, Mirabeau or RER C Javel. Open for lunch Thursday, Friday and Saturday. Open for Dinner on Tuesday, Wednesday, Thursday, Friday and Saturday. Closed on Sunday and Monday. Four course lunch menu 80 Euros, five course dinner menu 120 Euros. www.comice.paris