Cooking with an Environmental Conscience
July 1, 2008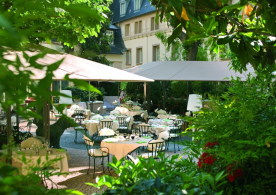 Bravo to Alain Ducasse for launching a very important new trend in Paris–environmentally conscious cooking. At Ducasse's delightful Le Relais du Parc, Chef Romain Corbiere designs his entire menu around the idea of environmentally correct seasonal produce. Instead of serving fish like cod or sea bass which come from threatened stocks, Corbiere offers farm-raised salmon from an organic farm in Scotland and wild fish like rougets (red mullet) and John Dory, which are not as menaced by overfishing as other species. Corbiere's meat and vegetables also come from small environmentally conscious producers, most of them organic.
What's at play here is the emerging idea of inventing an environmentally consciencious cuisine for the 21st century, and on the basis of a dinner here the other night, great cooking and enlightened farming and fishing obviously go hand in hand. If environmentally correct food has long had advocates like Alice Waters and the Oldways organization in Boston, it's only now that major French chefs are factoring both your health and that of the planet into how they design their menus.
Eschewing cod, Corbiere serves a superb summer soup of pureed piquillo peppers with petals of salted yellow pollack, white tuna (less threatened than red) on a deliciously smokey bed of caponata and a porchetta of rabbit on a bed of bitter herbs as first courses, and follows with roast duckling breast with baby peas and onions in a black-olive enriched pan juice, salmon with eggplant caviar and baby potatoes and a sublime dish of tiny rougets with baby vegetables and snail butter.
I don't know if it's environmentally correct or not, but if there's one dish not to miss here, it's the coquillettes aux truffes d'ete, jambon, et jus d'un roti–tiny elbow macaroni with julienned ham, summer truffles and roast veal jus. If this dish could be delivered to my doorstep daily at noon, I'd be a very, very happy man.
Desserts are a seasonal tour de force, too, including a sublime pistachio blanc manger with chopped pineapple and lime sorbet and a feuillete de framboises (raspberries) with lemon verbena pastry cream. The wine list is a treat, too–the red Saint Romain is perfect summer drinking, and the spacious terrace here is one of the loveliest places in Paris to dine on summer night.
55-57 avenue Raymond Poincare, 16h, 01.44.05.66.10
Photo by Serge Detalle