Daroco, Paris | Honest Italian Cooking and a Good Time – B-
July 17, 2016
Almost no adjective in a restaurant review makes me warier than the word 'fun,' because overtly 'good-times' type places often don't take their food very seriously and attempt to hide this culinary weakness with loud music, low lighting and amped up cocktail menus. That said, I'll cock a snook at myself and come right out with it: Daroco is probably more fun than any other new restaurant in Paris this summer. Why?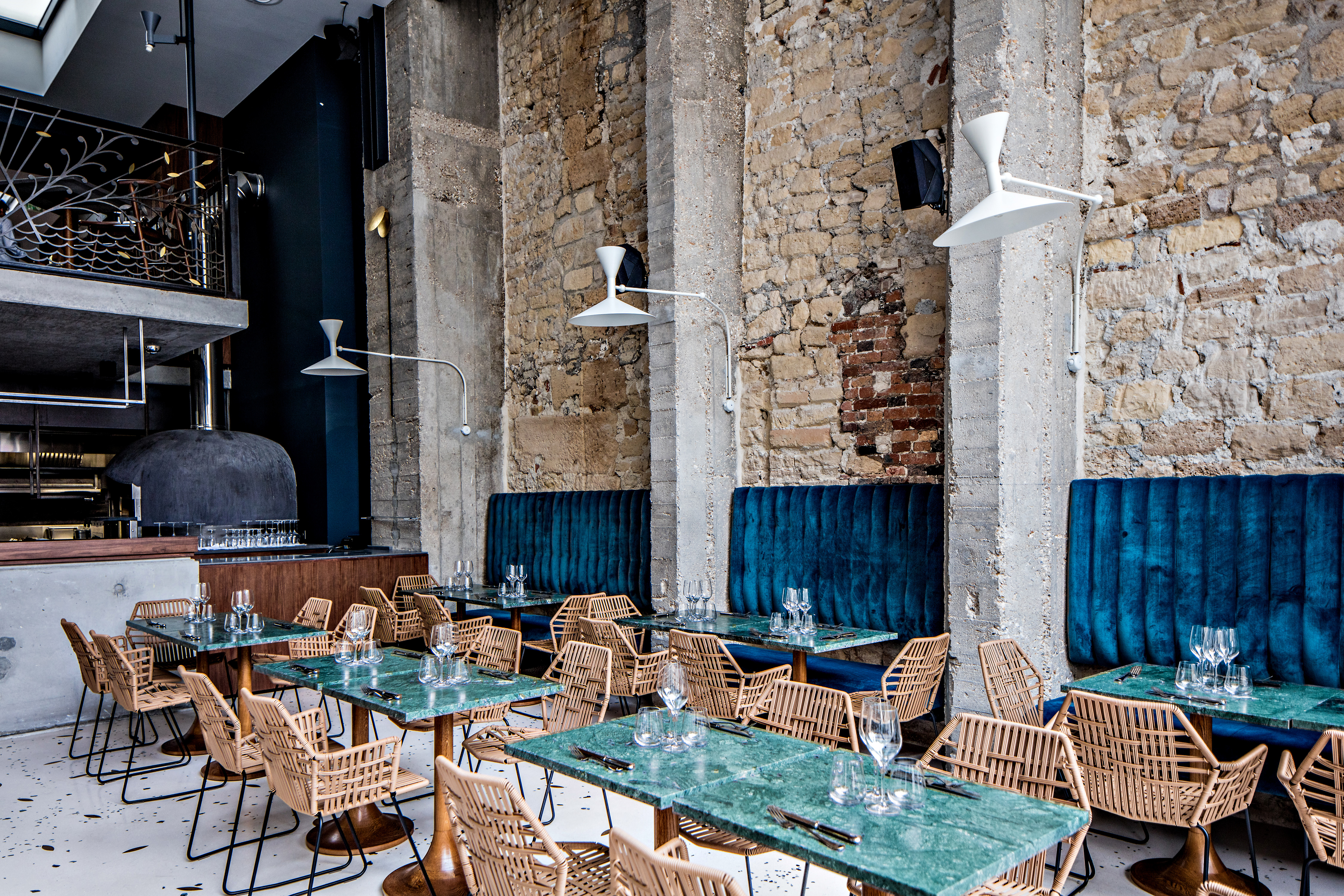 It occupies a beautiful space with a locally legendary fashion pedigree, i.e., the former Jean-Paul Gaultier boutique in the rue Vivienne. It also has an eye-catching off-beat vaguely tongue-in-cheek Miami-moves-to-Soho decor of high-backed royal blue velvet booths, white terrazzo floors (someday, somewhere, I'd love to live in a place with terrazzo floors, partly because it's pretty and feels so good barefoot and partly so that I can channel the weekend invitation I foolishly turned down to Gore Vidal's villa on the Amalfi coast a good twenty-five years ago when people were still trying to get me out of my Fruit of the Looms), and exposed brick walls. The most important part of the decor, however, are the good looking clearly carefully cast servers in striped Saint James sailor's pullovers, a Gaultier signature, and the crowd itself, because this place has so quickly become the nexus the Parisian tribes that work in businesses which are mostly visual–photographers, fashion designers, web designers, advertising and PR types, plus a few lumbering folks from the ever diminished world of words and a gaggle of retailers, buyers and other professional trend spotters.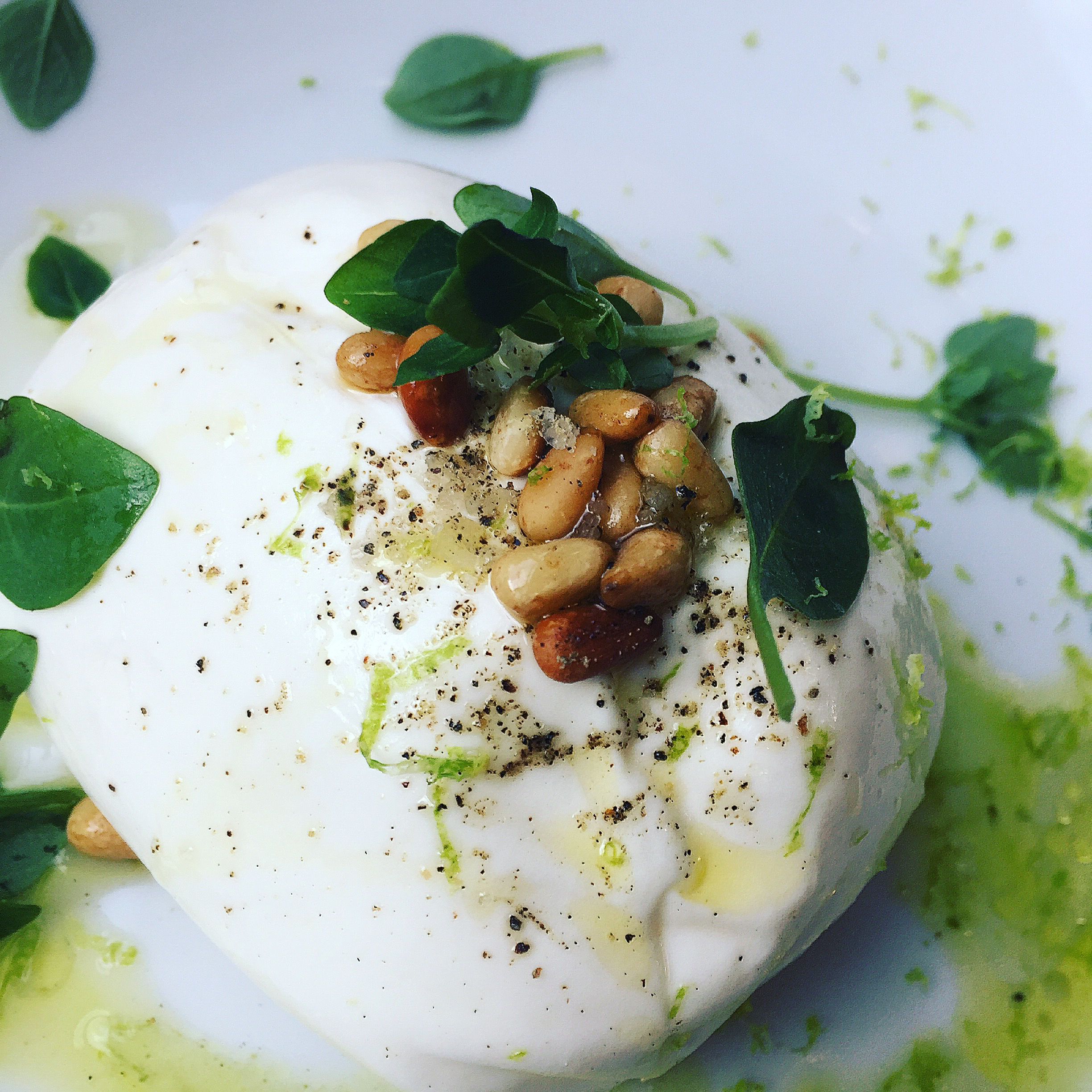 This restaurant is the latest creation of savvy restauranteurs Alexandre Giesbert and Julien Ross (Roco, Roca and Rococo), and it scores a bull's eye in terms of what Parisians want to eat this summer, which is uncomplicated good quality Italian cooking. Think a short produce-driven menu that debuts with simple well-sourced, crowd-pleasing Instagram ready starters like swordfish carpaccio with zucchini, raspberries and dill or bosomy lactic burrata topped with toasted pine nuts and dribbled with pesto oil. The only starter that disappoints is their rendition of vitello tonnato, overcooked slices of veal with a nearly tasteless tuna cream sauce under a thatch of arugula with no capers.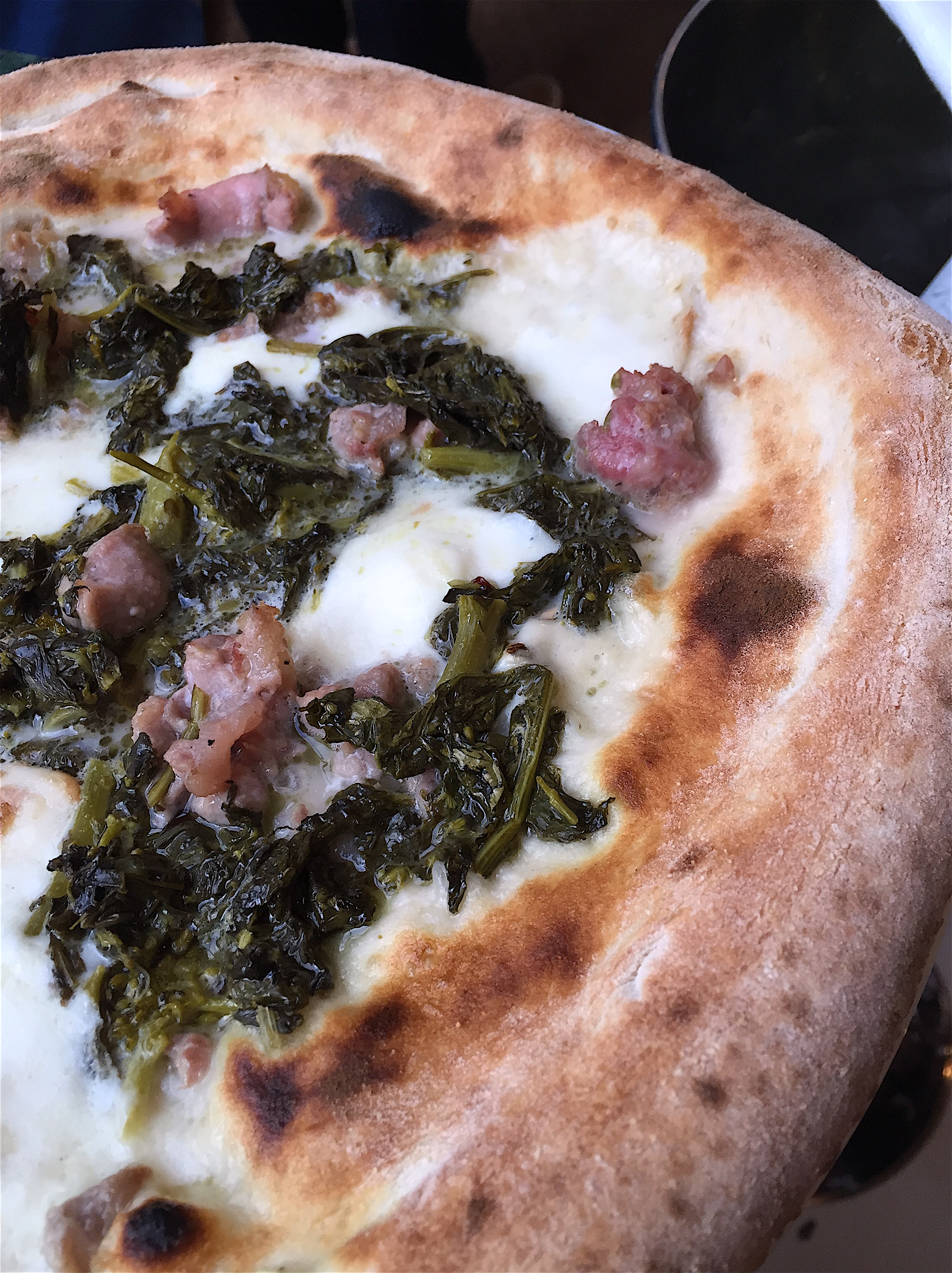 In terms of main courses, there's a veal chop and sea bream, three pastas–rigatoni alla Norma (tomato, ricotta and aubergine sauce), spaghetti with clams and shavings of rather extraneous bottarga, and a spaghetti carbonara, and then a long list of nicely made pizzas that are baked in a wood-burning oven. The classic Margharita is good, because of its tangy tomato sauce and the way that the heat of the oven melts the good quality mozzarella without causing it to lose all of its milkiness, but my favorite is the one topped with mozzarella, marinated broccoli rabe, and crumbled sausage; I could, in fact, eat one of these for lunch everyday.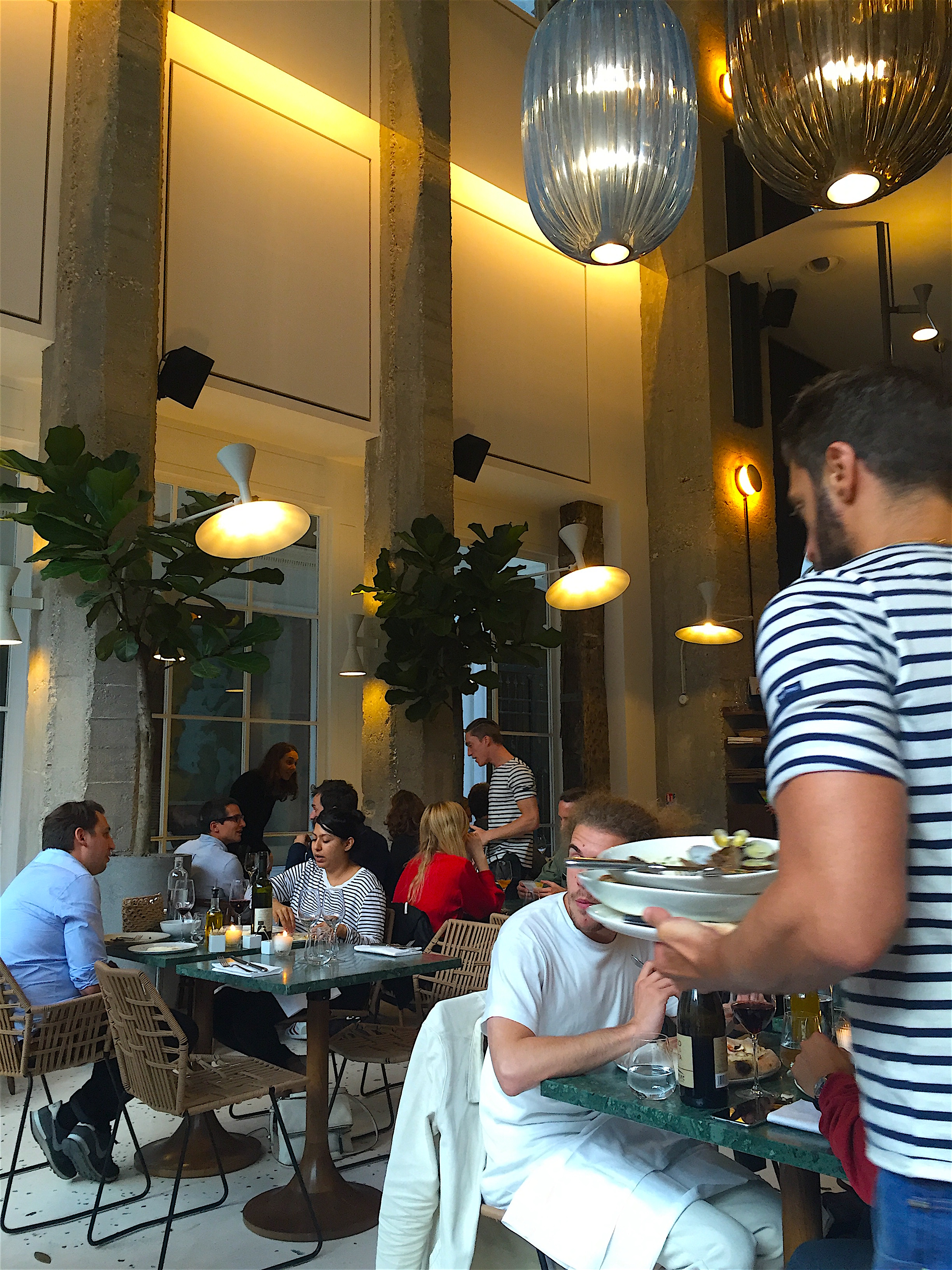 Dining here with a wonderfully ravenous fashion PR friend from New York City, we shared the best starters and a pizza–hey, this woman really is my kind of a gal, before we both had a pasta. While sipping our excellent Sardinian white (the only one on the excellent wine list), we chatted, and Brett nailed the other thing that makes this restaurant so likeable. "Last night I had dinner at the Hotel Costes, and even though I still love the look of the dining room, the service is so up itself that it almost ruined the evening," she said. "What's fun here is that the waiters and waiters are really hot but friendly and attitude-free. Don't you think that service with attitude, which has always been part of the boilerplate in the Costes restaurants, is just so nineties, so over?" Yup, I do, and I'd noticed exactly the same thing at Daroco. The staff is nice and alert without ever being in your face, and even when two older American men came through door wearing the kind of pastel stripped polo shirts and ventilated caps more appropriate to a Florida golf course (I suspect the came via a hotel concierge), the hostess was warm, welcoming and didn't give into any possible temptation to raise an eyebrow or shoot a bemused and perhaps fleetingly snide look at a passing waiter.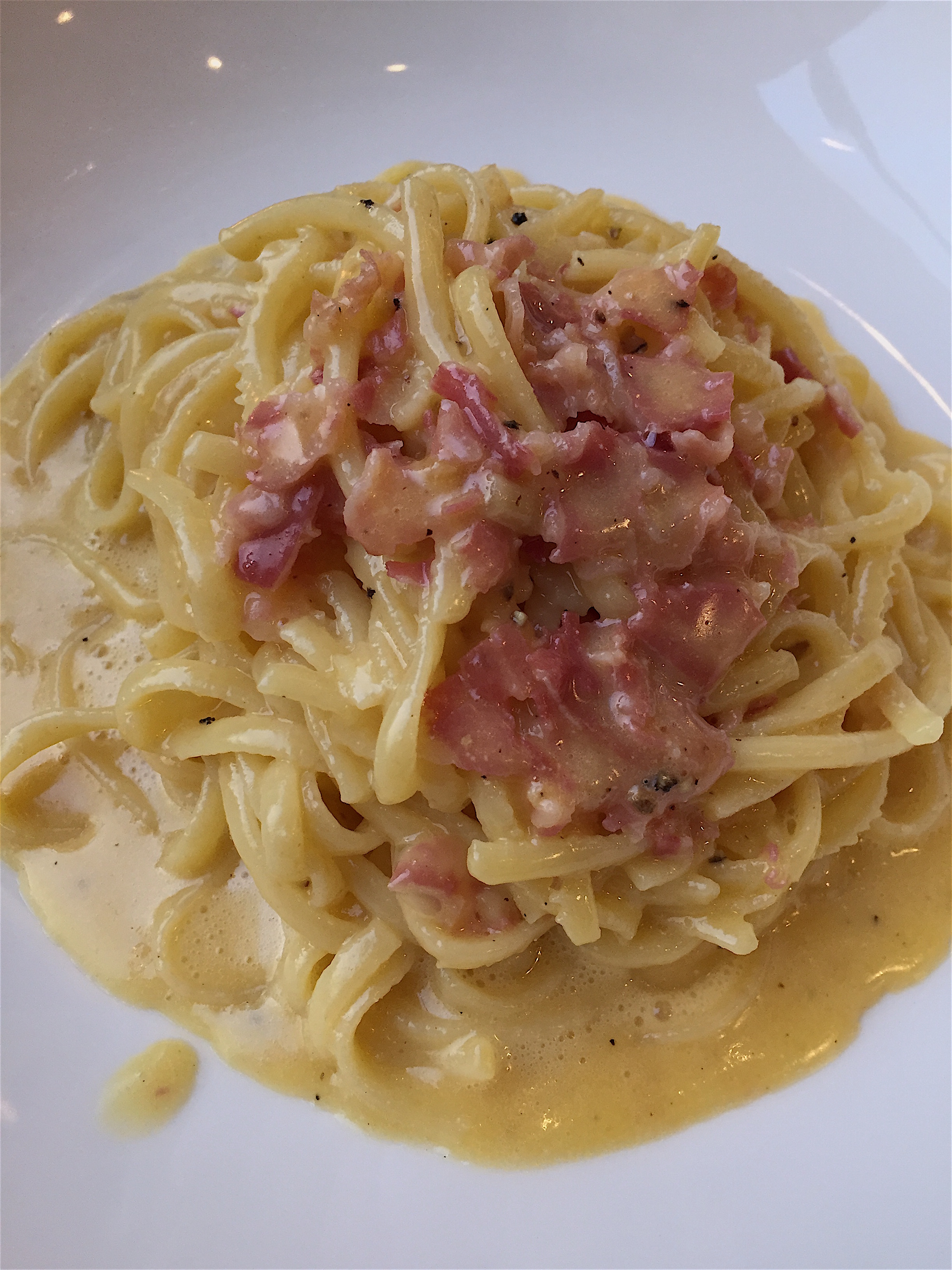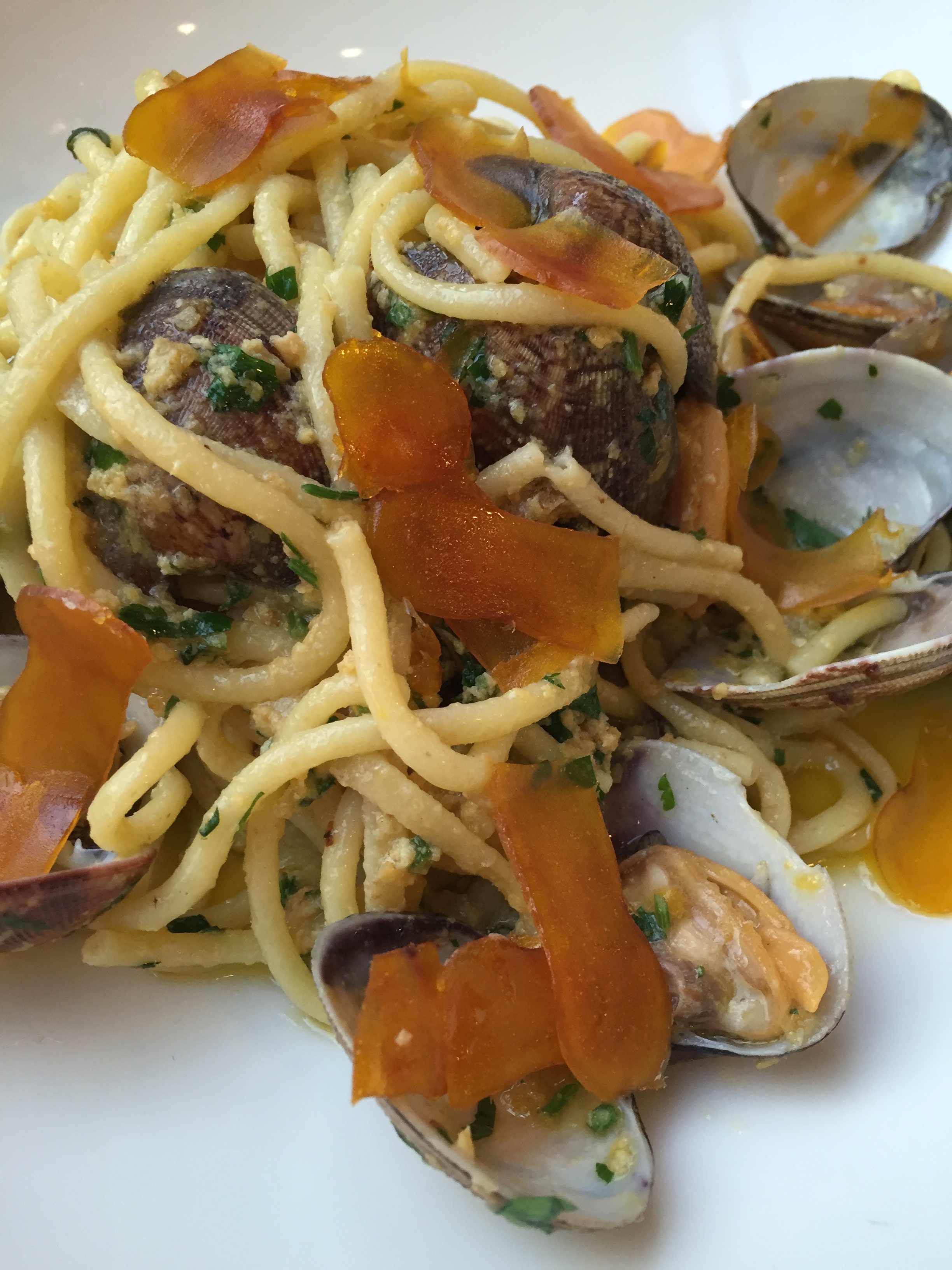 My spaghetti carbonara was impressively well made, although the guanciale lacked the depth of potent bristly porcine flavor I crave when I eat it at Roscioli in Rome. Brett's spaghetti was good, too, but suffered a bit from a surfeit of gummy shavings of bottarga. What works better with this produce is grating it, like they often do in Sardinia and Sicily, since the resulting powder distributes it more evenly and also allows a more judicious dosage of the pleasantly briny pressed and dried mullet eggs.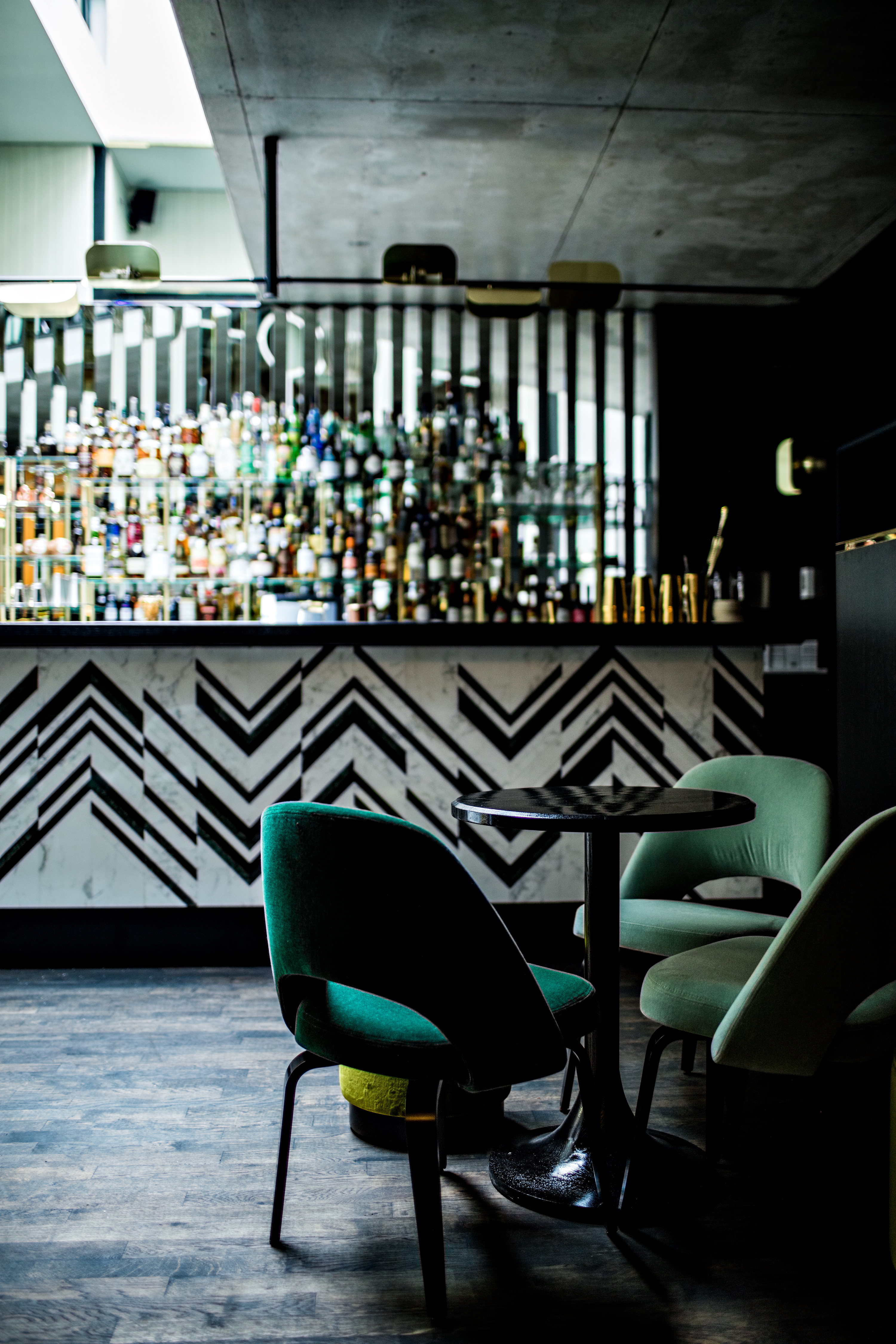 Eschewing the brief dessert selection, we had sublime espressos from Coutume Cafe, and then opted for a night cap of brilliantly mixed cocktails at Danico, the sexy bar in the very back of the restaurant instead.
Walking home after dinner, I found myself musing on one of the other satisfying things about the meal I'd just had a Daroco, which is that proves the vital good health of the Paris dining scene, and my theory that what makes it so uniquely wonderful is that rings of new gastronomic possibilities are being added to the city's much love core offer of bistros, brasseries, white-table-cloth restaurants and haute-cuisine tables at a rate not seen in a very longtime. This means that in Paris, like London, L.A., Sydney and New York, you can now eat great Thai for lunch and then tuck into an excellent pizza for dinner. Where Paris continues to hold the ace, however, is that it still offers the world's best and deepest offer of French cooking, both new and old, in all of its glory.
The English-speaking world's insatiable appetite for traditional French cooking, or dishes like boeuf bourguignon, exasperates some younger food writers, who construe it as some kind of obfuscating culinary nostalgia, but the reality is that in Paris, I love the fact I can eat David Rathgeber's (L'Assiette) cassoulet one night and Tatiana Levha's (Le Servan) cockles in fish sauce the next.
6 Rue Vivienne, 2nd Arrondissement, Paris, Tel. (33) 01-42-21-93-71, Metro:  Open daily noon-midnight. Average 35 Euros. www.daroco.com