J'ai faim! I'm Hungry for Paris and Los Angeles
May 19, 2008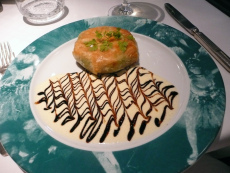 One of the misconceptions about being a food writer that surprises me the most is the widely held belief that culinary scribes only like "fancy" food. I was thinking about this today at lunchtime when I was much too busy than do more than make a very quick omelette a la campagnard. The omelette was just fine, too–fresh organic eggs, potatoes, lardons (bacon chunks) and Gruyere, but while I consumed this solitary feast, I couldn't help but thinking about a sublime lunch I'd last week in a fish restaurant called La Luna, one of the best seafood addresses in Paris.
I started with the croustillant de langoustines pictured above (pastry filled with sauteed baby leeks and plump langoustines) in a light bechamel sauce. Next, an exquisite sole meuniere with a side of whipped potatoes made with olive oil, and finally, a massive baba au rhum, to be dosed with real Rhum Agricole from Martinique (the world's best rums come from Martinique). It was a superb feast, and a meal I'd love to eat at least once a week. Price of the meal, with a glass of white Mont-Louis: $120
But I also found myself thinking about another recent lunch that I'd very much enjoyed, at Chico's Authentic Mexican Food in Los Angeles. This cheerful, yellow-painted cinderblock restaurant in the corner of a strip mall parking lot near Mount Washington serves up really delicious home-style Mexican food, including a combination plate of chiles rellenos with beans and rice that was a huge treat for someone from a city with no decent Mexican restaurants. Price of the meal, with one dark beer: $9.
So did I prefer one meal to another? No, they were both perfect on their own terms and both feeds profoundly satisfied a different band on the spectrum of my gastronomic cravings. This is why I included l'As du Falafel in HUNGRY FOR PARIS, along with L'Astrance; both of them are superb and both of them excel at their respective levels of the food chain. Haute cuisine or street food, what really counts for me is excellence, which both La Luna and Chico's Authentic Mexican Food deliver in spades.
La Luna, 69 rue du Rocher, 8th, 01.42.93.77.61
Chico's Authentic Mexican Food, 100 North Avenue 50, Highland Park, CA 90042, 323-254-2445