LA CANTINE DE LA CIGALE–Excellent Casual Dining in Pigalle, B+
October 14, 2013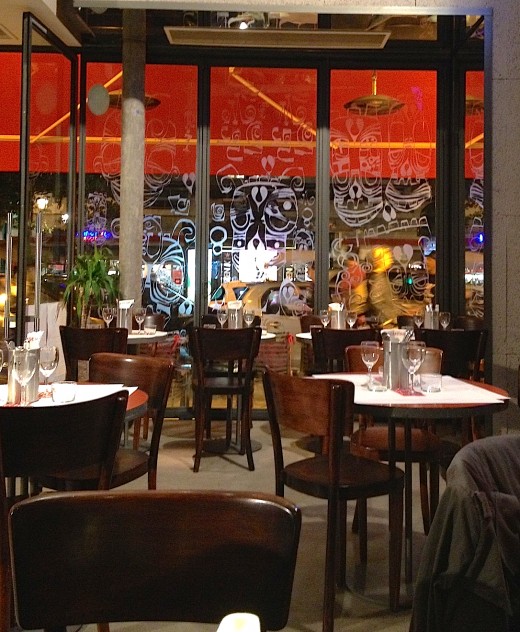 Many years ago during a visit to Paris, my brother and I decided to visit the Château de Vincennes, one of the lesser known but still rather fascinating sights of Paris and easily reached from the Château de Vincennes Metro station. It was a beautiful Indian summer day, and after we'd explored the château, we wandered into a restaurant nearby for lunch. We knew nothing about this long-gone place, it just looked good, as did the menu posted by the door. So we ordered shirred eggs with finely chopped black truffles to start, and then the roast chicken, which came with a side of delicious crunchy frites and nosegays of peppery watercress. We finished up with an excellent chocolate mousse, and with a bottle of Beaujolais Villages, this wonderful meal cost less than 200 Francs. Beyond the warmth of the service and the excellent of the food, what made this meal memorable was that it happened off-the-cuff. We hadn't looked at any guides, and blogs didn't exist in those days, so we just got lucky, but then twenty-five years ago, it wasn't all that exceptional to find such solidly good casual dining in Paris on the spur of the moment.
Unfortunately, the odds of coming across such a good meal today are less than they once were, but one of the happiest and more low-key developments in Paris this Fall is that a growing numbers of really good casual-dining tables have recently opened. What I mean here are restaurants where you can show up without a reservation and eat really well. On the Left Bank, a fine example of this genre is the Cafe Trama, which I recently wrote about on this blog (N.B. reservations are advisable at this place, however) and on the Right Bank, chef Christian Etchebest's new La Cantine de la Cigale, where I went for dinner the other night, similarly hits the spot. This is Etchebest's third Cantine, too–they're two other ones on the Left Bank–La Cantine du Troquet in the 14th arrondissement and La Cantine du Troquet Dupleix in the 15th.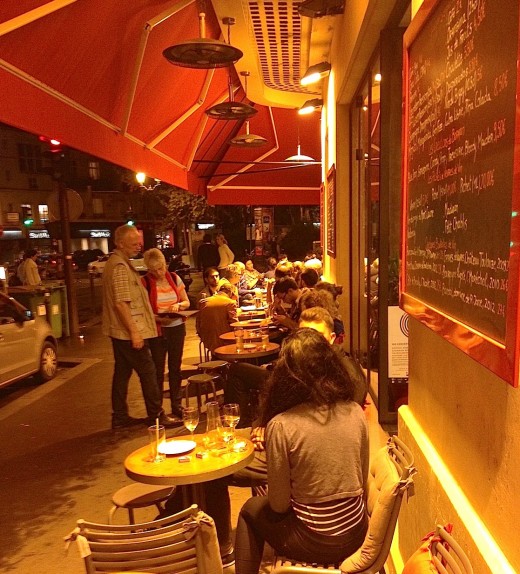 Since I had an ungodly early flight to New York the following morning, Bruno and I didn't feel like cooking on that rainy night, so we hoofed it up the road to Pigalle and liked this friendly place with very good service from the moment we stepped through the door. We settled into a table in a cozy niche in this high-ceilinged dining room, and immediately ordered a bottle of Domaine Brana irouléguy, a terrific Basque red I knew would go well with the southwestern French food served here. Meanwhile, the delightful waitress patiently explained the entire menu to a quartet of tourists from Hong Kong at the table next to us, and even though I don't like television screens of any kind in restaurants, the wall-mounted one here–intended primarily to broadcast the rugby matches that Etchebest likes, was set to an inoffensively low level.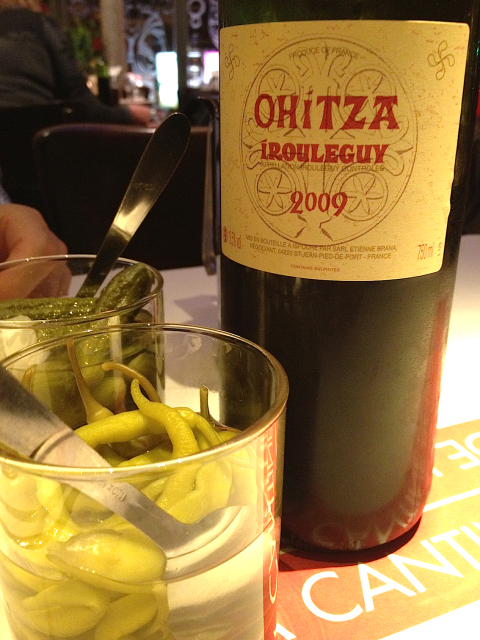 As I have come to expect from Etchebest, an excellent cook specializing in the hearty cooking of southwestern France, the menu here was very reasonably priced and quite tempting. It also made me happy to be in a restaurant with a specific French regional kitchen, since places that specialize in the great traditional dishes of Burgundy, Alsace, Provence and other regions have become regrettably rarer through the years.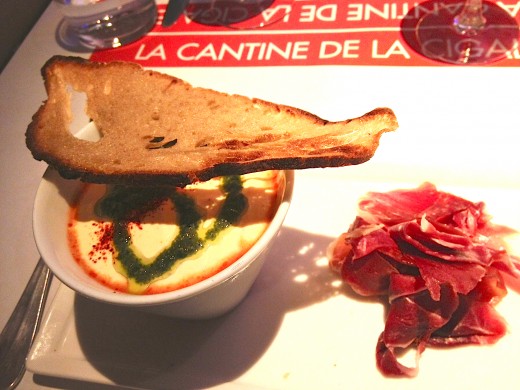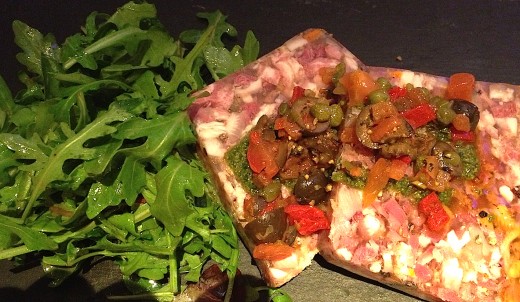 I love Basque food, so I started off with Etchebest's clever contemporary riff on piperade, a comfort-food dish par excellence. In this version, the stewed green peppers, onions and tomatoes spiked with Espelette pepper came in a glass under a cap of creamed eggs, and were garnished with a crisp slice of toasted country bread and shavings of excellent Basque country ham. Generously served and full of flavor, it was a very satisfying starter, and Bruno was delighted with his Ospital pate de tete (head cheese terrine from Eric Ospital, the charcutier who produces some of the best chacuterie in France in the Basque town of Hasparren), which came with a garnish of chopped red peppers and black olives, a side salad of arugula and pickled green peppers.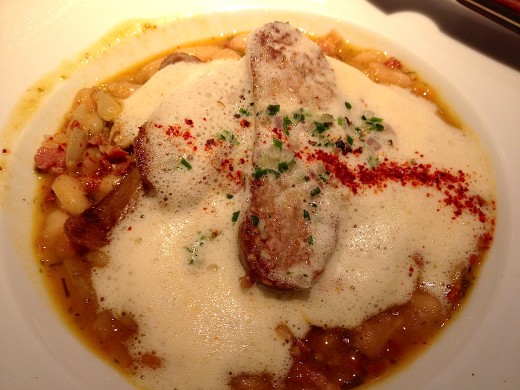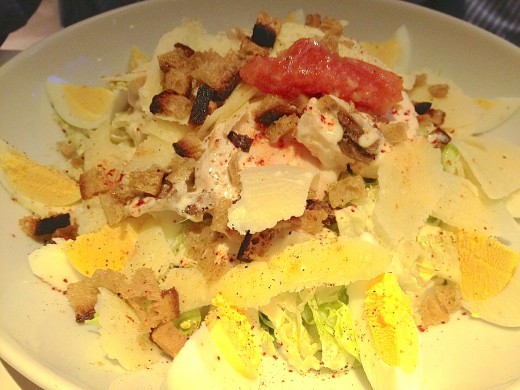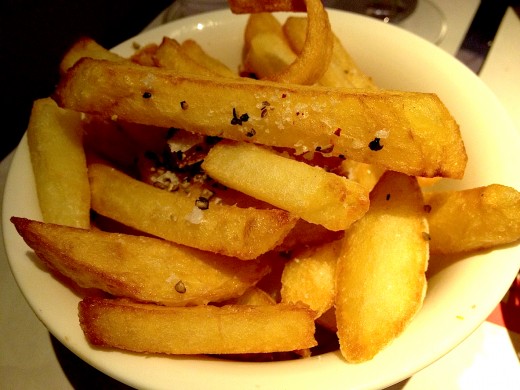 Knowing I had a long dreary travel day ahead of me, I opted for the saucisses confit with white beans and a pleasant foamy lashing of Ossau-Iraty cheese, a brilliantly hearty dish that was so generously served a starter wasn't really necessary. Headed to an office chair rather than an airplane seat in the morning, Bruno preferred something lighter, and chose the chicken Caesar salad, a dish he finds irresistible. I like them perfectly well, too, as sort of a best-available option when traveling in the U.S., but would never have passed up the Basque dishes in favor of same, but this one was large, beautifully made and toothsomely garnished with roasted chicken, hard-boiled eggs, and, in a Basque feint, peppers. We couldn't figure out which dish they were meant to accompany, but the bowl of frites that came with our mains were some of the best I've eaten in Paris for a long time–cooked in duck fat so that they were crunchy and golden, and garnished with cracked black pepper and coarse sea salt. Needless to say, we didn't leave a single one behind us.
We finished up with a shared slice of very good mirabelle tart, and went back out into the rainy night in high spirits. I've always loved Christian Etchebest's cooking and his warm, alert style of hospitality, so it's great to know that there's now an outpost of his kitchen just up the road from me and that it's open seven days a week and also serves late. It's not only places like this that make Paris Paris, but it's a terrific option for anyone who's planning a night on the town in Pigalle–I'd much rather eat here than at any of the recent trendy spots like Le Depanneur, yet another American cantine with pricey burgers, or who wants a good solid French feed after exploring Montmartre.
La Cantine de La Cigale, 124 boulevard de Rochechouart, 18th, Tel. 01-55-79-10-10. Metro: Anvers, Pigalle or Abbesses. No reservations. Open daily for lunch and dinner. Average 35 Euros.