LA DAME DE PIC–Scents & Sensibility, B-/C+
September 29, 2012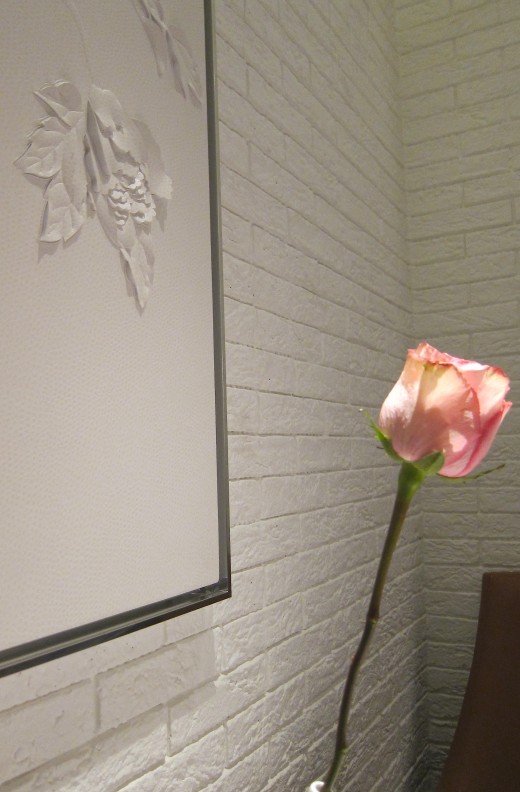 I have the greatest respect for Anne-Sophie Pic, because she's both an exceptionally talented chef and a lovely person, and I've also eaten several superb meals in her restaurants in Valence and Lausanne. And since it's not even remotely her fault that scent strips–you know, those paper wands used for smell sampling at the perfume counters of department stores, induce a reflexive fit of fear and loathing in someone whose sense of smell was once nearly extinguished by a two-week stint selling gloves adjacent to the dueling perfume counters on the ground floor of the now defunct Filene's department store in Boston as a broke college student at Christmas, I decided it was imperative that I eat several times at La Dame de Pic, her new Paris restaurant, and give it a long muse lest I come to any hasty conclusions.
It's also true that the social context of my first meal at the restaurant had been emotionally arduous, and that several weeks ago, I'd received a castigating email from someone who'd read of my struggle to be fair to chef Philippe Excoffier (reviewed on this site), given his association, however tangential, with the Bush administration. In that instance, the reader had not been very alert, since I admitted to my prejudices, explained their origin, and went back to this restaurant several times before offering a public verdict. In any event, I try to be as fair as I possibly can, always, but it's also true that eating is an emotional and psychological experience, and that we bring ourselves to the table as we are of a given day, or a given meal, and that this inevitably influences the way that we perceive of what we eat. That said, I do my best to use as much of a self-critical tuning fork (sic) as I possibly can to find an equilibrium between gastronomic subjectivity–the inevitable, and objectivity, the hopefully professional.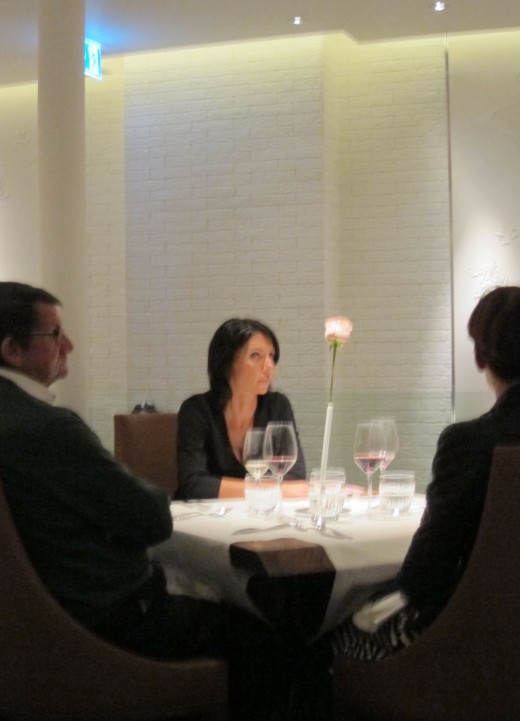 So after I was invited to dinner here a few nights after it opened by a colleague, and emerged from the meal totally befuddled and rather disappointed, I went back in the hopes that maybe it had just been an off night. Unfortunately, however, this will never be a restaurant I enjoy, and that's for a variety of reasons beginning with the fact that the concept–Pic's new place serves a choice of three expensive prix-fixe menus that are themed to the fragrances born by a panel of three paper scent strips that are presented to you with the menus, is at once too high-concept and then much too precious to be really enjoyable (It actually made me think of the famous fumble at Alain Ducasse in New York, when he offered a variety of fountain pens with which to sign your check, or hotel pillow menus, for that matter, both studies in pink-cheeked errancy when simplicity gets keel-hauled in the name of marketing). Then there's the fact that I never warmed to designer Bruno Borrione's decor, which is decidedly feminine–the pink-tinted Italian glass wall-sconces, and, to my American eyes, jarringly tract-house, with the white faux brick on the walls, which brought to mind the "finished basements" of yore, where we repaired as teenagers to smoke joints while watching late-night movies and eating frozen "Tree Tavern" pizza with snitched beers. This decorative wash-out was puzzling, too, because Borrione did a gorgeous job decorating Les Avisés, the hottest new hotel-restaurant in the Champagne region.
There's a small open kitchen upfront, and too many tables in an awkward room, a space that's really not ideal for a restaurant. And then there was the problem of the young and decidedly hidebound service. I don't know where they found these folks, but they need some serious coaching. When I politely reprimanded our waitress for so insistently speaking English to two Americans who've done a lot of work to master Moliere's mash, she excused herself by saying, "The thing is, I just like to speak English." Someone should send this crew on a remedial weekend to Danny Meyer's restaurants in New York, or even across the Channel to Dabbous, where the team in London's hottest restaurant hits it out of the park by being so earnest, alert and charming.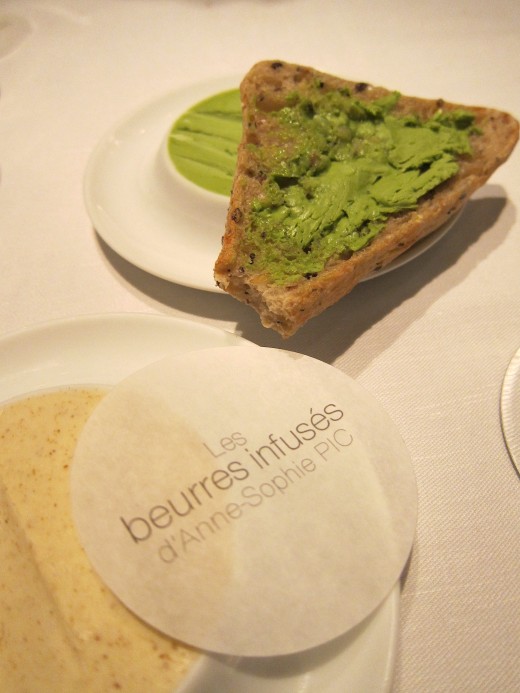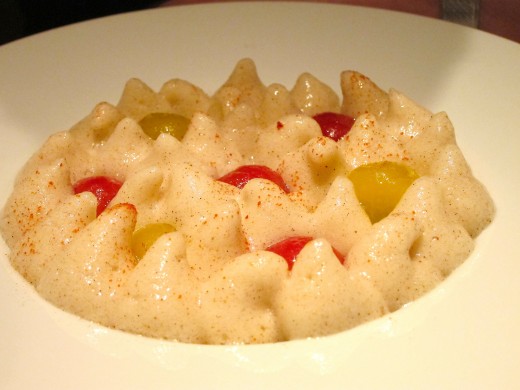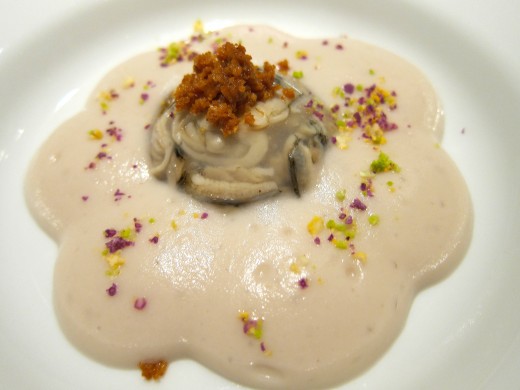 Ultimately, all of this wouldn't have mattered much, or would have mattered much less, if the food had been consistent with Pic's substantial talent. But I had a hunch that our meal might underwhelm when we were presented with two perfumed butters–tonka bean and Matcha, with our bread. Neither seasoning really added much to the butter, but instead recalled the sort of over-perfumed culinary mannerism practiced by chef Bruno Loubet when he was still cooking in Lourmarin. Our Pacojet first courses mystified me, too. The peaks of mozzarella foam, apparently seasoned with vanilla and rum, were pretty to look at and tasty enough despite being too salty, and with red and yellow cherry tomatoes tucked away in their peaks, this preparation came off as something conceived to please a difficult starlet in her (his?) dressing room. I much preferred my cauliflower foam with a finely sliced Gillardeau oyster since the threatened jasmine essence was blessedly absent, and the combination of shellfish and cauliflower is a fine old Breton sawhorse.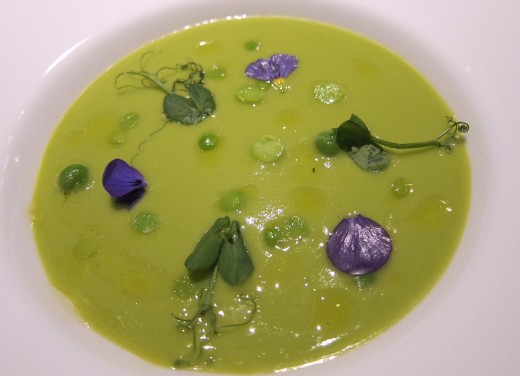 But when perfume is always such an intrinsic part of gastronomic pleasure, why would a great chef chose to make such an evidence of it when these liasons are most exciting when they're discreet, even subliminal? And as if to inter any subtlety whatsoever, our next course, a delicate if not exactly seasonal green-pea puree on a bed of alarmingly licquorice (reglisse) flavored flan nearly short-circuited the meal. The pea extrusion was such an elegant final dose of chlorophyll before the green world shuts down for winter, but it was unpleasantly dynamited by the aggressiveness of the reglisse, which also completely knocked out our wine.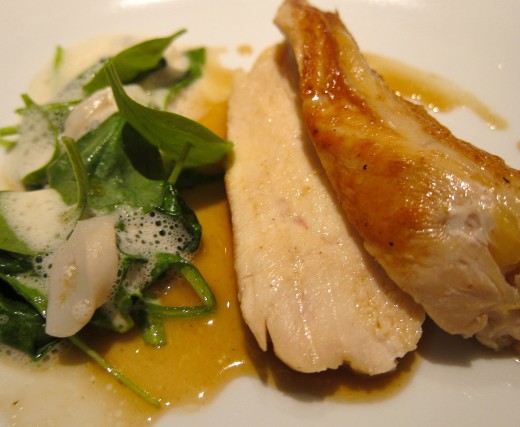 By this point in the meal, I found myself profoundly wondering why Pic had decided to come to Paris. From my perspective, this restaurant adds nothing to the capital's gastronomic landscape, and quite honestly, I had trouble believing that this project was something she had originated–it's just so far removed from the exquisite elegance of her restaurants in Valence or Switzerland, especially given the fact that for 75 Euros, they're lots and lots of other restaurants in Paris that offer better food and service in a more felicitous setting–Jean-Francois Piege's upstairs gastronomic address in the 7th most notably among them within this spectrum of ambition. Our meal finally sort of found its footing when our main course was served–impeccably cooked Bresse chicken with baby spinach and finely sliced razor-shell clams in an angelic sauce that was just slightly wrong-footed by orange-flower water. Then we had a trio of Picodon (goat cheeses) from the Drome, which were variously seasoned with rosemary, beer and honey–none of which we could taste, thankfully, and desserts, which weren't memorable.
It kind of makes me cringe to say so, since critical restaurant reviews are very much out of fashion in Paris these days, but I honestly can't imagine who this restaurant was designed to please–especially in this neighborhood, the rue du Louvre, which is a long way from the expense-account big-spenders of the 8th arrondissement and La Defense, and why Anne-Sophie Pic signed off on a place that so improbably bears her signature. And as if you didn't need any more confusing inputs, in French, La Dame de Pic means "The Queen of Spades"…say what?
20 rue du Louvre, 1st, Tel. 01-42-60-40-40, Métro: Louvre-Rivoli. Closed on Sunday. Lunch menu 49 Euros; prix-fixe menus 79, 100 and 120 euros. www.ladamedepic.com