LA STRASBOURGEOISE–A Just Adequate Alsatian, C-, and Best Choucroute in Paris
October 28, 2011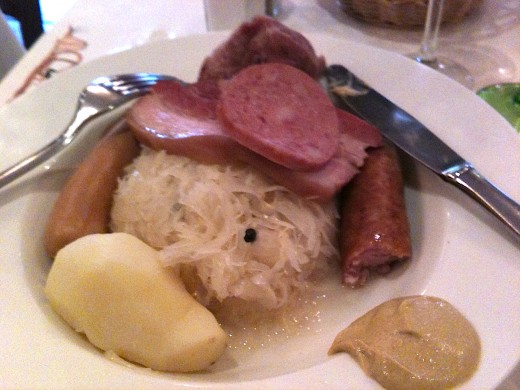 Twenty five years ago, gulp, my brother and I found ourselves moping around the Gare du Nord with two hours before our train back to London on a rainy Sunday. If this scenario was already far from ideal, it was seriously worsened by the fact that we'd had about three hours sleep and had put an alarming dent into a bottle of rot-gut duty-free Prince Hubert cognac when we'd returned to our Left Bank hotel after some bar hopping.
I wasn't very hungry, and I know my brother wasn't either, but it was a cold, wet day and with a long journey ahead of us–these were the pre-Eurostar days when you still crossed the Channel on a Hovercraft that left you half-deaf for hours, I decided it would probably be a good idea to eat something, so we drifted across the street to a brasserie, the Terminus Nord. We must have looked pretty awful, because the sturdy older waiter in a black vest and long white apron chuckled as he sized us up. "C'etait la guerre hier soir?" he said, but I was much too wooly headed to understand that this was a joke. We weren't making much headway with the menu either with our ratty school-boy French, and then things turned from bad to worse when my brother registered that the noisy old woman on the banquette next to him was eating a pig's foot and turned green.
"I hope you won't think that I'm an alcoholic," my bro said, recovering himself, "But I really need a Bloody Mary." I had my doubts about French Bloody Marys, but the waiter, much amused by our shared cardboard pallor, assured us that this was possible, and then he suggested that we order choucroute garni. He was met with two blank stares. "It iz rotten cabbage with peeg," he kindly told us in English. This sounded like a real horror story, but he insisted. "Ze Bloodys, some Riesling, choucroute with peeg, you sleep in train, feel much better. Yes?"
Well, the nice guy turned out to be absolutely right, and brother and I loved the choucroute, which arrived as a stainless-steel tray full of delicately pickled sauerkraut, sausages–Francfort, Montbeliard, bacon, a pig's knuckle, and brined pork with neatly turned boiled potatoes. The sharp mustard stung me back to life right off the bat, and this glorious Alsatian farmer's feed became something I crave every Fall when the temperature drops.
As I went on to discover during many years of living in Paris and traveling in Alsace, it's never as good in the capital as it is on its home turf, but it's one of those dishes I seasonally crave, so the other day, before heading off to Reims and Troyes for the weekend, it occurred to me that I might finally check out La Strasbourgeoise, a brasserie in front of the Gare de l'Est, for lunch before my train. I'd read glowing reports of this place from various French food critics, and when I looked their website, I saw they had a "formule express"–choucroute and a glass of Riesling or a beer, for 18.50 Euros and flapped out the door.
On the way over there, I was hopeful, reasoning that if this place was right across the street from the Gare de l'Est, the Paris train station that serves Eastern France, including Alsace, the choucroute would have to be pretty good, since they're serving connoisseurs of this dish day in and day out. It was sort of a playing-hooky treat to be going out to lunch alone, so I was in a good mood when I arrived, and the welcome was very polite and the fly-in-amber dining rooms of this decidedly old-fashioned place were pleasantly sedate and quiet.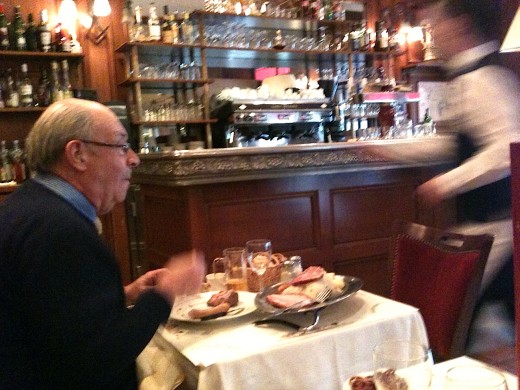 Glancing at the choucroute my neighbor was eating, I slightly recalibrated my expectations. It definitely wouldn't be as good as this dish once had been at a great little Alsatian restaurant, L'Alsaco, which no longer exists and where the owner taught me that choucroute/sauerkraut/fermented cabbage preserved in a light brine had been invented by the Chinese and brought to Europe by the Tartars and the Mongols, or at Chez Jenny, the big Alsatian brasserie on the Place de la Republique, or Le Bec Rouge in Montparnasse, my two current favorite places for choucroute in Paris. But hopefully it would be decent. One way or another, the service was charming–when the man next to me fumbled for an excuse to order a third beer after his choucroute and before his coffee, the waiter said "Ah, but Monsieur, it makes me happy to see someone who's taking their time." Kind and suave, in one fell swoop.
When my choucroute arrived, I finally tasted the Riesling I'd been promptly served in a glass with a ribbed green stem, and it was surprisingly good. The black juniper berries in the hot mound of choucroute, aka sauerkraut, were a good sign, too–less reputable places skimp on or skip them. The various cuts of pork and sausage clearly weren't Slow Food caliber, but still I hoped for the best, or, as it turned out, second or maybe third best. Though there was nothing flagrantly wrong with the dish aside from a deflating mealy steam-table potato, the sauerkraut was very timid and the charcuterie was charitably commercial, more critically, industrial. Oh well, the service here was cordial and it was a pleasant to be in a restaurant where the staff so clearly take pride in their work, but what this meal really accomplished was to remind me that I had to get to Chez Jenny for one of their honey-basted rotisserie-roasted jarret de porc on a bed of choucroute as soon as I possibly can. That, or plan a weekend in Alsace sometime soon.
Le Bec Rouge, 46bis Boulevard du Montparnasse, 15th, Tel. 01-42-22-45-54. Metro: Falguière or Montparnasse. Open daily. Average 35 Euros.
Chez Jenny, 39 Boulevard du Temple, 3rd, Tel. 01-44-54-39-00, Metro: République. Open daily. Average 35 Euros.
La Strasbourgeoise, 5 rue du 8 Mai 1945, 10th, Tel. 01-42-05-20-02. Metro: Gare de l'Est. Open daily. Average 35 Euros.