Le Duc, Paris–A Deliciously Noble Catch-of-the-Day in Montparnasse, A-/B+
February 16, 2015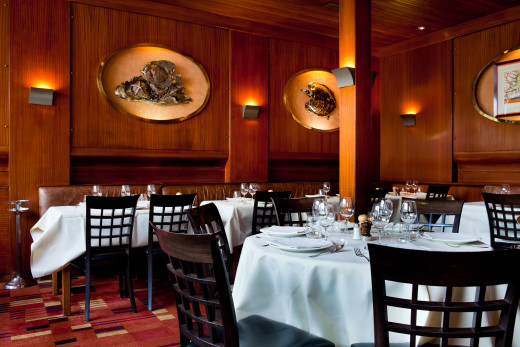 After I stepped into the vestibule at Le Duc, a long-running seafood house in Montparnasse, a delightfully nostalgia-freighted evening pushed out from the dock the moment I was seated at a corner table in the wood-paneled dining room. With its jaunty nautical decor–the late great French restaurant designer Slavik was surely inspired by one of Gianni Agnelli's Riva speed boats when he set to work here–and conditionally lordly service, this place is rather like the catch-of-the-day oriented little sister of Le Voltaire, another vintage beau-monde monument of a restaurant on the Left Bank. And like Le Voltaire, it's a place that not everyone will "get" or like, because it could be accused of being clubby, expensive and old-fashioned.
Indeed it's all of those things, but l still liked it enormously, and after a superb meal here, I'd rank it right up there with Rech and Dessirier as one of the best seafood restaurants in Paris. But first, back to Slavik and the question of restaurant decor. Before a knock-off version of Jacques Garcia's Napoleon III bordello style dining room for the Hotel Costes became the new boilerplate for Paris restaurant decors, it was Slavik who ruled the roost of Paris restaurant design, especially in the seventies when he did Chez Georges near the Porte Maillot and L'Européen across the street from the Gare de Lyon. If there was always something a little corny and larger-than-life about Slavik decors, many of them have aged to real charm. Unfortunately, this is also often the very same moment that restaurant owners who dread being called 'old-fashioned' dream of gutting their Slavik decor and replacing it with yet another bad version of Garcia's now also dating look for the Hotel Costes.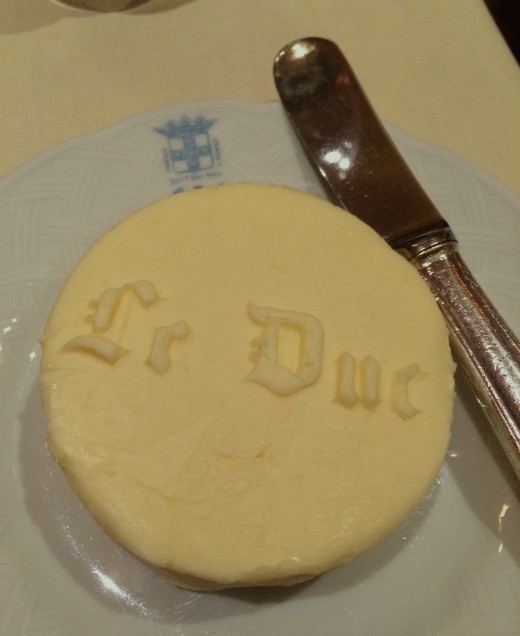 Hopefully Le Duc will be spared, because it has a bona-fide retro glamour, and the same might also be said of its clientele, a veritable gratin de Paris that included Alain Minc, Philippe Labro and the Contessa Brandolini the night I was somewhat improbably cast into their midst by the generous dinner invitation of a friend. Recognizing a few famous faces–a political advisor, a writer, and an Italian aristocrat, respectively, momentarily propelled me back to the days when I'd just arrived in Paris and was working as an editor for the American fashion-publishing company that pioneered the modern-day people press. Part of our job while attending fashion shows and other events was to cull as many famous names as possible for later use as seasoning for our reviews. I hated intruding on total strangers to beg a quote, and I hated the fact that these mumblings were awarded so much importance, but against the backdrop of today's high-velocity celebrity-driven marketing, all of this looks rather quaint in retrospect. The people we stalked in those days had beauty, talent or breeding, or all of the above.
So Le Duc is a bastion of the Parisian old guard, which is sort of ironic given the fact that the original owners, the Minchelli brothers, completely upended traditional French seafood cooking when they hung our their shingle over thirty years ago (the restaurant has since changed owners). The Minchellis were the ones who set French fish cooking on a Zen path, liberating the Parisian catch-of-day from smothering baths in hot cream or too much butter; and when Paul Minchelli wanted to go even further on this path, he went his own way, and first opened a wonderful eponymous restaurant in the 7th Arrondissement before finally ending up with the charming and very good Le 21 in Saint-Germain-des-Prés today.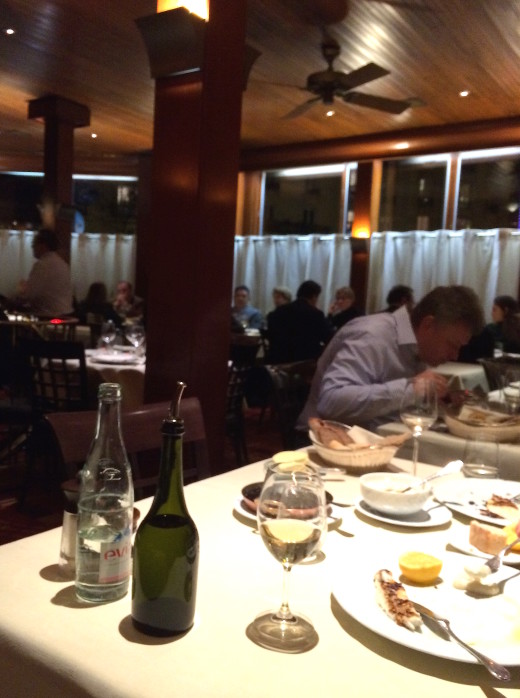 So now you've stepped through the door, and had a cordial but slightly distant welcome at Le Duc, which you find exasperating, and then you're seated and notice that other tables are receiving better service. This makes you mad, even a tiny bit crazy, because you believe that the restaurant experience should be democratic–to wit, anyone who's succeeded in making a reservation and who arrives with a valid credit card should receive exactly the same service as anyone else in the room. But the truth is that it doesn't work this way, and not just at Le Duc, but dozens of other restaurants in not only Paris but New York, London and other cities. And if New Yorkers  have more experience of this conundrum than people from the middle of America, who tend to really take it on the chin, that doesn't mean they like it either. So here's the tripwire in this review. If the idea of going to a restaurant that doesn't mete out exactly the same formulaic service to one and all like an Olive Garden makes you nuts, you might not be happy at Le Duc. This isn't to say that the service at Le Duc  isn't good–it is–but rather that it plays quiet favorites with its regulars, because this restaurant spins on the axis of its regulars.
Truth be told, I picked up on all of this while watching the room from a back-to-the-wall seat in a corner table, and it was beginning to rankle a bit, too, but then the food started coming out.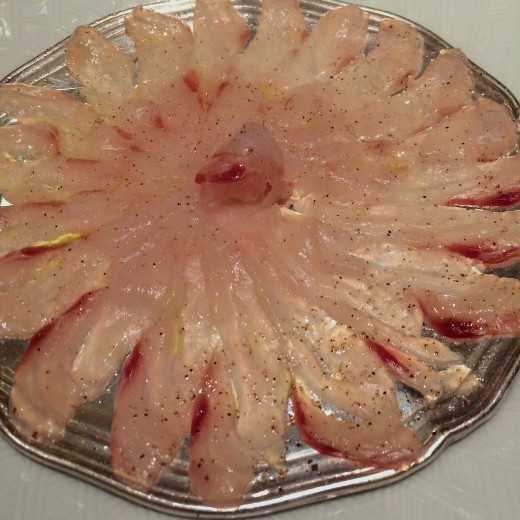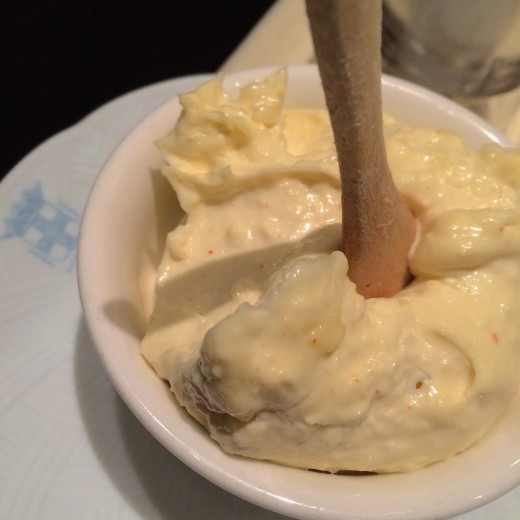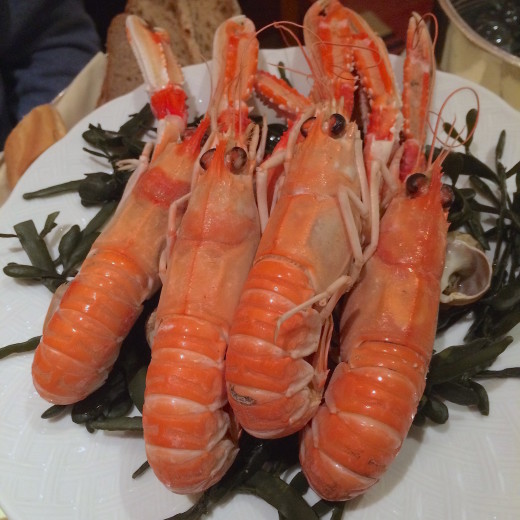 We shared an order of sea-bass carpaccio served with garlic bread toasts and an order of plump Scottish langoustines with mayonnaise, and both were superb. And so they should have been at these prices, but on the other hand, best quality wild (as opposed to the pervasively farm-raised) seafood has become a real luxury. There's not a lot of it around, there will be even less of it around tomorrow, and it's complicated to catch and get to market. So it's expensive. Period, the end. The four langoustines went for 60 Euros ($74), which is very serious money in my book. Worth it? Yes, if you have that kind of dough or someone else is buying or even if you've saved up your hard earned centimes for a kick-out-the-walls luxury feast that hasn't been anointed by the Michelin Guide (Isn't it amazing that the Michelin Guide still serves as the ultimate reference for all things gastronomic in France with so little discussion, even in the increasingly high-dudgeon and sharp-elbowed world of blogging?). These langoustine tails were succulent, redolent of the sea, and perfectly cooked, just begging for a slather of the just-made Piment d'Espelette spiked mayonnaise in a little pot that I'd have wrapped up and taken home had I come to table with some Saran wrap.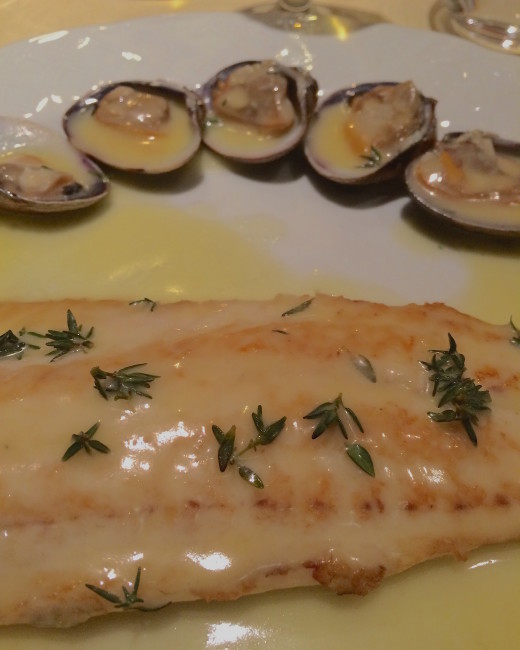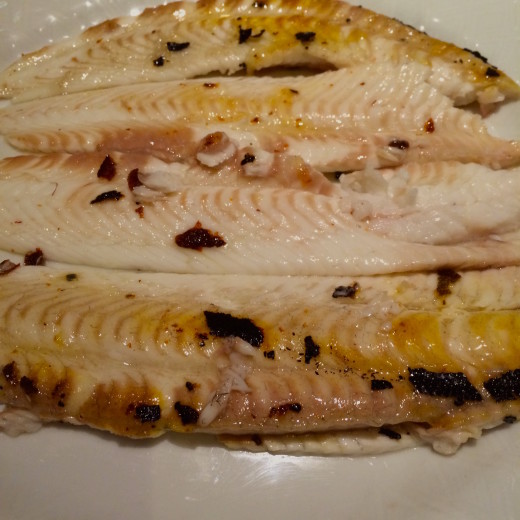 Since I'm weary of tasting menus–Hey, chefs, please, oh please let me chose what I want to eat and how I want to eat it without imposing an "experience" or a "concept"–I deeply enjoyed my roasted sea bass with baby clams and an exquisite thyme-flecked beurre blanc. My host's sole grilled on a salamandre was gently charred marine bliss, too, and I loved our garnishes, too–riz venere (black rice) for me and a silky potato puree for my benefactor.
Both because I live in dread of my sneakily expanding girth and most seafood places don't do dessert very well, I was thinking of giving the sweet end of the meal a miss. Then a surging feeling of well-being suddenly drove me off the course of prudence. Oh what the hell, I want a baba au rhum, and if it's not good, I won't finish it.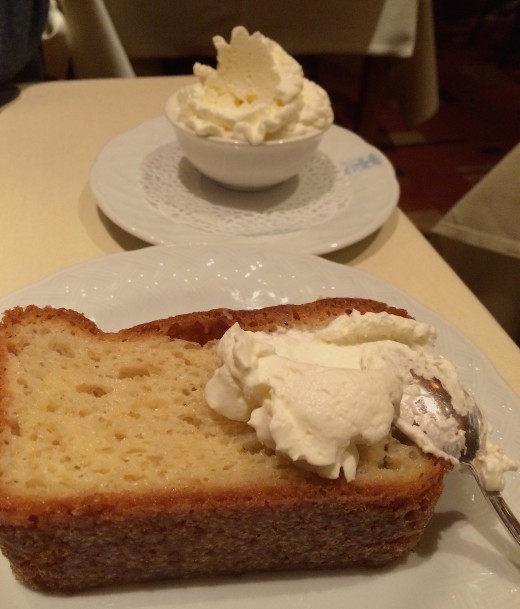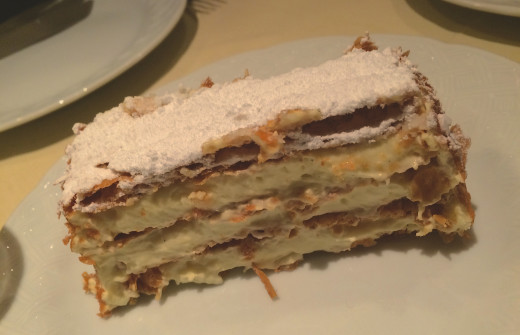 But it was, and I did, and I also helped my friend with his millefeuille, which was fait maison (homemade) and excellent. Ultimately, Le Duc is throw back to the days before so many chefs decided that they were more important than their customers–their message, their vision, etc.–and that's one of many reasons that I enjoyed this place so much. Bien sur, there's more than a whiff of snobbery in the room, but the only reason you'll be a dartboard here would be because your indignant behaviour painted a target on your back. So would I go back on my own nickel and without the social shield of accompanying a regular? Well, yes, I would, not often, but when wanting a seriously good seafood meal with a bit of pomp, as in pompous, and circumstance, plus a fine show in the room, this would be a perfect choice. It's so profoundly Parisian, too, that I hope it never changes.
243 Boulevard Raspail, 14th Arrondissement, Paris, Tel. (33) 01-43-20-96-30. Metro: Raspail. Open Tuesday to Saturday for lunch and dinner. Closed Sunday and Monday. Lunch menu 55 Euros. Average a la carte 100 Euros.