L'INTENTION–Decent if Timid Intentions in the Marais, B-
January 10, 2012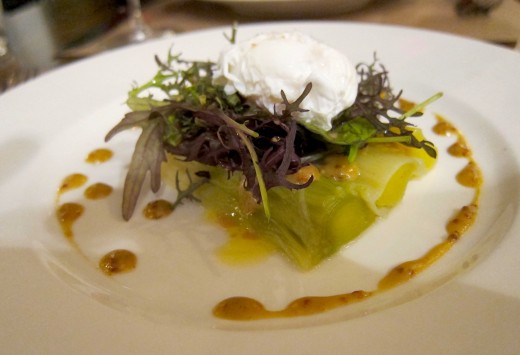 Though the ambient consumer culture in most Western countries presents aging as akin to a slowly developing case of the plague, I enjoy the annual privilege of notching another year on my belt. I'm much happier today than I was when I was twenty-one, and I've also lived long enough to see the outlines of an interesting and rewarding life emerging out of the ether of youth. In fact one of the more amusing things as time goes by is a deepening understanding that the to-twenty-something-year-old ears tiresome bromide that 'all experience is somehow useful' actually turns out to be true.
On those painfully always too early-to-work mornings, because they followed too-bibulous-and-too-late-to-bed evening after evening, when I was grinding cabbage after cabbage to make enough coleslaw to feed a hundred hotel guests at noon–one summer I worked as a salad chef in a hotel kitchen on Fire Island of all places, I never dreamt that this tedium would yield valuable experience. In the space of a few hours, I had to make grated-carrot-in-gelatin salad (the crowd at this hotel preferred orange or cherry Jello, just for the record), macaroni salad, tomato salad, tuna salad, rice salad, three-bean salad, and others, and I went through big institutional jar after jar of Sweet Life brand mayonnaise, bottles of lemon juice and frighteningly cheap olive oil, and, I'm afraid to admit, my hygiene as I hastily executed these chores was, well, let's say it was casual to put it politely. Fortunately, I never poisoned anyone to the best of my knowledge, and during other similar college summers, I also worked variously as a bus boy, a waiter, and a line cook, and I was just awful at all of these jobs. What these long ago activities left me with, however, was a real hands-on knowledge of how restaurant kitchens and dining rooms really work and a profound respect for all players in the restaurant business.
What brought all of this to mind the other night was when I showed up at L'Intention, a new bistro in the Marais that opened last July, and the very polite but slightly harried young man in the dining room sheepishly told me that he'd be doing everything himself that night, i.e. all of the cooking and also waiting table, because his waitress was out sick. I assured him that I was sure everything would be just fine, and my friend Greta and I would be understanding. Since there were only three tables of two in the dining room, I was pretty sure he'd be okay, too, but when Greta showed up, I told her we should order right away so that our orders could be staggered between those of the table that was already occupied when I arrived, and those who were seated a few minutes after she sat down.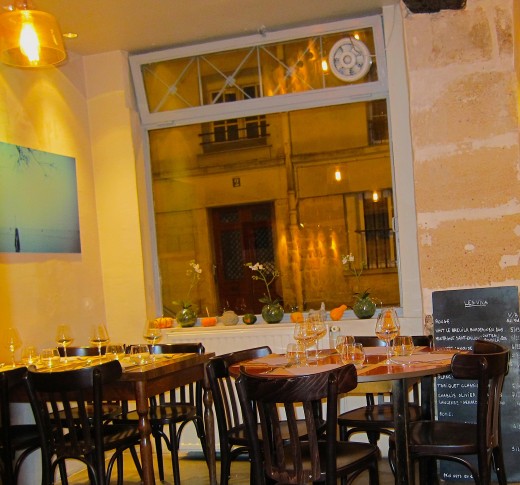 The simple little dining room with exposed stone walls, modern art on the walls, modern lighting fixtures and dark wooden tables had the same winsomely sincere aura as the short menu did, too. The three starters–mache salad with hazelnuts and a beet-and-tarragon vinaigrette, parsnip soup garnished with boned confit de canard, and leeks with a poached organic egg, salad and a creamy mustard vinaigrette all appealed and were all offered in PT or GT–half or full portions, a nice touch, as was a risotto with pumpkin and Parmesan cream.
There were three main courses, too: poached roasted guinea hen with smoked bacon, creamed cabbage and chestnuts; daube de boeuf with baked polenta; and salmon slow cooked with winter fruits (quince, apples and pears) and vegetables (carrots, parsnips and turnips) in a casserole. Well, we both ended up ordering a half portion of the leeks and the daube de boeuf, because that's what we both wanted. To be honest, I tried to cajole Greta into the risotto and the salmon, but she wasn't budging.
The leeks were pleasant–neatly trimmed and tender and the accompanying egg perfectly poached. I'd have liked the vinaigrette to be more authoritative, though, and this dish very much needed more salt and pepper. The daube de boeuf was not quite what I was expecting either, since it came as a decidedly cartilagenous single slice of tender beef in a curiously sweet red wine sauce with nice little Nicois olives and a wedge of slightly dry oven-baked polenta. If it was a nicely made dish, the sauce lacked the ruddy depth of a really superb daube like the one chef Dominique Le Stanc serves at La Merenda in Nice, and I'd have preferred the polenta to be creamy and rich with Parmesan as opposed to solid.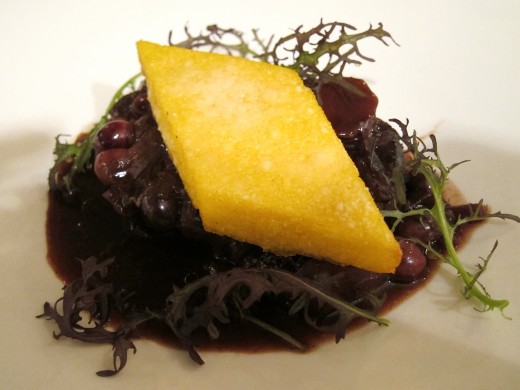 I've thought a lot about these two dishes during the last twenty-four hours, since I make a sometimes agonizing effort to be fair to a chef as sincere and competent as Cédric Barbarat, who previously cooked at La Cour Jardin restaurant at the Hotel Plaza Athénée and most recently at Sofitel Pullman de Versailles. As I learned many years ago, working in a kitchen is seriously hard work, so working in a kitchen and simultaneously running a dining room is a real high-wire act. So under the circumstances, this was an agreable meal that was served with charm and generosity, but I'd like Barbarat to channel his lustier instincts in the kitchen, where I think he's currently too timid, and then this nice little bistro will likely see me again. Oh, and he should also take the cheeses he's planning to serve of any given service out of the fridge earlier, and refuse delivery of a cheese that was as many miles from being ripe as the camembert that was served with the Saint Maure and compte that comprised the cheese course we split as we finished up an excellent bottle of Le Petit Canon de Lariveau, a canon-fronsac by winemaker Nicolas Dabudyk that's a terrific food wine and a great buy at 22 Euros a bottle. Overall, though, Barbarat's intentions are good and mine are too.
L'Intention, 3, rue du Roi-Doré, 3rd, Tel. 01-42-74-31-22. Closed Saturday and Sunday. Average 40 Euros.