MY SECRET AMERICAN CRAVINGS; TORRISI, NYC, B
October 22, 2010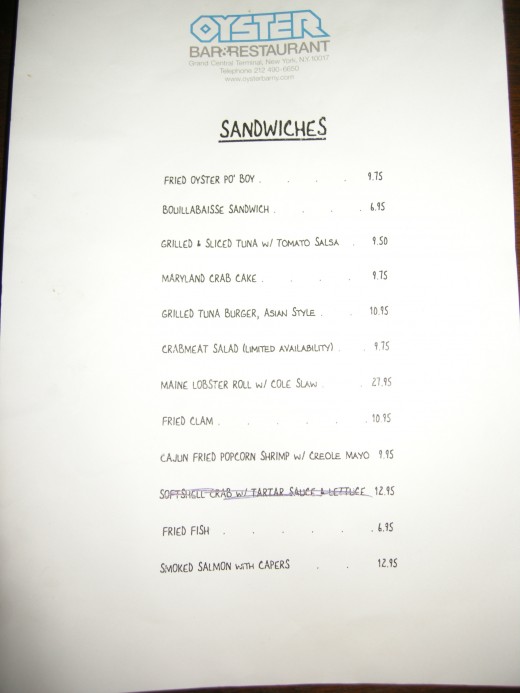 I've been eating at the Oyster Bar, the seafood restaurant in the bowels of Grand Central Station in New York City, ever since I have any clear memory of what was on my plate. For those who don't know it, Grand Central Station, one of New York City's main train stations, is one of the most magnificent buildings in the United States, a dignified, elegant American Beaux Arts building with a soaring main concourse with an azure ceiling with faux constellations, solid brass fittings, and acres of polished stone.
I've come and gone from this station, which serves New York City's northern and eastern suburbs, thousands of times, and the beauty of this station has been a benediction to the homeliness of something as ordinary as an hour train ride to my sister in Noroton Heights, Mom in Talmadge Hill, or my brother in Old Greenwich, all Connecticut suburbs.
On every visit to New York, I offer myself lunch at the horse-shoe-shaped counter in the Oyster Bar, and if the food is never outstanding, it's always been reliably better-than-average. Until last Saturday anyway. After a busy morning of errands and meetings, I looked forward to sitting down at the counter for the same odd but deeply satisfying meal I always eat here—a shrimp cocktail and a fried-clam sandwich with a glass of white wine. So I found a corner seat offering extra room to read the paper while I ate, and ordered. I was promptly served a glass of ice water, and just as promptly I called the waiter back to show him that the glass he'd just filled was filthy. "Oh yeah," he muttered and changed it.
Then twenty-five minutes went by before the shrimp cocktail arrived, with the plump prawns nestled on a bed of browning iceberg lettuce and accompanied by a quarter of nearly rotten lemon. Another intervention. Next, the fried clam sandwich—a skimpy portion of gritty clams and cole slaw on a Kaiser roll, which I made the best of but was really mediocre, especially in view of the fact that this lunch, including a glass of white wine, cost $38. Before leaving I asked to speak to the duty manager, and when he finally showed up, I politely explained that the quality in this restaurant really seemed to be on the skids. "Well, you can always go elsewhere," he replied.
I couldn't help but contrast this rude and aggressively indifferent response to the way my waitress at the Union Square Café reacted to my over-cooked cheeseburger a few days later. She offered to serve me a new one, but I hate waste and didn't want to wait, so I finished the burger and asked for the bill. "There isn't one," she replied. "We're very sorry, and would you like some dessert?" I didn't want dessert, but during a long walk in Greenwich Village on a beautiful Indian Summer afternoon, one of my recurring thoughts was a huge respect for the professionalism of restauranteur Danny Meyer, who so graciously understands that the customer is always right.
These very high and very low experiences of customer service in New York restaurants also offer a keyhole view of what I like to eat when I'm in the United States, a question people often ask me as though I must be Zeus descending from Mount Olympus when I leave Paris for the U.S. The truth of the matter is that the food in the U.S. these days is often excellent and that the quality gap between France and America has significantly narrowed during the almost 25 years I've lived in Paris.
But it's not trendy New York restaurants like Torrisi that I crave on home turf, but really good pizza, sushi, American Chinese food, a red-sauce style Italian meal, a burger or five, Mexican food, deli food, and even the Betty Crocker vintage American comfort food that I was served at a dinner party the other night—glazed Virginia ham, string bean casserole made with Campbell's cream-of-mushroom soup and Durkee's onion rings, potato casserole made with cream-of-Potato soup and lots of cheddar cheese, and pumpkin pie courtesy of Comstock canned pie fillings.
My host and the other guests at this meal were visibly surprised by the pleasure I took in this food. "But you live in Paris!" said one. Indeed, but as someone who passionately knows good food, I know that it can be found at all altitudes on the food chain, and this is why I served a favorite James Beach three-meat meat loaf to friends the other night (they ate the entire monster, too, which made me happy, although I'd kind of been hoping for a left-over slice or two to slip into a meatloaf sandwich the next day).
————————–
Run by Mario Carbone and Rich Torrisi, two talented young New York chefs, the very popular Torrisi on Mulberry Street, formerly the main drag in New York's Little Italy, offers a generally good but occasionally coy
hipster culinary riff on what this neighborhood has become. To wit, Little Italy is being slowly engulfed by an ever growing Chinatown on the one hand, and on the other, second or third generation Italian Americans are returning to the turf of their original immigrant forebearers.
So if the menu at this old Italian grocer is pretty cut and dry East Coast Italian at noon, at night they serve a $50 prix-fixe that's a melange of Italian dishes and Asian-Italian dishes, like the Vietnamese style sweetbreads that were one of the five appetizers that began our Sunday supper at this friendly place. If the homemade mozzarella, salami bread, and lamb with white beans and escarole that were the other starters, were delicious, the sweetbreads added a jarring note to the meal, because there was no logical liaison between this dish and the others. Similarly, the twee-ly named "Pommes aux Pommes," a tart of rosti potatoes topped with apple slices was one of those ideas that work better in a chef's head than on the dinner plate.
Our seafood pasta–spaghetti cooked in a deeply flavored seafood bouillon, finished off with more of same, and garnished with cuttlefish, mussels, clams and shrimp, was superb, as was barbecued lamb with Chinese greens and garlic.
Service is friendly here, the people-watching's good, and when there's an awful lot of talent in the kitchen. N.B. No reservations for dinner, so get here early, and check the website, www.piginahat.com, for the menu, which changes daily.
250 Mulberry St., New York, NY 10012, Tel. 212-965-0955. Subway Stops: Prince Street or Broadway-Lafayette. Prix-fixe dinner $50. Lunch: 11am-4pm daily; Dinner: Sunday-Wednesday 6-10pm, Thursday-Saturday 6-11pm.